iOS Apps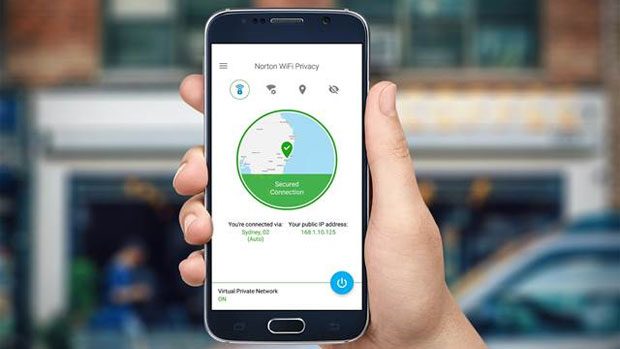 Published on August 10th, 2016 | by James Wright
Norton WiFi Privacy Review
Summary: Norton WiFi Privacy offers great protection for unsecured WiFi access but it does come with a cost to your wallet and data speed
More and more locations now offer 'free' WiFi connections such as airports, hotels and cafes, however if you use these unsecured networks, there is a risk that your devices and information can be compromised. However in order to prevent this from occurring, the user needs to install a VPN (Virtual Private Network) which basically puts an additional layer of protection on your mobile device and this is where Norton WiFi Privacy comes into play. Norton also boast 'bank-grade' encryption in order to keep your all your details, especially banking details safe.
At its core, it's basically a subscription based service that is available on both Android and iOS that encrypts your information while using these networks. This means it protects your data and privacy while using these unsecured networks. There is a 7-day trial available from Symantec, however you need to provide payment information (e.g. credit card or Paypal) if you want to check it out, however just be aware that it automatically deducts the subscription after the trial period.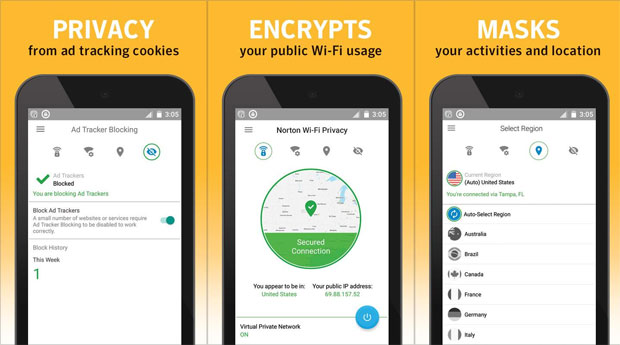 In terms of installation, it's pretty much non-existent and once you download the app on your phone, you're pretty much ready to go. Although cheaper and even free VPN apps are available, Norton does make this software for your mobile quite easy to use which even offers an in-built ad-tracking blocker plus the ability to access a variety of servers from around the globe like the United States or Japan. This also allows you access content that may be geo-blocked to Australia like HBO or even Netflix in America.
Given that, choosing a server from another country does slow down your connection but thankfully there is also an Australia server which still slows your connection down but is not as noticeable as a server from outside the country. If you're travelling, the program does offer auto-connect based on your location which is a cool feature so if you're in France, Germany or the UK, it will select the closest or fastest server for your data needs. According to statistics, 14% of Android phones transmit sensitive information without encryption so even if you don't choose Norton, you might want to invest in a secured VPN app.
Final Thoughts?
Although there are free and cheaper options available as mentioned, Norton make this an easier experience so if you're mobile phone expertise is limited, it basically requires hardly any input from the user. So if you're a regular user of free WiFi and want some piece of mind, you might want to check out Norton WiFi Privacy but just be warned it does come at a subscription cost to not just your pocket but also your data speed.
System Requirements
Available for Apple or Android smartphones and tablets: iPhones or iPads running iOS 6 or later Androids running 4.0 or later
There are no minimum RAM or memory requirements.