PS4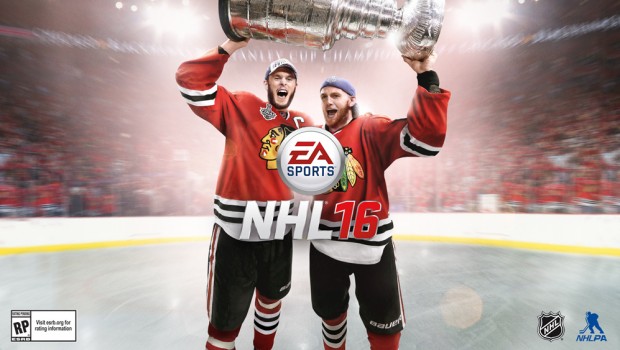 Published on September 25th, 2015 | by Sean Warhurst
NHL 16 PS4 Review
Summary: With a gentle learning curve, tight mechanics and immensely gratifying gameplay, NHL 16 stands as EA Sports' most accomplished release of the year.
By all accounts, NHL 15 was a disappointing outing for EA's ice hockey franchise, removing several staple modes and raising the ire of fans.
Personally my knowledge of these factors is anecdotal at best, as NHL 16 is actually my first foray into the franchise, so, besides from doing a bit of research on the series prior to diving in with the latest instalment, I am approaching the series with fresh eyes.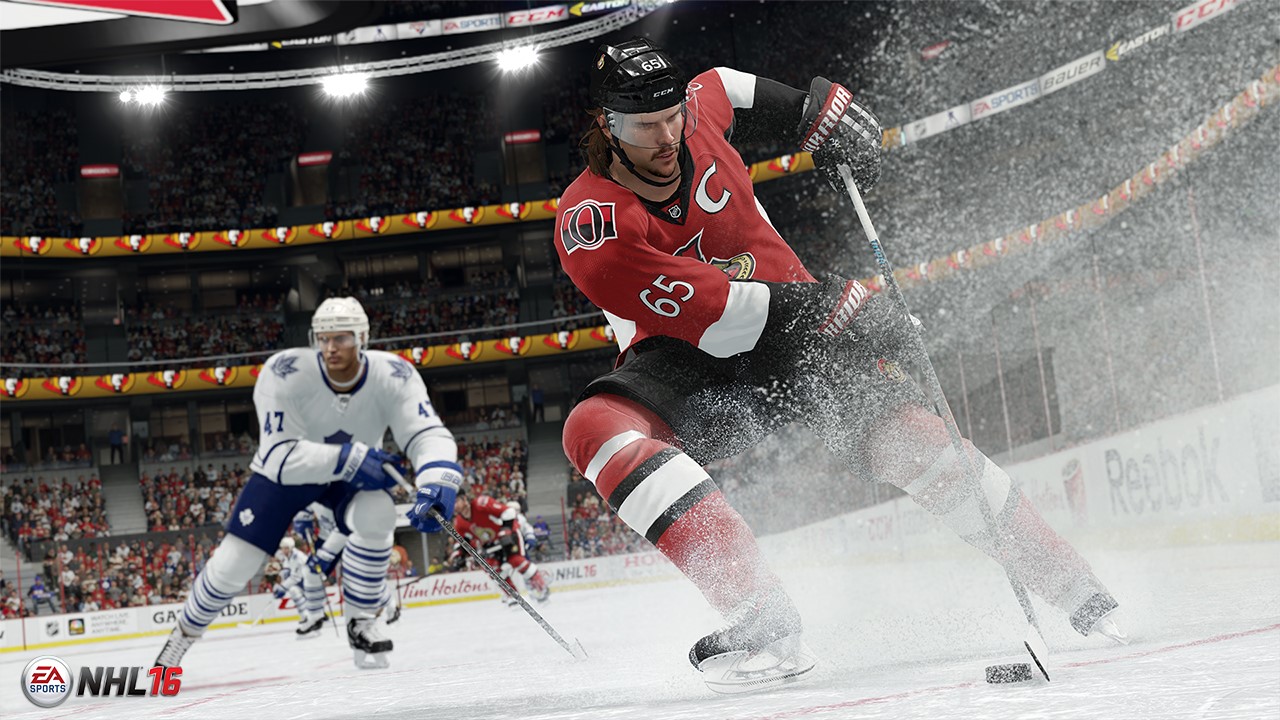 And what an experience I had – Although the sport isn't all that popular over here in Australia, I'm fairly familiar with the teams and have a rudimentary knowledge of the rules, etc. and, as such, found NHL 16 to be one of the most satisfying sporting titles I've played all year.
One of the best features in NHL 16 is the On-Ice trainer, letting you play through the game and get to grips with the basics rather than the usual brief tutorial mode titles like this have.
Being able to instantly practice the new techniques and plays during a match and take advantage of the different colour indicators highlighting the trajectory of your shots and the suggested moves that appear above your player is a much more fulfilling experience than simply following on-screen prompts out of context.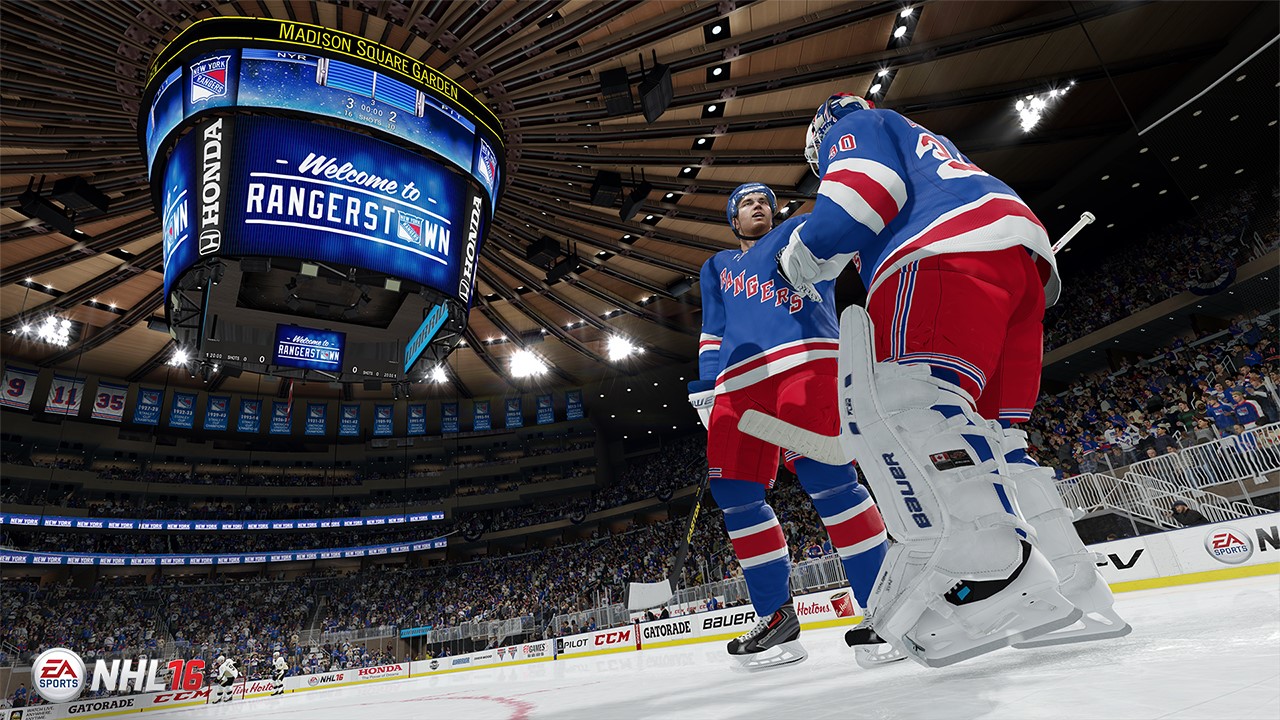 Using colour coded prompts identifying the players who are open for passes or whether your aim is suitable for a shot at the goal makes for an easy transition into the more complicated manoeuvres and ensures that newcomers to the series, like myself, don't get overwhelmed with getting to grips with more advanced techniques.
Be a Pro mode lets you take your created player from the College Hockey League all the way up to the big guns, giving you nearly full control over how your individual player performs.
The Coach feedback is a great touch, clearly highlighting which areas of play you need to focus more upon from one of three categories: Offense, Defense and Team Play; I generally tended to hog the puck for my first few matches and only passed when I got boxed in or had no other alternative, but the new progression system quickly forced me to amend my style of playing.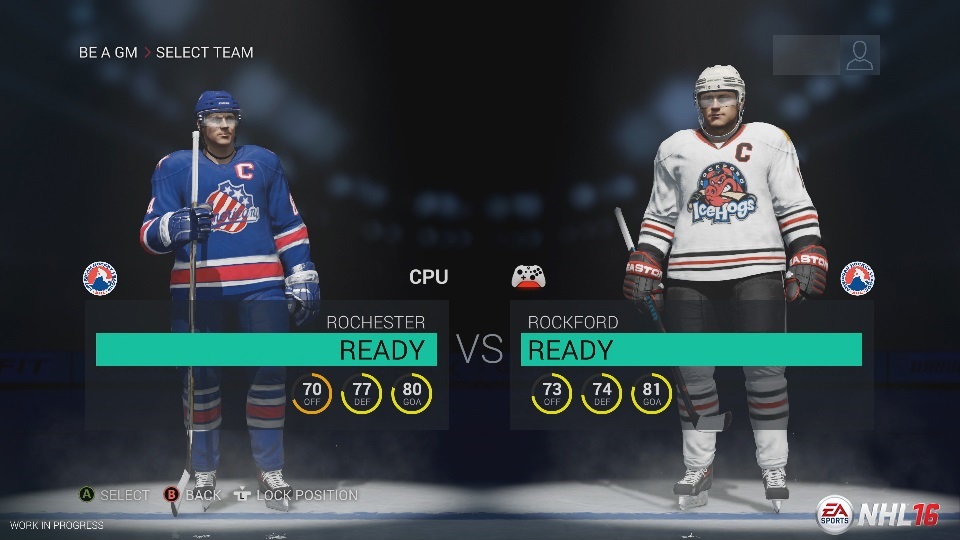 Instead of manually assigning earned XP to your chosen attributes, XP is automatically allocated to certain categories depending upon how you've played, meaning that neglecting to acknowledge anybody else in your team and being a glory hog will quickly ensure in a massive loss of points and, by proxy, skill level.
This forces you to be a team player and approach each game like you would in real life rather than becoming a glory hog each time you gain possession of the puck. Completing goals set by your Coach based on your chosen position also results in huge XP bonuses, so it pays to take notice and attempt to follow them as best you can.
The Be a GM mode is exactly what you'd expect, giving players reams of stats to tweak and work through in order to craft the best team possible.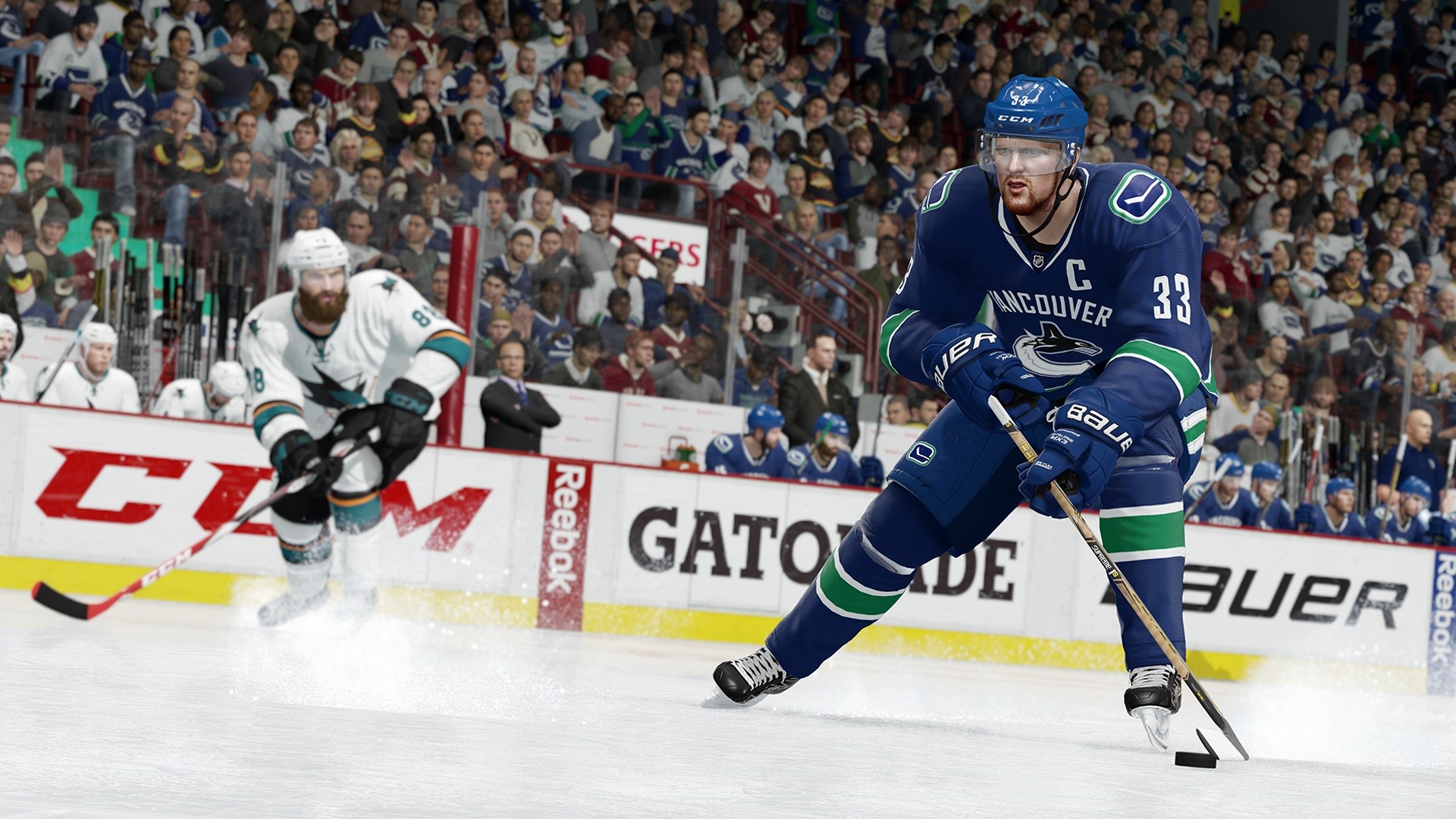 You can hold team or individual meetings to address issues such as team morale and performance, which don't play out automatically as in previous iterations but actually offer you some form of interactivity through giving four possible contextual responses, and certain players will respond to different approaches, heightening the realistic aspect of the mode.
Personally, I prefer to just dive in to an exhibition match or the Be a Pro mode but if managerial simulation is your cup of tea then you'll be in statistic heaven here.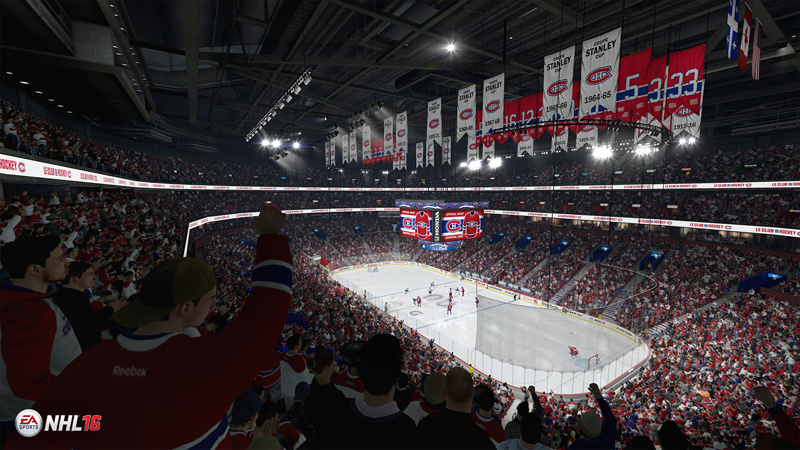 If you like to have the best of both worlds, Hockey Ultimate Team allows you to select rookies and build up your own team as well as participate in the action, although purchasing Gold card packs to assist with this feels like a bit of a cash grab, especially considering the random nature of this system.
Buying additional packs isn't entirely necessary but, assuming you get a decent card, they do give you a slight edge over other players.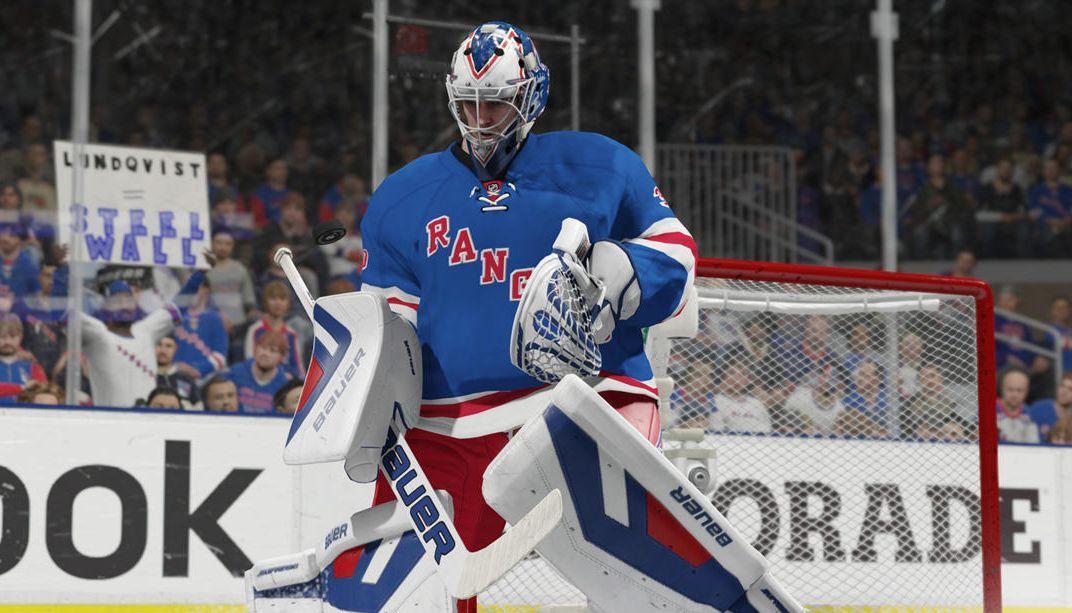 Team and opponent AI is solid for the most part, although occasionally players will inexplicably ignore the puck or lose it when behind the net; the goalies can be a little hit and miss as well, allowing some easily blocked shots to go in without interference, although this can often work in your favour as much as against you.
EA Sports Hockey League is now available from the get go and lets you jump in and pit your co-op multiplayer teams against real world opponents; unlike the previous iterations, which allowed boosting through micro-transactions, player abilities are now dictated by the class selected, ensuring that those of us with disposable incomes don't gain an unfair advantage.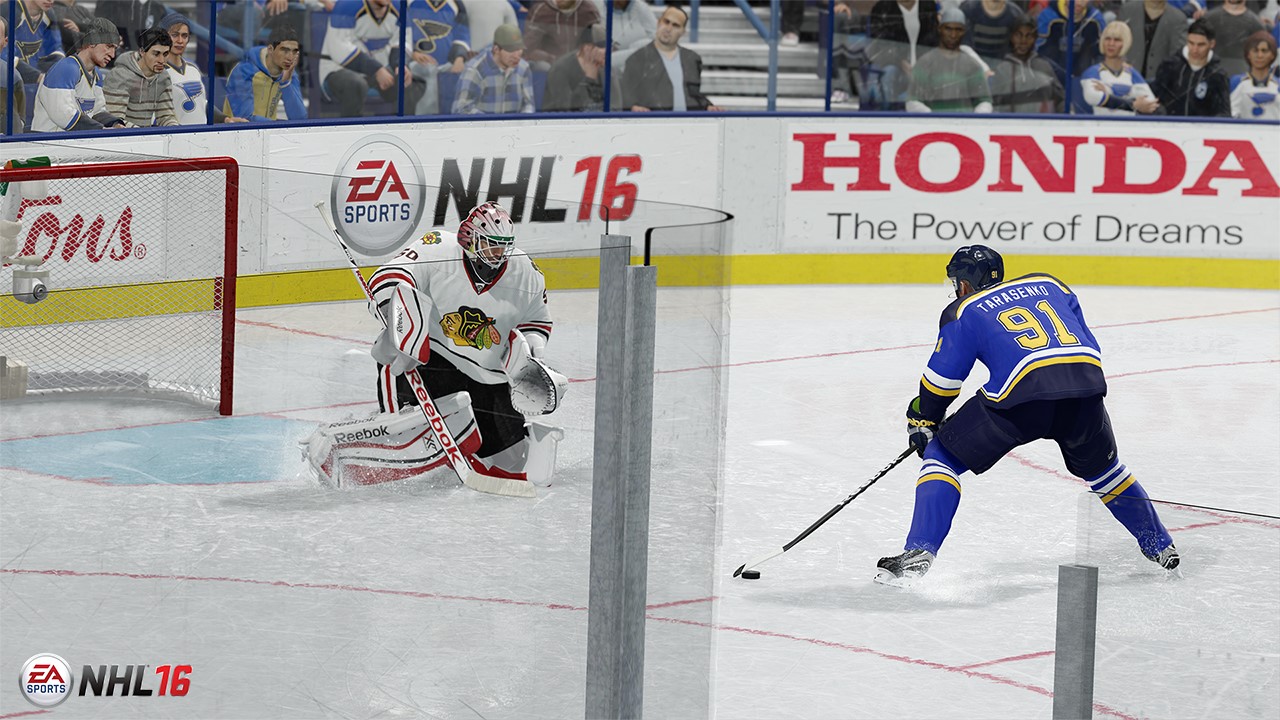 Graphics and Audio
NHL 16 is absolutely resplendent in its beauty. That might come off as hyperbolic, but it's true – NHL 16 is one of the best looking games I've ever played, and that's not just restricted to the sporting genre either.
Players look almost identical to their real world counterparts and the stadiums are packed with unique looking spectators decked out in their favourite team's garb (I had to look extremely hard to find any doubling up of character models), mascots and team specific accoutrements that react realistically to the action on the ice.
The audio is also exemplary, with booming crowd chants, the hollow thunk of the puck bouncing off the goal and the swish of the skates as you make your way across the ice all true to life and serving to provide one of the most immersive sport gaming experiences currently available.
There are a few instances where character animations can look a little janky, mainly done to hiccups in the physics engine, but overall NHL 16 boasts one of the most impressive visual and audio presentations of the year.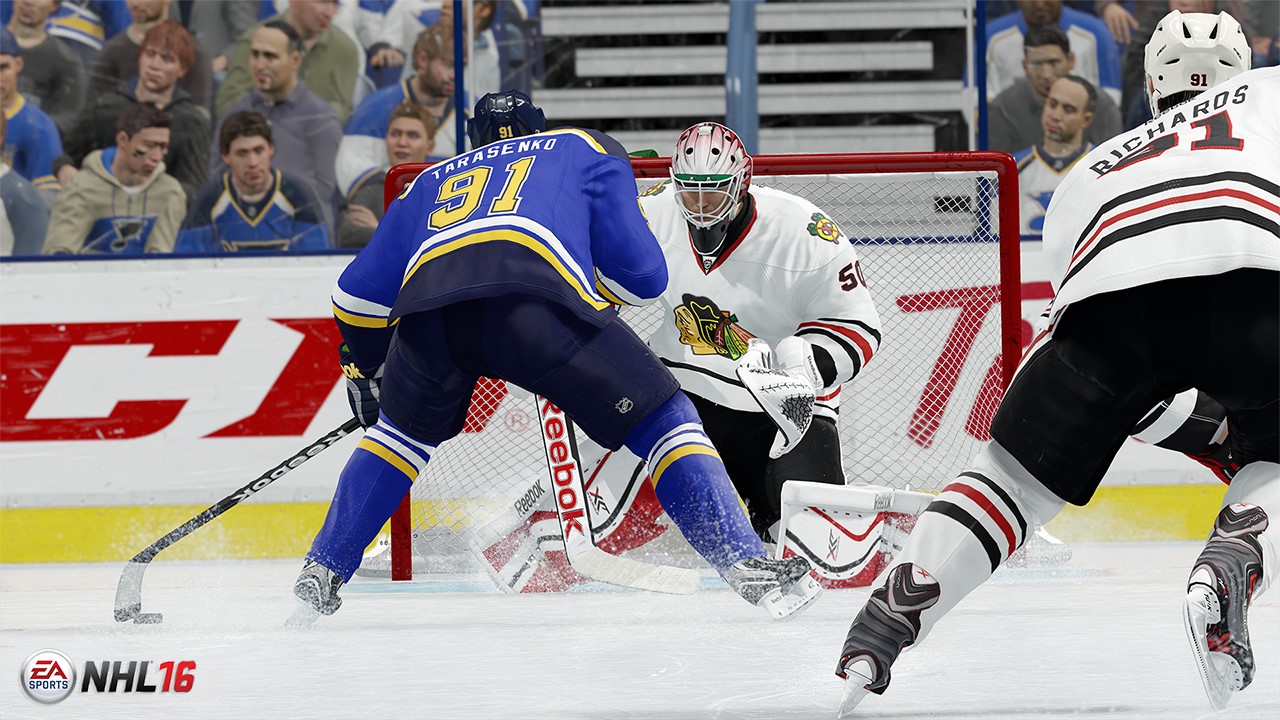 Final Thought
I went into NHL 16 expecting yet another generic sports simulation and instead found a deep and engaging experience that, above all, was a blast to play.
With a gentle learning curve, tight mechanics and immensely gratifying gameplay, I personally feel that NHL 16 stands as EA Sports' most accomplished release of the year and despite the esoteric nature of the sport itself over on our shores, I couldn't recommend it enough.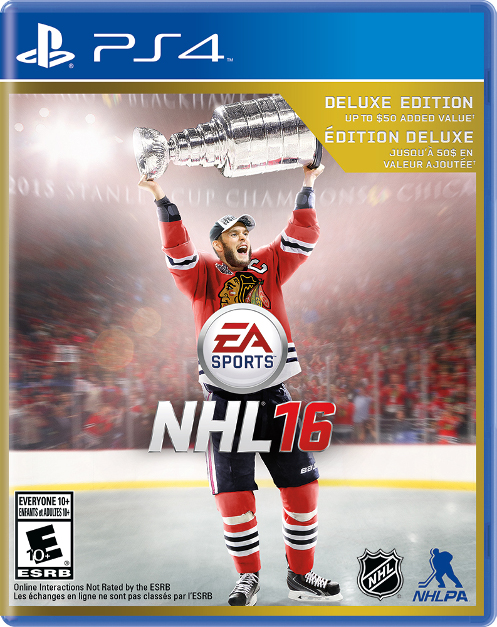 Game Details
Primary Format – PlayStation 4 (Reviewed), Xbox One
Game Genre – Sport
Rating – PG
Game Developer – EA Canada
Game Publisher – EA Sports
Reviewer – Sean Warhurst