Hardware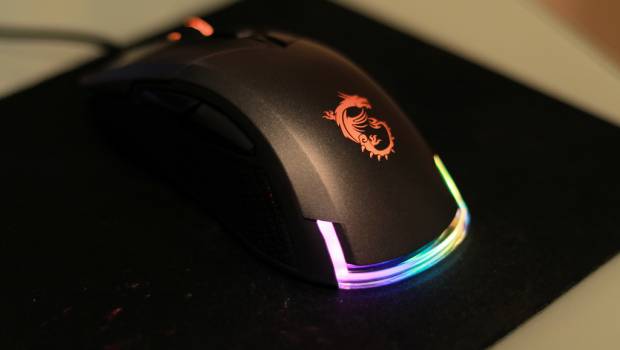 Published on January 26th, 2021 | by Tim Chuma
MSI CLUTCH GM50 Gaming Mouse Review
Summary: Maybe look at some other options without the lights before you get this one.
Overview
Gaming mice are popular these days and a lot of the high end gamers have their preferred model with a lot of custom buttons and commands they can assign. I had not heard of MSI being active in this space as much and it is not usually available in the bigger stores as yet, but is available online from the usual hardware retailers.
Along with a keyboard, a mouse is something you end up using for many thousands of hours so it makes sense to get a bit better one than the usual $10 special that most people get when they get a computer or have to replace theirs.
Gaming
Unlike my last test with the keyboard, I did test this mouse with a couple of other games including CIV VI and Project Zomboid.
The mouse works well with War Thunder and World of Tanks and even has extra controls for the extra buttons mapped by default. You should be able to change these yourself in the options.
For CIV VI I was able to zoom in and out on the map a lot easier with the scroll wheel, something which I had not been able to do with my previous mouse even though it supposedly did have one.
For Project Zomboid it was very responsive, which is important in that game as you have to be very responsive in situations to try and prevent your eventual death.
For those of you with glass top desks I can also report that the mouse works perfectly without the need to put a bit of paper under it or a mouse pad so it can pick up the signal. This is a big problem with most optical mice as they seem to be working in most situations but when you want to use them on a glass topped table they stop responding.
It is a very light mouse and more suited for people with smaller hands, I had trouble with accidentally clicking buttons due to having bigger hands. Not so much issue for games but if you are working from home and click the wrong button you lose all your work on that screen. I will be going back to the work-supplied mouse in this case and just keeping this one for personal use.
The unit is not wireless due to the RGB LEDs needing to be powered, which can be an issue if you have limited space or a lot of cables on your computer already.
Lighting
Here's the thing with the lighting, yes you can change it but if you have bigger hands as soon as you put your hand on it you can't see the lights making it useless.
If you have other MSI branded gear you can sync the colour scheme and effects up so they match but I wasn't able to get this to work with the software even though it says it is meant to support other third party devices.
I just ended up leaving the lighting on the default setting as I could not really find one I liked that matched the one I already had with the keyboard I had earlier.
Buttons
The buttons seem to work well but as I explained before there is an issue with accidentally clicking some of them at the wrong time. Also if you don't know what changing the DPI setting means you will click the button just below the scroll wheel and not know why the cursor is flying around the screen.
Software
There are two different pieces of software you can use with this device, the Mystic Light software that controls the lighting and the Gamer Centre software that you can change the default actions of the buttons. They seemed to install well and with no problems but you will need to have other MSI branded peripherals if you want to do things such as sync the lighting and colours.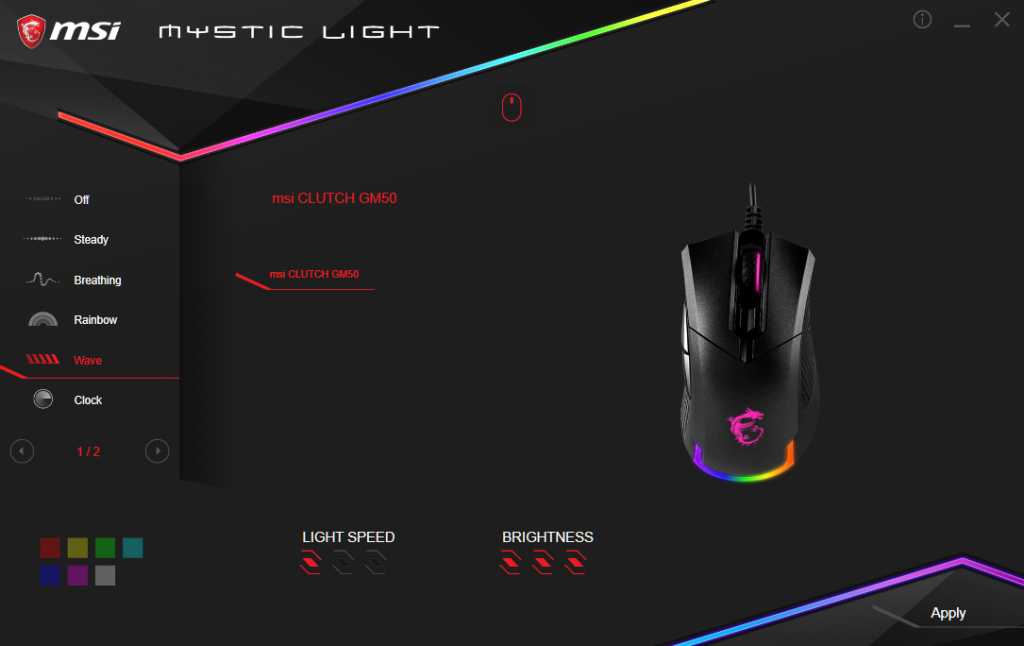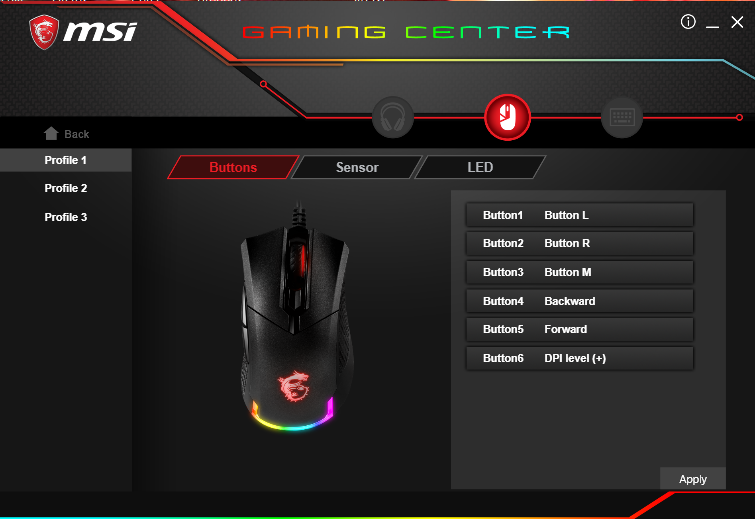 Support
The MSI website is well laid out and I was able to find and download the required software easily for configuration, they also don't make you sign up to another website to do so.
Value
Seems to be about mid-range in terms of pricing for a gaming mouse. You can get cheaper, but also a lot more expensive. You can just get a normal mouse for much less but if you are getting one specifically for gaming then have a look at it.
Overall
A nice enough mouse even if the RGB lighting seems to be superfluous, maybe look at some other options before deciding. If you have other MSI gear or want something that looks nice then maybe consider it.
Technical Specifications
PMW-3330 optical gaming sensor
Light weight and ergonomics design
Choose from millions of colours with Gaming Centre
Fine-tune detailed settings with Gaming Centre
Special OMRON switches rated for 20 million clicks
General
| | |
| --- | --- |
| Wireless | No |
| Colour | Black |
| Sensor  Type | Optical |
Manufacturer Specifications
| | |
| --- | --- |
| MODEL NAME | CLUTCH GM50 GAMING MOUSE |
| SENSOR | PMW-3330 gaming sensor |
| SENSOR TYPE | Optical |
| SEDPI SWITCH | Default: 400 / 800 / 1600 / 3200 / 6400, max: 7200 (step: 100) |
| INTERFACE | USB 2.0 Gold-plated connector |
| BUTTON | 6 |
| POLLING RATE | 8ms/4ms/2ms/1ms (Default) |
| MAIN KEY SWITCHES | Omron GAMING (20 Million+ Clicks) |
| LED LIGHT | Scroll Wheel / Dragon LED /U-Shaped Tail Light |
| OPERATING SYSTEM | Windows 10 / 8.1 / 8 / 7 |
| CABLE | Soft & Tangle Free TPE Cable (2.0 m) |
| COLOR | Black |
| PRODUCT DIMENSIONS (MM) | 120*67*42 mm |
| WEIGHT (PRODUCT / PACKAGE) | 87g (without cable) / 268.3g |
Gallery