Hardware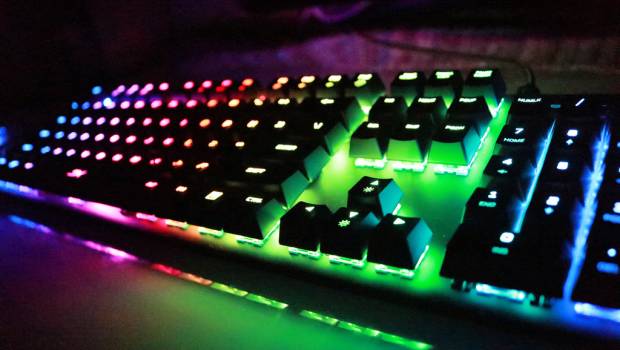 Published on November 19th, 2020 | by Tim Chuma
HyperX Alloy Origins Mechanical Gaming Keyboard Review
Summary: If you are looking for something like this to match existing gaming gear I would consider it. Everyone else maybe look at a cheaper option.
3
Pricey for the features
Overview
I was looking forward to this as my old Logitech keyboard was overdue to be replaced due to missing at least half the letters on keyboard due to being worn off from too much typing. What also interested me is that you can take the keycaps off for cleaning. If you have ever had to clean keyboards and mice for six months like I did at work for the dole you would throw the entire thing into the bin and buy a new one rather than considering doing that again.
There is a trend of gamer gear and case mods for the hardcore gamer in the market and this definitely fits in with that as the company also supplies other equipment along those lines.
My parents have a light up keyboard they got for free as the PC repair place "had extras" but it seemed just to be a standard type unit with LED lighting.
Gaming
I had forgotten I had deleted all my games before testing this keyboard except for CIV VI. As I am a filthy casual the two games I had played previously were Warthunder and World of Tanks.
Warthunder was very responsive and rounds seemed to go very quickly. While I did not have to chase down any of my team members and ram them out of the sky for trash talk it would have been good at that too.
World of Tanks was similar and I tried quite a few rounds over several days with both games (Warthunder is a warm up for World of Tanks for me). Nice responsiveness for the controls of the tanks and they just felt faster when I was playing.
If you are playing games online a lot then this would be something worth considering as it is a pro-level kit and it is something you would need for an advantage if you were playing at an elite level.
Work from home
As I am working from home for an Australian Government agency I decided to test it out with a hard day' data entry and Service Centre work. Doing serious work on it you might want to change to a less distracting preset or set up one that does not light up the keys as much. I found the slow cycle one (2nd preset) is the less distracting one.
You will also need to check if all the keys still do what you are expecting them to do as I was wondering why I kept jumping to the end of spreadsheets. Turns out scroll lock was on by default.
It plugged into the Surace Pro dock we have for our work from home set up fine and still work even though I could not install the software due to being on a VPN.
Having a number pad does make a big difference if you are doing a lot of data entry work or you need to enter a customer registration number over and over.
Did not seem to be any wrist strain from using the keyboard and you can get HyperX branded wrist rests if this is the case.
Keys
Being able to pop off the keys for cleaning does help a lot and you can also get replacement key caps for about $50 for the whole keyboard. There are also a couple of different types.
Having the FN and Context Menu key on the bottom row of keys does make the space bar a bit narrower than usual but I was still able to find it fine.
Great response in the keys and makes a satisfying hard click sound when you use the keys which is missing from most of the USB keyboards you get these days.
Lighting
It does come with three presets, but you can adjust these through software. The default one can get a bit distracting after a while. I prefer just having the slower "wave" effect for the second lighting setting. You can also set it that it only lights up when you hit the keys in case you need to leave the computer on overnight for downloads or processing and do not want the lights on. From someone who has to put electrical tape over any blue LEDs so I can sleep this is a good feature to have.
The lighting also helps if you are typing in a dark environment and have trouble seeing the keys.
You can cycle the lighting levels up and down up to five times which is good as the reflecting on the screen can be a bit annoying sometimes.
Function keys
Will list these as they are not on the box and are just on an easy to lose bit of paper when you open the box.
FN + F1: Preset 1
FN + F2: Preset 2
FN + F3: Preset 3
I use these to switch between the modes, mainly you can set up your preferred setting and just leave it.
FN + F6: Start of media
FN + F7: Play/pause media
FN + F8: End of media
FN + F9: Mute
FN + F10: Volume –
FN + F11: Volume +
Not sure how much I will use the media controls but I did have use to use the mute button due to my housemates insistence of walking into my room to ask if I am looking at porn or wanking about 50 times per day.
FN + F12: Game mode (lock keys that can cause you to drop into windows when gaming)
This was handy for games where you are always going into windows by accident especially in online multiplayer games which could leave you with a tank shell up your clacker.
FN + up arrow: Brighten LED lighting
FN + down arrow: Dim LED lighting
A useful feature to have if the lighting is getting a bit much and you want to have a bit of the rest from the colour scheme.
Software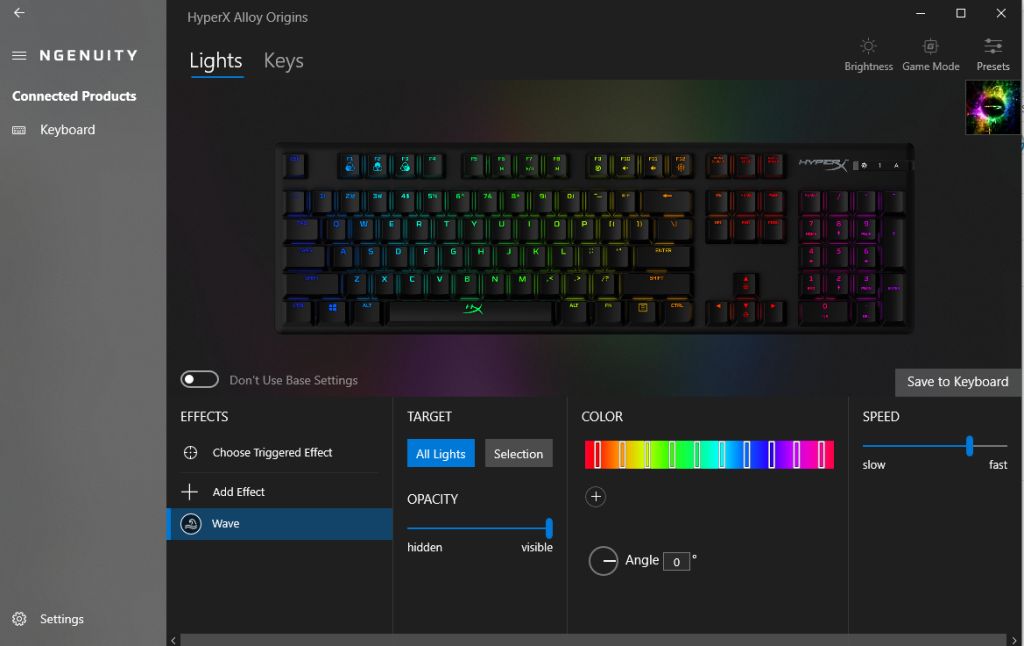 You have to download the NGUiety software from the HyperX website via the Microsoft Store, which also means you need a Microsoft account.
I had some trouble getting the software to work, which was sorted by contacting the manufacturer and they got in touch fairly quickly.
The main use of the software is to update the firmware of the keyboard, change the lighting presets and reassign keys.
Support
I only needed to contact the manufacturer support once but it was a fairly simple process and they provided all the information I needed to solve the problem. I had forgotten my Microsoft account password and had to change it.
Value
As much as you can put a value on a product like this it is something you would be looking at if you were a "pro gamer" or already had other casemods on your computer to make it look cool and show it off much like people like to hot up their cars. Not sure if people still do LAN parties and pro esports gamers would have sponsored gear already.
Considering how much you use your keyboard every day it is not usually something people consider spending a lot of money on or just get the cheapest product and throw it out when it stops working.
The Corsair model does seem similar to this one at a lower price point but I have not used it so I can't really compare the two.
If you have other HyperX gear and are happy with it then by all means consider getting this keyboard.
If you just need to a good keyboard for heavy usage there a normal USB keyboards designed to be ergonomic for much less.
Overall
With people trying to spend as much money these days I would hold off from buying this unless you really have your heart set on it as having a keyboard that lights up with different settings does seem unusually extravagant if you don't have much money.
If you do have the money and want a good gaming keyboard I would look at some of the competing brands to see how they compare.
Thanks to HyperX for supplying the keyboard for review. JB Hifi the easiest to buy from locally as I have made good use of their delivery during Melbourne lockdown.
Key Features:
HyperX mechanical switches
Full aircraft-grade aluminium body
Compact, portable design with detachable USB Type-C cable
Dazzling RGB lighting with dynamic effects
Advanced customization with HyperX NGENUITY software
Three adjustable keyboard angles
On-board memory for three profiles
Game Mode, 100% anti-ghosting, and N-key rollover functionalities
Keyboard
| | |
| --- | --- |
| Switch | HyperX Switch |
| Type | Mechanical |
| Backlight | RGB (16,777,216 colours) |
| Light effects per key | RGB lighting and 5 brightness levels |
| On board memory | 3 profiles |
| Connection type | USB Type-C to USB Type-A |
| Anti-ghosting | 100% anti-ghosting |
| Key rollover | N-key mode |
| LED indicator | Yes |
| Media control | Yes |
| Game Mode | Yes |
| OS compatibility | Windows 10, 8.1, 8, 7 |
Key Switches
| | |
| --- | --- |
| Switch | HyperX Red Switch |
| Operation Style | Linear |
| Actuation Force | 45g |
| Key Travel Distance | 1.8mm |
| Total Travel | 3.8 mm |
| Life Span (Keystrokes) | 80 million |
Cable
| | |
| --- | --- |
| Type | Detachable, Braided |
| Length | 1.8 m |
Dimensions
| | |
| --- | --- |
| Width | 442.5 mm |
| Depth | 132.5 mm |
| Height | 36.39 mm |
| Weight (Keyboard and cable) | 1075 g |
Gallery