Events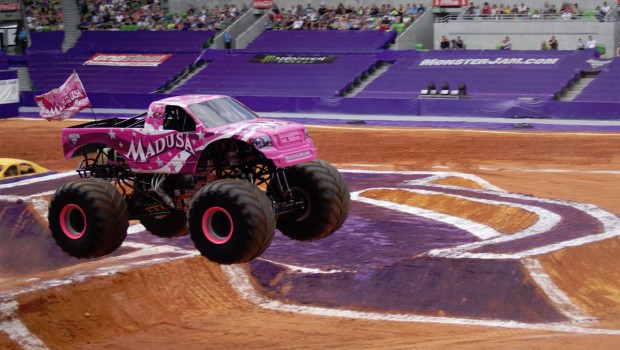 Published on October 10th, 2015 | by Andrew Bistak
Monster Jam Melbourne 2015 Review
Summary: Monster Jam Melbourne 2015 is bigger, badder and bolder than ever that really takes these Monster Trucks to new heights thanks to the amazing drivers
Monster Jam has returned to Melbourne for another spectacular show at AAMI Park which showcased these amazing Monster Trucks and extremely talented drivers. Boasting two shows at AAMI Park , 2pm and 7pm, this American based extreme sport was definitely appreciated by crowd as they were wowed and wooed by these giant trucks as they performed a variety of acrobatics, jumps and sometimes spectacular crashes with stunts that must be seen to be believed.
However before the show starts and for a small price, ticket holders can enter "The Party in The Pits" which allows you to get up close and personal to not just these powerful Monster Trucks but also the drivers where you can chat, get their autograph and if you're lucky, grab a photo. Another highlight of Monster Jam is that the entire event is quite family friendly and there were people of all ages attending the 2pm show in Melbourne. So kudos to the crowd and the drivers for creating such a welcoming atmosphere.
As an intermission for the drivers, Monster Jam even features a 12-person off-road quad bike race whose colours mimic the Monster Jam drivers. However once you see the Monster Trucks in action, it's quite hard to appreciate these little quad bikes because you expect them to do jumps like their bigger counterparts but nonetheless, it was an interesting experience. This current tour in Australia "The Sky's the Limit", truly lives up to its name as 12 Monster Jam drivers attempt to outrace, outwit and outperform their competitors as these 5000kg trucks fly through the air that can actually be quite graceful at times.
With some of the trucks measuring at 4 metres in height with the ability to accelerate to 100kph in just under three seconds thanks to their 1500 horsepower engine, it's quite amazing to watch these powerful mechanical beasts do the unthinkable. Each of the drivers also have a "race name" which mimic their amazing driving and this includes;
Metal Mulisha (Todd Leduc)
Son uva Digger (Ryan Anderson)
Monster Mutt Dalmatian (Candice Jolly)
Madusa (Debra Miceli)
MAX-D (Neil Elliot)
Gravedigger (Adam Anderson)
Dragon (Scott Liddycoat)
Zombie (Bari Musawwir)
El Toro Loco (Marc McDonald
Team Hot Wheels (Scott Buetow)
Monster Energy (Damon Bradshaw)
For the main Monster Jam events, it is broken into two categories that include Freestyle and Racing. The first part of the show has each driver attempting to beat the course in the fastest time, whereas freestyle allows the racers to perform spectacular jumps, flips and even car crushing with points being awarded to how well they performed. Needless to say, the entire AAMI Park was cheering for all 12 racers and as expected, there were a handful of crashes which required the trucks to be flipped back onto their wheels by the support team.
Given how much action was happening on the field with all the giant mounds of dirt, cars and even a shipping container, it was hard to pick a favourite racer because they all gave the crowd their best that at the end of the show, had the entire audience leaving on a high. On that note, there's some great sportsmanship and camaraderie between the drivers which is quite infectious and it's great to see some of the drivers interacting with the crowd.
Final Thoughts?
Never having experienced Monster Jam before, I must admit that it was quite a spectacular show and it should be noted that the night show is slightly different because of the darkness which means more pyrotechnics and lights so you could almost see both shows. From $25 for children and from $40 for adults, Monster Jam is definitely great family value that successfully takes this amazing US show and rebuilds it onto the grounds of AAMI park with over 3,000 cubit metres of dirt.
It's big, it's loud and best of all, it's thoroughly enjoyable that we could happily recommend to everyone! If you live in Sydney, Monster Jam is visiting on October 17 and for those living in Perth, the show will visit the Domain Stadium on October 24.
For more information, please visit monsterjamonline.com.au and if you missed this show for 2015, Monster Jam will be back for 2016 and don't forget to check out our interview with Madusa (Debra Miceli) at https://www.impulsegamer.com/madusa-debra-miceli-interview-monster-jam-australia-2015/
Monster Jam Melbourne 2015 Gallery