PS4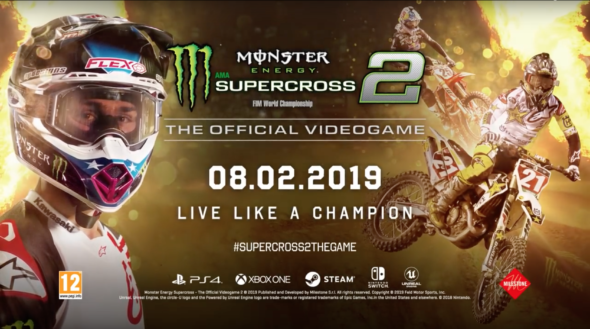 Published on February 16th, 2019 | by Tory Favro
Monster Energy Supercross The Official Videogame 2 PS4 Review
Summary: MES2 is a fun entry into supercross gaming and might do a lot better with more attention to detail.
Monster Energy Supercross 2 is the game that most supercross punters would have been looking out for for some time. There is not a hell of a lot in this genre on the market to be honest, more if you look to games where cars are the main focus and there are a few bikes thrown in for good measure. MES2 might just be what is needed for fans of two wheels. Is it perfect? Hell no. But it's not all bad either.
First things first you will get to choose from several modes. For the sake of the review we wanted to focus primarily on the campaign mode. You will get to create your rider from bare bones and to be honest the character creation is pretty weak and almost could have been overlooked with generics being just as good for purpose. Once you have set up your crash test dummy, ahem, rider, you can get on and about your career as the next big thing in supercross. Let's face it, it is kind of silly you would bother with appearance when this is a sport where the rider wears an enclosed helmet. But at least YOU know what they look like!
The game takes you across the USA as your burgeoning career expands. There are three areas in the sport beginning with 250cc modes in both east and west American and then the 450cc races that take place all over the country. Your rider will make their way through these and more as you get better riding the bikes and of course start putting some points on the board by winning races. The tracks look good and the general sounds of competition are not too bad either. From the aural landscape it is pretty engrossing and immersive which is a positive point.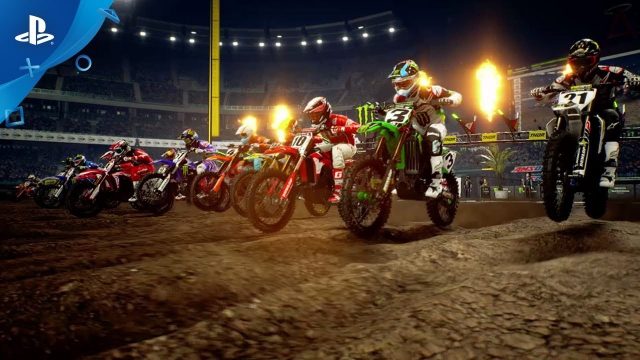 The game tries to put you in the shoes of the real riders with obligations outside of racing being par for the course. You can train, do things with your sponsors or set out to challenge your competition in the hopes of furthering your own career. Ultimately you do make more money simply racing so challenges might be the way you want to go.
In terms of control, this is where things go wrong for most of these games. The physics and gravity of the bikes needs to be just so in order to provide a believable experience and MES2 tries to give you as good an experience as it can, but I did feel that this is where it came off the rails. The right control stick is meant to control weight shift for the rider in order to better navigate tracks and it just didn't feel right most of the time. On occasion I was able to nail it, but most of the time it was a struggle where weight shift felt weird and as though my rider was floating a little as I went over jumps. I simply didn't seem to be able to land correctly at first, but later in the game it did feel better. I am not sure if it was the actual bike physics improving or if I had actually achieved something. Either way it did get better as the game went on.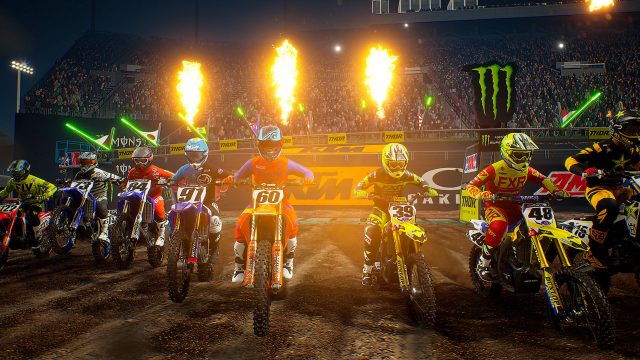 Loading times in this game were a source of frustration and took way too long for pretty simple maps to load up. These times were substantial and the menu system itself is quite unhelpful. These are all things developer Milestone really should have spent more time on. Even on my PS4 Pro, I was twiddling thumbs waiting to play the darn game. Once going there were no real issues with framerates or multiple vehicles all performing at once, and other than the aforementioned control problems, I did actually feel like I was in a race.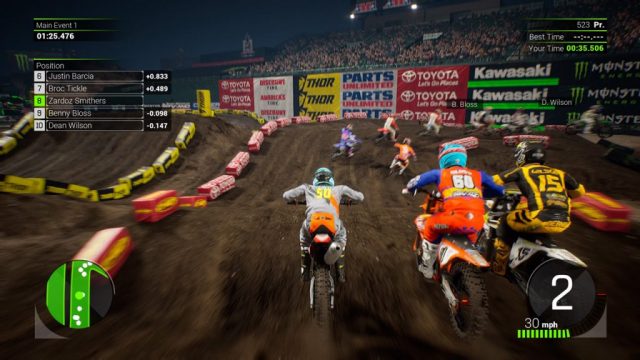 Ultimately this is a game that is good but could have been better. Using the Unreal Engine I do think has helped in a lot of ways. The actual models of the bikes look real and are very detailed, and it is pleasing to see real life stadiums created digitally with care. I would suggest most gamers would do well to use the training Compound in the game as it will help you overcome some of the early control issues or at the least get you used to them. This is most likely one of the better games for bike fans out there right now but it could do with more polish.