PS4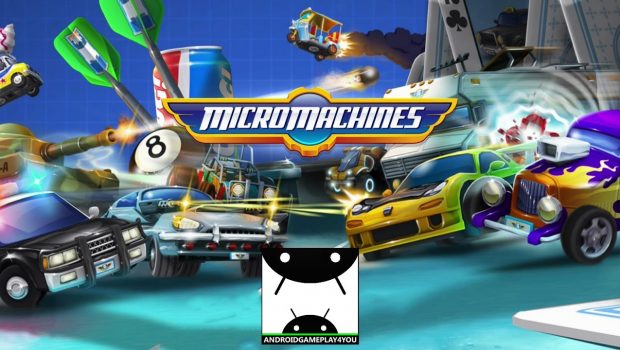 Published on July 2nd, 2017 | by Daniel
Micro Machines: World Series PS4 Review
Summary: A fun, addictive return to an old classic sorely missed.
Micro Machines, a 90's classic, not seen in years has made a comeback, I remember playing this game growing up as a child. Tiny cars racing across the tops of tables in various themes, pool tables, sinks, breakfast benches and through all kinds of messes, billiard balls, paper clips, spilt milk, cereal and sandwich spreads, trying to be the best tiny machine there was. As successful as it was in its day, a new release hasn't been seen for years, 11 years to be exact, after its most recent recent release in 2006, Micro Machines has joined the modern gaming community with Word Series.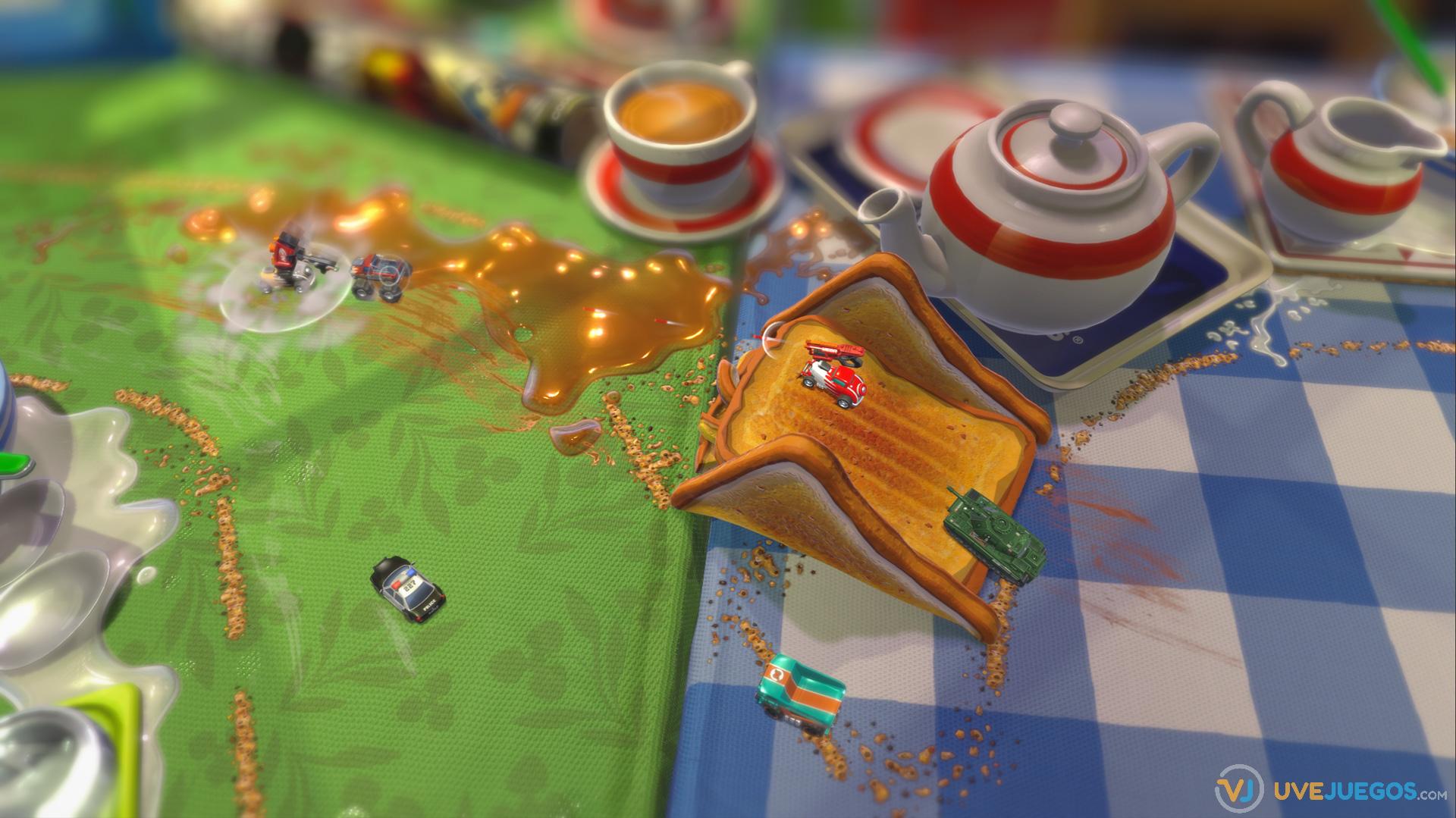 The game plays very much like the older classics, albeit to suit the newer upgraded controllers, the vehicles now have they're own unique abilities designed for the new battle mode, which is reminiscent of a demo darby with weapons and full carnage. The maps are very similar to the old classics but with updated graphics. The main thing that bothers me and it's a rather big problem, is the game is mostly online only, granted they do give you the option of playing local split screen or against the AI in skirmish mode so it isn't completely online, but with heavy emphasis on mulitplayer, with ranked matches and special events I can forsee that it wouldn't be the type of game I play for many hours and instead play for short bursts before repetition sets in and I get bored. I do like how the game will only ever make you wait for about ninety seconds before giving you a match against bots, meaning you can still gain the exp you don't in skirmish games without having to wait ages for players, its great for the types of people that aren't big on multiplayer, each vehicle has unlockable skins, voice lines, tombstones to mark deaths and emotes for bragging rights, the game also features a leveling system with loot boxes for unlockable gear and titles at each level up, meaning there are always rewards for even the casual player to earn which is great for replay value.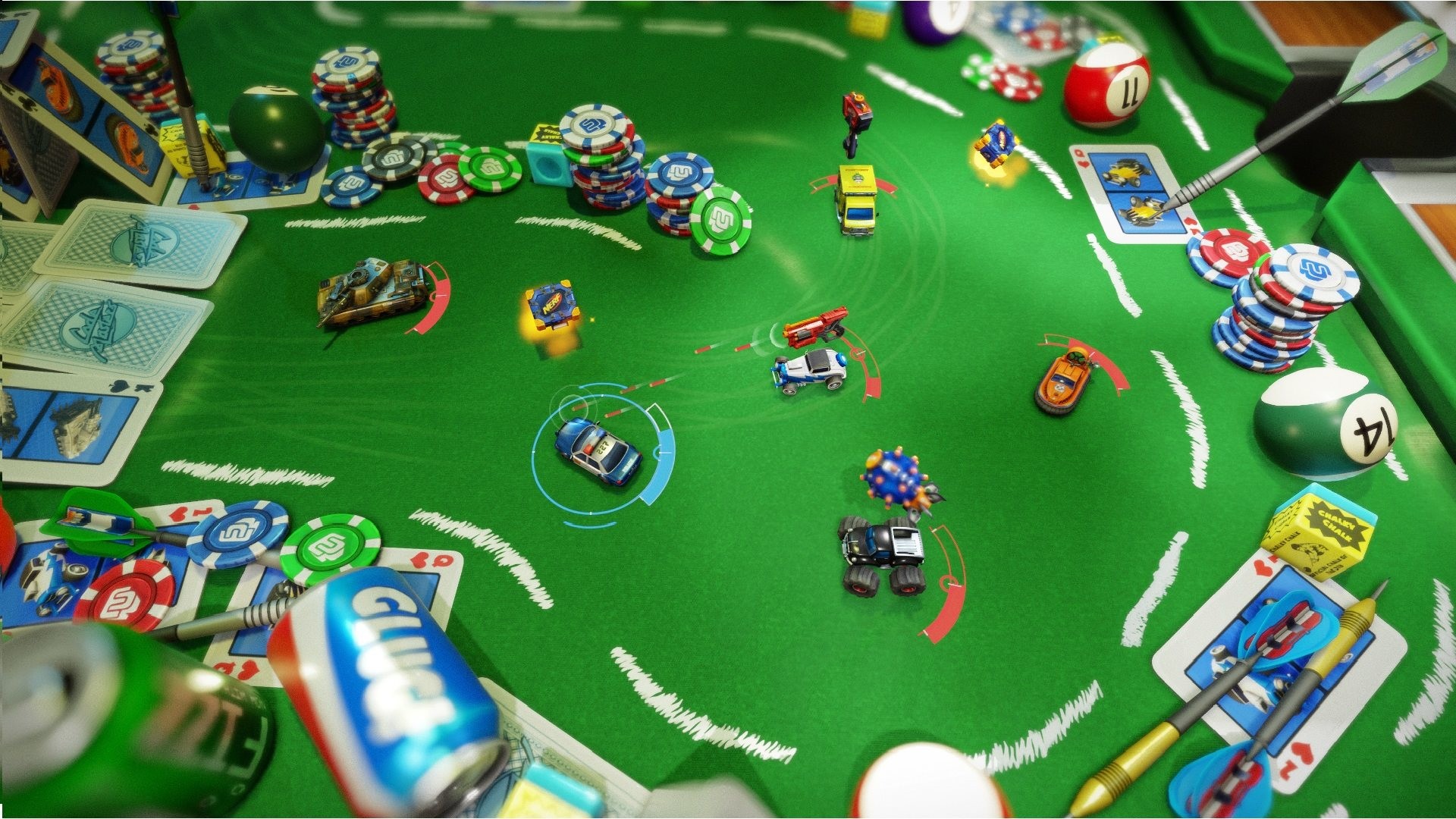 The graphics are really fun and colorful, the map designs are a child's playground, and the vehicle designs are fun and unique covering all the bases from sporty cars, to beefy monster trucks, including tanks and emergency services, everything is well designed, gameplay is smooth, controls are probably a little too sensitive or laggy, oversteer is definitely an issue. But overall the game is fun and addictive, most of the time you'll just laugh watching yourself and the AI players fail, it makes for a great party game.
The game's soundtrack while not my kind of thing really suits the arcade style of play and can really intensify the playing experience, it suits the fast paced action well, the ambient and background sound effects are hilarious as is the funny and witty one liners dropped by the voice artists for each vehicle, each voice is different and suits the cars theme very well, for example you get a suave British spy for the DB9 inspired Agent Atom, a tough New Yorker police woman in Lt. Shields and a gruff Pirate in Captain Smallbeard.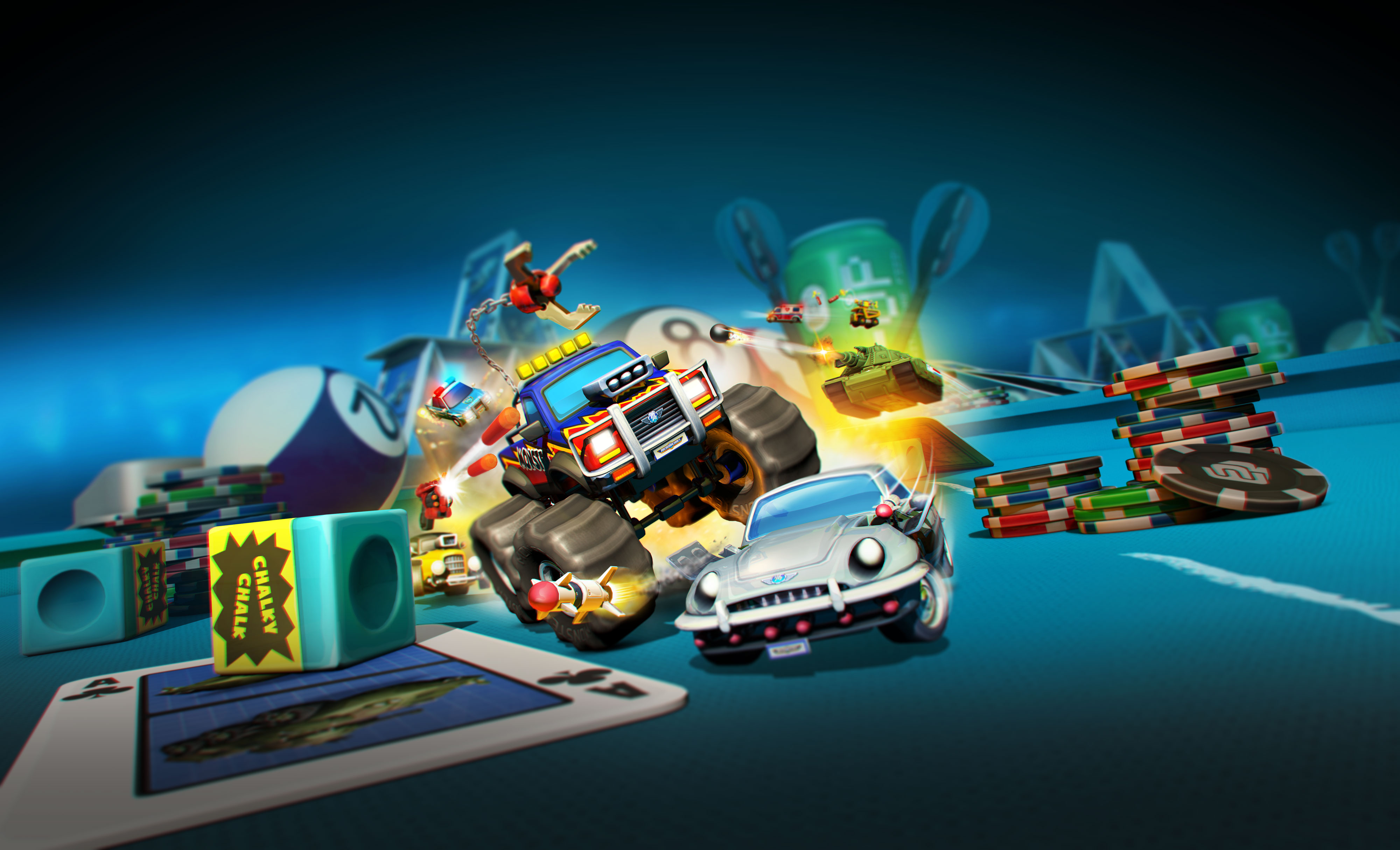 Final Thoughts?
Overall, it's a pick up and play game, with great user friendly controls, fun, addictive gameplay, witty one liners and carnage, it's easy for any kind of player to pick up the controller and have some good fun, it won't last forever as repetition is the game's biggest shortcoming but it's definitely fun and replayable, a great time killer or stress relief. The game's value is great too, at $49.95 it's priced well for the level of content and fun I found and had playing this game.