Switch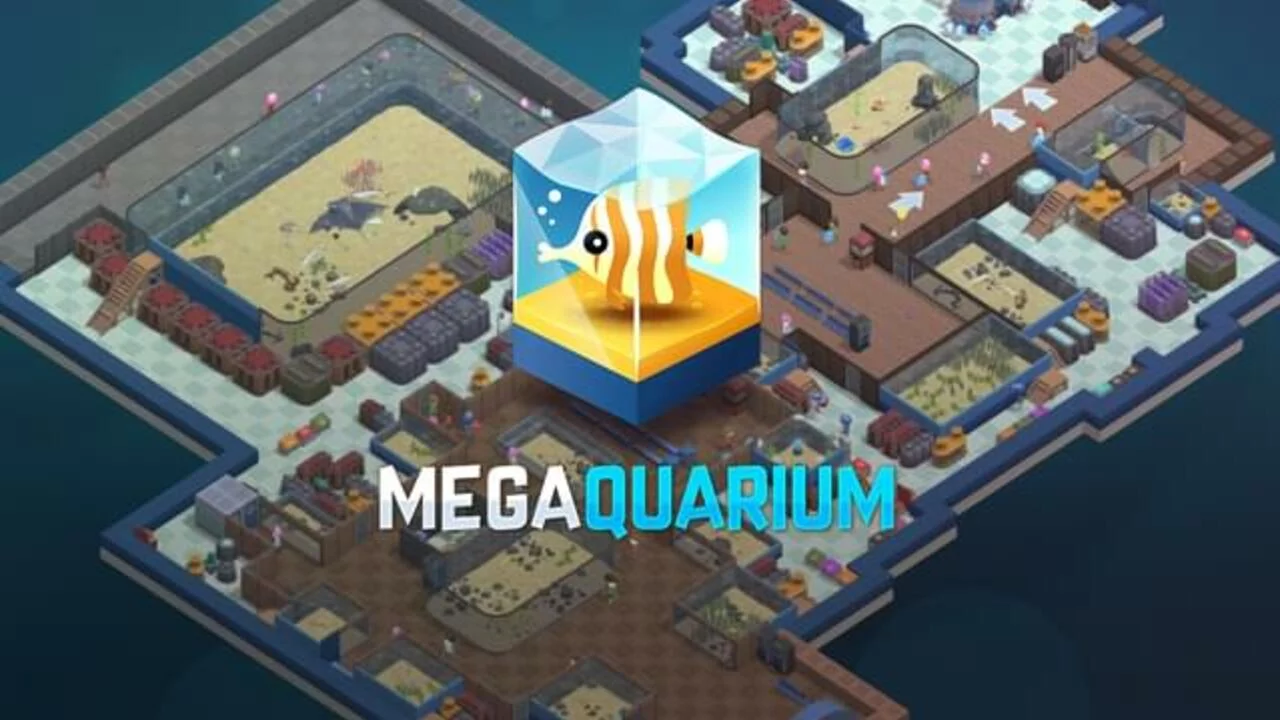 Published on October 28th, 2019 | by Paul Stuart
Megaquarium Switch Review
Summary: A solid strategy-builder game, suitable for entry and advanced players with some knowledge of fish. It is also one better suited for other platforms.
If you're a person with both: a) a passing fancy in theme park build games; and b) affinity for fishy friends, then you're in luck. Megaquarium is – by far – the most accessible of the strategy-builder genre I've encountered, with a barrier of entry challenging but rarely frustrating.
The premise behind Megaquarium is very straightforward: design, build and manage all aspects of an aquarium. From tank placement, selection of livestock and decorations, assignment of filters, heaters and feeding stations, hiring of staff…all are at your disposal.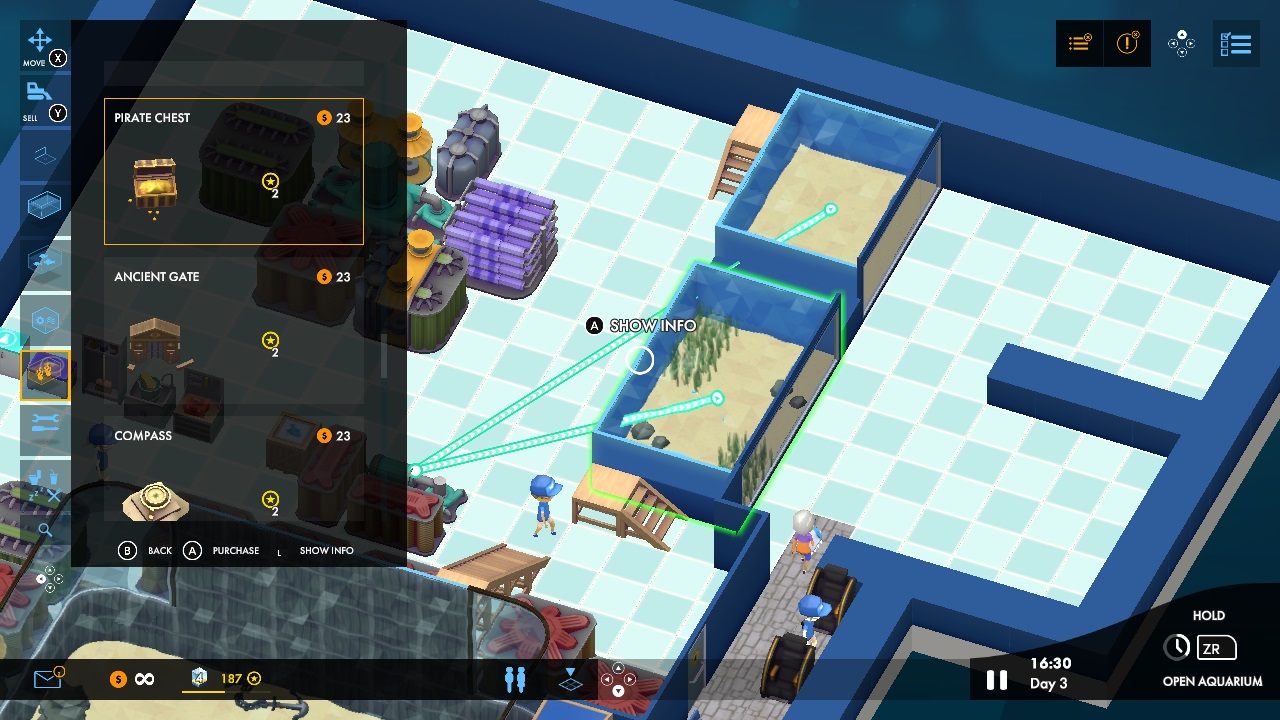 Perhaps the most welcome aspect of Megaquarium is the ease of moving items around and/or selling them back. Other strategy-builder games operate under an 'undo or bust' premise, where one plus turn's goof up decision can spoil the entire landscape, indefinitely. I suppose those with a passion for the strategy-builder genre will see this as a good thing, where trial and error – and accompanying growing pains – is part of the experience. Personally, I see this nuance valuable at advanced levels alone, where all aspects of core gameplay are second hand. But to punish beginner players trying to decipher build mechanisms and opportunity paths seems masochistic. So thank you, Megaquarium.
Thus, Megaquarium falls on the easier side of this genre, inasmuch as the learning curve a more reasonable one. There is no penalty for redoing entire tank setups, also the game can be time paused to correct problems, stress free. It also allows a closer inspection – once everything in place, the game unpaused – to assess what is/n't working within a particular setup.
While Megaquarium doesn't require extensive knowledge of fish, if you're truly new to this world it may still be a lot to take in. The game divides fish and tank ecosystem requirements into a select, logical number of categories, where specific setups and other tank mates will determine if it a viable configuration. Fish hiding spots, tank filtration power, passive/dominant and/or shoal livestock nuances are also factored in. Then tertiary requirements of food type, access to repair stations, and ultimately lighting and chemicals subsequently come into play. As a fish guy myself, I wasn't overwhelmed by the fish knowledge items. But aquarium infrastructure wasn't as obvious.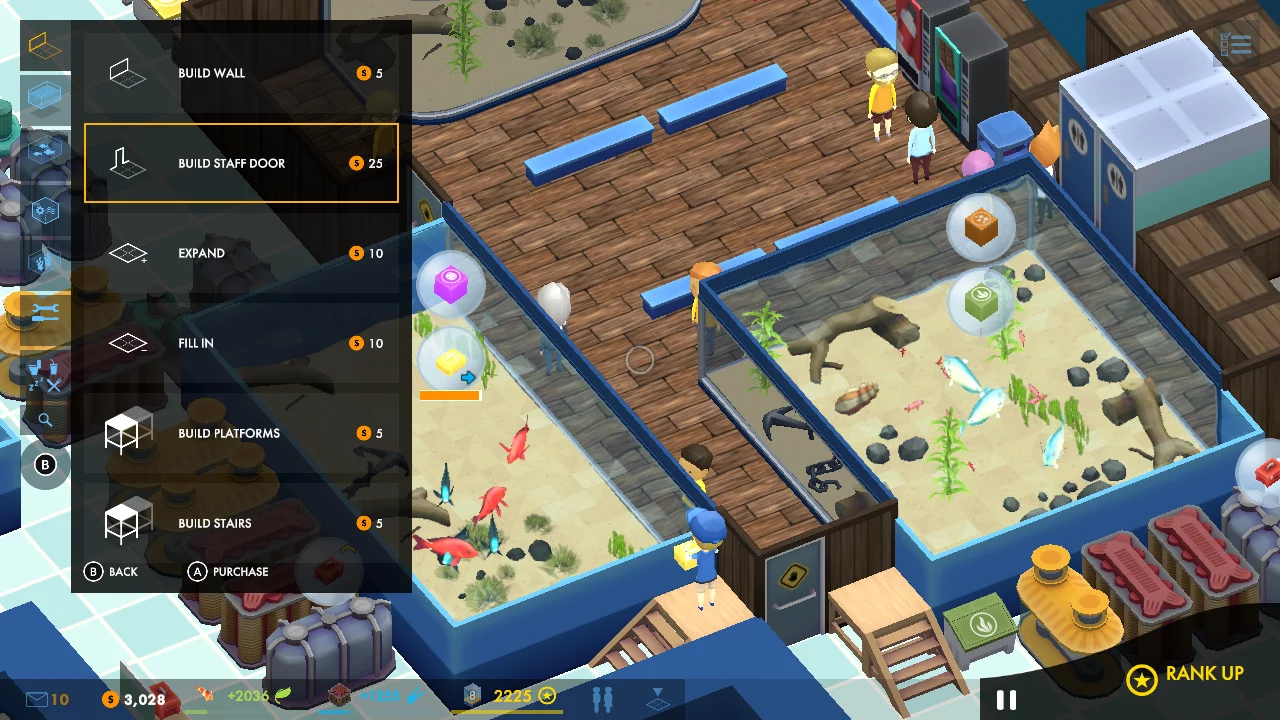 Thankfully, Megaquarium quickly advises when things go wrong and/or won't allow you to make 'rookie' mistakes (like overstocking a tank). The time pause features empowers reasoned corrections and learning moments.
Megaquarium offers a number of difficulty settings. On lower levels, money comes quick, meaning easy access to additional staff also research opportunities to discover new fish. In Megaquarium, money is directly linked to prestige, where complex tank setups and a well run aquarium produces satisfaction and resources from patrons. Also and thankfully, patrons are logical in constructive praise and criticism. (So no wasted efforts correcting false problems.)
For the truly creative among us, Megaquarium is the ultimate sandbox game. It affords so much opportunity and variety in building aquariums and individual tanks, you can and will let lost for hours on end in this mode. Additional fun is zooming down to tank level, one with a direct view of fishy friends swimming about. While this level of detail doesn't capture individual, smaller fish, it does allow one to truly admire the fruits of their labor.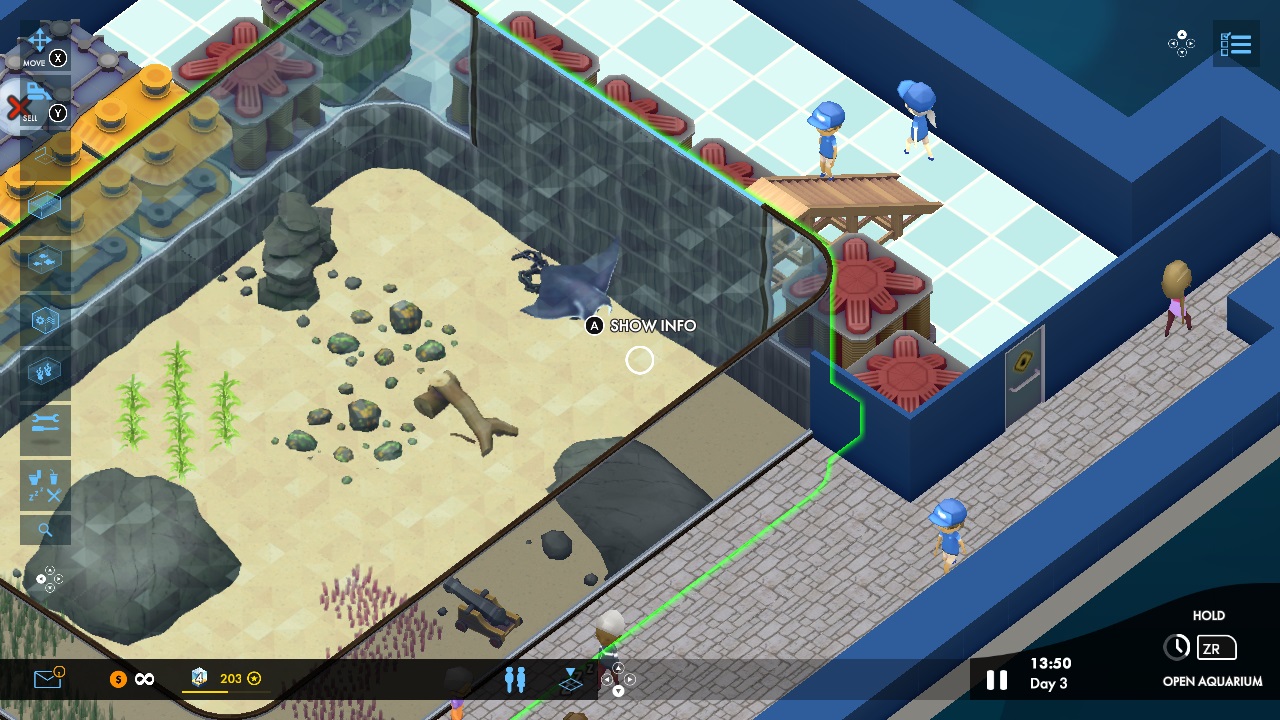 Megaquarium isn't without its hiccups. Even with detailed explanations, it can still be unclear which tank setup is ideal. Also, cumbersome equipment clogs up walkways until later stages when opportunities to hide them emerge.
Last and importantly, the game is practically unplayable in portable mode. Text and menus are TINY, for someone with very good eyesight. I checked in with the developers on this, who confirmed they were aware of this issue (I was not the first to bring it up), but also that they were not going to address it. The same goes for lack of touch screen functionality, which significantly slows down the game (as it accessed via a combination of D-Pad and left analog stick, only). While dock mode works and well via a Pro Controller, Megaquarium is clearly best suited for a PC, where a mouse can seriously enhance ease of play and item selections.
Final Thoughts
Megaquarium for the Switch is an enjoyable theme park builder suitable for entry level and experts of the genre. Those with aquarium experience will find a lot to love here. It is, however, best suited for dock mode only.