Comics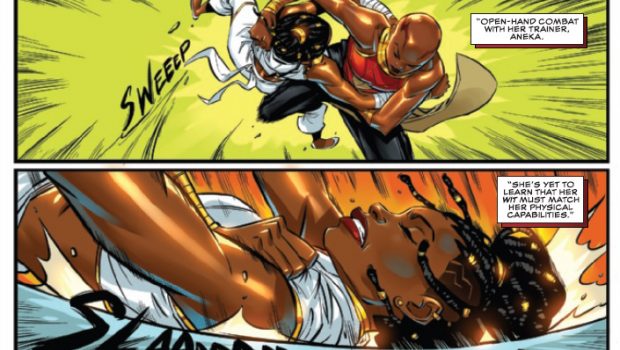 Published on February 19th, 2023 | by Tim Chuma
Marvel's Voices: Wakanda Forever #1 Review (2023)
Summary: This is a great addition to the recent Wakanda series but you don't need to have read it to understand these stories. A worthwhile addition to the Marvel's Voices series.
Celebrating Black History month we see some more stories from Wakanda. If you have seen the recent Wakanda series it is pretty much that but these stories seem to be more general rather than just focussing on contemporary characters in the series.
There is also an introduction by Frederick Joseph, a profile on artist Alitha E. Martinez and a feature on Exploring the World of Wakanda.
How much you will get out of this depends on how much you are into the Black Panther and related characters in Wakanda. This is obviously meant as more of a one-shot than the mini series is but you don't need to have read that series to read this one and vice versa.
I would say it was up to the standard of the other Marvel's Voices series and has a lot of people involved so there is a lot of variety in the stories and artwork and many different interpretations of a similar story.
Well worth checking out and a good continuation of the Marvel's Voices series.
Comic details:
Writer: Frederick Joseph, Karama Horne, Murewa Ayodele, Juni Ba, Adam Serwer, Dr Sheena C Howard, Juni Ba, Angeline Roche, Robyn Belt
Penciler: Alitha E. Martinez, Todd Harris, Juni Ba, Dotun Akande, Marcuse Williams
Cover Artist: Ken Lashley
Publisher: Marvel
Published: February 15, 2023