Comics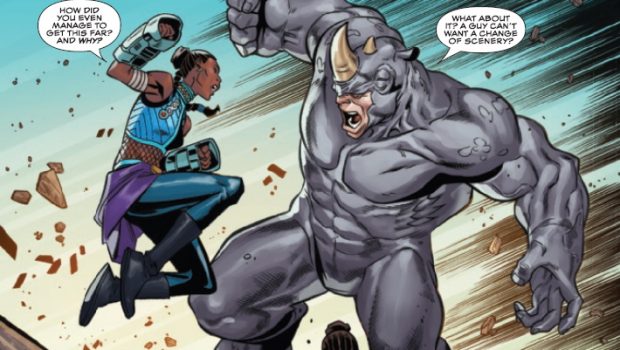 Published on October 19th, 2022 | by Tim Chuma
Wakanda #1 (2022) Review
Summary: A nice lead into the post-Black Panther stories around Wakanda even if it may not have that much to do with the upcoming movie.
The Black Panther has been banished from Wakanda and his sister Shuri will not leave her lab looking for the reason. The Queen finally manages to drag her away and have a few words with her. Knowing the kingdom is now without their leader several threats are now converging. Shuri manages to deal with the Rhino but finds that he was working with someone so more should be on the way.
There is also a short story telling the origin of the Black Panther and founding of Wakanda during this story.
Not sure how much this related to the new Wakanda Forever movie but it at least has some of the same characters in it and does get people used to a "post Black Panther" story as the movie seems to be showing. There is a good reason why they decided not to have anyone else try and replace the lead from the last movie.
The story has a good pace and leaves you wanting more, all that you would want in and introductory story. Well worth a look even if you were not super into this series in the past.
Comic details:
Writer: Evan Narcisse, Stephanie Renee Williams
Penciler: Paco Medina, Natacha Bustos
Cover Artist: Mateus Manhanini
Publisher: Marvel
Published: October 12, 2022