Films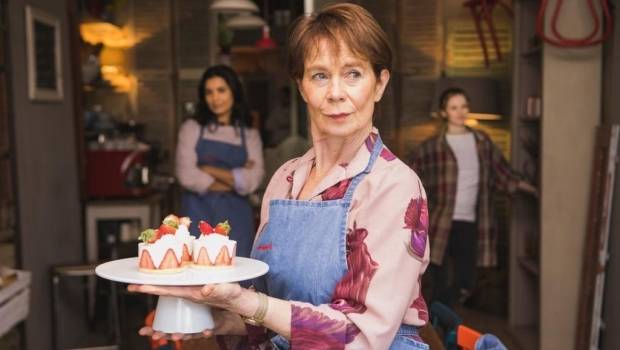 Published on July 1st, 2020 | by Natalie Salvo
Love Sarah Film Review
Summary: This pleasant premise has some smile-inducing moments. The result is well-meaning, but not charming enough to be a classic recipe.
We're taught that girls are made of sugar, spice, and all things nice. That adage certainly applies to the treacly, feel-good film, "Love Sarah." If this dramedy packed away any more saccharine the streets of Notting Hill would be drowned in fine, white clouds.
Eliza Schroeder directs her first, feature-length film here and it's one that is very pleasing on the eyes. Like "Julie & Julia," the number of mouth-watering displays of scrumptious delights means you shouldn't watch this one on an empty stomach. Think Ottolenghi name-drops, lamingtons, matcha desserts and Persian Love cakes, to name a few.
The eponymous character in these proceedings had a long-held dream to open a bakery in London. She dies in tragic circumstances, so her 19-year-old daughter (Shannon Tarbet) decides to carry on and pay homage to her legacy. She enlists her grandma (the delightful, Celia Imrie) and her late mother's best friend Isabella (Shelley Conn). They are also joined by a Michelin-starred chef (Rupert Penry-Jones) who spices things up in the romance and kitchen departments.
At first, the business fails and the characters have to negotiate different struggles and pitfalls. They eventually hit upon a unique business proposition. That is, to celebrate London's diverse, cultural population and make a bakery that's a home away from home. If this were any more quaint and effervescent the characters would be sitting around a campfire singing "Kumbaya."
This film has some promising ingredients. There's tasty treats, the picturesque Portobello Road Markets and some fine actresses flying the female friendship flag. But there is something in this recipe that's a little off. While the story is amiable and well-meaning, the lack of detailed character development leaves things feeling bland.
The script by Jake Brunger could have been filled with clever English witticisms. In fact, in the hands of someone like Richard Curtis, you get the sense that this could really sing. Instead, it's a tad flat and like eating a home-brand cake. This falls short when compared to what could have been a homemade speciality baked with love, which would be comforting and satiating in equal measure.
"Love Sarah" is an easy watch, and for some viewers this may provide a pleasant distraction in these bizarre times. But the vast majority of people will walk away not feeling sated. There was an excellent film lurking in there, but it seems like these ingredients needed the deft hands of a truly masterful MasterChef.