Films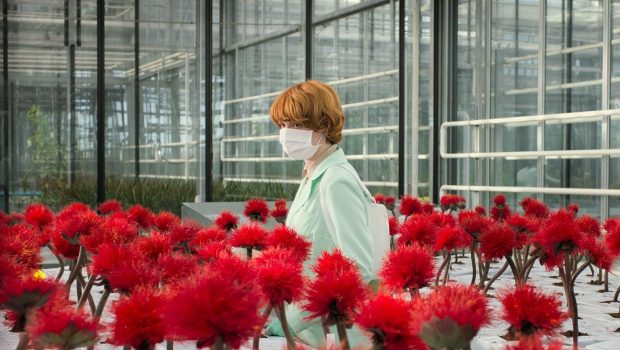 Published on July 11th, 2021 | by Natalie Salvo
Little Joe Film Review
Summary: This topical and dramatic look at a manipulative plant feels very stark and clinical. Some good seeds are there, but these do not blossom in the finished piece.
At its roots "Little Joe" has some intriguing ideas but these fail to grow to fruition. This sci-fi thriller is the English language debut from "Lourdes" director Jessica Hausner. The film's slow-pacing and unemotional performances mean that these topical ideas get largely lost in the ether.
Emily Beecham ("Daphne") stars as a driven single mother who works in a green house. She has played God, by genetically-engineering a plant that has the power to make its owners happy. The problem is whether this plant is a benevolent one or a manipulative flower akin to a Venus Fly Trap?
Hausner is co-writer of this script along with Géraldine Bajard. The plot nods at films like "Frankenstein" where a creation gets out of hand and the deadly plants in "Little Shop of Horrors". It grapples with ideas like motherhood and society's obsessions with wellbeing, but it also drowns its messages in a lot of ambiguity. When coupled with an unsatisfying ending and repetitive scenes, this makes for a frustrating viewing experience for audiences.
Ben Whishaw stars in this film as Alex, Annie's love interest who gives his unerring support to her at work. This is different to the lab's skeptical administrator (David Wilmot) and the team's senior researcher Bella (Kerry Fox). The latter raises the alarm saying her dog is acting strange after an unlikely overnight encounter with the plants. The flowers are named after Annie's teen son, even though the pair share a somewhat stilted filial relationship.
The film is shot with a stark and minimalist palette. The colors are mostly bright whites and pastel greens and these offer a stark contrast against the blood red of the plants. The score by Teiji Ito uses flutes and percussions, which create a moody and atmospheric piece. But when this is combined with many plot holes, this impedes its ability for real tension and to be a satisfying and sinister horror story.
"Little Joe" feels like a topical film – at least as far as Covid is concerned – because it looks at the idea of pollens spreading and infecting humans, rendering them zombie-like . There are moments where it is unnerving but the characters are so disaffected that it's an exercise in style rather than substance. "Little Joe" had some great ingredients, but it feels like many of these remain buried in its final execution.