PS4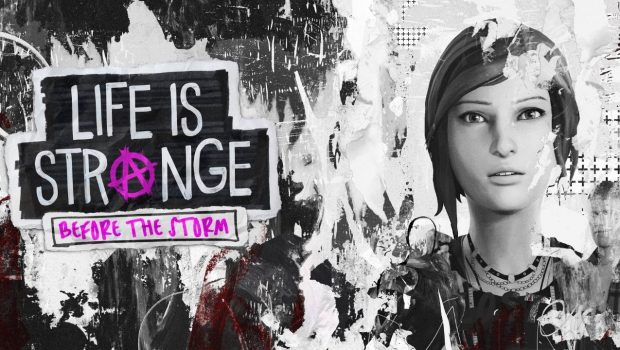 Published on September 5th, 2017 | by Nathan Misa
Life is Strange: Before the Storm – Episode 1: Awake PS4 Review
Summary: Episode 1 of Life is Strange: Before the Storm is a fun and well-written return to Arcadia Bay with similar complex themes, extensive character development and 'hella' interesting high-school drama.
If I'm being completely honest, I wasn't exactly dying to experience Life is Strange: Before the Storm. It's the surprise prequel nobody really asked for, made by a completely different developer nobody really expected with noticeably different voice actors everybody balked at – so I had low expectations. But thankfully, developer Deck Nine has quickly proven more teenage angst and well-told stories about the delinquents of Arcadia Bay isn't necessarily a bad thing.
For readers completely new to the series, Life is Strange: Before the Storm is a three-episode prequel series to 2015's Life is Strange, an episodic graphic adventure series by Dontnod Entertainment which gathered critical acclaim for its branching choices, puzzle-solving and unique rewind time mechanics (Butterfly Effect) – but most importantly for its compelling narrative and expertly realised lead characters, Max Caulfield and Chloe Price.
With a sequel also in the works, Before the Storm banks on the curiosity of both new and existing fans hungry for more background details and revelations about the many drama-plagued residents of Arcadia Bay. For the most part, Episode 1: Awake justifies its existence and satisfies on the fan-service front admirably, while also serving up its own compelling self-contained story.
Before the Storm focuses on Chloe Price's life three full years before Max returns to Arcadia Bay and further expands upon the never-ending high-school dramas and underlying elements of mysticism established in the first game. Suffering from the recent tragic loss of her father, Chloe is a bit of a mess: The game kicks off with her trying to sneak into a late night rock concert and the player is immediately given all the tools necessary to unleash Chloe's rebellious and unruly nature upon all those in her path, or instead choose dialogue and actions which highlight her misunderstood personality.
Within the opening half-hour, Chloe meets Rachel Amber, another key character who drives much of the mystery established in the original Life is Strange; Episode 1: Awake subsequently spends most of its time introducing the powerful dynamic and relationship these two girls share throughout the series with other background plot threads gradually set up for payoff in the next two episodes.
As a returning LiS fan, the first half of Episode 1 was admittedly slow to captivate story-wise. The re-tread of Chloe's troubled relationship with her mother Joyce felt like it dragged on more than it did due to the re-use of environmental assets (you'll be exploring every inch of Chloe's home yet again) and some of the replacement voices for returning characters were initially disappointing. Thankfully, there is plenty of intriguing things to discover and meaningful choices to make that have clear consequences by the end of the episode and for the future follow-ups, along with a funny easter-egg which explains Chloe's infamous cringeworthy catchphrase from the first game.
The second half really kicks the story into gear once Blackwell Academy and the wider cast of new characters at Chloe's school are introduced, some of whom I've already found as interesting and fun to talk to as the original game's colourful personalities. It's also when Before the Storm's new conversational gameplay mechanic is properly put to work: Because Max isn't around the original game's time-rewind powers had to be replaced with something that could define Chloe just as well, and Deck Nine found it with 'Backtalk'. Appearing as a unique option in a handful of key story interactions, players can choose to have Chloe engage in verbal fisticuffs with characters to get what she wants – or get her out of a sticky situation.
These standoffs have a timer and a limited number of chances, and you have to choose the proper comebacks to get the person to relent. While not as flashy as Max's powers, I thought it was a fun way to double down on a rebellious Chloe's behaviour and look forward to seeing the wider narrative consequences Deck Nine have planned for Backtalk choices in later episodes.
In-between main story beats, you can explore various locales of Arcadia Bay with Chloe and interact with several side characters, examine various environmental objects for amusing cynical Chloe Price commentary (and added lore) and tag several spots with graffiti, which acts as Before the Storm's optional collectibles system. I found the choice of drawings to be hilarious and authentic to Chloe's character (similar to Max's photography in the first game) and a relaxed 'Collectibles Mode' allows you to return to previous locations and find these optional opportunities without worrying about story progression.
For a story-centric video game, voice-acting makes-or-breaks the experience. The overall voice-work from the new LiS cast in Episode 1: Awake generally gets better further into the story. While the replacement voice actors for many returning characters fell flat, new characters like Drew, Mikey, Rachel and Steph perfectly captured the angsty tone as their counterparts from the original series. Chloe's replacement voice actress does a great job as a younger, more vulnerable version of the iconic character Ashly Burch pioneered. For returning fans who were irked by the cast changes, give Before the Storm an honest chance in the audio department (the somber music and indie rock tunes are also faithful to the original series) before you make your judgment, because there is some genuinely good work here that is as high-quality as the original cast.
The Final Verdict
Episode 1 of Life is Strange: Before the Storm is a genuinely fun and well-written return to the intriguing world of LiS with similar profound themes, extensive character development and 'hella' interesting high-school drama. Deck Nine have introduced compelling new ideas in their prequel while remaining respectful of the original source material, and fans will be hard-pressed to find fault in their faithful rendition of the somber atmosphere of Arcadia Bay. 
If Deck Nine can further expand upon the new Backtalk gameplay mechanic and continue to expertly explore the whirlwind dynamic of Chloe Price and Rachel Amber (along with those tantalising high school dramas in-between) and provide tangible choice and consequence in the remaining two episodes, they'll be delivering fans another winner.
Game Details
Primary Format – Games – Microsoft Windows, PlayStation 4, Xbox One
Game Genre – Episodic graphic adventure
Rating – M15+
Game Developer – Deck Nine
Game Publisher – Square Enix