Hardware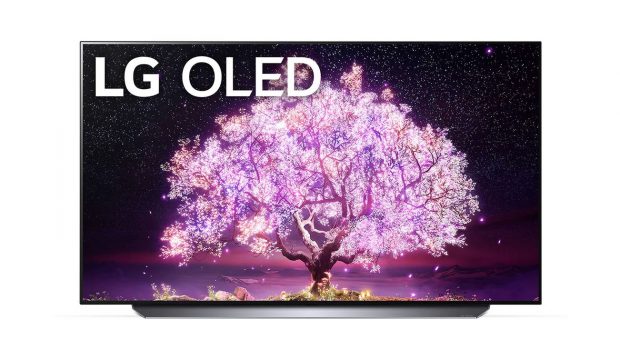 Published on August 6th, 2021 | by Andrew Bistak
LG C1 OLED TV REVIEW (2021, Model – OLED48C1PTB) #GameOn
Summary: The LG C1 OLED (OLED48C1PTB) is the start of next-gen TV's with stunning visuals and true smart connectivity!
If 2020 was the year for next-gen consoles, then 2021 is the year of next-gen certified TV's and LG have just launched their new 2021 line of C1 OLED TV's… and to quote Darth Vader (Star Wars The Empire Strikes Back) "Impressive. Most Impressive" sums up the quality of this next-gen TV perfectly.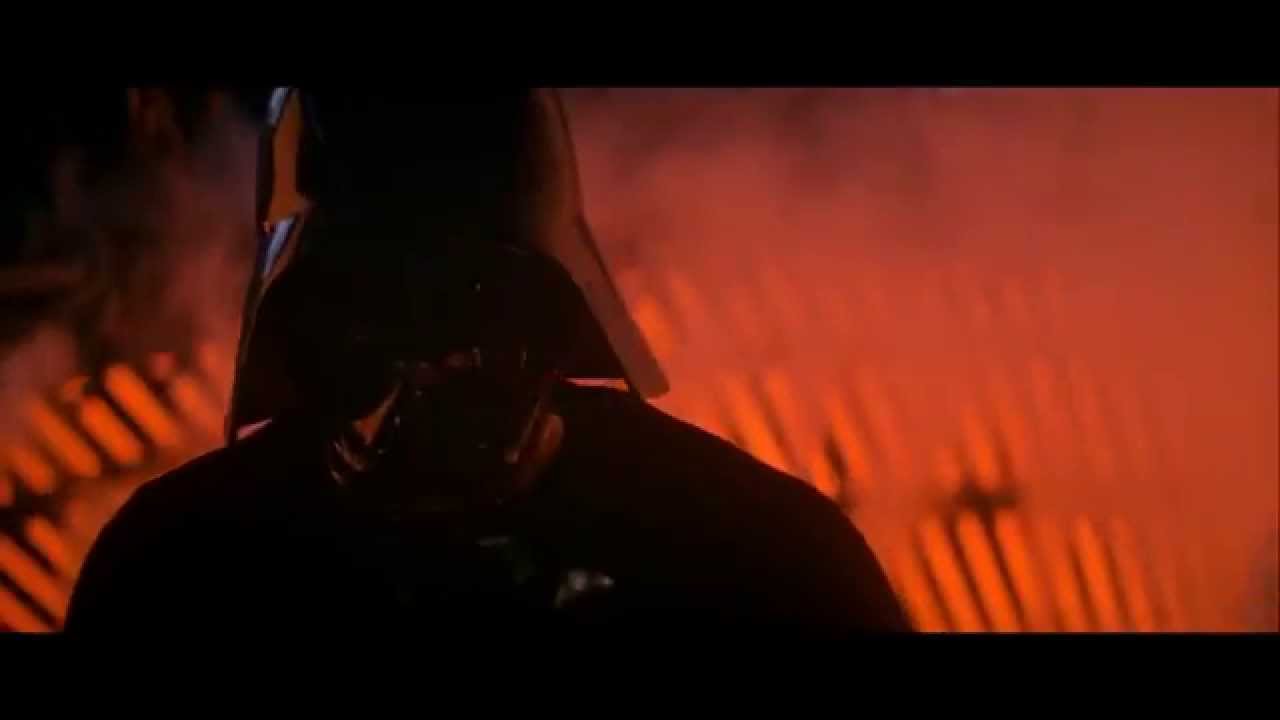 Not only does the LG C1 4K Smart Self-Lit OLED TV w/ AI ThinQ series creates exceptional and vibrant 4K image quality but it boasts true smart TV features and for gamers, delivers a 120Hz display that allows a silky smooth 120 frames per second on the PlayStation 5 and Xbox Series X which are prerequisites for next-gen gaming thanks to its HDMI 2.1 input.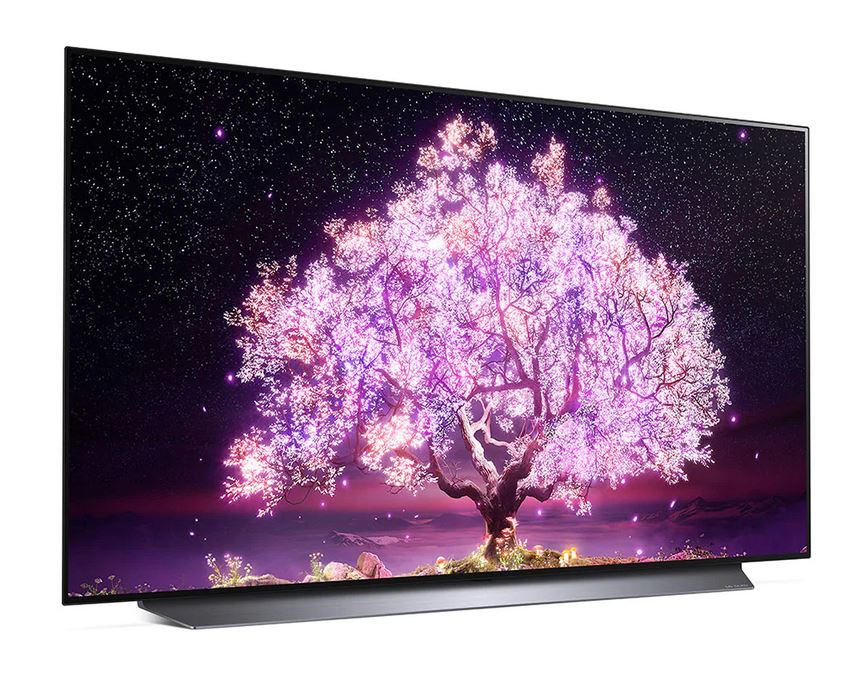 The LG C1 OLED TV also comes in five sizes that include 48″ (reviewed), 55″, 65″, 77″ 83″with prices ranging from $2476AUD (August 2021) to $9499. Further, this TV comes with a self-lit OLED display that creates a deeper richness in colours, including additional depth and very deep blacks which is far superior than QLED technology.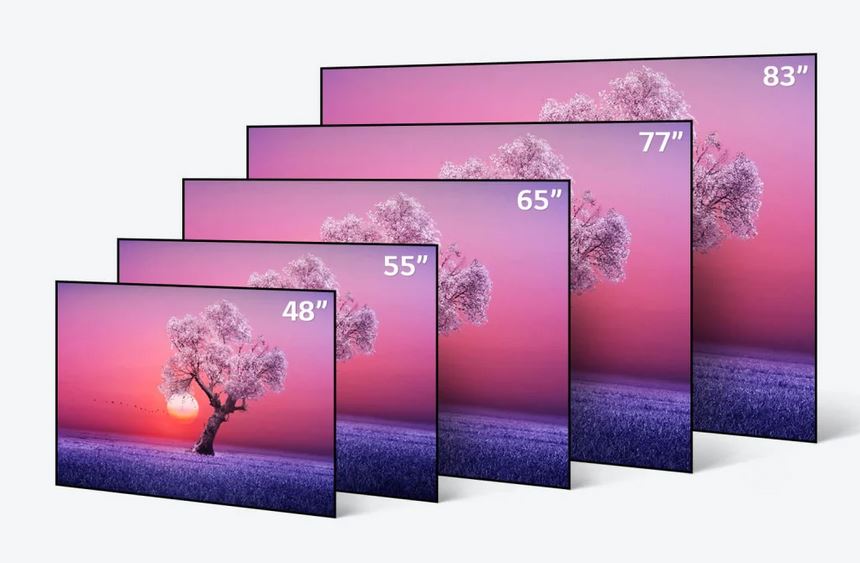 As a result, it is considerably more vibrant than its competitors and blacks don't look washed out with improved viewing angles. Furthermore, it's powered by a Alpha 9 Gen4 AI Processor 4K that supports with speed in not only displaying high quality images but preventing blur plus smart features including AI (artificial intelligence) adjustments for picture and audio. This later feature is great for fine-tuning your TV on the fly.
Highlights
Self-Lit OLED – Perfect Black, Billion Rich Colours, OLED Eye Comfort
Alpha 9 Gen4 AI Processor 4K – AI Picture Pro, AI Sound Pro, HDMI 2.1 features (HFR, eARC)
ThinQ AI – Hey Google, Amazon Alexa, Apple Airplay 2, Apple HomeKit, Home Dashboard, Magic Remote Control, Magic Tap
Home Cinema Experience – Dolby Vision IQ, Dolby Atmos, FILMMAKER MODETM
A World of Entertainment – Netflix, Apple TV, Disney+, Stan, Amazon Prime, Optus Sport, Twitch, G-Sync Compatible / VRR / AMD FreeSync Premium, Sports Alert, Game Optimiser
LG C1 OLED TV Gallery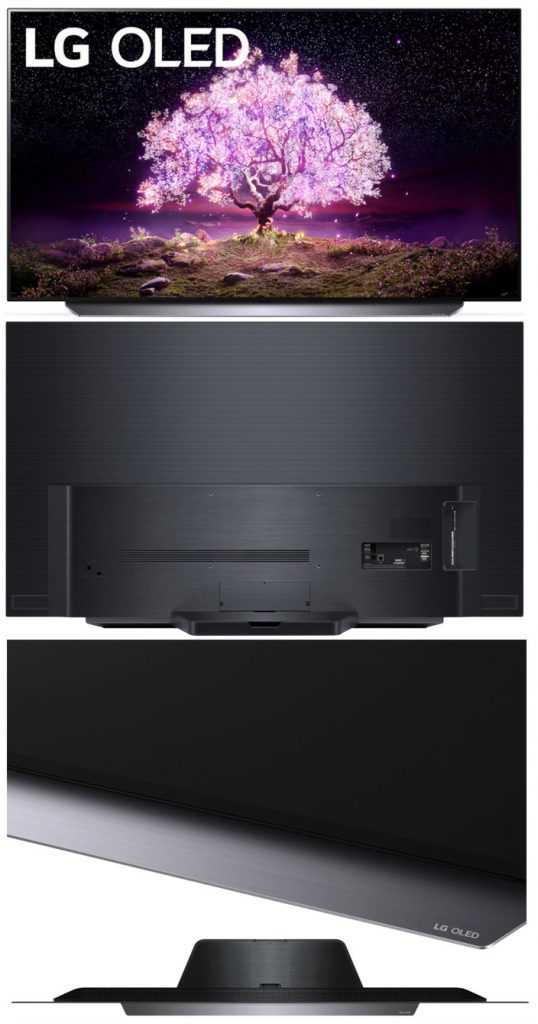 Well packed from LG, the first thing you need to decide is whether your new TV will be wall mounted (WB21E/LSW440) or to install the included stand. LG recommend a second person to assist with the installation in order to prevent damage to not only the TV but also yourself as it weighs 18.9kg with the included 4kg stand.
As this was a review model, we chose the stand option that first requires you to attach the front base to the stand via two Phillip head screws. The next step is to slide the stand into the back of the TV and then attach it with the four included screws and presto, the physical installation is almost complete.
The last step is to connect the anchor strap to furniture (e.g. TV cabinet) or the wall so it can't be accidentally pushed over by younger children. With the stand, the 48″ model measures at 1851mm x 1092mm x 279mm which is a good overall size for a smaller lounge, gaming den or study.
The overall build quality of the LG C1 OLED is pure style from its ultra-thin bezel, slimline design with logical placement of inputs, including those on the back of the TV unit. If you place this on your wall, you will just see the thin black bezel which again looks quite classy and the metallic stand, while Spartan adds a certain sophistication to its overall aesthetics as well. The C1 is also ultrathin as you can see from the following image.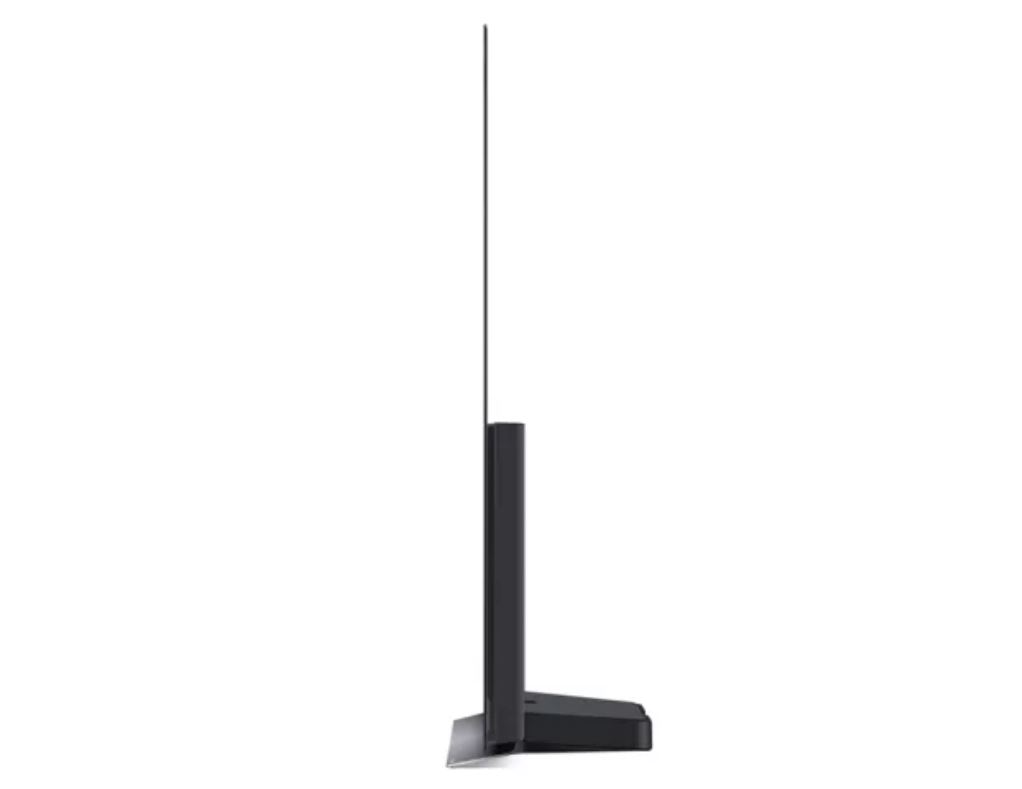 Once you have found your new home for the TV, you need to connect it to power, your antenna and any entertainment devices you may have such as an Xbox Series X, PlayStation 5 or even a PC. If you're a PC gamer, you'll be pleased to know that the LG C1 OLED TV supports AMD FreeSync and Nvidia G-Sync that has been designed to maximise OLED displays by offering a variable refresh rate to improve frame rate and reduce tearing. In other words monitor quality from 48″ and greater.
The TV has a wealth of inputs that include HDMI 2.1 (*) x 4, USB x 3, RF Antenna, Composite/Component Input, Headphone 3.5mm, Digital (Optical) Audio and LAN Port. If you want to know why most TV's don't support 120 frame per second, check out our hand fun fact below:
* HDMI (High-Definition Multimedia Interface) 2.0 vs HDMI 2.1 – In order to experience 120 frames per second in 4K, you need a TV that supports the new HDMI 2.1 standard. While HDMI 2.0 can deliver 4K, it can't display more than 60 FPS (frames per second) due to its limited bandwidth of 18 gigabits per second (Gbps), whereas HDMI 2.1 has a bandwidth of up to 48Gbps that can deliver 120 FPS and 8K.
I also like how the left side of the TV (if you're facing it) has three accessible HDMI 2.1 ports and a USB port, whereas the rest of the inputs are located on the back of the unit, including a neat cable management system at the bottom of the stand.
When it's first powered, you have the option of setting up the TV via a mobile device or through the TV itself. This then takes you through a wizard to include region, connecting to your internet (either Wi-Fi or wired), accepting LG's terms and conditions plus an automatic user analysis system that identifies what devices are connected, provided they are turned on. The TV also gives you a demo on its AI functions and by enabling AI Picture Pro, it increases picture quality and depth with AI Sound Pro creating a virtual 5.1 3D surround sound experience.
The installation wizard checks for updates, including its apps such as YouTube or Netflix. The system behind the TV is LG's WebOS which is fantastic and boasts a very easy to use interface that is very fast and loads apps equally as quick.
While I found the interface a little too busy initially in terms of the amount of displayed content, there is actually a rhyme and reason to the layout that becomes second nature to you after a few days. Additionally you can tweak the appearance, including those apps that you use regularly.
I like how the WebOS learns which apps you use regularly to make your navigation experience even more streamlined as I quickly swapped from TV to the Xbox Series X to Disney+ and YouTube. You can even setup sport alerts from free to air TV to remind you when your favourite teams are playing as well. Great for sport lovers!
The TV reads external media devices very quickly and whether it's a USB stick or external hard drive, the WebOS easily opened our video files. The video playback files that the LG C1 OLED supports include ASF/WMV/AVI (Xvid, H.264/AVC)/ MP4/M4v/MOV (H.264, H.265, MPEG-4, HEVC), AV1/ MKV (MPEG-2, MPEG-4, H.264, H.265, VP8,VP9, HEVC, AV1) TS/TRP/TP/MTS/MPG/3GP/3G2MPEG/DAT/VOB/HEVC (Up to 3840×2160 @ 120p) / AV1 (Up to 3840×2160 @ 60p). As you can see, a plethora of video formats and best of all, the TV remembers where you are up to when you pause a video.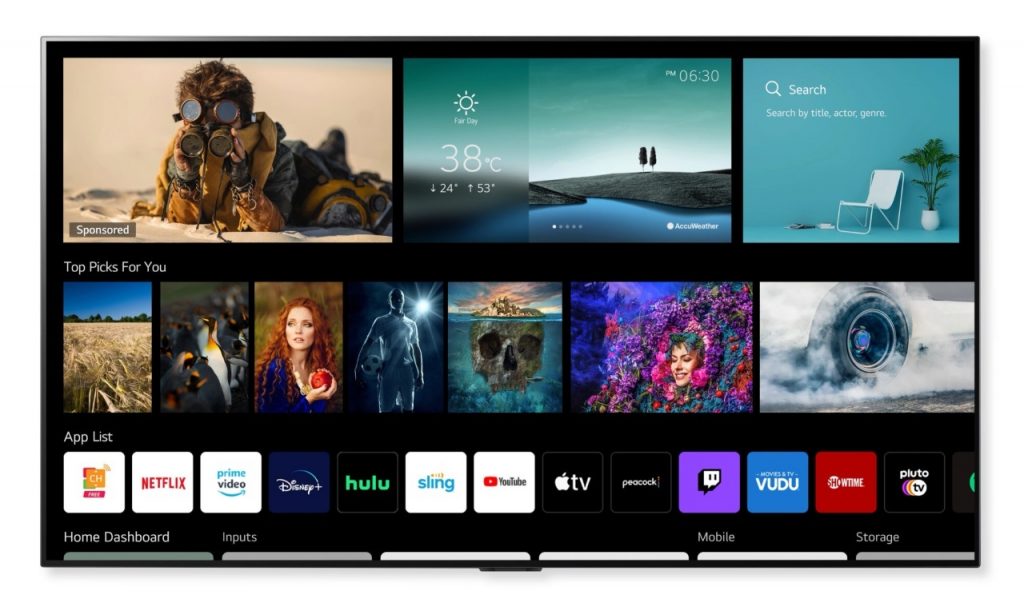 The remote control that comes with the LG C1 OLED is streamlined and very responsive. It's also dubbed a 'magic' remote control that allows it to be used like a mouse meets pointer (think Nintendo Wii controller), including a wheel control plus it has voice recognition. Button placement is logical and there are quick access buttons to Netflix, "Amazon" Prime Video, Disney+, LG channels plus Google Assistant and "Amazon" Alexa for voice control.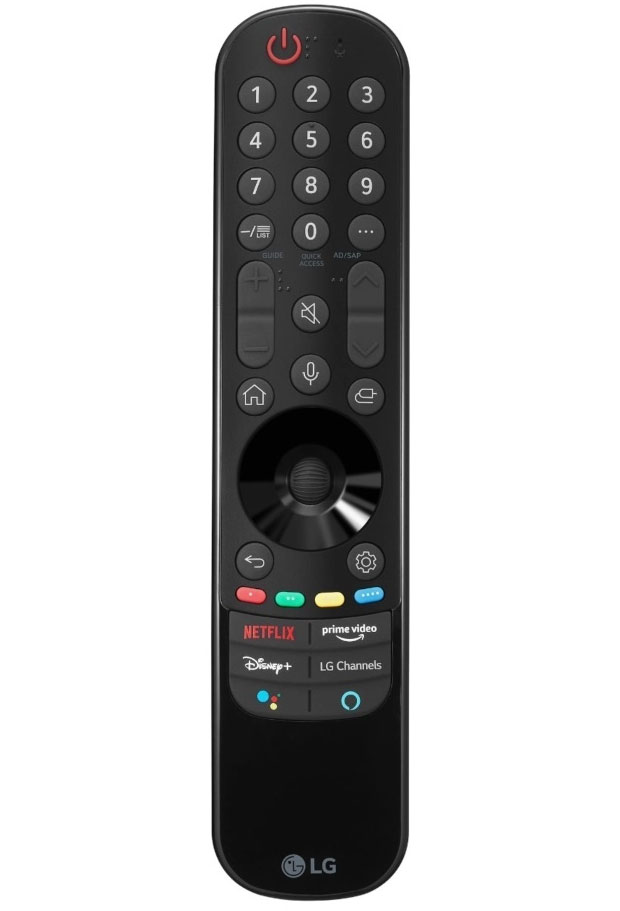 Via the WebOS, there are additional streaming services available such as Hulu, Paramount+ (which is not even out yet in Australia) and music services such as Spotify or Amazon Music to name a few. I actually think the LG C1 has just about every popular streaming service available on this TV.
You can even stream directly from your smartphones (Android and Apple) and once I downloaded the LG ThinQ app, it not only allowed me to cast to the C1 but also control the TV remotely. This app even connected to our LG washing machine so it's a one-stop app for this company's smart range of products.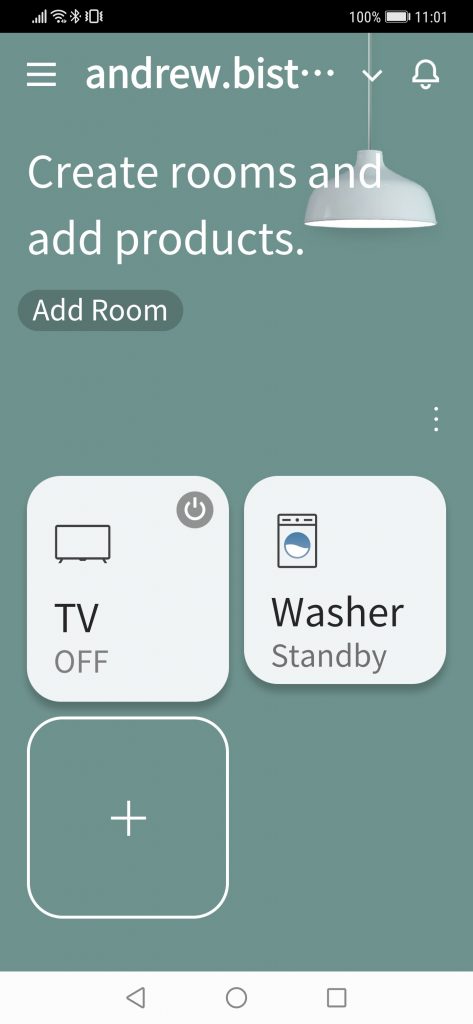 Video Quality. What can I say but the LG C1 4K Smart Self-Lit OLED TV w/ AI ThinQ is outstanding!
The main standout feature is how clear the images are, with colours that literally pop. Furthermore, you can really notice the depth perception on this TV that helps considerably for those cinematic experience such as Black Widow or those amazing 4K Youtube features on nature. Given that the TV supports HDR (High Dynamic Range), HDR10, Dolby Vivision and Hybrid Log Gamma (HLG), all these features make for sharper and more colourful images with realistic depth perception and appearance.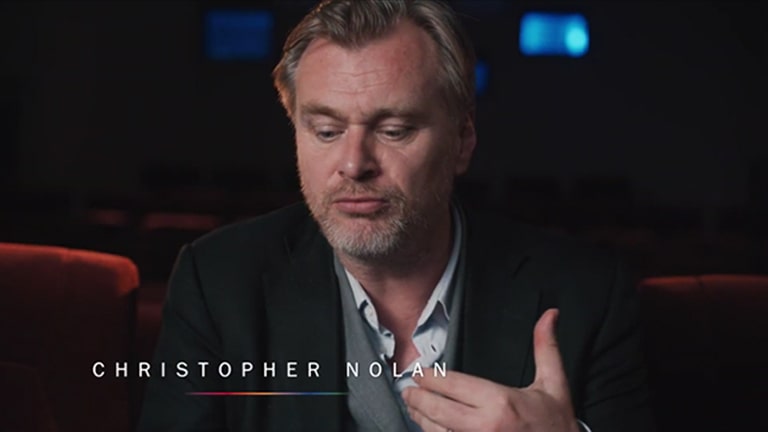 An interesting mode on the TV is Filmmaker Mode that helps create an authentic cinema experience as it turns off motion smoothing and adjusts the picture automatically which is supported by the greats such as directors Christopher Nolan and J. J. Abrams.
.
Gaming. The amazing video quality lends itself well… no perfectly to gaming and if you have an Xbox Series X or PlayStation 5, you'll be in gaming heaven courtesy of its 4K 120Hz display. Both these next-gen platforms looked fantastic on the LG C1 OLED and even the games that don't support 120 frames per second still looked impressive in its own right.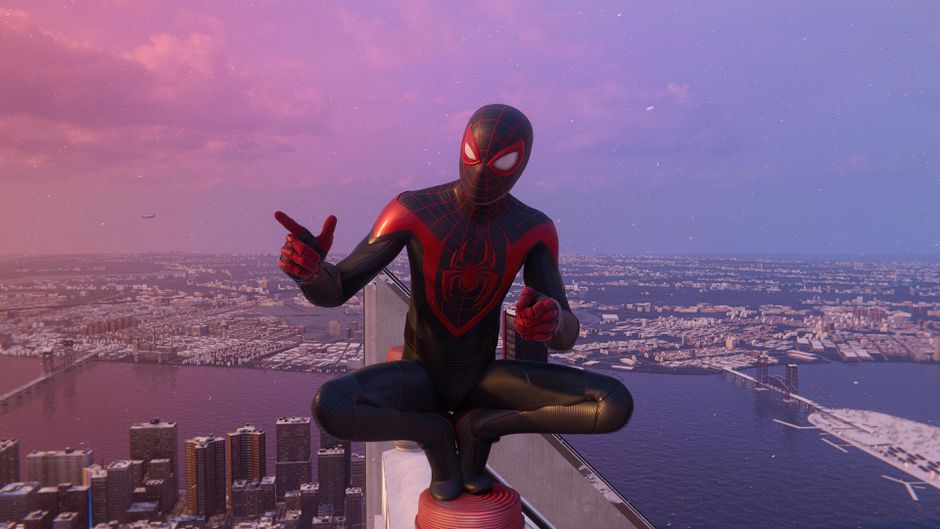 Assisting the gamer is the Game Optimizer feature that displays FPS, Black Stabilizer, Low Latency and Variable Refresh Rate. Further, you can tweak these settings, including swapping between different game genres to enhance the various gaming worlds that you visit. So whether it was Gears 5, Forza 4, Assassin's Creed Valhalla or Microsoft Flight Simulator on the Xbox Series, these games have never looked or played better. Equally, Borderlands 3, Spider-Man: Miles Morales and Doom Eternal looked fantastic on the PlayStation 5 and the sharpness and colours were a treat to observe.
So still don't believe why you need a 120Hz display with HDMI 2.1 in your world? Check out our review for Microsoft Flight Simulator on the Xbox Series X and how a game with an advertised speed of 30fps pushes 80 to 100 on the LG C1 OLED – https://www.impulsegamer.com/microsoft-flight-simulator-review-xsx/
Audio. For a TV, I was impressed with the 40-watt speakers powering the audio that are also compatible with Dolby Atmos surround sound. While clear and distorted free, when you enable LG's AI Sound Pro, you can definitely notice the difference in sound as it sounds louder and clearer with an added sense of depth. This feature works great for both films and gaming. Of course, you can't compare with external speakers, however the C1 is very decent in creating a decent audio experience without additional speakers.
LG C1 OLED TV Trailer
.
Final Thoughts?

The LG C1 OLED (OLED48C1PTB) is indeed a next-gen TV and will become the benchmark for things to come. LG should be commended on creating a slimline TV with state of the art features and video quality that is pure stunning. Whether you love watching films, playing games or enjoy your sports, the 2021 LG C1 OLED is the device for you. However next-gen gamers can now experience true 120 frames per second gaming on these consoles and as mentioned, they have never looked or played better.
Highly Recommended!
For more information, please visit https://www.lg.com/au/tvs/lg-oled48c1ptb