Blu-ray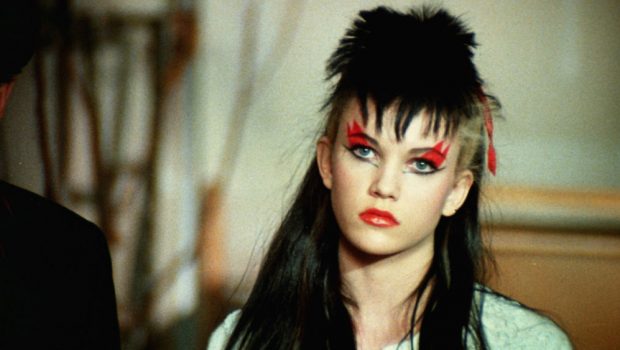 Published on January 3rd, 2023 | by Natalie Salvo
Ladies & Gentlemen, The Fabulous Stains Blu-ray Review
Summary: An underground flick about a punk rock band made good. The cast is amazing and the music is like a hard punch to the head.
Before the riot grrls and girl power there was just a little underground film that could. "Ladies & Gentlemen, The Fabulous Stains" is that indie flick. This is a rollicking one-two punching, sonic boom about a group of girl punks on their rise to stardom. And if that is not enough, it has also got a rather famous and fabulous cast.
This film has an impressive pedigree. Oscar-winning writer, Nancy Dowd (credited here as Rob Morton) wrote the script. Record producer/exec Lou Adler – who famously worked with Janis Joplin and The Mamas and The Papas– is at the helm (and was then just off the back of "The Rocky Horror Picture Show," no less). There are plenty of musicians making cameos with Fee Waybill of The Tubes playing an aging rocker in bad Kiss makeup. Another band includes two Sex Pistols (Paul Cook and Steve Jones) and a member of the Clash (Paul Simonon). Reggae musician Barry Ford AKA Lawnboy also plays a Rastafarian longing for Mr Marley.
A young Dianne Lane stars as a frustrated teenager named Corrine Burns. Initially she is portrayed as a young woman slacker after her mother passes away. But she channels all that angst into some punk rock music. Her first show is atrocious but she does have a great red beret, and what resonates is a magnetic spirit and a pure punk ethos.
Rounding out Burns' band is her sister (Marin Kanter) and her cousin (a 13-year-old Laura Dern!) Soon this group of punks is upstaging the boys on the bill thanks to some help from some local newscasters. This results in scores of young teenage girls all copying their heroes and spitting out the same bile-filled quote, "We don't put out!" Burns also has a fling with a charismatic singer (Ray Winestone, "Quadrophenia") until he rags on her.
This film is not perfect and there are some inconsistencies here and there. If you can look past these and the band's song "The Professionals" played on repeat (it was written by Cook and Jones) you will find one lively piece. The special features are great and include audio commentaries, an interview, photo gallery and a video essay, which serves to put a lot of the story into context. In short, the story has artists like Polystyrene of X-ray Spex, Siouxsie Sioux and The Go-Go's to thank for everything.
"The Fabulous Stains" is a fun film brimming with a spiky attitude. It feels like an authentic look at life on the road for some punk rock girls who made good. You will want to turn your own amp to 11 after watching this, because this is a group who know how to lay down some gnarly guitars and kick out those jams!