Blu-ray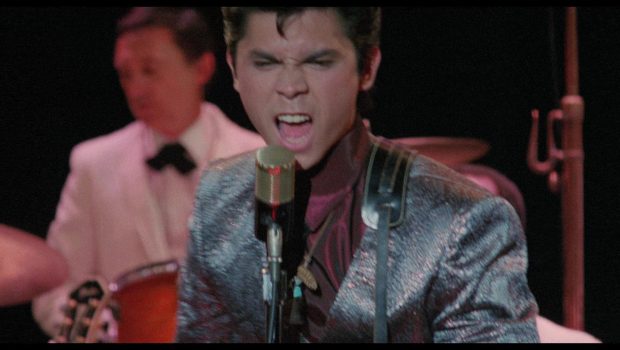 Published on May 28th, 2019 | by Natalie Salvo
La Bamba Blu-ray Review
Summary: A fitting tribute to a talented artist who died young. "La Bamba" is compelling viewing thanks to some fabulous performances and infectious tunes.
"La Bamba" is a big bopper. The film is a music bio about the late, great artist, Ritchie Valens, whose death has become known as the "Day the music died." This film is a rather rose-tinted and fitting tribute to the golden child of rock 'n' roll music.
This eighties film was written and directed by Luis Valdez. It had the full support of Valens' family at the time, which proves to be both a good and bad thing. While this lent the proceedings an authentic ring of truth for the most part, there are times when you wonder if this is also a bit too much like a hagiography. Valens is presented as a squeaky clean, one-woman man but there have been reports that have suggested that he was a bigger hit with the ladies than this shows.
There is no question that Valens, born Ricardo Valenzuela was a genius. In just eight months of activity he produced three big hits, "Donna," "Let's Go" and the eponymous title track. "La Bamba" the song was originally a Mexican folk tune but he turned this into a vibrant and rather dance-worthy pop tune.
Lou Diamond Phillips is captivating here as Valens, the youngest son of the hard-working single Mum, Connie (Rosana DeSoto). The family are poor and there are many mouths to feed because Valens also has several young sisters and a father who has passed away. The family's fortunes change however, when Valens's elder brother, the rough outlaw Bob (Esai Morales) returns home from prison. Bob sets them all up with drug money while Ritchie continues to cultivate his passion for the guitar whilst still in high-school.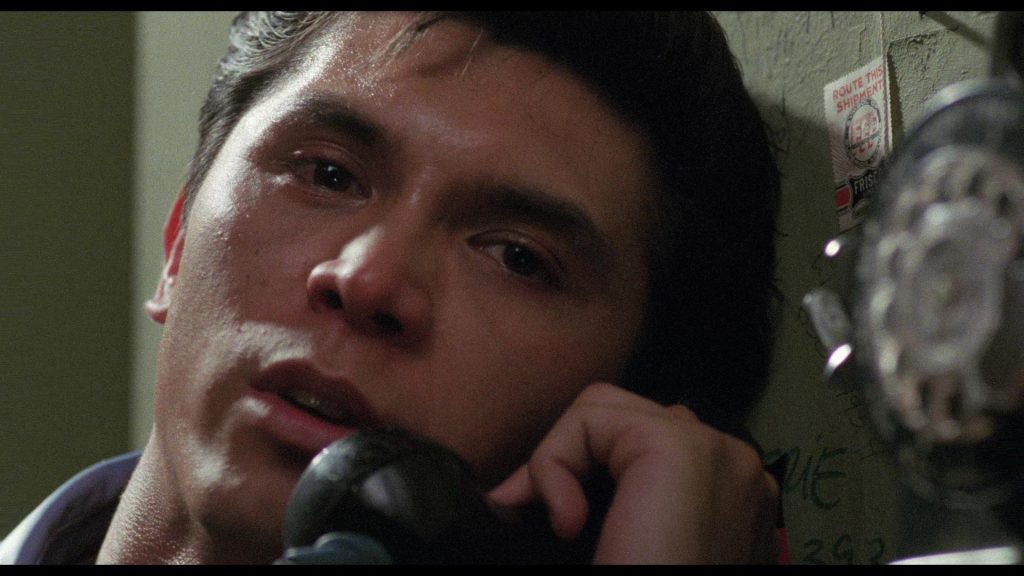 The music in this film is performed by Los Lobos. These songs still sound so fresh and original, it's easy to see how Valens inspired a new generation of artists, including Santana. The film also includes several cameos including Brian Setzer as Eddie Cochran and Howard Huntsberry as Jackie Wilson.
This story is intriguing because it explores a number of different themes. There is a strong sibling rivalry between Bob and Ritchie. The former has talents, but resents the fact that his parents always showered his brother with more love. Bob turns to heavy-drinking and has difficulty being a stable partner to Rosie (Elizabeth Peña), his baby mamma. Ritchie meanwhile, falls head over heels for Donna (Danielle von Zerneck) from school. She has a disapproving father and inspires him to write a romantic song about their relationship.
The Blu-ray edition includes some audio commentary as well as some featurettes. These were shot at the same time as the film and feature the cast and the crew. There are also some music videos and a trailer for the movie.
Before "Slumdog Millionaire" and "Bohemian Rhapsody" there was a little film called "La Bamba." This music bio-pic is the ultimate rags-to-riches tale about a talented and colourful genius whose life was cut short far too soon. Valens died age 17 in the same plane crash as Buddy Holly and the Big Bopper. It may have been the day the music died but "La Bamba" proves there is still a lot of life and richness to be found in this powerful story.
Blu-ray Details
Director – Luis Valdez
Actors – Lou Diamond Phillips, Esai Morales, Rosanna DeSoto
Film Genre – Drama
Label – Via Vision Entertainment
Audio – English (Dolby Digital 2.0)
Aspect ratio – 1.85:1
Region Coding – 4
TV Standard – PAL
Rating – M
Consumer Advice – Recommended for mature audiences
Year of Release – 1987
Primary Format – Movies/TV – Blu-Ray