PS5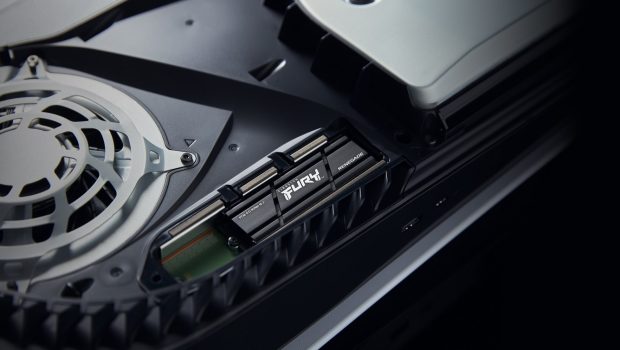 Published on February 3rd, 2023 | by Nathan Misa
Kingston FURY Renegade SSD + Heatsink PS5 Review
Summary: A high-performing PCIe 4.0 NVMe M.2 SSD expansion that offers a stellar storage upgrade for your PS5.
The rise of NVMe M.2 SSD technology and its increasing support across next-gen home consoles comes at a key time when installation sizes for gaming keep growing significantly.
PlayStation 5 games pack higher-fidelity graphics and more content than ever before. When you consider constant new patches, free updates, DLC and 4K texture packs, the need for expanded storage is apparent – not to mention storage that can load your game data fast enough.
Kingston has always been a go-brand for storage based on their reliability, and its latest NVMe M.2 product, the Kingston FURY Renegade + Heatsink PCIe 4.0 M.2 SSD, delivers exactly what PS5 gamers need: A plug-and-play storage solution with plenty of space and fast performance.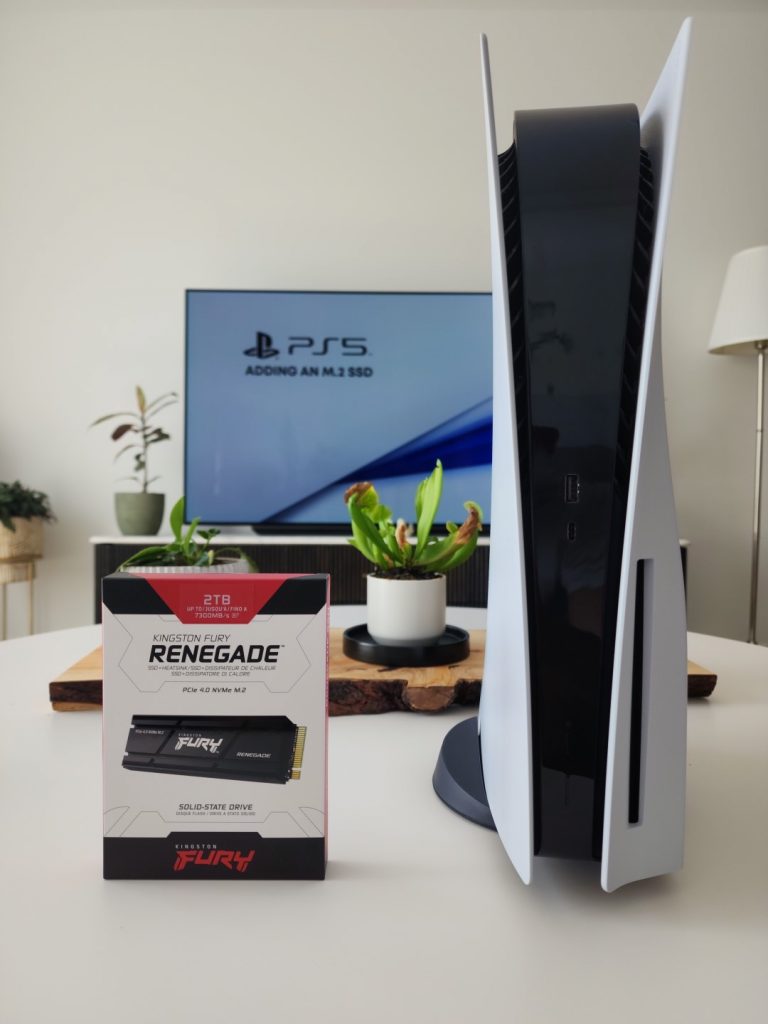 Kingston FURY Renegade SSD + Heatsink Technical Specifications
Form factor
M.2 2280
Interface
PCIe 4.0 NVMe
Capacities2
500GB, 1TB, 2TB, 4TB
Controller
Phison E18
NAND
3D TLC
Sequential read/write1
500GB – 7,300/3,900MB/s
1TB – 7,300/6,000MB/s
2TB – 7,300/7,000MB/s
4TB – 7,300/7,000MB/s
Random 4K read/write1
500GB – up to 450,000/900,000 IOPS
1TB – up to 900,000/1,000,000 IOPS
2TB – up to 1,000,000/1,000,000 IOPS
4TB – up to 1,000,000/1,000,000 IOPS
Total Bytes Written (TBW)3
500GB – 500TBW
1TB – 1.0PBW
2TB – 2.0PBW
4TB – 4.0PBW
Power consumption
500GB – 5mW idle / 0.34W avg / 2.7W (MAX) read / 4.1W (MAX) write
1TB – 5mW idle / 0.33W avg / 2.8W (MAX) read / 6.3W (MAX) write
2TB – 5mW idle / 0.36W avg / 2.8W (MAX) read / 9.9W (MAX) write
4TB – 5mW idle / 0.36W avg / 2.7W (MAX) read / 10.2W (MAX) write
Storage temperature
-40°C~85°C
Operating Temperature
0°C~70°C
Dimensions
80mm x 23.67mm x 10.5mm
Weight
500GB-1TB – 32.1g
2TB-4TB – 34.9g
Vibration operating
2.17G peak (7-800Hz)
Vibration non-operating
20G peak (20-1000Hz)
MTBF
1,800,000 hours
Warranty/Support4
Limited 5-year warranty with free technical support
Overview and Design
The Kingston FURY Renegade SSD + Heatsink is an update of the previous tried and true first generation model Renegade (read our review here). It comes in 500GB, 1TB, 2TB and 4TB capacities to suit a variety of budget considerations and storage needs, and instead of a low-profile graphene aluminum heat spreader label, this latest version comes pre-installed with a heatsink to provide an additional layer of protection of thermal dissipation, ensuring your PlayStation 5 temperatures are stable and things keep cool when demanding games are played.
The FURY Renegade + Heatsink is specifically designed to meet the requirements for the PS5 internal SSD expansion slot, and I found little to worry about sizing (it's slightly larger than the original model, measuring 80mm x 23.67mm x 10.5mm) – a perfect fit. Aesthetically, it's nothing too flashy; a jet black heatsink cover that is sturdy and Kingston's striking FURY logo in the center, with no overly "gamer" related design flourishes. Besides, it's tucked away in the PS5 anyway!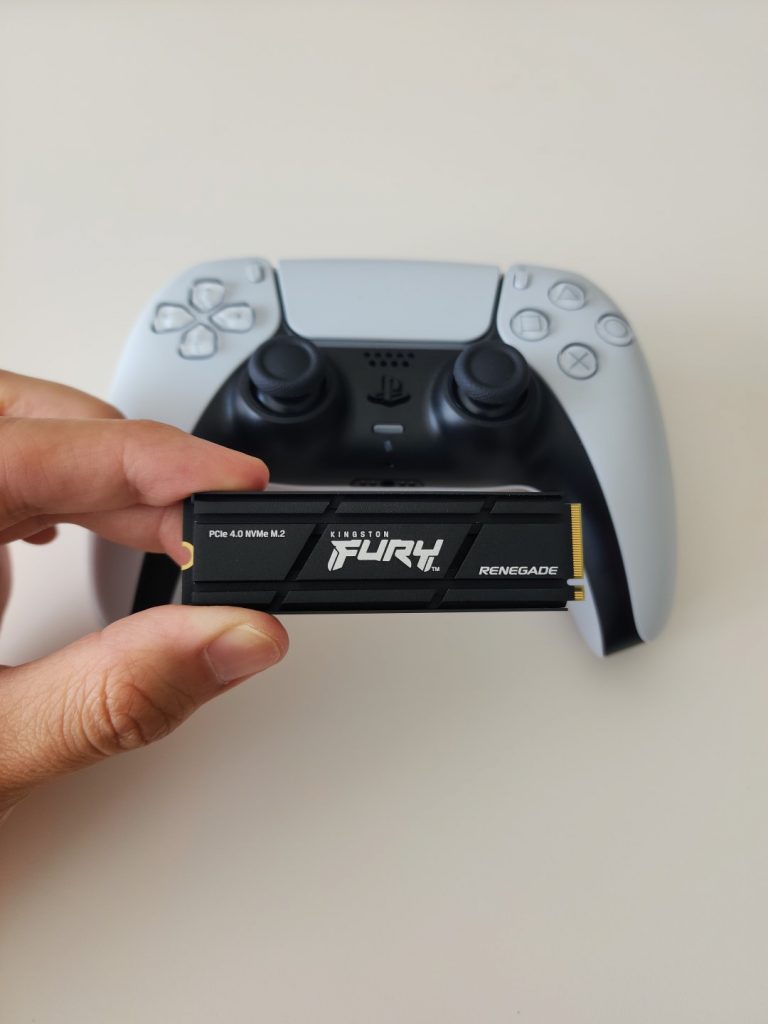 Having the heatsink pre-installed as a purchase option now means prospective buyers don't have to worry about purchasing a separate heatsink and installing the cover themselves. While this extra step doesn't demand extreme technical skills, it's a nice luxury to have for those who want to just plug-and-play, and it's one I readily indulged in as I installed the SSD without fuss (following PlayStation's official installation video walkthrough guide, which we embedded below).
Out-of-the-box, the Kingston FURY Renegade + Heatsink promises the exact same cutting-edge performance and blazing-fast speeds of up to 7,300/7,000MB/s read/write and up to 1,000,000 IOPS buyers received last year with the original heatspreader model, and the drive is optimized specifically to accommodate low game and application loading times and high responsiveness. Curiously, the 500GB and 1TB models have a slightly lower sequential write speed (3,900MB/s and 6,000MB/s, respectively) – it's best be aware of that difference prior to your purchase choice.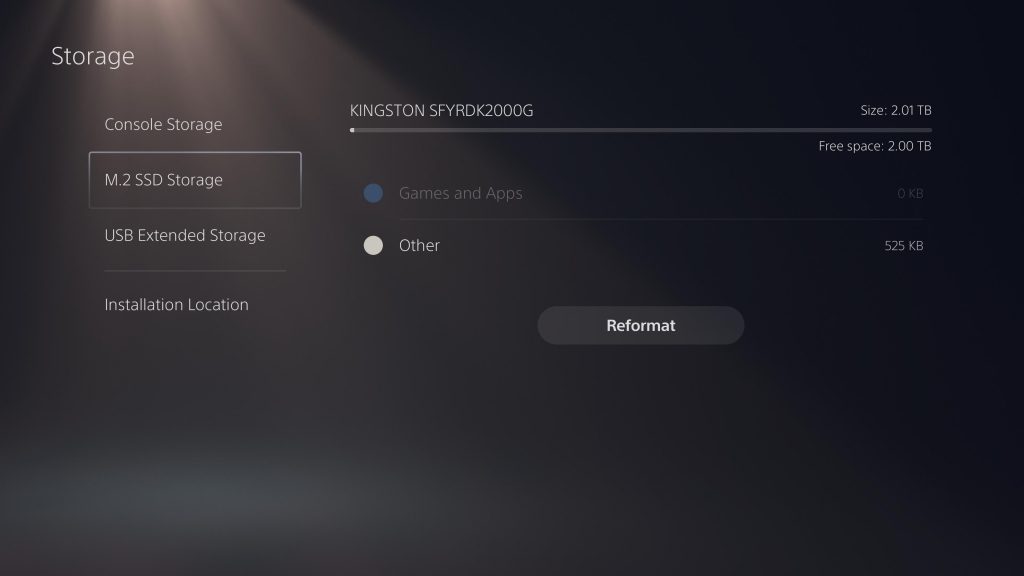 ImpulseGamer received the 2TB version of the FURY Renegade + Heatsink for review. In my real-world experience, performance on PC was virtually identical to our (already impressive) benchmarking results fromzour 2021 FURY Renegade review, which you can read in full detail here.
Setup
Adding an M.2 SSD to the PlayStation 5 is incredibly straightforward, even for gamers without extensive technical knowledge. Kingston provides an easy video guide (embedded above), and all you need to get started is a number 1 Phillips screwdriver and your console switched off.
Taking the PlayStation 5 back cover off is a bit fiddly, but once you have access to the M2 expansion slot below the fan, simply unscrew the expansion cover, and remove the spacer beneath the screw stored within. Place the spacer into the screw hole that corresponds with your M.2 SSD size (the Kingston FURY Renegade comes in M.2 2280 form factor), align and insert the M2 SSD into the pins, and then tilt it downward to secure it in place with the screw. Then it's a matter of re-attaching the expansion slot cover and PS5 back cover and turning on the PS5 to format the drive and get started moving and installing games to the shiny new M.2 SSD.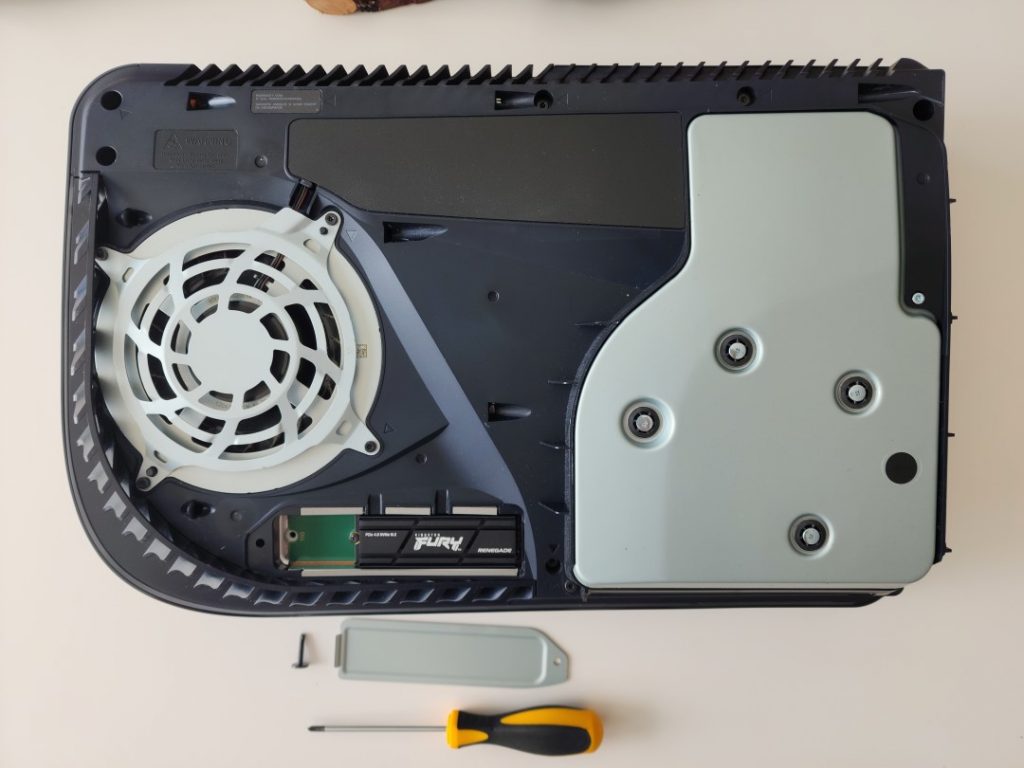 Upon initialization, the PlayStation 5 informs you that you need to format your M.2 SSD in order to use it, a process which takes a minute or two. Our review unit Kingston FURY Renegade registers as having a read speed of 6494MB/s, which is already way above Sony's own official recommended benchmark for expansion-based M.2 SSD read speeds (5500MB/s or faster). I immediately put the drive to the test by moving most of my games off my connected external SSD and poor old bloated internal PS5 SSD via the Settings / Storage / Installation Location tab.
Testing
We are well and truly spoiled with fast loading times in this generation of console gaming, with the PS5's internal storage already delivering astounding performance in-game.
One area that remained a little slower is the transfer speeds between drives, which always stood out to me given I'm the type of gamer who constantly moves large game files between my internal and external storage to avoid downloading everything all over again. It was here I found the FURY Renegade + Heatsink to deliver better results, with titles Demon's Souls and Spider-Man Remastered (both 54GB in size) taking just 44 seconds to transfer to the new M.2. drive. Horizon: Forbidden West (double the size at 99.5GB) took just 82 seconds. Smaller games such as Sifu (7.85GB) flashed before my eyes at 7 seconds. At an average of 1GB/sec, I couldn't even finish my YouTube videos on my phone before most transfers were all done and dusted.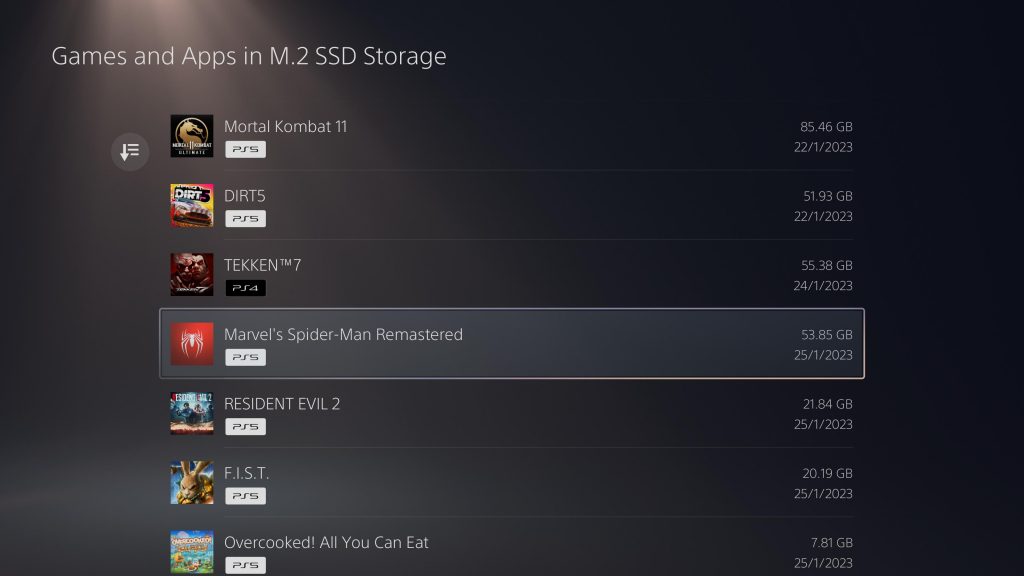 Startup times are equally impressive and optimized as the PS5's internal storage drive. Demon's Souls, a launch title for PlayStation 5 praised for its low amount of time to get straight into the game, took 48 seconds from start to gameplay, 3 seconds faster than the internal drive. Spider-Man Remastered produced an equally close result of 34 seconds compared to 37.2 when played off the internal storage. In-game loading times are as seamless and blazing fast as expected with the FURY Renegade, with most games barely displaying a loading screen before I was back into the action. It's clear the console can take full advantage of the FURY Renegade's NVMe storage, and that this impressive new M.2 storage option delivers on what it promises.
Value
So, why would anyone need to install an additional M.2 NVMe SSD in their PlayStation 5?
Other than the increasingly large game installation sizes of both digital and retail (disc) titles, most players need space to accommodate game captures (screenshots and video) as well as space for other applications such as streaming services. The base storage of the PlayStation 5's main internal SSD is 875GB, but the available storage is even less – just 667GB. With so many games taking up to 100GB or more in space, investment in more storage, which the Kingston FURY Renegade SSD + Heatsink offers, is almost a no-brainer moving forward.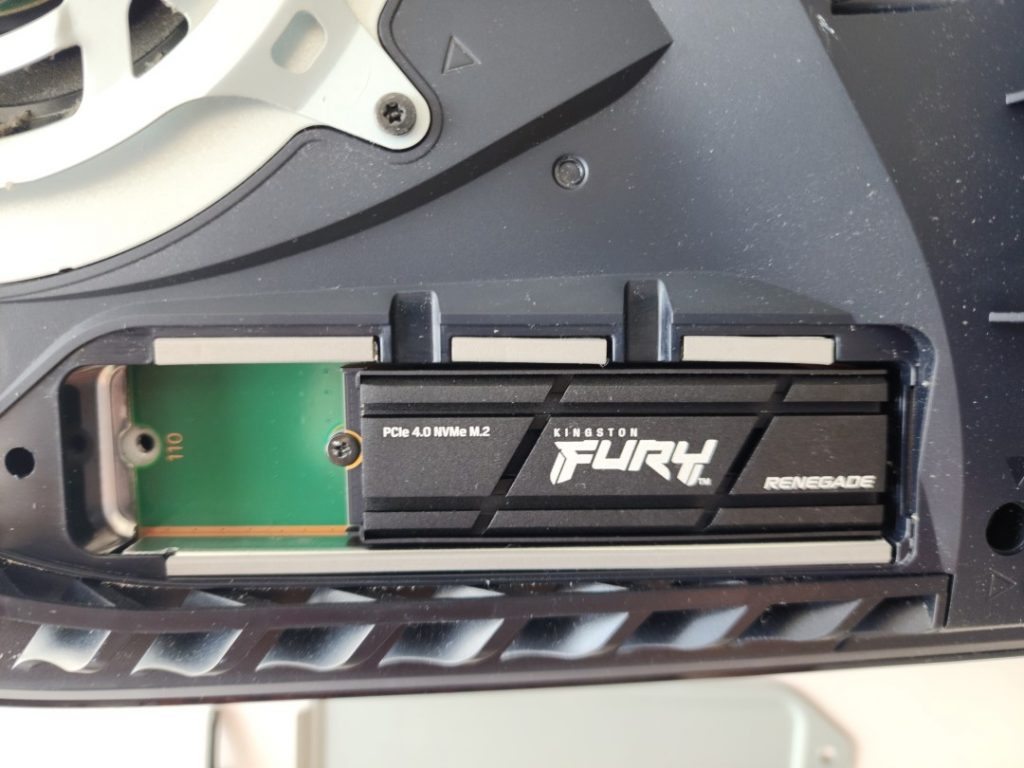 Currently, the Kingston FURY Renegade SSD Australian RRP prices sit at:
500GB: $150 AUD
1TB: $200 AUD
2TB: $350 AUD
4TB: $899 AUD
Most models are typically $20 – $50 more than the original Kingston FURY Renegade heat spreader model. In our opinion, it's worth the extra cost just to get a heatsink pre-installed. With modern game sizes also averaging around 50GB or more, it's better to get the 1TB or 2TB variants to future-proof and get the most bang for your buck (and avoid the ever-so-slightly slower write speeds).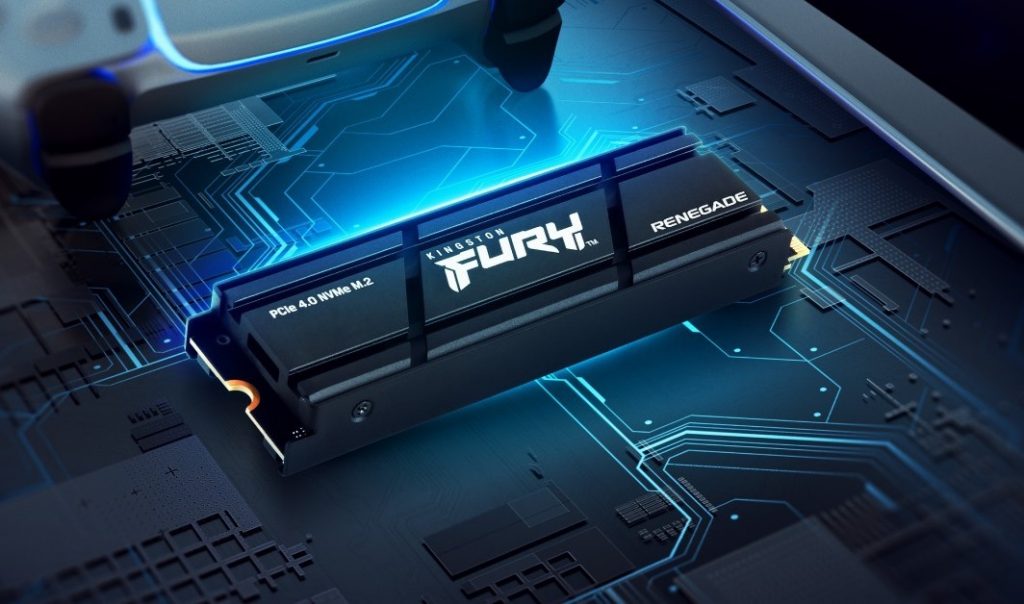 PCIe 4.0 NVMe M.2 SSDs are becoming increasingly more affordable these days and with the speeds they deliver, they are a future-proofing investment as the PlayStation 5 and Xbox Series X generation continues and games grow more ambitious in both scope and installation sizes.
I've always been a fan of Kingston when it comes to storage expansion and the FURY Renegade continues the trend of quiet reliability, reasonable pricing and solid peace-of-mind that I've already experienced with their other products, such as the ever-steady Kingston A1000. The icing on the cake with the FURY Renegade is the included five-year limited warranty and free technical support, which is a lot more than other vendors typically offer consumers.
The Final Verdict
The Kingston FURY Renegade + Heatsink is an impressively speedy, plug-and-play M.2 NVMe SSD and one of the best home console expansion storage solutions for the PlayStation 5 in terms of value and performance.
If you're looking to increase your game storage space and want an SSD that's got plenty of storage and delivers on performance in loading times, it (and its older heatspreader model brother) continues to one of the best options for blazing-fast PS5 SSDs available on the market now.