Blu-ray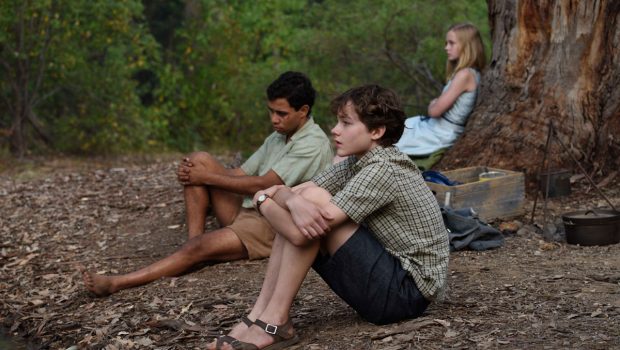 Published on July 24th, 2017 | by Natalie Salvo
Jasper Jones Blu-ray Review
Summary: "Jasper Jones" is a good, not great rendering of Craig Silvey's dark novel. It's a dramatic story that bubbles with tension, prejudice and lies.
When a young woman's dead body is found by two boys their lives are irrevocably changed. This is the premise for "Jasper Jones," an Australian story that borrows a few things from the classic book, "To Kill A Mockingbird." The film is a beautifully-shot, family drama about small-town prejudices and lies.
"Jasper Jones" was originally a novel written by Craig Silvey who adapts this for the big screen along with Shaun Grant ("Snowtown.") The story has become a classic one and it has been adapted for the stage numerous times. The film version is directed by "Bran Nue Dae's" Rachel Perkins and it attempts to shoe-horn a number of different plot points and elements into its 105 minute runtime and this is to varying degrees of success.
This story should actually be named, "Charlie Bucktin" even though it doesn't have quite the same ring to it because the plot is told from this lad's unique perspective. Levi Miller ("Red Dog: True Blue") does a good job starring in this role and playing a bookish child whose parents' marriage is on the rocks. Toni Collette is the perfect choice for the frustrated housewife at her wits' end and Dan Wyllie plays her pre-occupied husband.
In the fictional town of Corrigan in 1969 Charlie receives a visit from Jasper Jones (Aaron L. McGrath "Redfern Now") a local outcast whose parents are of mixed heritage (his mother is indigenous.) For reasons that aren't properly justified, Charlie goes for a wander at night with Jones. The latter had discovered the body of a deceased, local girl named Laura Wishart who was Jasper's secret girlfriend. Jasper is concerned that he'll be blamed for her death and he asks Charlie to help him hide the body and figure out who the murderer is.
The pair have their suspicions and become the self-appointed town detectives. They suspect a local, troubled recluse (a fabulous, if under-utilised Hugo Weaving.) As more information is revealed, it is apparent that this town is an insular one where its inhabitants harbour their own racial prejudices and hypocrisies. Charlie's Vietnamese friend, Jeffrey Lu (Kevin Long) and the boy's family are victimised because of the Vietnam War. This story examines the shattered innocence of the boys and how they develop courage over time. Charlie also has a burgeoning love interest in the form of the sister of the deceased girl (played by Angourie Rice ("The Nice Guys."))
The blu-ray includes five different featurettes about the making of the film. These include interviews with the cast and crew as well as information about Pemberton in Western Australia where this film was shot. A study guide is also included here because Silvey's novel has been taught as part of the English curriculum in some Australian high schools.
"Jasper Jones" may not be perfect but it is a dramatic film about secrets, biases and judgements. It's a story that has many threads to its bow and while all the plotlines aren't fully realised, the ending is a satisfying one overall. "Jasper Jones" is ultimately a haunting and dark film where some tensions bubble just beneath the surface and it is proof positive that there is often a lot more to a person that what initially seems.
Blu-ray Details
Director – Rachel Perkins
Actors – Hugo Weaving, Angourie Rice, Toni Collette, Levi Miller, Matt Nable, Dan Wyllie
Film Genre – Drama
Label – Madman Entertainment
Audio – English (DTS-HD 5.1)
Running Time – 98
Aspect Ratio – 2.35:1
Region Coding – B (Blu-Ray)
TV Standard – HD
Rating – M
Consumer Advice – Mature themes and coarse language
Year of Release – 2017
Primary Format – Movies/TV – Blu-Ray