PS4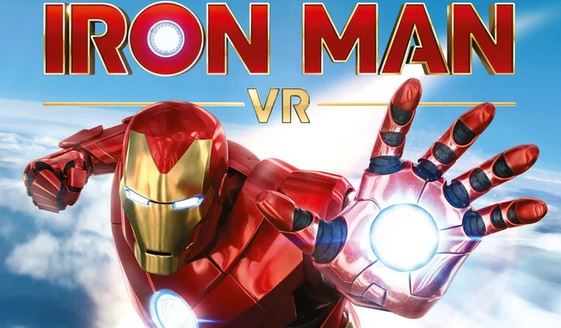 Published on July 10th, 2020 | by Tony Smith
Iron Man VR Review
Summary: Become Iron Man in this fun and immersive game on the PlayStation VR system
I don't know about you but flying around in an Iron Man suit and saving the Marvel universe from a variety of villainous threats is the stuff of gaming legends and thanks to video game developer Camouflaj and Sony with their PlayStation VR technology, this is now possible! However before you jump into Tony Stark's unmistakable red and gold Iron Man suit, there is a caveat and you need a pair of Move controllers which of course is totally understandable. This VR experience would not work with the DualShock controller as the Move controllers take the game to a much more immersive level.
At its core, Iron Man VR is an action virtual reality experience and transform gamer into billionaire Tony Stark who has retired from making weapons and has focused his amazing technologies on battling evil as Iron Man. However Stark's sordid history as an arms dealer has returned to literally haunt him as a mysterious hacker and anti-corporate entity known as Ghost is re-using his old weapons in order to bring down our billionaire's empire. This is where you step into the suit and battle your way through a myriad of challenges in order to come face to face with the person behind this hostile take down.
Key Features
Using two PlayStation Move motion controllers** fire up Iron Man's Repulsor Jets and blast into the skies with an arsenal of iconic Iron Man gear at your fingertips.
Upgrade tech in Tony Stark's garage to customise Iron Man's sleek armour and awesome abilities.
Face off against one of Iron Man's greatest foes in high stakes, action-packed battles.
Once you have donned the VR headset (yes it is still clunky and where is wireless) and have the two PlayStation Move controllers in hand, the experience of becoming Iron Man is quite surreal. Needless to say the developers have done an excellent job at recreating the experience to what Tony Stark would feel as he flies around the world battling evil. Thankfully the learning curve of flying around is quite low and you'll be zooming around at ridiculous speeds in no time courtesy of the motion sensors in these controllers. As I've been away from VR for a little bit, returning to the virtual world made me slightly queasy at times because you do feel like you are flying but my body needed to become comfortable with that disconnect. But once you do, you ARE Iron Man!
Adding to this experience was the sturdy combat system and if you thought that the flying was great, wait until you start using Iron Man's trademark powers to blast away your enemy. From energy blasts to missiles, the developers have successfully created the illusion that you are Iron Man and when matched with the graphics (albeit a little on the simple side), it's so damn good!  And to hell what my partner thought of me dancing around in my lounge room with the PlayStation VR headset and my two Move controller, I was IRON MAN god damnit! Thankfully the developers did spice up the combat and it's not all about blasting as there combos to learn and sometimes you need to mix and match your powers to take down your enemies, including those larger than life boss battles.
In terms of missions, this is probably where the game does let us down a little because they do become a tad repetitive as you fly around, destroy deadly drones and be awarded points to upgrade your suit. However as Iron Man, you do need your down time which is where you have access to Tony Stark's mansion, including basketball and a home gym plus the garage where you can upgrade and tweak the armour of this powerful Marvel superhero. It's also during these times that you realise that Stark is carrying a burden of his past mistakes and further to this, there's some great cameos and support cast such as Pepper to help draw you into this world. Adding to the realism is the professional voice acting which doesn't sound too forced or contrived and actor Ike Amadi who plays Nick Fury does a decent enough job, although is no Samuel L. Jackson… he's got big shoes to fill! Josh Keaton is great as Tony Stark/Iron Man as is Jennifer Hale as Pepper Potts.
Graphically, Iron Man VR is quite crisp and colourful on the PS4Pro and when matched with the excellent sound effects and super heroic music, it all comes together quite well with the gameplay that once again gives you the illusion that you are Iron Man. Add in hidden Easter eggs to be found and most gamers will easily finish this game in 8 to 10 hours and due to the fun factor of the title, it definitely opens itself to another play. All in all, a fun and must play VR experience on the PlayStation!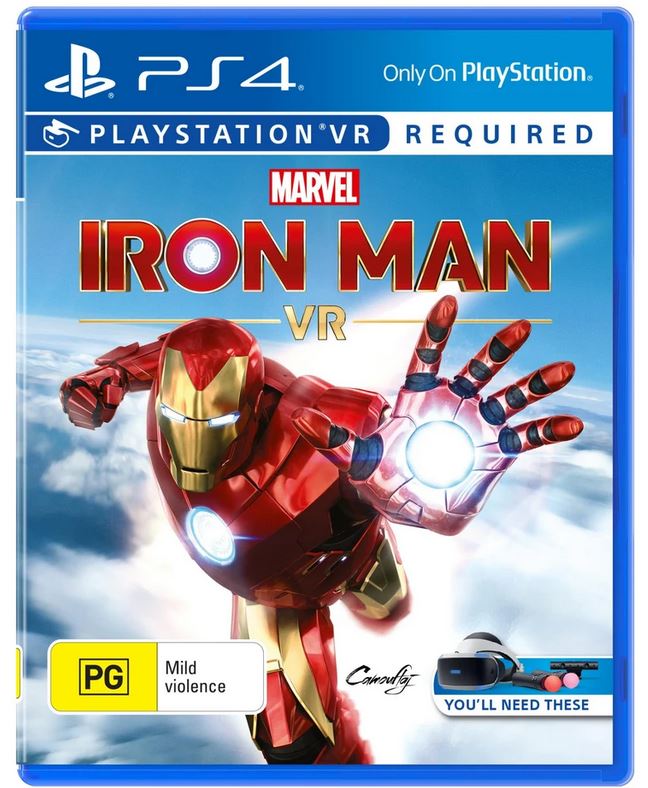 Marvel's Iron-Man VR
Don the PlayStation VR headset* to suit up as the Armored Avenger in an original Iron Man adventure! Using two PlayStation®Move motion controllers** fire up Iron Man's Repulsor Jets and blast into the skies with an arsenal of iconic Iron Man weapons at your fingertips. Face off against Iron Man's greatest foes in high stakes, action-packed battles. Upgrade tech in Tony Stark's garage to customize Iron Man's sleek suit and awesome abilities.
Screenshots