Blu-ray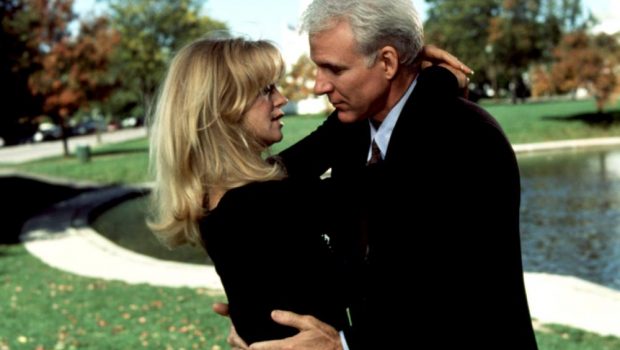 Published on March 19th, 2017 | by Natalie Salvo
Housesitter Blu-ray Review
Summary: Housesitter is a zany and lightweight comedy that could do with a few more jokes. It's ultimately an easy but forgettable watch.
"Housesitter" is a film that shares a few things in common with "Dirty Rotten Scoundrels". Both star Steve Martin playing a character where he has to deceive some people and both are directed by Frank Oz. "Housesitter" was never a film that was going to win any awards but it is ultimately a fun and forgettable little lightweight comedy.
The story goes as follows: Newton Davis (Martin) is an architect working away in a hum-drum job. He builds his dream house in his idyllic hometown and proposes to his childhood sweetheart, Becky (Dana Delany.) Things are looking pretty sweet until Becky rejects Newton's proposal.
Three months later Newton is still reeling from the rejection. But he finds solace in the arms of a quick-thinking waitress named Gwen Phillips (an effervescent Goldie Hawn.) Gwen is a compulsive liar. She initially tells Newton that she's Hungarian. But she's just a free spirit who enjoys reinventing herself and living new lives. The pair have a one night stand but Newton leaves before the morning arrives.
This film requires a huge suspension of disbelief with respect to what happens next. Gwen has a napkin containing a drawing of Newton's dream house and decides that this is enough to jack in her waitressing job and set up house in the vacant one that Newton built (when she doesn't even know the exact address.) In Gwen's first hour in town (after finding "the house") she sets up accounts in Newton's name and tells everyone (including his ex and his parents) that she is Newton's wife. This is the first of a web of lies that become more and more convoluted and complicated.
When Newton learns about what happens he isn't that mad because he views the situation as an opportunity to get back together with his ex-girlfriend. Newton's ex becomes jealous of Gwen and Newton's love and marriage even though their wedded bliss is a sham. Gwen may be a liar but she at least improves Newton's life for the better- by reuniting him with his father, helping him win a promotion at work, etc. But is it love?
This film basically sees Steve Martin playing the same character he always plays- the over-the-top anxious/serious guy. He seems a tad too old for this role. Goldie Hawn is also the same age as Martin was at the time (46) but she is better-preserved and more believable in her role. Hawn is the real star here and she carries this film as the attractive and sensuous eye candy as well as playing a ditzy woman on the surface but quite a calculating and well-meaning liar as you dig a little deeper.
"Housesitter" is a zany little comedy caper that could do with a few more laughs. It has some pleasing moments and it's an easy watch but it's not an excellent movie by any stretch of the imagination. This outrageous and over-the-top comedy is an enjoyable little piece of escapism but don't expect it to stay with you beyond the closing credits.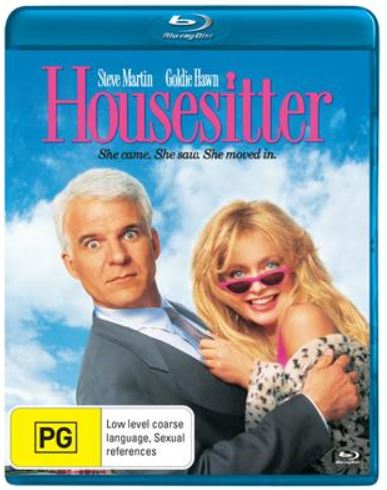 Blu-ray Details
Director – Frank Oz
Actors – Steve Martin, Goldie Hawn, Dana Delany
Film Genre – Comedy
Label – Shock
Running Time – 102
Region Coding – B (Blu-Ray)
TV Standard – HD
Rating – PG
Consumer Advice – Low level coarse language, sexual references
Year of Release – 1992
Primary Format – Movies/TV – Blu-Ray