PS5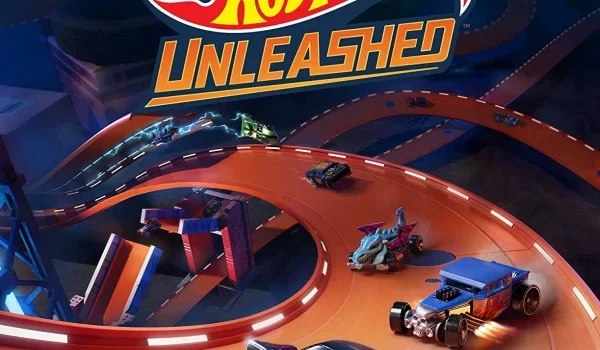 Published on October 2nd, 2021 | by Paul Stuart
Hot Wheels Unleashed PS5 Review
Summary: A rock solid license sadly uninspired in execution, Hot Wheels Unleashed is a generic racer that could've been so much more.
As a dude in his mid-40s, if there was one 2021 game I was truly looking forward to on the PS5, it was Hot Wheels Unleashed. Like many of my age group, I grew up a huge fan of both Matchbox and Hot Wheels, spending hundreds of hours pretend racing them all throughout the house. Now with a 4-year-old little dude, it's a ridiculously guilty pleasure to relive this joy with him.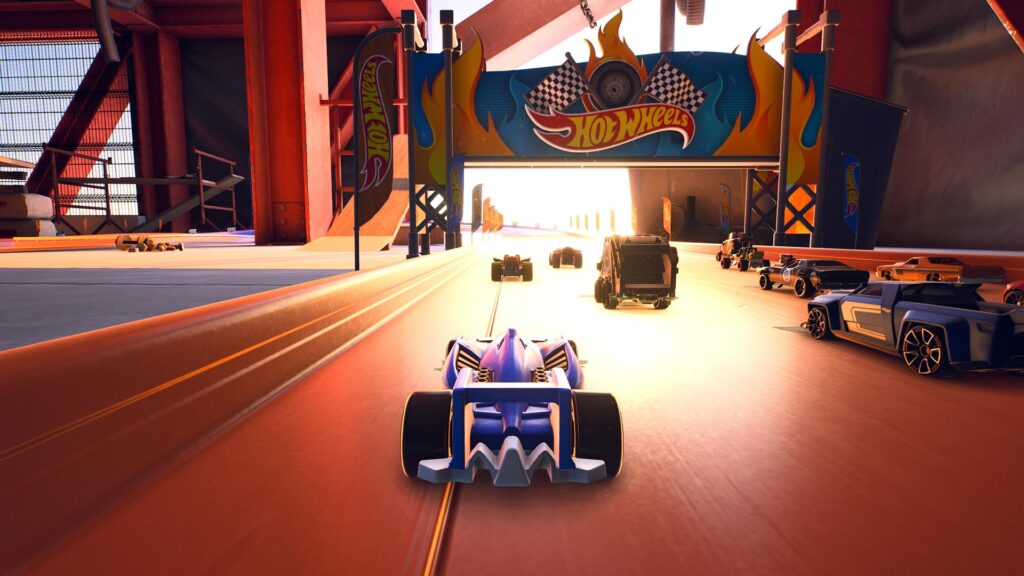 The oodles of mesmerizing trailers leading up to launch only increased enthusiasm for Hot Wheels Unleashed. Specifically, attention to detail on famous Hot Wheels cars was stellar, likewise the game's ambitious tracks replicating legitimate Hot Wheels racing sets. Then there the fantastic lighting, dramatic jumps, and diverse race settings which combined to even further fuel the giddiness.
Now, I completely understand that trailers rarely perfectly tell the story…but this was a completely different tale in execution. Sure, the Hot Wheels cars are there…but they look lifeless, flat and bland against uninspired race textures and often questionable track design. Car models appear last gen…even on the PS5 and a 4K TV. The gorgeous visuals and crazy fast gameplay of Hot Wheels Unleashed trailers were likewise noticeably lesser quality on the released game. Finally the ho-hum techno/rock music and generic engine and tire noises throughout.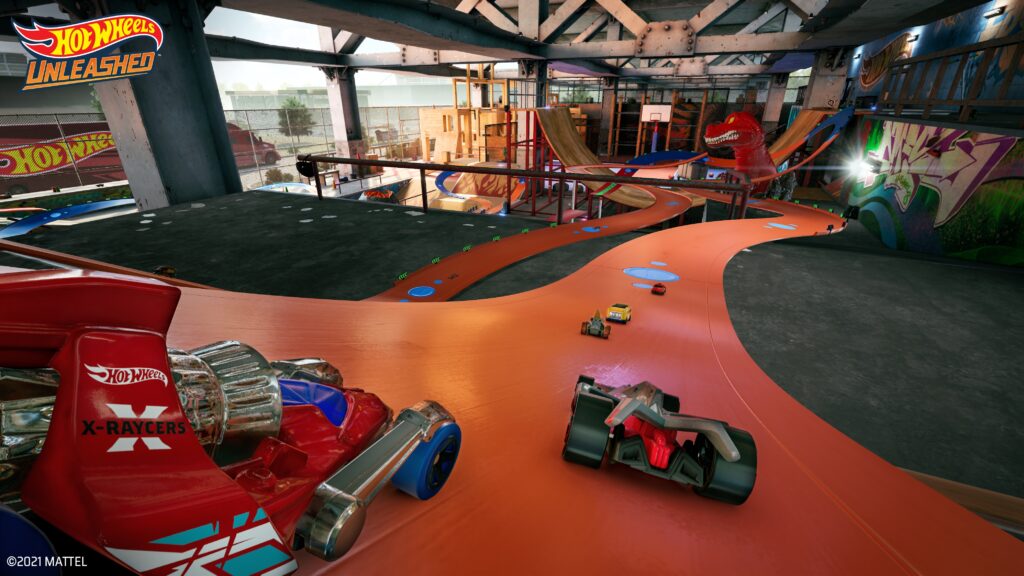 Car physics are very mediocre, and – despite four different categories for each car – these seemingly fun and fast toys handle as if stuck in kinetic sand. Collisions most certainly do not feel/sound like toy cars, as cars boringly clunk when hitting each other and walls. Drifting works fairly well, but then gets bogged by the often-peculiar level design. Then there's little/no DualSense vibration to create immersion/car feel, nor damage potential.
With these foibles, racing devolves into bashing into other cars sans consequence of any kind, mixed in with some needed turbo button presses and pseudo-drifting around turns to occasionally pass AI. Then the cherry on top: as there insufficient track guides and some really head scratching paths, expect a lot of respawn and/or race restarts.
It pains to me type this: Hot Wheels Unleashed just isn't much fun to play. Which is the saddest of ironic statements for a game based on a beloved toy line. On anything but its easiest mode, opposing AI cars are simply far too good to finish anything above middle of the pack…a problem as a top 3 placement required to advance in the game's linear branch system. Hot Wheels Unleashed also mercilessly punishes early on by providing only common and/or repeat cars, inducing little incentive to up difficulty (as cars so underperforming). Why waste invaluable upgrade currency on low end cars?
Related – and while there an array of different environments to race cars around – none truly feel unique enough to engender even a slight 'wow' factor. Again, it should be uber fun racing Hot Wheels around a basement, skatepark, college campus or skyline. It sadly just isn't. There's just not enough creativity, humor, and/or inspiration in any tracks or race types to see stages as anything more than speedbumps to the next stage also points to buy/upgrade more cars. And why waste upgrades on an array of crappy starter vehicles? Moreover, race launching from a dinosaur mouth and/or zipping around highest heights/jumps should be amazing…but they ultimately feel just like any other track.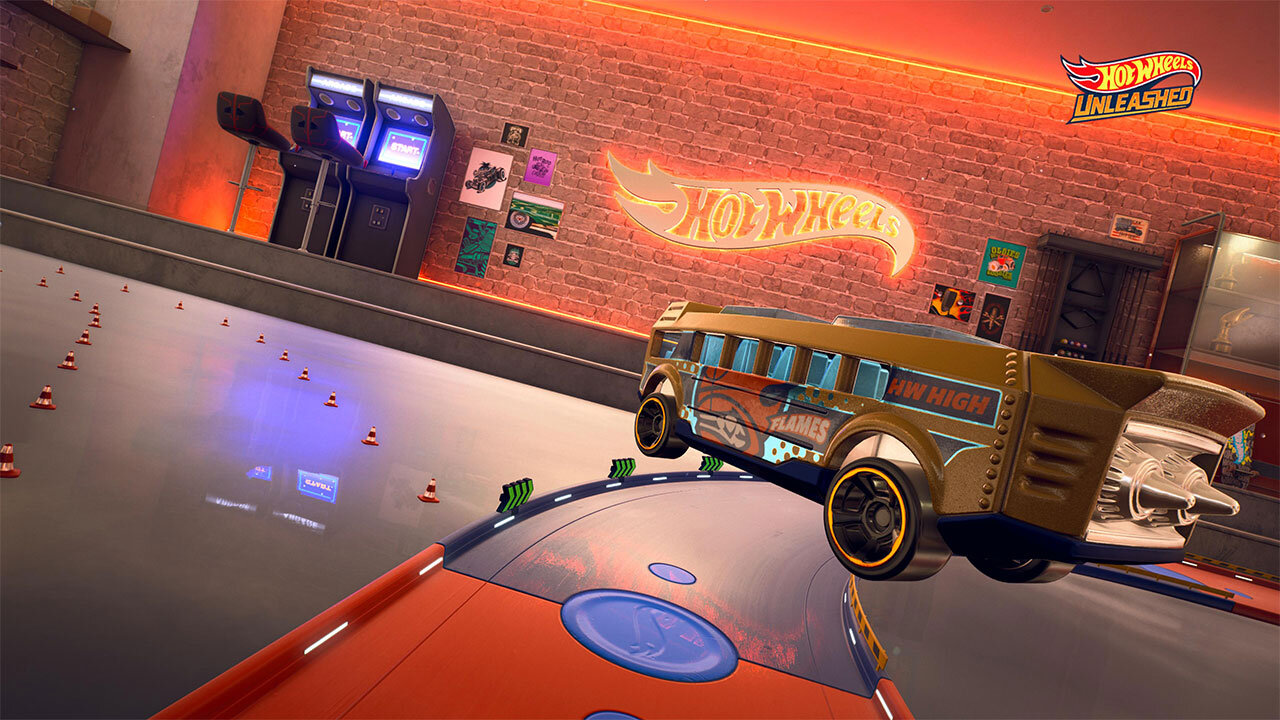 Milestone indicated there will be more licensed and cooler crossover (i.e. Batman, Street Fighter, etc.) cars to collect (ahem, purchase) and race down the line. Once more – and if this game truly fun and inspired – I'd jump at collecting and racing these bad boys. But knowing they too will be bland in presentation and execution reduces enthusiasm exponentially.
For the true Hot Wheels enthusiast, there is a pretty robust track editor…albeit pretty niche…if that's your thing. You can create tracks using real Hot Wheels track parts, then share them with other users online. The same can be said about customizing your livery, uploading it to the masses. These stand as the arguable highlight of Hot Wheels Unleashed, but few considering this for purchase would consider these technical modes highest incentivizing.
In sum, reviewing Hot Wheels Unleashed is about opportunity missed. Being a pseudo-independent title, I can't shake the feeling of what someone like Bugbear could've done with a Hot Wheels license for Wreckfest. Instead, Milestone force fit Hot Wheels onto a basic racing platform and customizable editor and seemingly walked away. This does not look or feel like a PS5 racer. Even with licensed cars, there sadly isn't a single thing about Hot Wheels Unleashed that truly screams 'Hot Wheels.' Perhaps unafraid to offend, Milestone took limited chances and ended up with an unfortunately generic offering.
Was it that Milestone intended to make a kid's game…that adults could enjoy from a different angle? I can't see either group loving Hot Wheels Unleashed. Kid's will find the impossible early difficulty hair pulling, adults disappointed by the redundancy feel.
Final Thoughts
Even with an outstanding Hot Wheels license to work with, Hot Wheels Unleashed's generic and uninspired execution coupled with lower presentation qualities makes it a below average racing title.