PS4

Published on April 26th, 2019 | by Belinda Morris
Heaven's Vault Review
Summary: A fun game of decryption language puzzles in a world of discovery for adventure gamers everywhere.
This is the latest instalment from Inkle (best known for 80 Days and the Sorcery! series) and is available on Steam ($35.95) and PS4 ($32.95).  On reflection, the 3D worlds are reminiscent of some scenes from Sorcery! and when that series worked so well, why not borrow from yourself?  While there was a loose storyline to follow (very little guidance is provided for the next step), there are plenty of opportunities to go off and explore the beautifully visual Nebula in search of more ruins or hidden sites to uncover.  It was an interesting mix of 2D characters in 3D worlds and in an age where we expect amazing graphics and real-life characters, I actually found this artwork nostalgic and fun rather then just wishing for more 3D effects.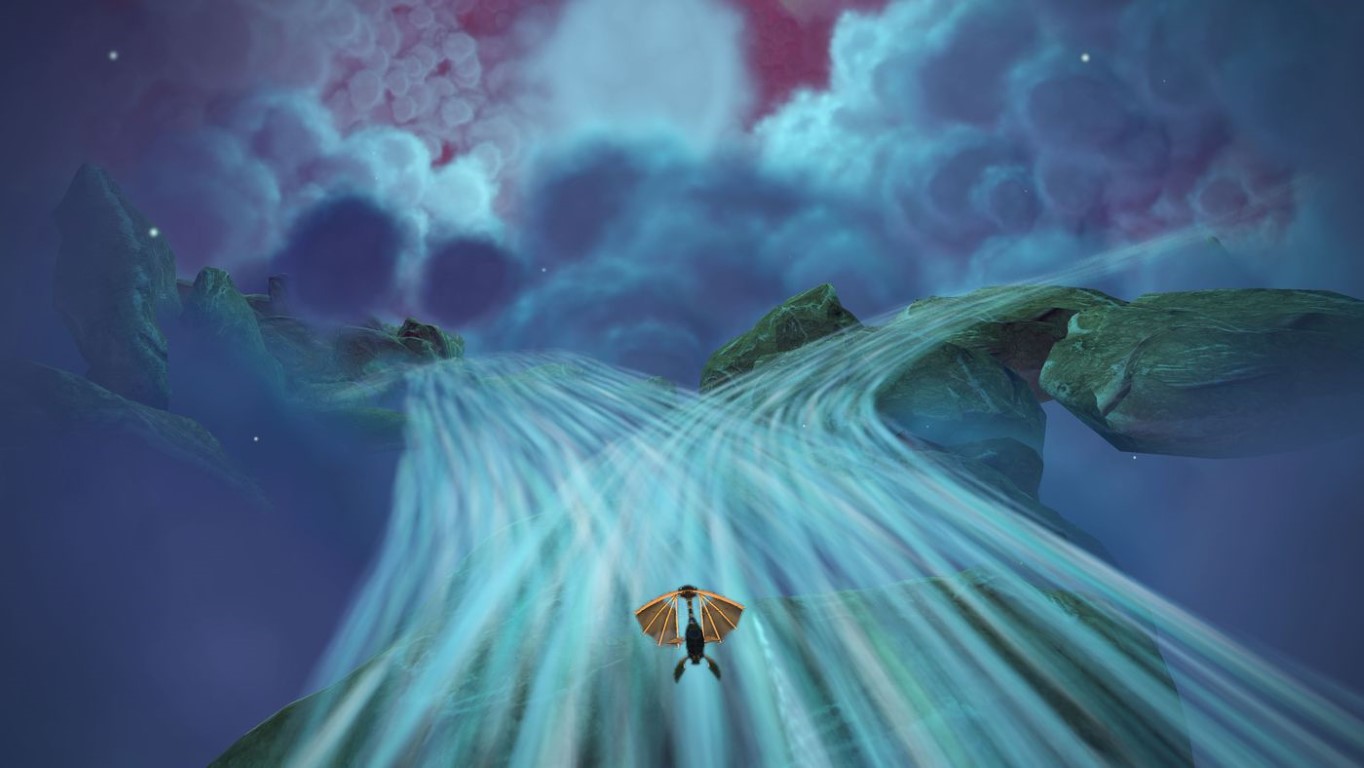 The gameplay is featured around a core system of beliefs reminiscent of many here on Earth and leads your character, Aliya, and her trusty robot companion, Six, on a journey to learn the history of their culture and ethos whilst understanding how the colonies of the Nebula all fit together.  There was also strong evidence of discrimination and cultural hierarchies which still exist today, so it was a reminder of the world we all live in.
The entire game allowed choice in conversation between characters and even attitudes so you could be sarcastic one minute, lie the next and admit a truth immediately after.  Depending on your choice, this does influence the communication you have with the other character and the amount of information provided to you.  This freedom of choice is evident right down to the final decision you make which completes the game after deciding the fate of the Nebula.  And the final touch I enjoyed was after making the less likely decision and finishing the game, I was then able to replay the game and maintain my achieved knowledge and choose different results further down the track to see it all from a different perspective.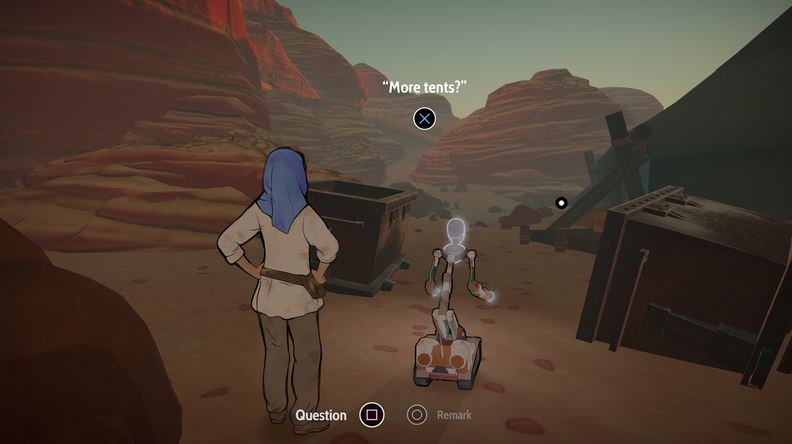 To explore the Nebula, you must first board your trusty Nightingale ship to cruise the ethereal rivers between sites.  This aspect was very creative and exceptionally well done – one of my favourite features of the game.  The controls were easy to navigate even with virtually no instruction provided.  One drawback was an aspect of the map – the map demonstrates the directional flow to follow which helps to plan your way to various worlds, however, every time the player wishes to select a location, this region would be highlighted and lit up which then removed the ease of view of the river flow making some sites virtually impossible to find.  I don't know how many times I went around in circles trying to find one site in particular because the map was so hard to read!  I eventually gave in and left my cursor to the side of the location just to see the flow more easily.  But once you had visited a location before, you could then simply fast travel, so player's choice.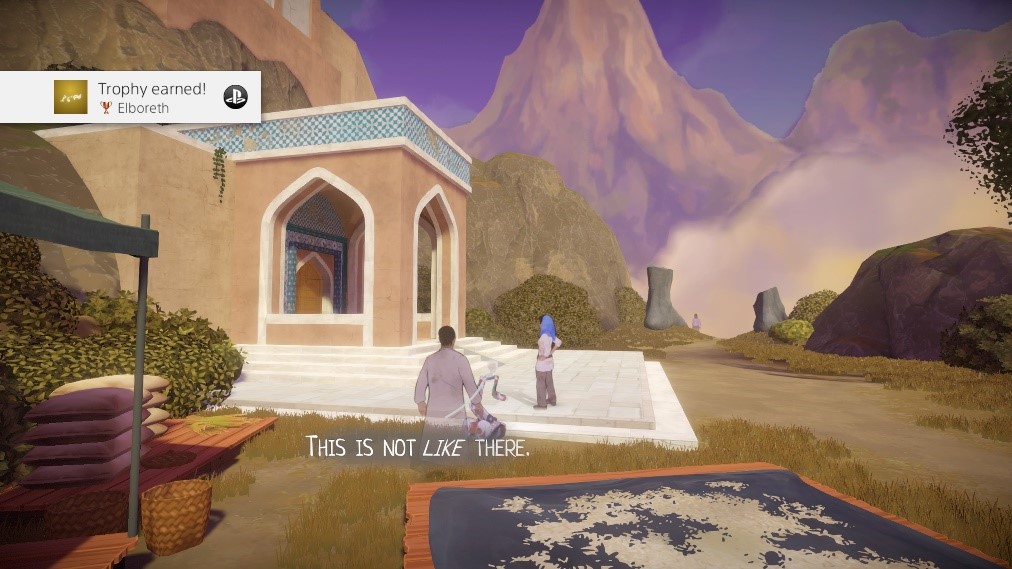 The game features very little verbal narrative as all conversations are written (and the pre-set was a little rapid so luckily this setting could be changed!).  The only verbal narratives provided were on the global scale to give you further background to the world or the character and this voice acting sounded wonderful so I'm not sure of the reasons why Inkle didn't employ this further.  The small amount of verbal provided was very inciteful and interesting to hear.
One detrimental effect Inkle used was on movement of the characters.  I found it quite strange and distracting for a large section of the game before I finally got used to it – the characters have the lower half of their legs fade out when moving (which suddenly reappear when the character stops).  I can only assume this minimised their graphics requirements for simple movement of 2D characters, but the ghost-like appearance was quite annoying.  Your sidekick Six travels on roller tracks, meaning that his movement was not changed at all and this stark variation made it all the more obvious.  There was also no ability to run so at times the slow walking could be quite frustrating, especially if you accidentally went into an area which automated where you went but you didn't want to go there – there was no cancel function!!  You just had to wait it out and then travel back again at the slow pace.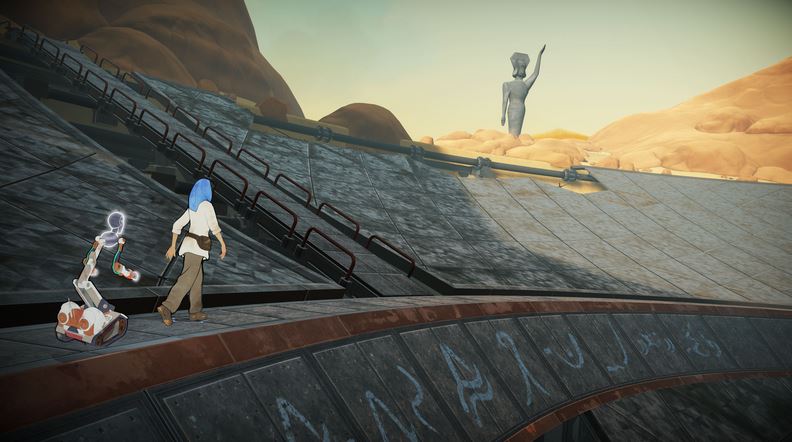 The main reason I wanted to play this game was the premise of the translation puzzle.  This language was obviously heavily influenced by Egyptian hieroglyphs and Chinese writings but was beautiful to see.  You find artefacts on your travels (you are an archaeologist after all!) and there are often inscriptions in the old language.  You then get to try to decrypt the language by having suggestions of words to choose from.  The further through you get, the longer the phrases become.  And while I loved the chance to solve these long puzzles, it was frustrating that you knew certain words were not going to work in a section, but you didn't have a choice but to put them in to trigger the solving screen.  The solving screen would then remove all the solution you had entered and remove a single word from your option list and then you had to start again.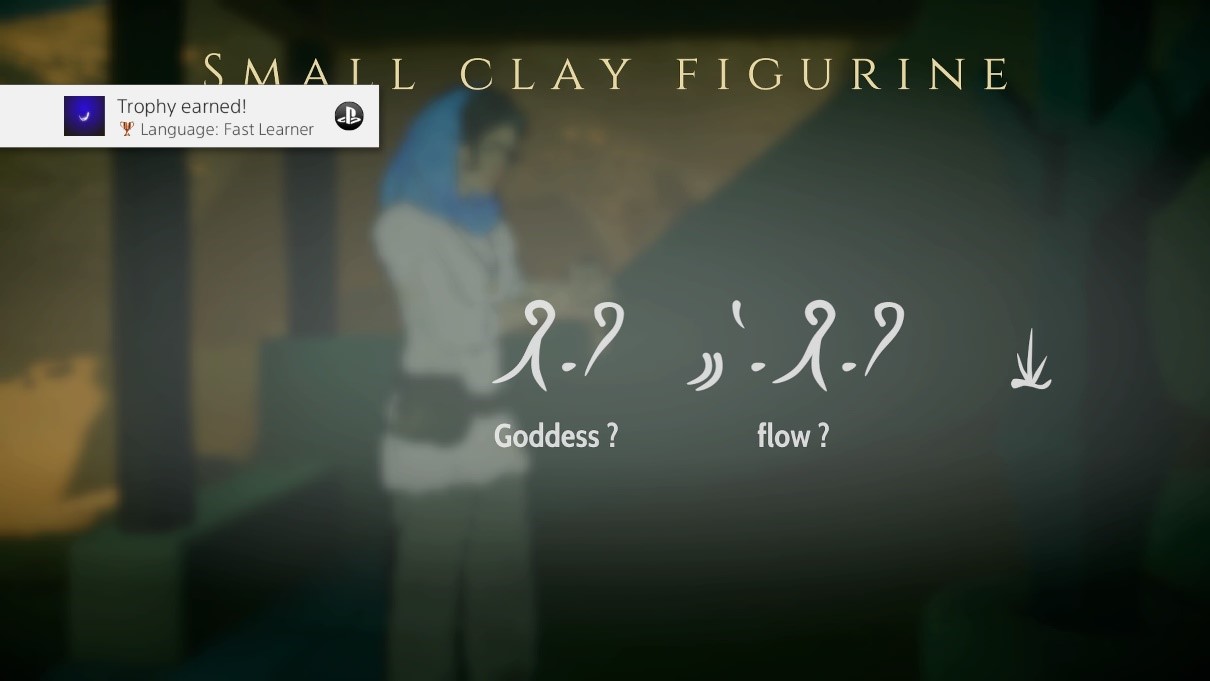 This is a reasonably large game so there is no way you can finish it in one sitting.  One feature they have used which I have not seen before is the loading screen used to summarise where in the story you are up to.  This is brilliant for people that don't binge play – you can break from it and still feel confident to remember where you're up to.
Unfortunately, as with most games, there are glitchy patches which became more evident the further through the game you got, which was unsatisfying.  There were patches of audio and visual gaps (such as when Six arrives on your screen far later than he was heard and had already helped Aliya!) and where characters can pass through objects or other characters and the Nightingale being able to travel through some rocks, as well as the usual loading glitches that can occur.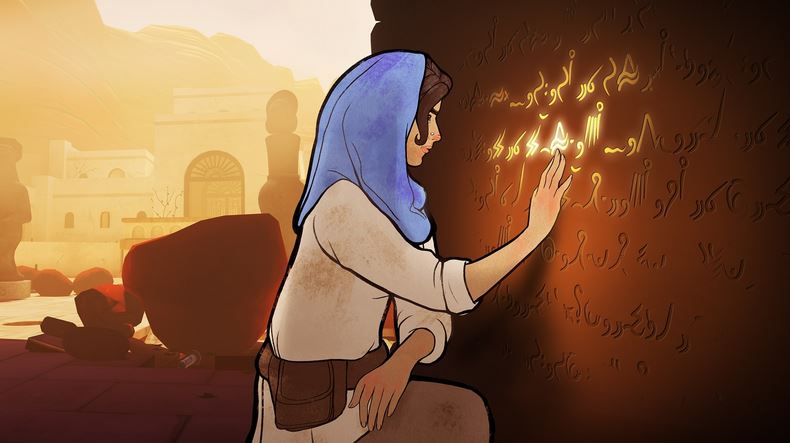 Final Thoughts?
All in all, this game was quite fun to play and discover the secrets of the ancient language.  I enjoyed the freedom of choice and the flow-on effects of those choices.  This is a game for anyone who is interested in adventure games – it definitely would appeal to a wide-range of players.