Blu-ray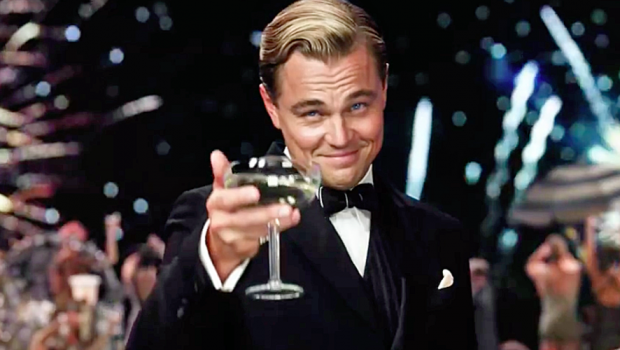 Published on November 19th, 2016 | by Natalie Salvo
The Great Gatsby Ultra HD Blu-ray Review
Summary: This is another adaptation of F. Scott Fitzgerald's classic novel. Luhrmann's take may be an ambitious and beautiful one but it is not fit to hold a candle to the original text.
"The Great Gatsby" is a film that only lives up to part of its name. The Baz Luhrmann ("Moulin Rouge") adaptation of the classic, F. Scott Fitzgerald novel is "great" insofar as it is lavish and rich in a visual sense. But this story simply does not transfer well onto screen (despite the many attempts that have been made over the years.) This is because the literary element and examination of the deterioration of the American dream cannot really be acted out, it needs to be read, imagined and experienced.
The film has recently been released on 4K Ultra HD Blu-ray. In this new format the film still remains a sumptuous period piece and epic and one that contains some modern twists. It is also still a visual splendour but it is a case where style does not equate to substance. Luhrmann's over-reliance on flashy CGI and frenzied editing often make for sensation-overload or at the very least a dizzying watch.
Leonardo DiCaprio stars as Jay Gatsby, a wealthy man who likes to tell people that he's from old money and society. In reality, he's a self-made man (read: bootlegger) who fell in love with a rich and sensual girl named Daisy Buchanan (the always-reliable, Carey Mulligan) during the First World War. Their affair was an intermittent one and Jay hoped that they would meet again and that he could win over her heart after making something of himself. Instead she marries the horrid, blue-blooded Tom Buchanan (Joel Edgerton) and Gatsby is left pining. Gatsby decides that the best way to find Daisy is to throw lavish parties to lure her in and for everyone else's enjoyment but not really his own.
The casting of this film seems fairly reasonable. The doe-eyed, Tobey Maguire plays Nick Carraway, Daisy's cousin and a writer who is telling a doctor about this summer love triangle while an in-patient at a sanatorium. In the novel a lot of the text is introspective so in order for it to be told on the screen, Luhrmann and co-writer Craig Pearce had to tell things from Carraway's perspective. The filmmakers also took certain liberties with the story, leaving out some of the final chapters and using hip-hop and electronic music in a period that was synonymous with the jazz age. This alone makes the film feel like it's trying too hard to be edgy.
The Blu-ray edition features a number of featurettes that are interesting and shine a light on the creative process. Luhrmann and the film's co-stars feature quite prominently as does his wife, creative partner and producer, Catherine Martin. The latter is an Oscar-winner who has a real eye for detail and also served as the production designer and costumer. On the one hand the pair should be applauded for their ambition and attention for detail but that does not excuse the times where the film feels too bloated by its never-ending conga line of over-the-top visuals. It means that some of the fat could have been trimmed from the bone because this would have made for a better and more enjoyable film.
"The Great Gatsby" is a classic love story about the Nouveau Riche living in Long Island. For some it would be sacrilegious that a group of Australians decided to go and adapt it. This film is definitely not one for the purists or for the lovers of the book because nothing will ever be able to hold a candle to Fitzgerald's amazing prose, especially when such liberties have been taken with this particular rendering. "The Great Gatsby" may prove "great" in a visual sense but it lacks what really matters and that is the sentimentality and truth of the original story.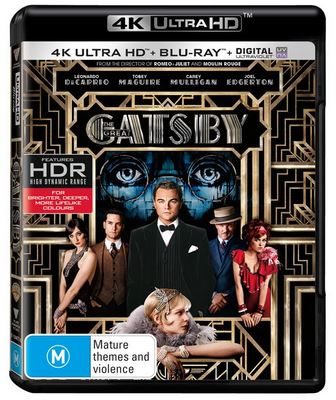 Blu-ray Details
Director – Baz Luhrmann
Actors – Leonardo DiCaprio, Carey Mulligan, Tobey Maguire, Isla Fisher, Elizabeth Debicki, Joel Edgerton
Film Genre – Drama
Label – Roadshow
Subtitles – English
Running Time – 141
Aspect Ratio – 2.40:1
Region Coding – B (Blu-Ray)
TV Standard – PAL
Rating – M
Consumer Advice – Mature themes and violence
Year of Release – 2013
Primary Format – Movies/TV – 4K Ultra HD