Horror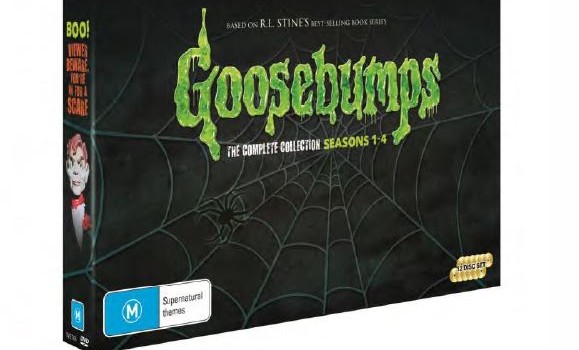 Published on September 29th, 2015 | by Admin
GOOSEBUMPS COMPLETE COLLECTION OUT OCTOBER 14TH
Tuesday, September 29, 2015 – Via Vision Entertainment is pleased to announce the release of Goosebumps the Complete Collection. This exclusive release combines all four seasons of the popular TV adaptation of R.L Stine's hit book series in time for Halloween and ahead of the feature film starring Jack Black.
Premiering in 1995 Goosebumps became the highest rating children's TV show for three straight years in the United States. It was eventually broadcast in over 100 countries including Australia. With book sales eclipsing 300 million, the TV show brings to life popular titles in the series such as The Haunted Mask and Cuckoo Clock of Doom. Starring Kathryn Short as Sabrina Mason and Cody Jones as Noah Caldwell with RL Stine appearing as the host, Goosebumps uses its anthology format to tell tall tales of comic book masked mutants coming to life, spectre haunted auditoriums, eerie forsaken beach caves, modern parables of cursed genies granting three wishes, midnight scarecrows, totalitarian reality police and revenge plans for school bullies gone awry.
All 68 episodes feature in this 12 DVD set. SRP: $94.95.