XBox One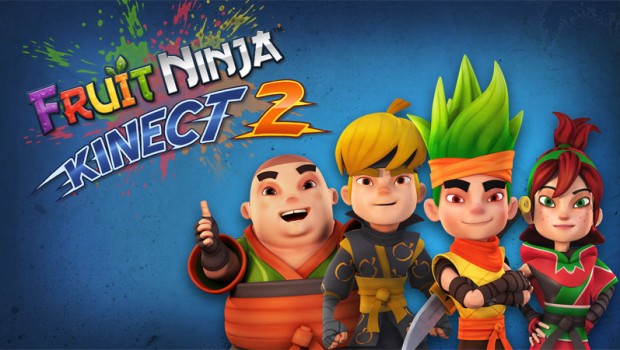 Published on April 6th, 2015 | by admin
Fruit Ninja Kinect 2 Review
Summary: Fruit Ninja Kinect 2 is definitely one of those games that is great to show off the capabilities of this next-gen console
Fruit Ninja Kinect 2
Primary Format – Games – XBox One
Genre – Casual
Game Developer – Halfbrick Studios
Game Publisher – Hibernum Creations
Reviewer – Kyle Sudukis
Developed by Australian developers Halfbrick Studios, that highly addictive and at times shallow game which required players to slice fruit being thrown at them has now arrived on the XBox One that uses the Kinect 2 gaming system.
Originally available for the iOS, this casual game required players to slice fruit in half by swiping on their touch screens as they watched their scores go up with even more fruit being thrown at them as they progressed. It basically gave casual gamers from across the world a quick gaming fix that allowed them to try and beat their high scores.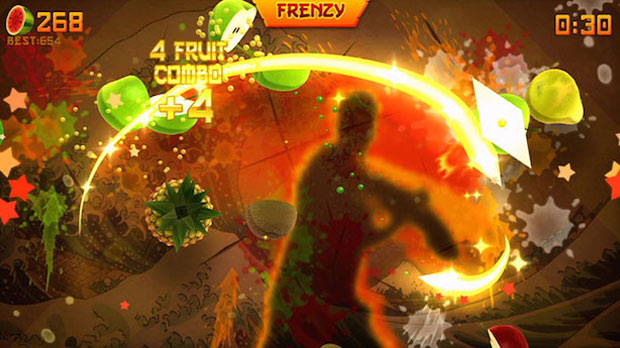 The game was also released on the XBox 360 and has now received a slight next-gen makeover as players once again slice and dice these virtual fruits that come towards the player. In essence, Fruit Ninja Kinect 2 is basically the same game which graced these aforementioned platforms that boasts leaderboards and thankfully no dreaded in-game purchases.
It also should be noted that the responsiveness of the Kinect 2 system is quite decent for Fruit Ninja Kinect 2 but like most games using this system, you do need quite a bit of space to move around, especially for some of the more physical gaming modes.
Given that, Fruit Ninja Kinect 2 boasts a variety of gaming modes such as the more subtle "Zen" experience which requires players to slice and dice fruit to the more classic arcade formula which slings in bonuses, times and gives the player a set amount of lives. Other new modes require the player to pin fruit onto wooden boards, dodge shurikens (aka Ninja stars), avoiding alarm/light systems and stop bamboo seeds from growing.
For multiplayer, up to four players can jump in for battle and party modes which definitely gives the title this great party atmosphere to it. Party requires players to slice the most fruit which adds in a few mini-games like Ninja poses, whereas Battle allows you effect the other players scores by slicing bananas.
Halfbrick Studios have even spiced things up by making the gameplay more difficult which requires players to move around their lounge room even more as they dodge various things coming at the player plus the added stress of slicing and dicing these fruit. Sure, it is a little shallow at times but does showcase the power of the Kinect 2 system.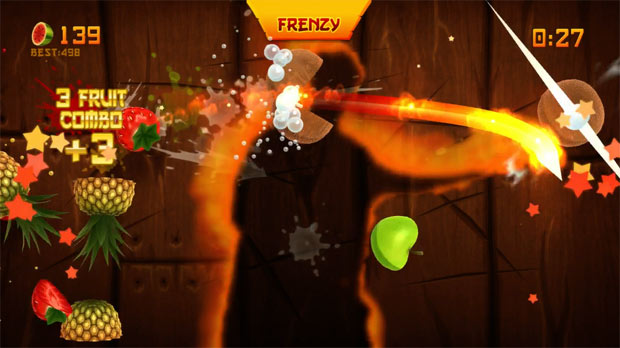 Graphics/Audio
Graphically, Fruit Ninja Kinect 2 is a decent looking casual game on the Xbox One but don't expect something to truly wow you but I must admit that the special effects and the fruit look rather cool. As you do progress, you can get additional items to help with your cutting which does add a slight additional layer of longevity. Sound and music also both work well with the gameplay but once again this is not a triple A title.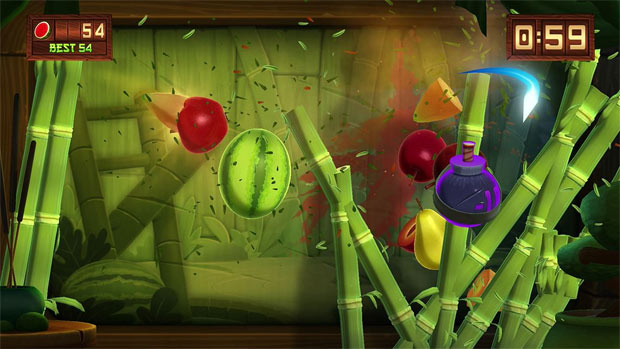 Final Thoughts? 
If you enjoyed Fruit Ninja on either the iOS or XBox 360 then it's probably worth checking out this title on the new XBox One. Given that it is a casual game, the replay value may become a little boring as you progress but Halfbrick Studios should be commended on making it quite a responsive and accurate game on the XBox One.
With the inclusion of new gaming modes, bonuses and slight tweaks to the original game, Fruit Ninja Kinect 2 is definitely one of those games that is great to show off the capabilities of this next-gen console or if you're having a few quiet drinks with friends, it's a fun gaming experience.