Films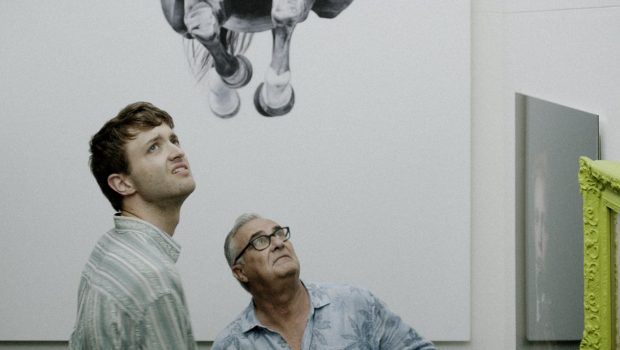 Published on March 11th, 2022 | by Natalie Salvo
Friends & Strangers Film Review
Summary: A pointless character study of young millennials. It tries to consider big ideas but it ultimately feels lost.
"Friends & Strangers" is about the life and times of a handful of millennials. This comedy-drama takes a realistic approach to the daily minutiae of some young white Australians's lives. The result may appeal to some viewers but others may feel this is a missed opportunity for greater inclusivity and depth.
The film is the directorial feature debut of James Vaughan, who is also the script writer. The audience are initially introduced to aimless antihero, Ray (Fergus Wilson) and the gorgeous Alice (Emma Diaz). The pair are recovering from respective break-ups and seeking comfort in the company of the other. They wind up going away on a camping trip together where they encounter a widowed man and his young daughter. It's a nice romantic beat but the tone swiftly changes.
The other main episode here involves Ray returning to Sydney to film a wedding. On the way to a meeting with the bride and her family his car breaks down. When he eventually gets to their home there is some navel-gazing and intellectual discussions on art and privilege. This can get quite tedious at times.
This is ultimately a character study that seems to enjoy observing the everyday minutiae at the expense of a strong narrative. Some people may enjoy this naturalistic style. It's certainly bright and breezy, even in those moments where the cinematography includes the uglier aspects of modern life. Think of concrete jungles and garbage detritus such as plastic bags if you need to paint a picture.
There is a theme of colonialism and the notion of complacent white people that is considered here. It's an interesting idea in theory but it hasn't been explored in enough depth. The fact the cast includes no persons of colour also feels rather tone-deaf considering what it's trying to achieve here.
Friends & Strangers is a realistic Australian film about a slice of 21st century life. There are some close encounters and rather inconsequential events, which make for a rather gentle and slight feature film. Some viewers may enjoy the attempts at cleverness while others may want something of more narrative consequence.