XBox One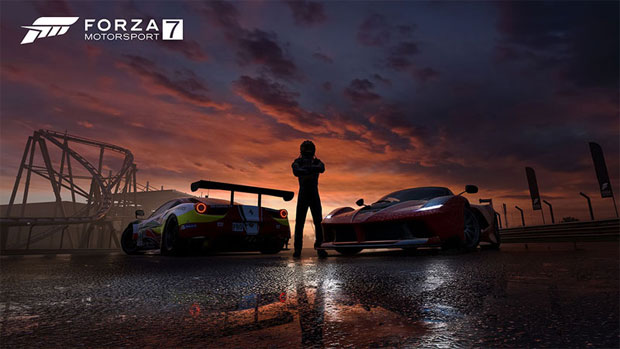 Published on October 4th, 2017 | by James Wright
Forza Motorsport 7 Review
Summary: Forza Motorsport 7 on the Xbox One provides one of the most realistic racers to his this console!
It's 2017 and games shouldn't look THIS good! I mean with the Xbox One X just around the corner, I was expecting the graphics of Forza Motorsport to be this impressive but not this impressive and then you have the amazing racing content. Add is around 700 cars such as the BMW Z4 to the Alfa Romeo P3 and the majestic MacLaren F1 plus a wealth of playable locations from around the world, including some very sturdy gaming mechanics and Forza Motorsport 7 delivers on every single level. So if you're a racing fan, Forza Motorsport 7 hits the highs and even if you're not a racing fan, you seriously need to check out this title on the Xbox One because the developers ensure that everyone is welcome.
"Every driver has a story to tell. Of their first race, their first race car,"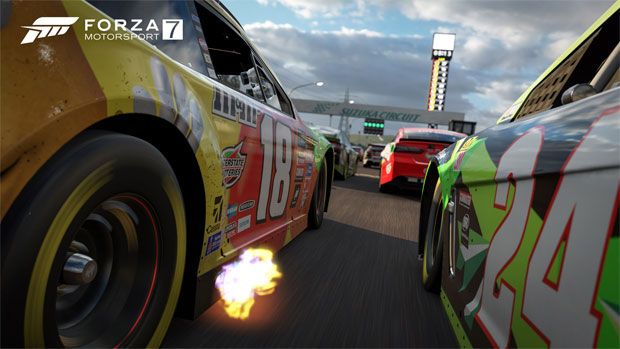 Sure Forza Motorsport 7 is a racing simulation, however there are plenty of tweaks and difficulty settings to ensure a fun yet challenging experience no matter what your racing skill is. Needless to say, developers Turn 10 have really upped the ante for Forza with lots of different gaming modes plus a very engaging championship series to help put you into the role of professional racing car driver. Add in trophies and achievements to help spice things up, including in-game currency which is used to purchase new vehicles and Forza Motorsport 7 will keep you invested in this game for a considerable amount of time. Oh, you can even customise your racer from various decades and even elements of pop culture plus gender as well!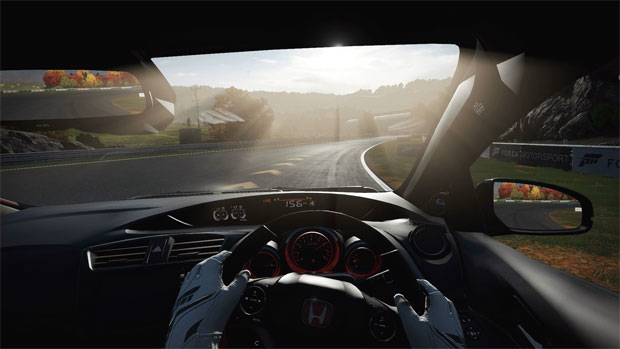 The career mode is the Forza Driver's Cup which includes six different championships with a plethora of races and showcase events to keep things fresh for the gamer. XP is also used to help 'level' your character and I also like how you can choose your rewards that includes a new car, a cheaper car through the store or in-game credits. This is probably the heart and soul of Forza 7 and also showcases the mechanics behind the title.
Furthermore, the controls are well mapped on the Xbox One controller with just enough vibration to know what your car is doing in the virtual racing world. For the first few races, I was blinded by the beautiful environments and when you get into the 'zone', you'll also appreciate the sense of speed that Turn 10 have incorporated into the game. So when you're racing at high speeds, it actually feels like you are moving very fast and more importantly, each of the cars classes handles slightly differently in terms of controls, not to mention the traction of the tyres. Although I've been racing in the virtual world for 20+ years, the game does offer various in-game assists and the ability to fine-tune your car.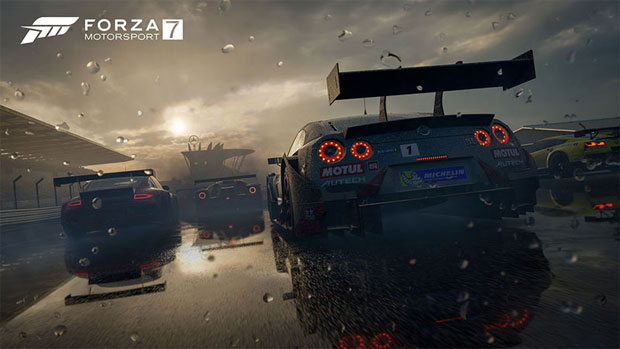 If you take the game online, you'll be rewarded with a different experience of Forza Motorsport 7 and although you can eventually judge the AI in the game, real players thrown another spanner into the works. I also like how you can create your own private races for friends which does make the game a little more contained given the scope of what is available. Those wanting to showcase their racing prowess, Leagues is available and for something a little more classic, the game even supports split screen.
Drivatars also return in this incarnation of Forza which attempts to mimic real-players. That is, if you piss them off, they will get a lot more aggressive in the game, even pushing you into walls. Another new feature of Forza Motorsport 7 is the inclusion of trucks that not only feel very heavy while racing them but trying to navigate them in the world really makes you keep your 'foot' on the brakes. Lastly if you loved collecting Matchbox Cars when you were a kid, this game just turns that collecting into a virtual one because my garage is packed with some beautiful vehicles.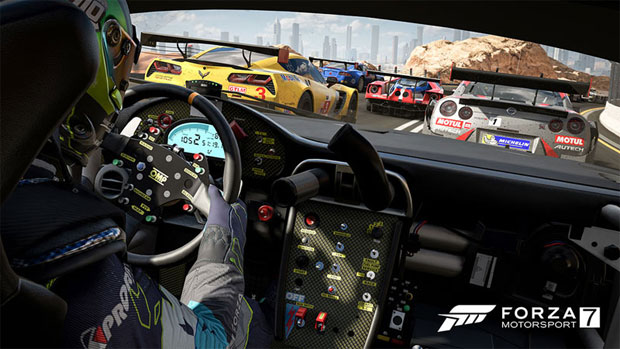 Graphically, Forza Motorsport 7 looks amazing on the Xbox One and although the cars are perfectly rendered, it's the whole package where this game shines. The backgrounds are extremely detailed and the illusion of driving is an impressive experience, especially the sense of speed.Furthermore, each track looks quite distinct such as the beauty of Japan's Suzuka to desert speedways of Dubai. Then you have its dynamic weather system that changes as it would in the real world. For example, it might be a nice sunny day when you start, however a storm might be brewing halfway through the race which changes how you play the game.
Sun, night, rain and mist are just a few of the other challenges that you may face in the game but for me, it was the realistic rain effects that requires you to slow down, unless you want to spin out and crash. Speaking of damage, I loved the subtleties of the little dents to something more substantial. The game even runs at a beautiful 60 frames per second and if you own an Xbox One S, the game supports HDR which is probably a sample of what Xbox One X owners can expect in the future… especially with the inclusion of 4k. My only gripe with the game is that some loading times are a little long and that's pretty much it!
Final Thoughts?
Forza Motorsport 7 aims high and thankfully delivers one of the best racers for 2017. The content is exceptional, the gameplay mechanics almost perfect and the graphics are just a true treat for any gamer. Add in the insane amount of cars and tracks and Forza Motorsport 7 is worth every penny and is the game that keeps on giving.
Highly Recommended!
Key Features
True 4K Performance: Built from the ground up to be UHD at 60 frames per second, Forza Motorsport 7 will be the premiere 4k gaming experience.
Explosive Immersion: Camera shake, rattling parts; immerse yourself in the exhilarating danger that defines motorsport.
Dynamic Race Weather: Intense rain, expanding puddles, and limited visibility make this the ultimate test of bravery and skill behind the wheel.
Unrivaled Car List: More than 700 cars, including the largest collection of Ferraris, Lamborghinis and Porsches ever.
Tracks Come Alive: Master 30 racing environments with over 200 ribbons, Forza's largest track list ever. No two races are the same as race conditions change every time you return to the track.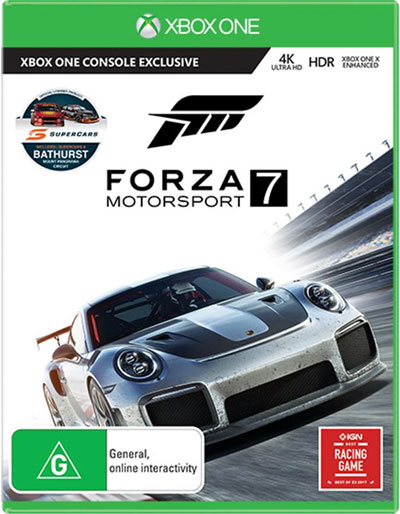 Game Details
Primary Format – Games – Xbox One
Game Genre – Racing
Rating – G
Consumer Advice – General, online interactivity
Game Developer – Turn 10 Studios
Game Publisher – Microsoft Studios