XBox One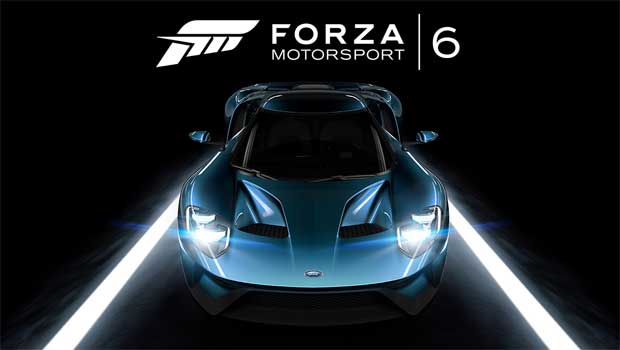 Published on September 14th, 2015 | by admin
Forza Motorsport 6 Review
Summary: Forza Motorsport 6 on XBox One is a really immersive racing experience that succeeds on all levels!
The latest incarnation of Forza will be released on the Xbox One on the 15th of September and Impulse Gamer got the opportunity to check out this game two weeks before the release. So what do we get? Well, we got more of that classic Forza formula that boasted some amazing graphics, in-depth gaming mechanics and plenty of online action to be found within this carefully crafted game.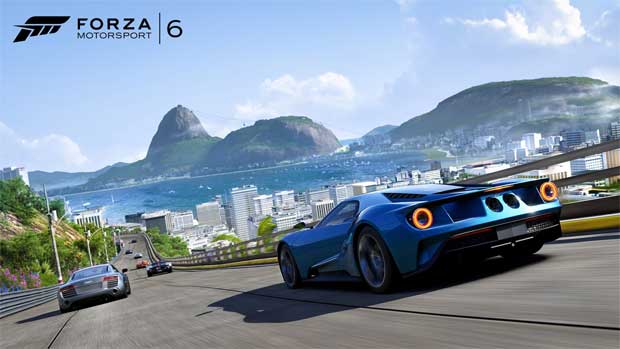 With that in mind, the Forza series is still one of the best car racing titles around that really takes this genre to a new level thanks to the realism injected into the game. Furthermore, Forza 6 is a racing simulator but the title will give players unfamiliar with the game driver supports if needed such as breaking, gear changes and if things go awry, there is a useful rewind feature.
So as each Forza game is released, developers Turn 10 Studios continue to challenge and reward the gamer and with Forza 6, the game boasts over 450 cars and over 25 locations that give the player a huge choice of options. For those who have never played Forza before, the game features a great tutorial as you race in Rio with all its colours and regalia. This track really makes you appreciate the graphics which successfully mimics this real-world city and also teaches you the mechanics of how to control these high-powered vehicles.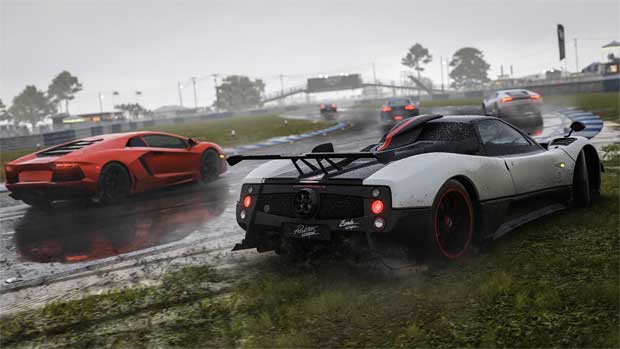 With a plethora of different gaming modes, the main crux of the title at the start is the career mode which requires players to win races in order to "level-up" your skills and give you access to new cars and tracks via an in-game purchase system. You are also awarded on how you drive and the more time you put into this game, the more it will reward you.
For those who want to get their hands dirty with oil, you can fine-tune your cars before races but for newbies, the game will give you all you need to win races. Controls are well mapped on the Xbox One controller and if you have access to a wheel like a Logitech G29, then the realism just went up a level.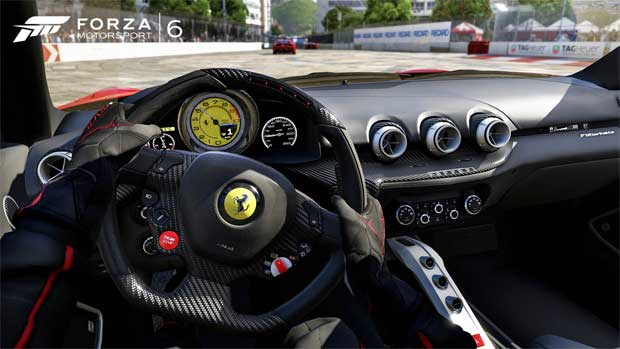 Forza is also all about professional racing because you can engage in street racing, touring and even pro, all with different tiers and challenges to complete. The game even gives the player a history lesson on racing and the link to Top Gear remains, albeit it does take the backseat a little due to Jeremy Clarkson's dismissal from the TV Series. However for me, the highlight of the game is acquiring and racing those amazing supercars which is pure joy once you have access to them.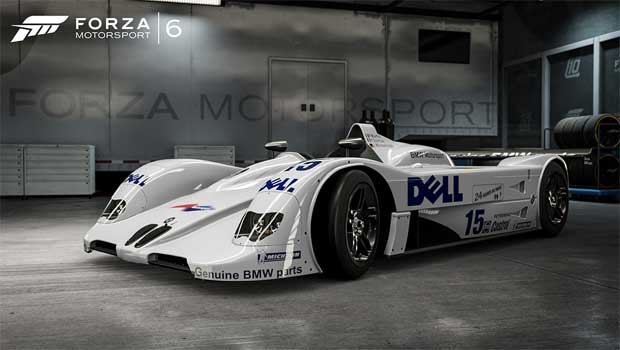 Multiplayer is another strong part of Forza 6 as you race against players from around the globe with these high-powered motor vehicles. Multiplayer supports up to 24 players and was limited because we were playing this title before the official release. Some of the new aspects of multiplayer included a new League option and also a free-play mode which definitely increases the longevity of this title. Drivatars also return which is a cool challenge system, more so when you are trying to beat another person's excellent driving. All in all Forza 6 is another brilliant racing experience on the XBox One.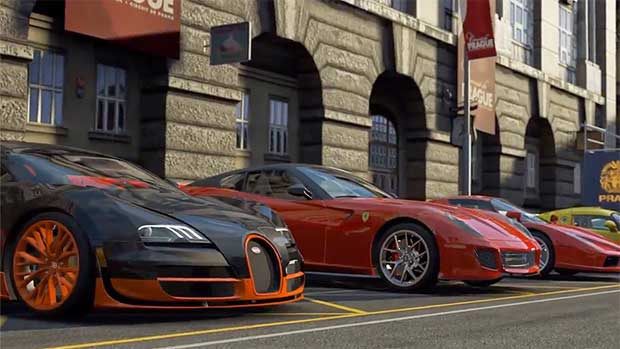 Graphics/Audio
Graphically, Forza 6 is the most impressive looking car game on a next-gen console, especially the life-like models of all the vehicles included in the title. The background environments are another treat which really draw the player into this virtual world. Then you have the realistic lighting and weather effects which must be seen to believed, particularly the rain effects which has a dramatic effect on your driving.
Another fun aspect of the graphics is the night driving which adds another level of complexity to the gameplay with 60 frames per second at 1080p which really make this a good looking game. Audio compliments the graphics and gameplay which feels like you are part of something bigger.
Final Thoughts?
Forza Motorsport 6 is easily the best game in the series that really makes the most of its next-gen architecture that in turn gives the player one of the most realistic driving experiences to date with some beautiful graphics and matching audio. If you want one of the most immersive racing experiences of 2015 then you really should check out Forza 6 on the Xbox One.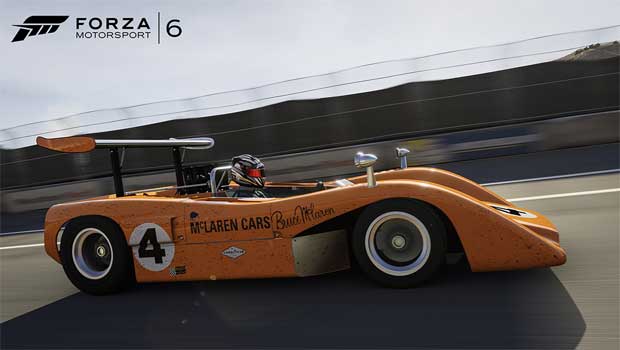 Key Features
As Real As It Gets
Breathtaking graphics at 1080p resolution and 60 frames per second.
Witness the spectacle of night racing under the stadium lights of Daytona and the intense claustrophobia of racing by headlight in the utter blackness of Le Mans, back stretch.
Experience the immersion of racing in the rain as working wipers barely clear the spray and tires hydroplane across physically based 3D puddles.
Ultimate Car Fantasy
Collect and race over 450 Forzvista cars, all featuring cockpits, damage and customization.
Tour 26 world-famous locales, including 10 newly captured tracks, all built from the ground up for Xbox One.
Relive the classic races and epic rivalries that have defined motorsports, greatest moments.
Never Race Alone
Home of the greatest racing, tuning and painting community in gaming.
New Forza Race Leagues and online spectating combine to give everyone the thrill of professional competitive multiplayer racing.
Compete in epic 24 player races in campaign mode and on Xbox Live.
By learning to drive like your friends, Drivatar technology and the Xbox Live cloud deliver real human behavior, giving you dynamic human-like opponents.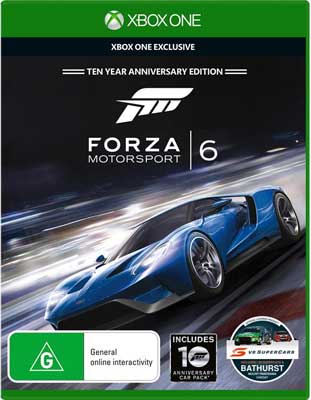 Game Details
Primary Format – Games – Xbox One
Game Genre – Racing
Rating – G
Game Developer – Turn 10 Studios
Game Publisher – Microsoft Studios