Blu-ray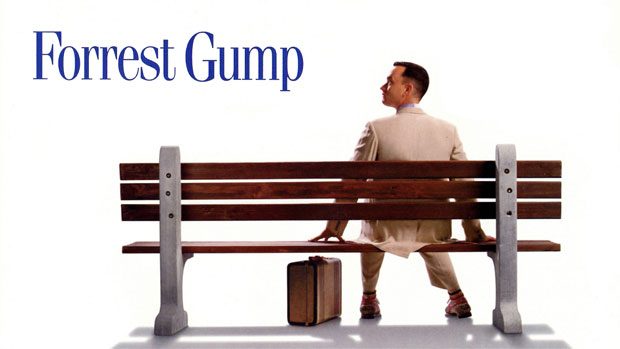 Published on May 11th, 2016 | by Natalie Salvo
Forrest Gump Blu-ray Review
Summary: The Oscar-winning "Forrest Gump" is an inspiring, Southern dream about an American hero and everyday man that lived a beautiful life.
It's been over 20 years since audiences were introduced to an idiot-savant named Forrest Gump. The whimsical dramedy was like Gump's own telling of this one American life. It was ultimately an extraordinary story told in a magical way and was a well-deserved recipient of the Best Picture Oscar at the 67th Academy Awards.
The film is a sentimental adaptation of a novel by Winston Groom and the screenplay was written by Eric Roth. The film was directed by Robert Zemeckis who had helmed the "Back to the Future" films and would go on to work with Tom Hanks in "Cast Away". "Forrest Gump" is a captivating and rich story that is full of both dark and sweet elements meaning there will be moments that will make you want to laugh, cry or will tug at your heart strings.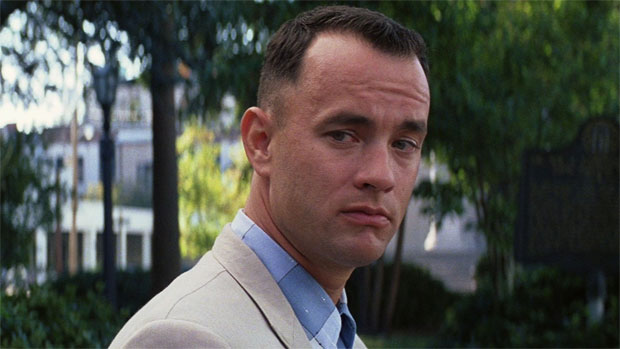 The Oscar-winning, Tom Hanks stars as the simple but charming, Gump. The film opens with the famous scenes of the pure white feather floating through the air before we stop to sit with Gump at a bus stop as he gently tells us his life story. It's one full of wide-eyed optimism and some famous one-liners and it's a tale that can appeal to everybody because it is told with such sincerity.
We learn that Gump has met US presidents John F. Kennedy, Lyndon B. Johnson and Richard Nixon as well as helping people to uncover the Watergate scandal. Gump has also met some famous rock stars, he taught Elvis Presley dance when the hound dog stayed at the Gump family home quite early on in his career and Gump also appeared with John Lennon on the Dick Cavett show. When Gump wasn't busy rubbing shoulders with the rich and famous he also managed to run across the country, play college football, play ping-pong for America, fight in Vietnam and evolve into an astute businessman and shrimp boat captain.
Gump's childhood friend and lifelong love was Jenny (Robin Wright). She had a series of issues to contend with in her life and hers was nowhere near as successful as Gump's. Jenny tries her hand at singing, stripping, political activism, drugs and sex. Jenny's life was a complicated one because she was abused by her father when she was young. By comparison, Gump was encouraged by his adoring mother (Sally Field) and she had her own unique way of explaining things to her mentally-challenged son, like likening life to a box of chocolates because "You never know what you're gonna get".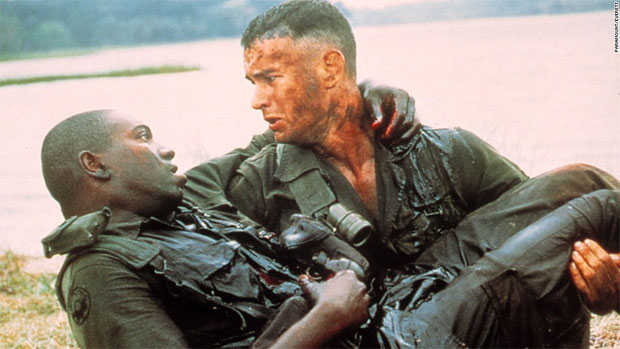 "Forrest Gump" is still captivating to watch thanks to its vivid storyline and some excellent lead performances. A special mention should also be made about the film's fabulous soundtrack because it reads like a who's who of popular American music from the mid to late 20th century. The film is also a visual delight thanks to the ultra HD video and the tireless work of Ken Ralston the special effects supervisor and his team. It is thrilling to watch the meetings between Gump and various stars as well as watching Lieutenant Dan (Gary Sinise) transform from able-bodied to a double amputee. You'd swear it was all real and this is particularly amazing when you consider that CGI was not used as commonly back then as it is today.
The Blu-ray edition has an extensive number of informative special features. These include feature-length documentaries about the making of the film including the art of screenplay adaption, the visual and sound effects and casting the younger version of Forrest Gump (Michael Conner Humphreys). There is a Q & A-style panel with Hanks, Roth, Zemeckis and Sinise as well as lots of cast and crew interviews and behind-the-scenes footage. Two theatrical trailers are also included as well as some screen tests and an extensive look at the film's soundtrack with Rolling Stone's Ben Fong-Torres. The latter is joined by musicians like: Michelle Phillips, David Crosby, Ray Manzarek, Roger McGuinn, Scott McKenzie, John Phillips, Pete Seeger and Jackson Browne, to name a few.
"Forrest Gump" is a Southern dream about an American hero. It's an emotional and inspiration film that seems to be made out of fine, magical pixie dust. While the story may be a long one, it's worth every minute to step inside the sweet, charming and sentimental world of Forrest Gump and his friends as they celebrate a life that was well-lived.
Blu-ray Details

Actors – Tom Hanks, Robin Wright Penn, Gary Sinise, Mykelti Williamson, Sally Field, Haley Joel Osment
Film Genre – Drama
Label – Paramount
Audio – English (Dolby Digital 5.1)
Running Time – 142
Region Coding – B (Blu-Ray)
TV Standard – PAL
Rating – M
Year of Release – 1994
Primary Format – Movies/TV – Blu-Ray