PS4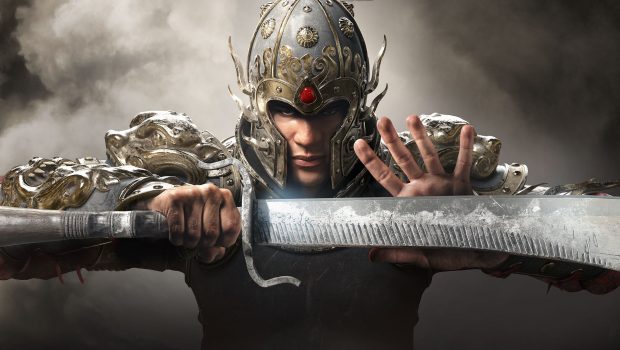 Published on October 31st, 2018 | by Nathan Misa
For Honor: Marching Fire DLC PS4 Review
Summary: A strong expansion and free update with two amazing game modes and four fun new heroes.
Say one thing about Ubisoft, say they're in it for the long-term.
If there's one gaming company that truly defined and refined the Games as a Service (GaaS) delivery model, it's them. Despite a rocky launch and some rough patches, the 20 months since For Honor's launch (read our review) has seen consistent content drops from the developer – and Marching Fire continues that tradition with a whole new faction to master and game mode to enjoy.
Marching Fire is more than just a content expansion, but a major overhaul available for every single member of the community. Everyone gets the free update for the base game which introduces enhanced visuals, tweaks to equipment, and the all-new 4 vs 4 Breach Mode, which has a squad of attackers besiege a group of defenders, with AI-controlled participants alleviating battles into a more epic, grand scale than other modes.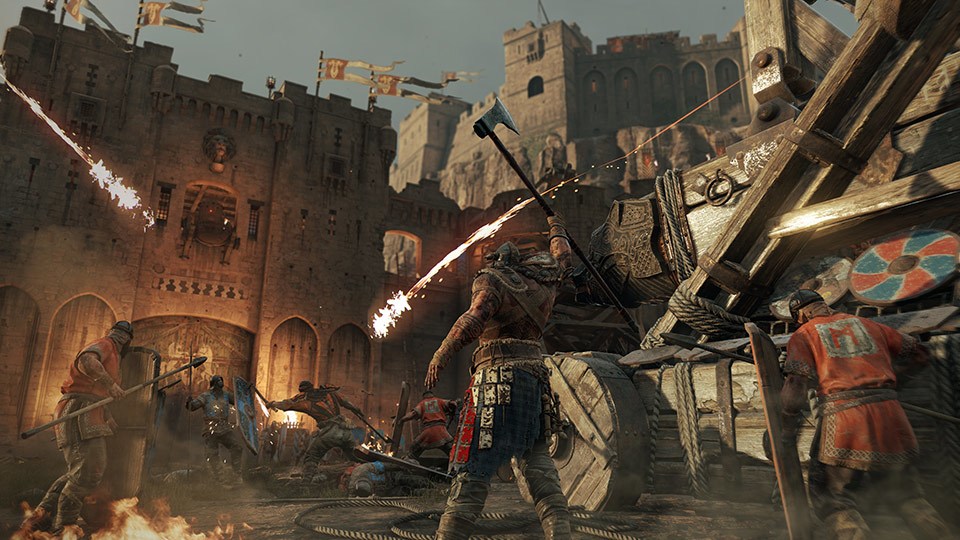 Breach Mode deserves major spotlight because it's honestly the most chaotic and adrenaline-pumping fun to have in For Honor to date. Breaking through two castle gates as an attacker to kill the enemy team's NPC-controlled commander while protecting an enormous battering ram is a tense affair where situational awareness and positioning (given the multi-lane map design) is the difference between life and death, especially when defenders storm out and try their best to put your frontline assault to rest. Matches have a 30-minute countdown, but every minute counts and there's a healthy dose of risk vs reward with secondary objectives like clearing archer points or killing neutral mini-bosses which unlock game-changing buffs – whether your players fail or succeed in leveraging these bonuses, it's an intense but rewarding back-and-forth.
Marching Fire also introduces a gear and perk systems revamp as part of the free update. All gear is now perk-based instead of having individual stats for each piece, meaning you need to pay more attention to what you equip to contribute to perks instead of just going with equipment with the best stat. As a casual fan, it hasn't quite impacted by own playstyle just yet, but it's not hard to see this having a major impact on the game and meta as a whole in the long-term.
There's also the massive visual facelift applied across the board with the free update. Every single texture and environment in the game has been improved for higher detail with more detailed surfaces and colours. There's also dynamic weather, better lighting and a streamlined UI; there was no expectation for any these graphical enhancements more than a year on from For Honor's launch, so the work put in is appreciated and incredible even as a casual fan.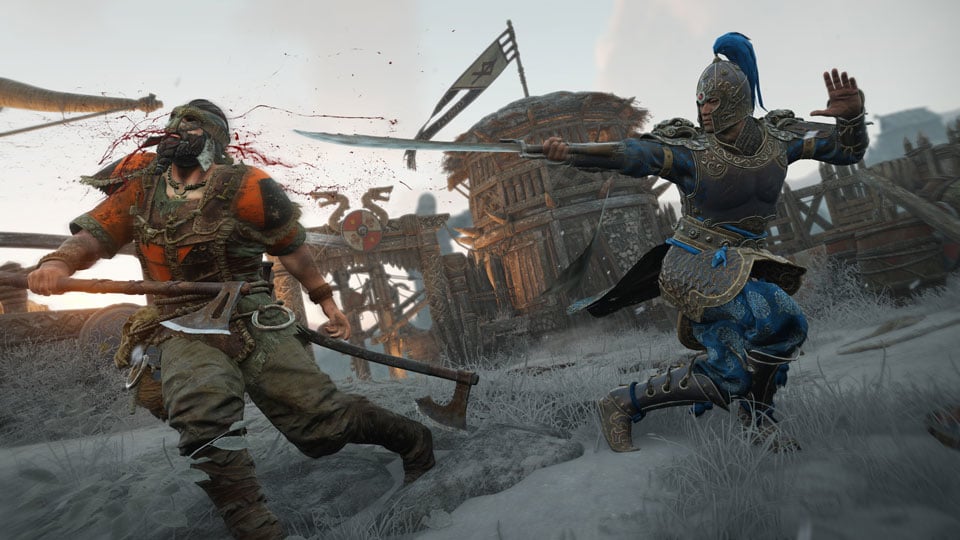 The paid part of the Marching Fire expansion gives players access to four fresh characters from a brand new faction called the Wu Lian, modelled after warriors on ancient medieval China. There's the nimble assassin called Nuxia, an agile vanguard named Tiandi, a deadly heavy called Jiang Jun and a highly complicated but rewarding new hybrid named Shaolin.
I've grown most partial to Jiang Jun, a large fighter with some surprisingly fast attacks with his long-reach polearm that punishes impatience, and whose abilities allow him to reduce stamina cost, augment it for nearby teammates and survive group attacks longer. Meanwhile, Nuxia's unorthodox hooked blades punish opponents who block or parry at the wrong time, and while she wasn't my cup of tea, her introduction will liven up existing defensive strategies in the meta.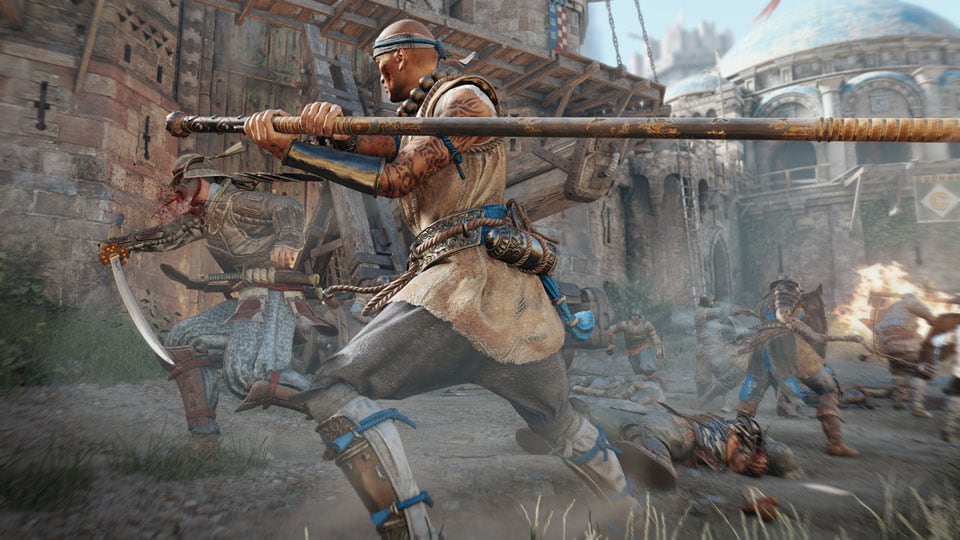 It's no lie, however, that the Shaolin is the most interesting new fighter to play, with a complex moveset filled with special stances that completely change up how fast and what direction his next flurry of attacks come from. He will be the most difficult to master, but opponents playing as him have already proven highly unpredictable and deadly thanks to his extreme versatility.
Paying customers also get Arcade Mode, a refreshing player-versus environment (PvE) experience for single-player or co-op lovers that proved more fun than it sounds on paper. In short, you take on quests to fight against several AI-controlled foes across four rounds, each with unique modifiers (slow health regen, fire-based damage to all weapons, etc) to ensure matches are different and things are kept fresh. It is a fun side-distraction to grind for levels and gear whenever I had enough of getting my ass handed to me online (yes, sore loser). While the bots are less fun to fight than real opponents, more offline challenges are always welcome, especially as part of the smaller Australian online community.
The Final Verdict
For Honor: Marching Fire is a great DLC expansion that introduces a fun new set of heroes to play as, movesets to master and game modes to enjoy. Even if you don't pay for the content, you still get access to a variety of graphical improvements, and Breach Mode's grand scale has made it one of my favourite new competitive multiplayer experiences in recent times.
Priced at AU$44.95 on launch, it's definitely not on the cheaper side of things, but this a high-quality content expansion that's definitely worth a purchase if you're a regular player in the growing online community. Ubisoft still let you spend the in-game currency of Steel to purchase the Wu Lin heroes through grinding and regular pay, so if you're patient you can still access most of the DLC without paying a cent – something Ubisoft does with its online titles (like Siege) that is definitely appreciated.
Game Details
Primary Format – Games – Microsoft Windows, PlayStation 4, Xbox One
Game Genre – Action-video game
Rating – MA15+
Game Developer – Ubisoft Montreal
Game Publisher – Ubisoft