Blu-ray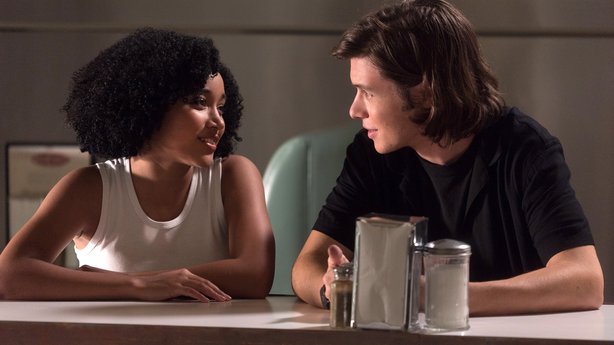 Published on December 11th, 2017 | by Natalie Salvo
Everything, Everything Blu-ray Review
Summary: "Everything, Everything" is an uneven, teen romance about a girl living in a bubble. Its claustrophobic nature makes it hard for audiences to really get behind this story.
The fourth wall is the imagined one separating actors from the audience. In "Everything, Everything" it feels like this is completely impenetrable. The main protagonist is a girl with an auto-immune disorder who has lived a life confined to her ultra-modern, sterilised house. The character seems like a nice-enough individual with a rich imagination but the film is simply too dull to really matter.
This story is adapted from a young adult novel by Nicola Yoon. It seems to take its inspiration from other romance stories featuring an ill individual like "The Fault In Our Stars" and "A Walk To Remember." "Everything, Everything" stars Amandla Stenberg ("The Hunger Games") as Maddy, a teenager who has not left her house in 17 years.
We don't get a lot of Maddy's back story apart from the fact she has severe combined immunodeficiency or SCID and that her overprotective mother is a doctor. The pair live by themselves because Maddy's father and brother passed away in a car accident when Maddy was young. Maddy spends her days penning reviews, connecting with other people with her condition online and building architectural models. She has a rich imagination and a bubbly personality.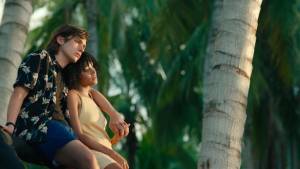 A skater boy named Olly (Nick Robinson) moves in next door and what ensues is your garden variety girl-meets-boy story. The pair become smitten with each other via text messages (strangely enough, they don't really call each other despite having phones) before they eventually meet in person. If we don't know much about Maddy then we know even less about Olly, apart from his love of black clothing and the fact that he has an abusive father.
This film requires a huge suspension of disbelief because there are some things that are silly and downright implausible, like the ease in which Maddy is able to get a credit card despite her age and circumstances and the pair's meeting and falling in love in the first place (apparently they loved each other before they'd even met, as you do.) The film blends fantasy elements where the pair's texting proves the backdrop to some imaginary dates and this only confuses an already cloudy situation. The young actors do reasonable jobs with the source material but the circumstances surrounding the relationship make it far too robotic and staid to really fly with an audience.
The special features include some deleted scenes and a featurette. In the latter, we learn a little more about the inspiration for this weird, quirky and whimsical tale. Nicola Yoon had had her first child and she imagined the kid contracting all sorts of illnesses. So Yoon wanted to create a character living in this profoundly-isolating environment. The result is Maddy, a character who is really well-adjusted, romantic and idealistic despite her circumstances and in any other situation she would make a great, strong female heroine. But in the confines of this claustrophobic story, it is nigh on impossible.
"Everything, Everything" is a teen romance starring a sick girl and a skater boy (this sounds like the start of a pop song.) It is a film that is uneven in tone, trying sometimes to be heartfelt and real and at other moments to be fantastical and other-worldly. This means it never really succeeds on either front and the result is a story that exists in its own little bubble where audiences will find it hard to get into the swing of things and make rhyme or reason of it all.
Blu-ray Details

Director – Stella Meghie
Actors – Amandla Stenberg, Nick Robinson, Anika Noni Rose, Ana de la Reguera, Taylor Hickson
Film Genre – Drama
Label – Roadshow
Audio – English (DTS-HD 5.1)
Subtitles – English
Running Time – 96
Aspect Ratio – 1.78:1
Region Coding – B (Blu-Ray)
TV Standard – HD
Rating – PG
Consumer Advice – Mild themes, sex scene and infrequent coarse language
Year of Release – 2016
Primary Format – Movies/TV – Blu-Ray