Events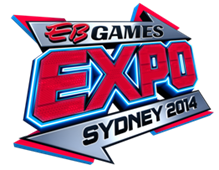 Published on September 20th, 2014 | by Admin
EB Games announces the second wave of the world's biggest games to be playable at the EB Expo 2014
Playing some of the world's biggest unreleased games isn't enough for you? Well there is even more to see and do at this year's EB Expo! Australia's premiere video game event is being held at Sydney Showground, Sydney Olympic Park, from October 3 to 5. Tickets on sale now at EB Games stores, online www.ebexpo.com.au and through Oztix.
Seasoned gaming aficionados and Australian families alike will have the opportunity to play and experience the latest and greatest in next gen gaming with the second announcement of games such as Tom Clancy's The Division, Mortal Kombat X, Call of Duty: Advanced Warfare, Formula 1, Adventure Time: The Secret of the Nameless Kingdom, FIFA 15, Lara Croft and the Temple of Osiris, Dead Island 2, Dying Light, Gauntlet, Sleeping Dogs Definitive Edition, Assassin's Creed: Rogue, and The Evil Within. 
As well as offering hands-on action with The Evil Within, the Bethesda booth will also feature an interactive maze with real-life characters from the game roaming around the pathways for anyone brave enough to enter. Influenced by Warner Bros. Movie World's 'Fright Nights' teaser maze, attendees will experience a whole new level of terror!
League of Legends is heading back to EB Expo for MOBA fans and newbies alike. Be on hand at the League of Legends booth for the Oceanic Final tournament to watch the region's best teams battle it out for the top spot and check out the live broadcast of the World Championship group stages from Taiwan.
Come and join us at the EA Sports FIFA 15 tournament taking place on the FIFA Vans, where you can be crowned FIFA 15 Champion and win some exclusive prizes! Make sure you get in quick, as places are limited.  
Put on your dancing shoes get your groove on with Just Dance 2015! Burn up the floor to the hottest tracks including hit songs such as "Happy" by Pharrell Williams, "She Look So Perfect" by 5 Seconds of Summer, as well as legendary favourites like "You Spin Me Round (Like a Record)" by Dead or Alive. Learn to move with Just Dance experts at the Just Dance Kids show on Sunday 5th October @ 12pm at the EB Community Stage 2. Cheer on the finalists of the Australian Just Dance Championships on Sunday October 4 at the Just Dance floor. The winner will be flown to Paris to represent Australia at the Just Dance World Championships!  
The EB Expo will also offer an EXCLUSIVE LIVE cross from the US with a satellite Q&A with X-MEN star Shawn Ashmore (ICEMAN) and a special screening of X-MEN: Days of Future Past to launch the Digital HD release. The satellite cross will be followed by a presentation from Digital Effects Supervisor Adam Paschke of Rising Sun Pictures. He will reveal the secrets behind how they literally made time stand still, using an astonishing blend of live action, computer-generated objects and extensive visual effects.  
This mind-blowing, action-packed line up from the EB Games Expo still includes upcoming releases: Assassin's Creed: Unity, Far Cry 4, Evolve, Sunset Overdrive, Super Smash Bros., Middle-Earth: Shadow of Mordor, Battlefield™ Hardline, Halo: The Master Chief Collection, LittleBigPlanet™ 3, Borderlands: The Pre-Sequel!, NBA 2K15, WWE2 K15, Skylanders Trap Team, The Witcher 3, Project Cars, Dragon Ball Xenoverse, Kingdom Hearts HD 2.5 ReMIX, NARUTO SHIPPUDEN: Ultimate Ninja STORM REVOLUTION, DriveClub, SingStar Ultimate Party, The Crew, Just Dance 2015, LEGO Batman 3: Beyond Gotham, Disney Infinity 2.0, Forza Horizon 2, Alien: Isolation.
A detailed schedule of sessions and events can be found at the EB Expo website www.ebexpo.com.au. Tickets selling fast!
Get off the couch – get into the game at the EB Games Expo 2014!