XBox One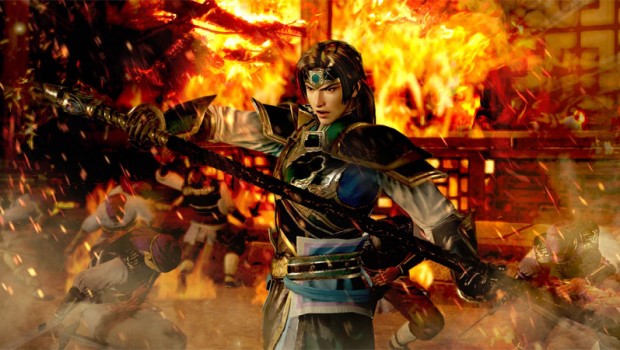 Published on March 9th, 2015 | by James Wright
Dynasty Warriors 8 Empires XBox One Review
Summary: Dynasty Warriors 8 Empires is a fun title on the XBox One but a little repetitive and is also showing its age
Dynasty Warriors 8
Primary Format – Games – Xbox One
Game Genre – Action & Adventure
Rating – M
Game Developer – Omega Force
Game Publisher – Koei
Reviewer – James Wright
It's good to see the Dynasty Warriors franchise move onto next-gen consoles as developers Koei take this game onto the PlayStation 4 and XBox One (Reviewed). For those new to the franchise, Dynasty Warriors 8 Empires is set in the popular world of Chinese lore, The Three Kingdoms that had superhuman heroes fighting for their own dynasties in order to master their destinies.
With 83 playable characters and the ability to create your own character, Dynasty Warriors 8 Empires is basically a fighting strategy game as you fight your way through a plethora of different battlefields that are also dictated by the seasons. The inclusion of seasons into Dynasty Warriors 8 Empires makes the game more dynamic and does slightly influence your gaming strategy as you attempt to unify the lands.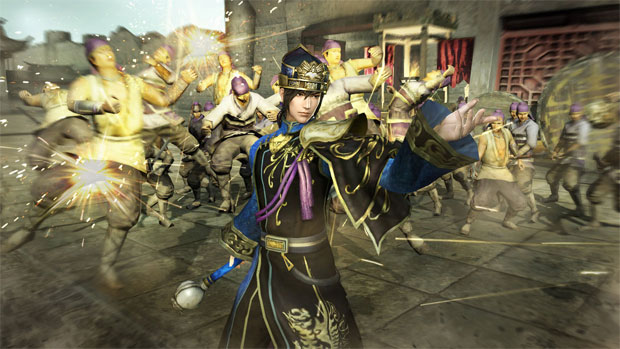 Once you have selected your character and chosen a faction, you are basically thrown into a violent world of soldiers and heroes as you attempt to hack and slash your way through these chaotic battlefields. The game boasts almost 500 different weapons from standard swords to giant polearms to help maim and defeat your enemies. Although the game can be played as a button smasher, you do need to include some strategy, especially on the higher levels.
The game supports 5 different levels of difficulty. Needless to say, fighting thousands of enemies all at once is very insane and quite satisfying at the same time, however the more powerful bosses are the ones who give you a real challenge. Each of the characters also have their own unique combo attacks and specials that when unleashed can reign havoc on the battlefield but you do have set objectives on the battlefield to complete which is similar to capture the flag.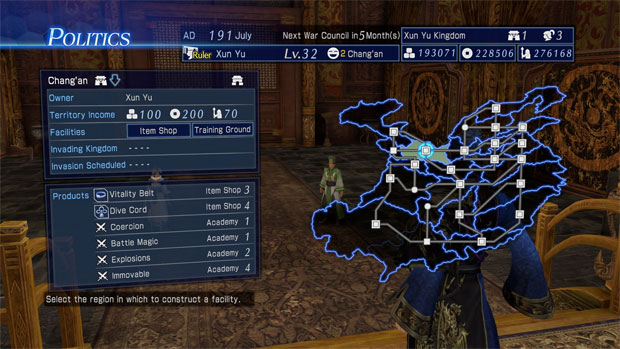 Apart from combat, the game does contain an RPG element plus an overarching level of strategy with turn-based decisions which help you and your ruler in unifying the lands by making alliances and improving your economy of weapons. There is also quite a bit of intrigue in the game as you perform all these Clandestine deals in order to keep your ruler and his people happy… unless you play as a free agent which does give you more options to change the tides of war.
The game boasts a hub which allows you to choose your strategies and missions in order to expand your empire and basically "level-up" your army and make yourself a force to be reckoned with. Another cool function is that you can marry and even have children and as the years progress, these children will grow up with some of them becoming generals in your army.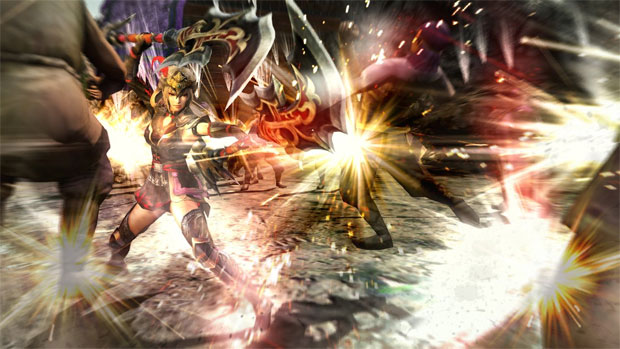 If you're a new comer to the series, you'll probably be a little out of your depth when you first start playing but thankfully the developers do give enough tools and story to help these players. If you're veteran of Dynasty Warriors, you'll notice a few tweaks here and there but overall, the gameplay is still very reminiscent of the previous games.
I'm hoping that Koei will revolutionise their next instalment with some much needed tweaks to the gameplay. Given that, the customisation options is quite in depth in Dynasty Warriors 8 Empires, especially the edit mode which gives unprecedented access to how your army will look. Character customisation is also quite fun, especially as you fine-tune their appearance and what fighting style and abilities they will have. All in all, it's still the same but a little different on next-gen consoles but well worth it if you enjoy these type of games.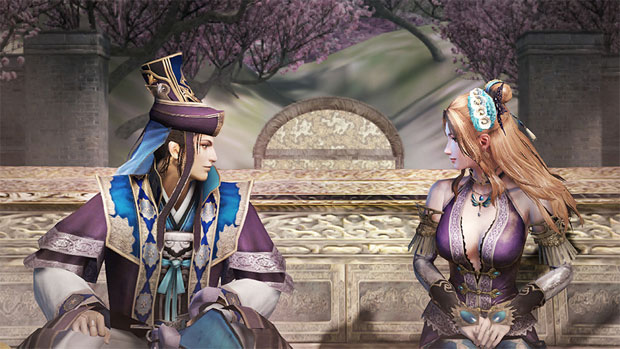 Graphics/Audio
Graphically, the game is very reminiscent of the previous games, although it does have a coat of next-gen graphics with higher resolutions and is quite smooth, especially with the amount of enemies all on screen at once. The highlight of the game are the playable characters and the bosses who are extremely detailed and move with this supernatural like grace on the battlefield.
Special effects, lighting and the new seasonal effects also enhance the overall graphics. The audio of the game goes hand in hand with the gameplay as does the music and glorious sounds of the battlefield. Dialogue is over the top but once again suits the Dynasty Warriors franchise perfectly. It's a decent effort from Koei!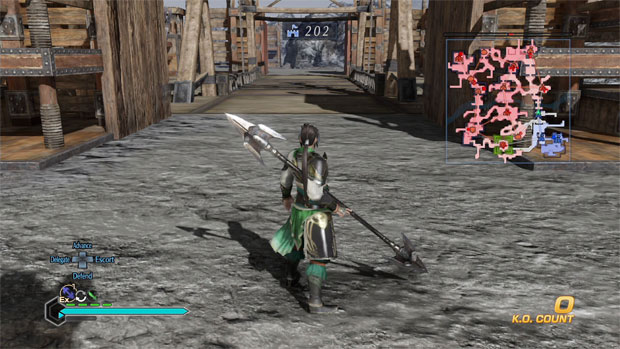 Final Thoughts?
Being a fan of the series, I actually installed this latest instalment even though it does become repetitive but the mindless hacking and slashing on the battlefield is quite fun. The mechanics work well but the gameplay is definitely showing its age and once again, hopefully Koei can try something new in their next instalment besides making it a 1080p game.
Nonetheless if you love the musou adventures of war, than Dynasty Warriors 8 Empires is a game for you or if you have never tried the series before, it's well worth a look, especially due to its longevity but just be warned that it does become a tad repetitive!
Key Features
83 playable characters including the addition of Xun Yu.
Customisation: create your own character and for the first time ever customise your mount , army, banners and "normal" officers.
Battlefields: 40 thrilling battlefields with added elements such as time, weather or season and the destruction of building and structures.
Items: collect 498 weapons, 20 tactic types and 200 titles.
Game modes: Empire, conquest, free mode, edit mode and more.
5 difficulty levels: from very easy to very hard.
New strategy elements creating a higher level of dynamic strategic battles. Players can influence the battlefield at a cost to their men; bases can be built and forts can be installed and taken down.
Cross save functionality – Import characters created on Dynasty Warriors 7 Empires.
Multiple endings based on player decisions.