Films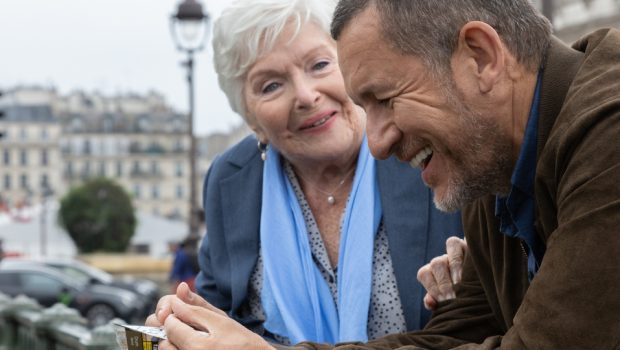 Published on June 19th, 2023 | by Natalie Salvo
Driving Madeline Film Review
Summary: Driving Madeline is a pleasant little film that you can lose yourself in. An older woman reflects on her life with her cab driver as they venture through Paris.
"Driving Madeline" is a film that does what it says on the tin. It is a French movie that sees two perfect strangers take a drive through the streets of Paris. The result is a handsome look at an unlikely friendship that is formed between a taxi driver and his customer.
Christian Carion directed this film, which he co-wrote with Cyril Gely. The result is something that hits several high notes in its charming portrayal of a friendly road trip. Fans of films like "Driving Miss Daisy," "Green Book" or even "Scent of a Woman" (y'know, an older person wants one last hurrah) will appreciate some of the beats here.
The main attraction here is undoubtedly the 94-year-old, Line Renaud, who could pass for decades younger. She shares a fine chemistry with Dany Boon, an actor she has worked with previously. The pair share an interesting relationship: one filled with tension, conflict and eventually a mutual admiration for one another.
The eponymous Madeline is making her final ride before moving into a care home. She wants one last waltz down memory lane via the scenic route. What follows is a series of flashbacks including one about involving falling in love, and some starker ones where she marries a different man who becomes violent towards her and her young son Mathieu.
Madeline's foil is a grumpy cabbie named Charles (Boon). He is struggling to make ends meet, and has an adolescent daughter and a wife. Charles admits that he has never left France, save for a single trip to Belgium during a train strike. Madeline awakens a light in him and teaches him along the way. Audiences will also enjoy the picture postcard views of the Seine and the Champs-Élysées.
"Driving Madeline" is a pleasant film with some sobering moments including pieces of life's lessons. It sees how two strangers can come together and bridge a gap across generations to learn and appreciate how much the other can share. "Driving Madeline" is ultimately an enjoyable romp down memory lane with some fine diversions along the way. We dare you to go and get lost in it.