Films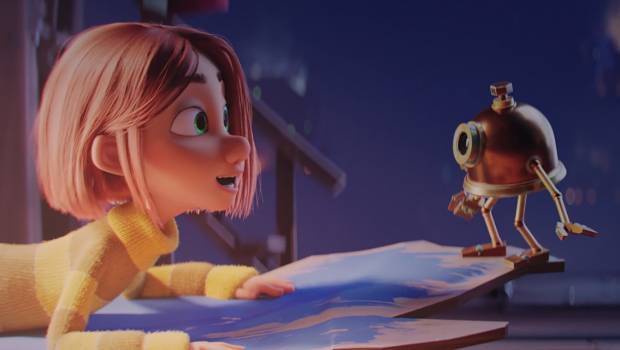 Published on December 30th, 2020 | by Natalie Salvo
Dreambuilders Film Review
"Dreambuilders" is a sweet family film that is set in the land of nod. It's not the most original story but it certainly has a quaint charm to it. This animation borrows from the Pixar-playbook (though it's not as good) and offers some family-friendly fun at night.
This film is co-directed by Kim Hagen Jensen ("All Dogs Go to Heaven") and Tonni Zinck, and is written by Søren Grinderslev Hansen. It stars a pre-teen girl named Minna (Robyn Dempsey). She lives with her father, John (Tom Hale) because her mother left the two of them to pursue her dream career in music. The film has a lovely folk/country soundtrack with music by Kristian Eidnes Andersen.
Minna's life is turned upside down when John decides to have a serious relationship with Helene (Karen Ardiff). The latter has a daughter named Jenny (Emma Jenkins) who is Minna's age. Jenny is a spoilt brat who is obsessed with being a social media influencer. She is only interested in superficial things, whereas the more homely Minna has a pet hamster and loves mariachi music.
One evening Minna discovers an alternate dimension where a group of characters (including the adorable Gaff (Luke Griffin)) – who look like Minions but have much higher IQs – create dreams. These all take place on elaborate stages and Minna discovers that she has the power to alter these. She plans to infiltrate Jenny's dreams but as you can imagine, things do not go according to plan.
The story blurs the lines between fantasy and realism. It borrows a little from "Inside Out" but one thing that's missing from this film is the subtle jokes that appeal to adults from Pixar's films. The animation is pleasing to watch and is full of different textures and tones. The thing stopping this from being an excellent film is the script, which falls over in terms of character development. Aside from Minna, most of the characters are one dimensional insofar as we don't really learn about their histories or what makes them tick.
This film is a well-meaning one that tackles some tough subjects. It looks at divorce and how you may be forced into a blended family where you have to bond with people despite having nothing in common. It also gets a tad dark at times. Jenny's parents argue and her father admits he regretted having children. An online troll also says she'd commit suicide if she had a step-sister like Minna. These are quite intense and brutal moments for what is ultimately a children's film. Some younger children may get scared but the older ones should find the proceedings rather entertaining.
"Dreambuilders" is not the most unique animation you will see but it is a pleasant and uplifting story. This contemporary adventure tale reminds us to be careful what we wish – or ahem, dream – for. If you're after a short and pleasant story, "Dreambuilders" is certainly a bright little jaunt through the land of nod.