PS4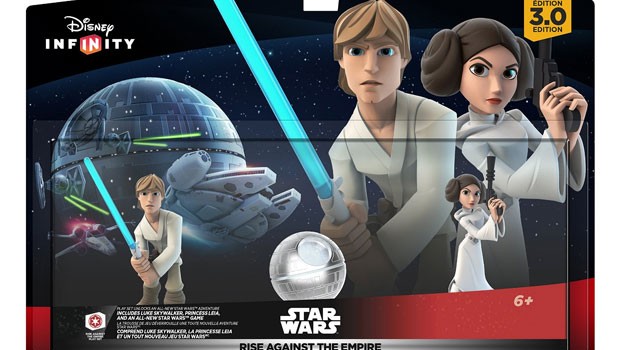 Published on October 24th, 2015 | by Andrew Bistak
Disney Infinity 3.0 Star Wars Rise Against the Empire Play Set Review
Summary: Disney Infinity 3.0 Star Wars Rise Against the Empire Play Set is Star Wars done right!
As much as I enjoyed the Disney Infinity 3.0 Starter Pack, there was one thing missing from the game and that was the characters from the original movies… I'm old school Star Wars! So when I heard about the Rise Against the Empire Play Set that revolved around Star Wars A New Hope, Empire Strikes and Return of the Jedi, I was in fanboy heaven because it allowed me to control Luke Skywalker and Princess Leia that had me grinning from ear to ear and brought back so many fond memories of my childhood.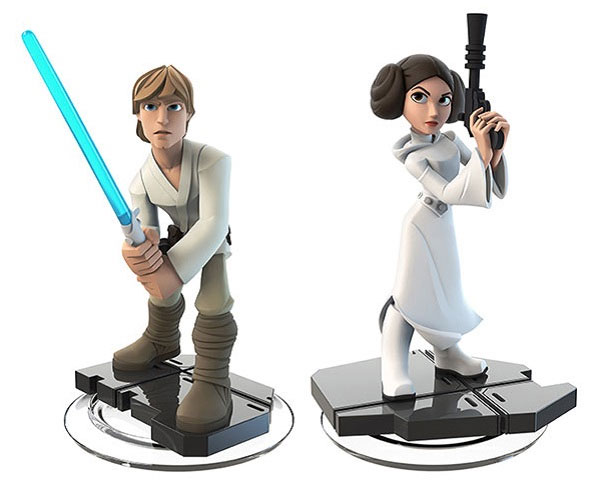 Apart from Luke and Leia, additional Disney Infinity 3.0 characters can be purchased that include Han Solo, Chewbacca and a seriously cool and I mean uber cool Darth Vader that looks amazing. Best of all, this play set visits very familiar locations of the Star Wars galaxy that include Hoth, Endor, Tattooine and even the Death Star as you shoot your blasters and slice your lightsabres to victory and beyond!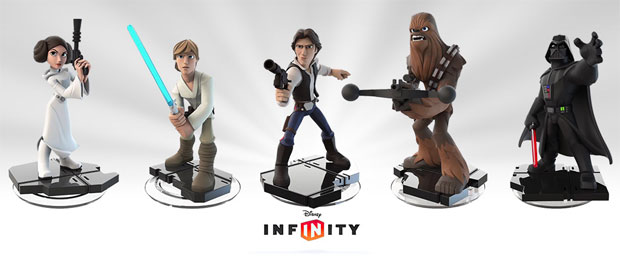 So while the gamer is taken through episodes IV to VI, you'll engage in some true Star Wars heroics that includes going head to head with the Death Star with an awesome trench scene and a truly spectacular Hoth battle as the rebels attempt to take on the Empire with their deadly AT-AT's. Exploring on foot is equally as impressive and developers Studio Gobo should be commended on creating such a sturdy game on the PS4 with some excellent game mechanics.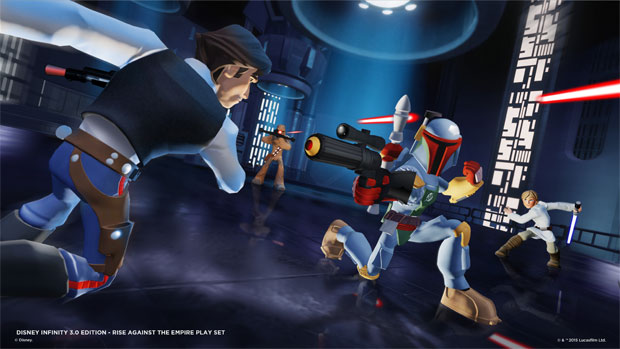 So while you defeat enemies and complete missions, you are awarded experience points that allow you to level up your characters in order to upgrade their abilities and powers. This is easy to do with the included characters Luke and Leia but its really hard juggling all five characters because the cool factor is phenomenal. In other words, I couldn't choose just one character to play because I had to swap between Luke, Leia, Han, Chewbacca and Darth. And on that note, there are more toys coming for this amazing interactive game!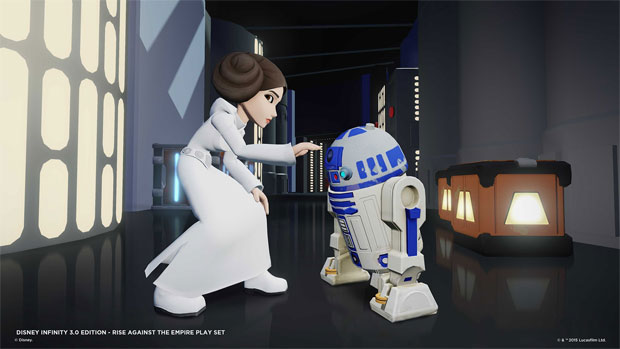 Apart from the campaign mode, Rise Against the Empire gives the player additional unlockable items for their Toy Box to create your own challenges for Luke and other Jedi-wannabes. This definitely increases the longevity of the title. A special mention should be made to the figures themselves that look amazing in this great cartoon-inspired way. The two figures that come with this playset include Leia and Luke who mimic their New Hope counterparts but the Han Solo, Chewbacca and Darth Vader look equally as amazing and had me rushing out to JB Hi-Fi to purchase them.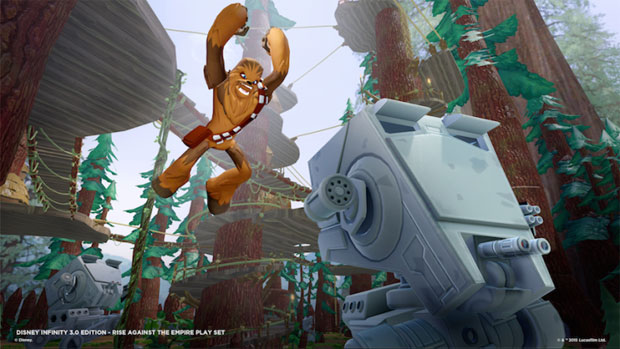 With that said, there are so many "wow" moments in this play set, especially the battle between Luke and Vader which is amazing and these moments really help spice up the game from the sometimes repetitive side missions. On that note, Vader is definitely the "man" when it comes to powers and he has this awesome in-game aura, not to mention quite a powerful character as well.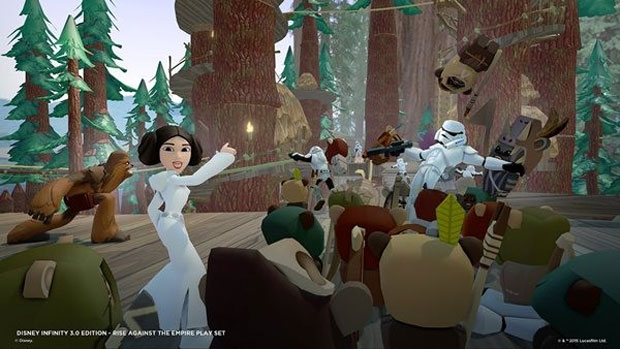 Furthermore, vehicles play a key component to this game that even allow you to fly the Millennium Falcon or even hijack an AT-ST to roam around Endor… it's quite a flawless experience because each vehicle handles slightly differently and multiplayer is a blaster. The only slight issue to this set is that some key moments and locations are missing from the movies such as Cloud City (Bespin) but even so, the developers still give the Star Wars fan more than enough fan service in this must have play set!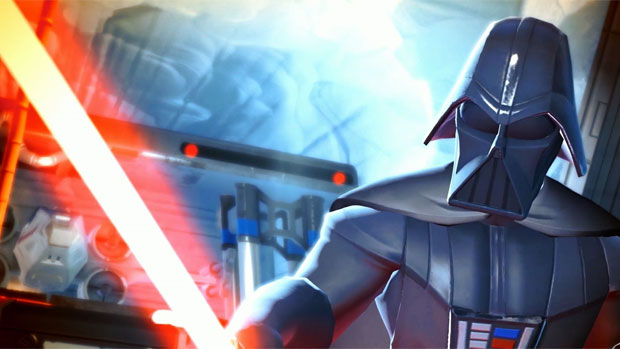 Graphics/Audio
Graphically, the latest play set for Disney Infinity 3.0 is pure Star Wars eye candy that boasts some great open world areas that truly pay homage to the original films and of course the characters themselves. The soundtrack is wicked as is the voice acting that really mimics their movie counterpart characters very well. Sound effects are equally as impressive, particularly the sound of the lightsabres and the blasters.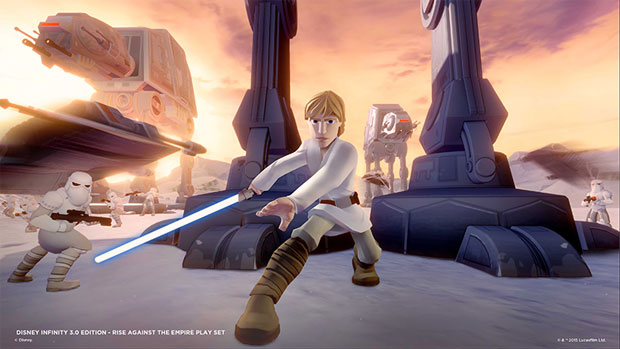 Final Thoughts?
At the end of the day, The Rise Against the Empire Play Set is a much have addition for Disney Infinity 3.0 that successfully takes the gamer through these classic sci-fi movies but more importantly, it puts the player in control as they experience some great moments from the films.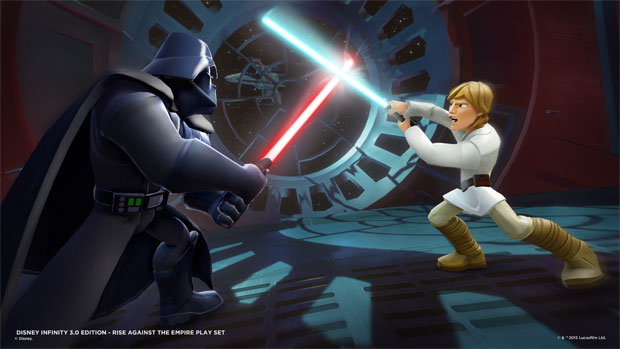 However once you have finished the game which doesn't take that long (6 to 8 hours), you then get to explore the Toy Box with even more Star Wars merchandise in order to create your very own Star Wars worlds… and yes Han Solo shot first. So get ready for this virtual tour of the Star Wars galaxy as you explore Jabba's Palace and explore the corridors of the Death Star that easily makes this one of the best games in this franchise in quite a long time.
Bonus Screenshots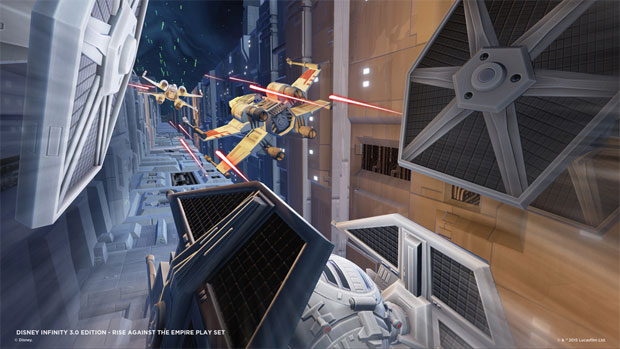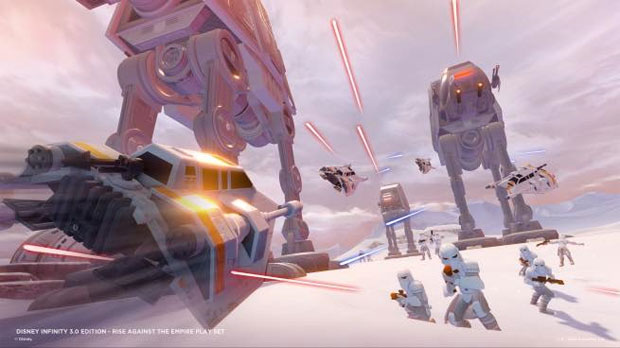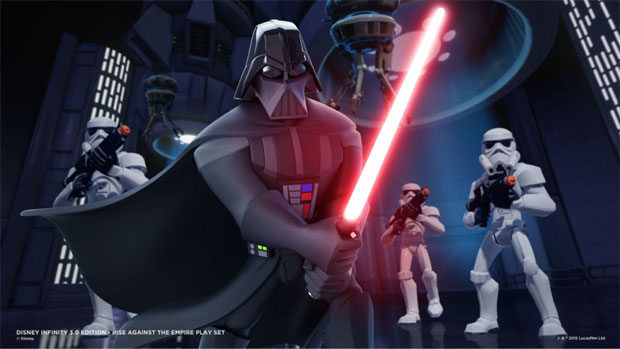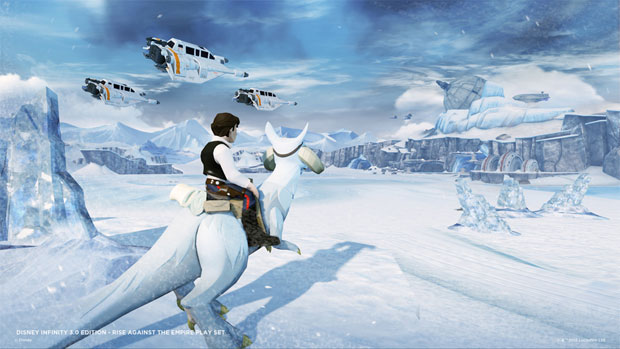 Game Details
Primary Format – Games – Disney Infinity
Game Genre – Disney Infinity 3.0
Rating – PG