PS4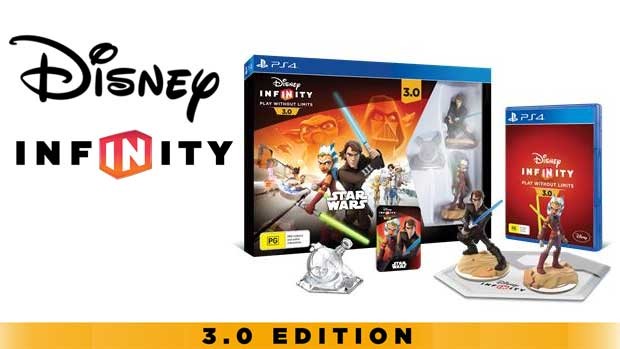 Published on August 30th, 2015 | by Andrew Bistak
Disney Infinity 3.0 Review
Summary: Disney Infinity 3.0 evolves into a much sturdier gaming experience and is easily one of the best Star Wars games in quite some time
Disney Infinity 3.0 is finally here and as the previous version injected the Marvel superhero franchise into this game, version 3.0 successfully brings the Star Wars universe into play. So what is Disney Infinity? If you've been living under a Bantha (you might want to get yourself checked) but Disney Infinity is basically an action-adventure sandbox video game which allows you to use collectible figurines in order to interact with the gaming environment and swap characters on the fly. You can even create your own gaming worlds thanks to the Toy Box mode and apart from Star Wars, Disney Infinity 3.0 also brings in additional Marvel, Pixar and Disney characters.
This new incarnation of Disney Infinity 3.0 which is backward compatible with the other collectible figurines from the previous games also contains some new themed playsets which basically change the gaming world to mimic that franchise such as the Star Wars Twilight of the Republic or Pixar's Inside Out Play sets with additional playsets to come. Furthermore, Disney Infinity 3.0 is available on six platforms that include PS4 (reviewed), PS3, Wii U, XBox One, Xbox 360, PC and Steam.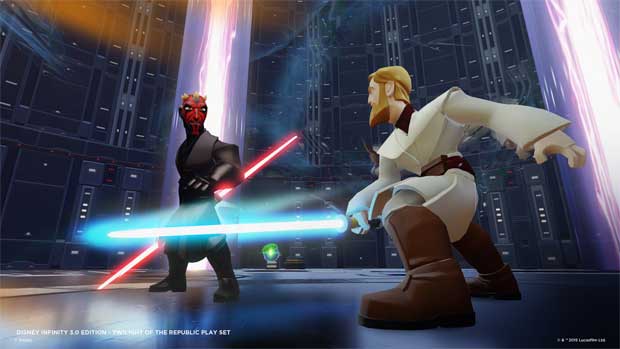 If you want to buy the Disney Infinity 3.0 Star Wars Starter Pack, it will cost you around $80AUD (August 2015) which comes with the video game, figurine base, Star Wars: Twilight of the Republic Play Set Piece, 1 web code card and two figures that include Ahsoka Tano and Anakin Skywalker. Additional figures are available separately at no more than $17.95AUD per figure but these collectibles are quite detailed and in my opinion, worth every credit… err… dollar. Additional playsets when available retail for $39.95 and come with two figures such as the Star Wars Rise Against the Empire one which has Luke and Leia in their Episode IV guises.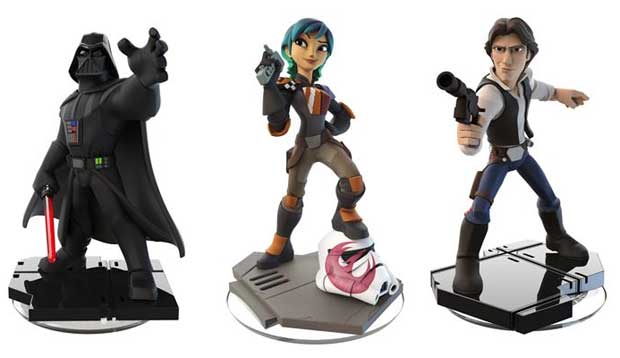 When it comes to a story, Disney Infinity 3.0 features a brilliant Star Wars tale and as the galaxy descends into chaos, an old enemy rises again with Darth Maul and his nefarious allies as key characters from the TV series, Star Wars the Clone Wars are thrown into the mix that include favourites such as Anakin Skywalker, Obi-Wan Kenobi and Ahskoa Tano. Without spoiling this playset story, it revolves around Anakin and Ahskoa uncovering a nefarious plot that has them in the middle of both the Old Republic and the Separatists armies which really pays homage to the entire franchise and is easily one of the most enjoyable Star Wars games that I've played in a long time. It just ticks all the right boxes, especially as you can visit various planets such as Naboo and Coruscant.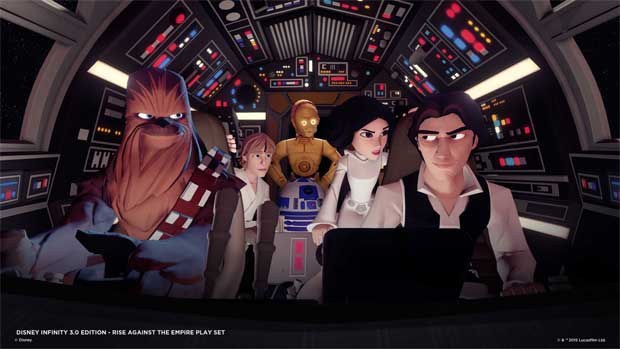 So by putting your figures on the power base in Disney Infinity, it basically allows you to swap your characters on the fly and each of these collectibles have their own speciality moves and attacks. However some of the biggest criticism from the previous Disney Infinity titles was the gameplay itself which some critics and gamers thought was too simplistic. Although the original Disney Infinity was a little light on content, developers Avalanche Software plus support from other developers have really enhanced the gameplay in the previous version and version 3.0 is further fine-tuned, more so the control mechanics and carefully timed combo attacks.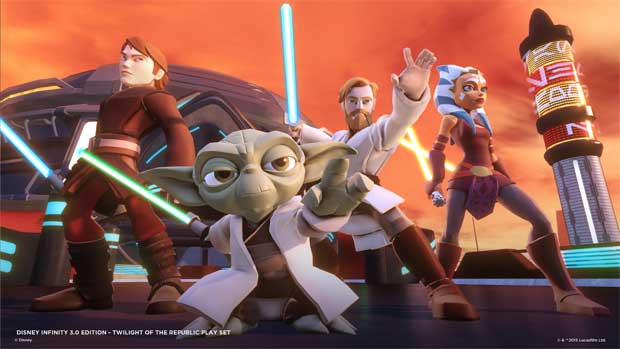 Given that, these combos don't feel the same for each character and they really reflect their Star Wars characters well, particularly using your lightsabre or using one of your Jedi abilities. If you're an older gamer, I do suggest you play on of the harder difficulty because it gives you more of a challenge. Missions are quite diverse in this playset and the cinematics help flesh out the story and the characters. It's really hard not to be drawn into the story with the music, sound effects and professional voice acting.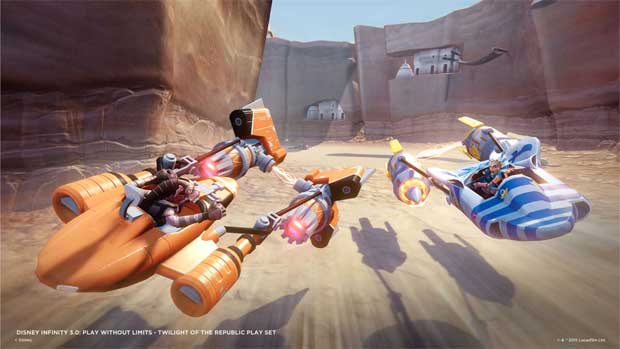 So as you explore planets such as Tatooine or Coruscant, the developers have faithfully recreated the Star Wars universe into the Disney Infinity 3.0 franchise which is not just based to exploring planets. Disney Infinity 3.0 features vehicles and even space battles that is still a little impeded when it comes to controlling these vehicles but it does get better, especially when you start to master the controls because then you can compete in optional vehicle missions such as pod races.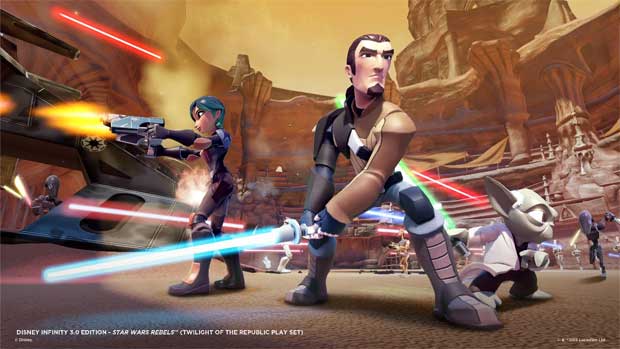 Combat is much sturdier and enjoyable in Disney Infinity 3.0, particularly the varied enemies that you face and the Jedi powers at your disposal such as force pull, push and dash. Characters are awarded experience which then allows you to upgrade their abilities/skills which does make it tough swapping between characters if you're playing this game solo. Like the previous title, sidekicks return to Disney Infinity 3.0 which makes them more useful in this incarnation as they perform better activities and supports for your main characters. One such new activity is farming which allows your sidekicks to grow food for your characters that in turn gives you additional benefits.
Then you have the Toy Box which is a creation tool for the player and allows you to create your own games and worlds that can be shared with other gamers. Given the Toy Boxes from the previous games, Disney Infinity 3.0 does make creating your own worlds a much less labour intensive task as it subtly teaches you the tools of the craft. So whether you're creating your own Mario Kart inspired Star Wars track or creating a Jedi maze with platforming elements, it's quite easy to do, provided you have enough time and patience.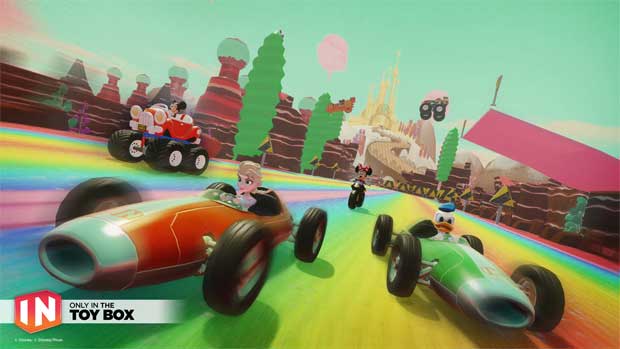 I created my own Sarlaac Pit on Tattooine surrounded with as much Star Wars regalia as I could without any slowdown whatsoever. Nonetheless Disney Infinity 3.0 is not just about Star Wars and Disney have introduced a plethora of new characters such as Minnie Mouse, Mulan, Sam Flynn (Tron), Olaf (Frozen), Hulk Buster (Age of Ultron) and Sadness (Inside Out) which really expand the toy box experience and when their themed playsets come out, it will open up the game for additional adventures. Of course seeing Minnie Mouse or Sam Flynn interacting with Star Wars is easily worth the admission price alone!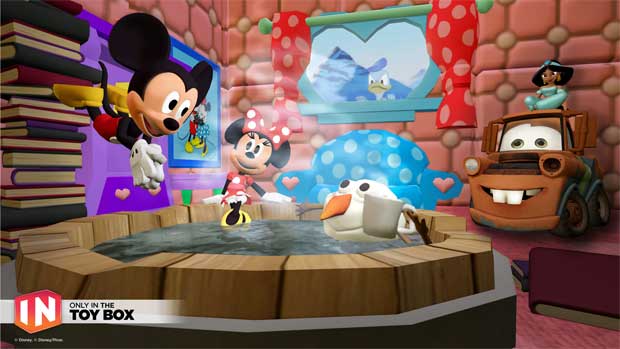 Graphics/Audio
Graphically, Disney Infinity 3.0 is a very slick looking game on the PlayStation 4 that successfully recreates the Star Wars universe with plenty of puzzles, exploring and battles to be found. I love how the graphics mimic the popular Clone Wars TV show from the buildings, vehicles and characters. Add in the excellent voice acting, sound effects plus the soundtrack and playing Disney Infinity 3.0 is like being part of your very own interactive Star Wars movie. Oh… and hearing all the music from the original films again really brought back great memories!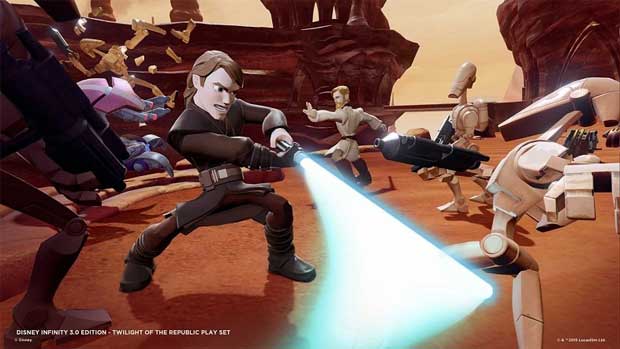 Final Thoughts?
Avalanche Software and Disney have done it again and successfully incorporated the Star Wars universe into the Disney Infinity franchise. The gameplay has been tweaked and the graphics look more detailed with only a few graphical glitches here and there. Whereas Disney Infinity 2.0 was best played with another player, Disney Infinity 3.0 features a very strong playset that can be played solo or with others. It is a well written story and with the revamped gameplay, it will easily draw you into this colourful universe. Sure, there are a couple of mundane tasks like getting from A to B or those sometimes mediocre vehicle events but overall, this is Star Wars and succeeds at paying homage to the wondrous imagination of its creator, George Lucas.
For more information, please visit https://infinity.disney.com/en-au/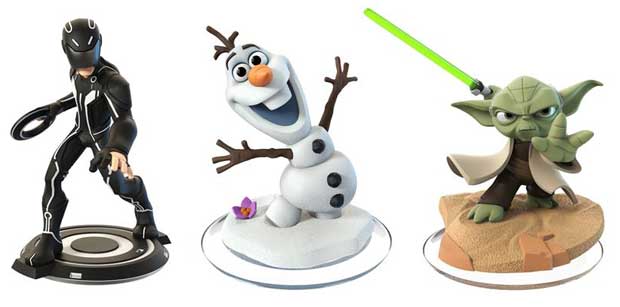 Game Details
Title: Disney Infinity 3.0 Star Wars
Primary Format – Games – Playstation 4
Game Genre – Disney Infinity
Rating – PG
Game Publisher – Disney Interactive Studios
Game Developer – Avalanche Software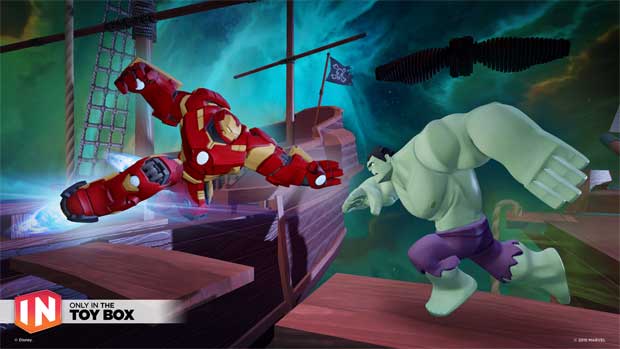 Official Game Description
Disney Infinity 3.0: Play Without Limits now welcomes Star Wars™ to the ever-growing collection of Marvel, Disney and Disney•Pixar characters, stories and worlds. Together new heroes can join forces with characters from previous editions and embark on adventures as big as your imagination in the Toy Box!
Starter Pack includes:
1 Disney Infinity 3.0 Edition Video Game (Unlocks Play Set and Toy Box Modes)
1 Disney Infinity 3.0 Edition Base
2 Star Wars Figures: Ahsoka Tano, Anakin Skywalker
1 Star Wars Twilight of the Republic Play Set Piece
1 Web Code Card
NEW PLAY SETS*
Unlock new worlds of endless adventure with all-new Disney Infinity 3.0 Play sets. Experience distinct and varied game play including Star Wars™: Twilight of the Republic Play set, Star Wars™: Rise Against the Empire Play set, Star Wars™: The Force Awakens™ Play set, Disney•Pixar's Inside Out Play set, and a new Marvel Play set. Release dates vary.
NEW CHARACTERS*
Play with new Star Wars, Marvel, Disney and Disney•Pixar figures in Disney Infinity 3.0: Play Without Limits! Take on epic heroic abilities, earn upgradable skills and use Lightsaber™-wielding abilities for all your characters in the Toy Box!
3.0 TOY BOX
More enhancements come to the 3.0 Toy Box, where you can mix and mash up your favourite characters in Disney Infinity. Now featuring a 3-D Toy Box Hub where you can explore gameplay experiences – including platforming, racing and farming simulation. Coming soon are 2 new multiplayer Toy Box Expansion Games: Toy Box Takeover and Toy Box Speedway!
*Some Play Sets and Characters sold separately.