XBox One
Published on June 25th, 2015 | by admin
Devil May Cry 4 Special Edition XBox One Review
Summary: Devil May Cry 4 Special Edition on XBox One is a thrilling experience from start to finish!
Devil May Cry 4 Special Edition (20.24GB) has received a transformation on the XBox One that boasts extraordinary 1080p graphics with a silky frame-rate of 60fps plus tweaked gameplay to make this a true next-gen console experience.
Add new game modes, playable characters and streamlined controls and Devil May Cry 4 Special Edition is easily worth the admission price, especially if you have not played this game before or even the series for that matter.
Of course if you're a DMC purist, the Legendary Dark Knight Mode may be right up your alley in terms of a challenge. It even contains new costume pack that include the Lady & Trish in all their sexiness.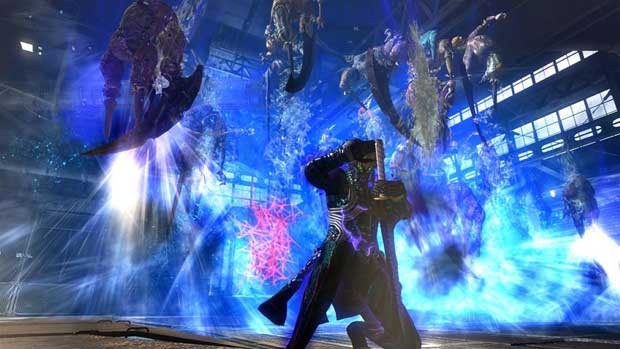 Devil May Cry 4 Special Edition also continues the story of this series as history tells how the Dark Knight Sparda fought against the dark emperor in order to liberate humanity from his dark rule. Fighting a one-man war against the emperor's army, Sparda became a legend.
As time passed, a religion was founded upon this renowned savior who vowed to rid the world of demons as the Order of the Sword and their Holy Knights fight a never evading crusade against these unholy denizens. The background of Devil May Cry 4 is clichéd but is actually quite an entertaining and refreshing yarn.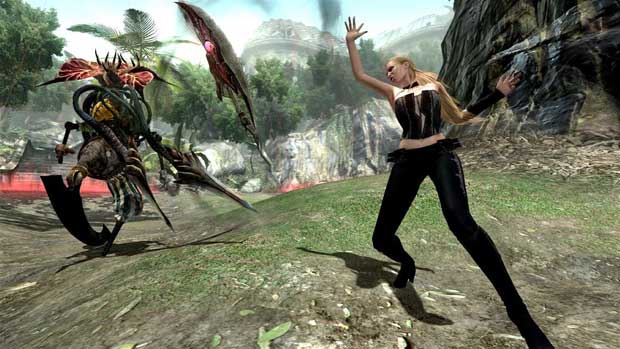 The story of Devil May Cry 4 Special Edition begins with a beautifully choreographed introduction as our young hero Nero witnesses Sparda's legendary son Dante slaughter countless knights of the Order of the Sword. Vowing to bring justice to Dante, players must control Nero in this action/adventure/fighter title with a healthy dose of puzzles as his beliefs and allegiances are tested by all those he encounters.
Another interesting aspect of Devil May Cry 4 is that Nero is a very likeable character from the way he delivers those cheesy lines to his own unique style of justice and how he interprets the world. For newcomers to the series, the game does teach new players the ins and outs of the gaming mechanics and the controls work really well on the XBox One controller.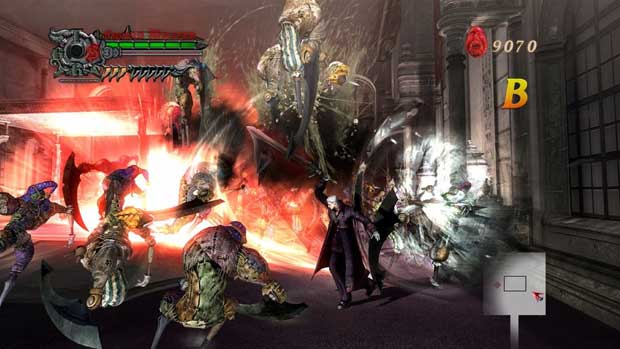 However the protagonist of this story is Nero who may not be as awesomely cool as Dante but is still proficient and deadly with his weapons as he unleashes fury upon his demonic enemies. Even so, Dante is still a playable character as are Lady and Trish who all add a different element to the game, especially the female characters who have a unique style of play.
As this is an action game, combat plays a key component to the game with some spectacular moves available for the player, especially the Devil Bringer which unleashes this amazing demonic arm that goes havoc and chaos for your enemies. I also loved playing Lady in the game with her melee weapons that included fun weapons like rocket launchers and shotguns.  Trish also feels more like Nero and Dante due to her fluid and fast combat, whereas Vergil, Dante's brother is a true powerhouse as he swings his deadly swords.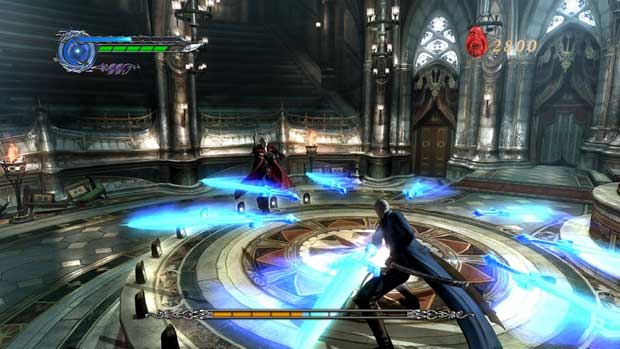 The game also features a great combat engine which gives the gamer a variety of different combat maneuvers and at the end of each level, the player is awarded a grade of how well they have performed. There is even a RPG aspect of the title where gamers can select certain skills they wish to learn, provided you have gathered enough souls during the mission. Puzzles? Devil May Cry 4 is littered with puzzles that are quite solvable, provided you have a touch of patience. It should also be mentioned that the title contains some brilliant boss designs and battles which help spice up the sometimes repetitive foot solider battles.
Graphics/Audio
Graphically, Devil May Cry 4 Special Edition is a true cinematic experience on the XBox One that features highly detailed gaming environments, realistic character animations and detail plus stunning special effects which looks great on this next-gen console. It's definitely far superior than the previous console versions that is relatively detailed and best of all, the frame rate of Devil May Cry 4 remains silky smooth, even when there is quite a large amount of action happening on screen at once. 60 frames per second actually!  The textures on the characters are extremely detailed and sometimes through the game, it's almost as if you are watching the next Hollywood blockbuster movie.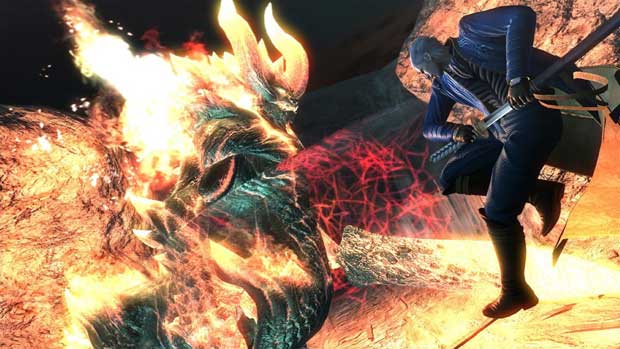 As with the graphics, the musical department of Devil May Cry 4 is majestic that mixes orchestral and modern instruments to create a truly daunting soundtrack which suits the genre perfectly. The voice acting is quite professional and even though some of it is clichéd, it goes hand in hand with the gameplay and tradition of the series. The sound effects assist to draw you into this remarkable universe from the battles to the background ambiances… truly an audio dynamite experience.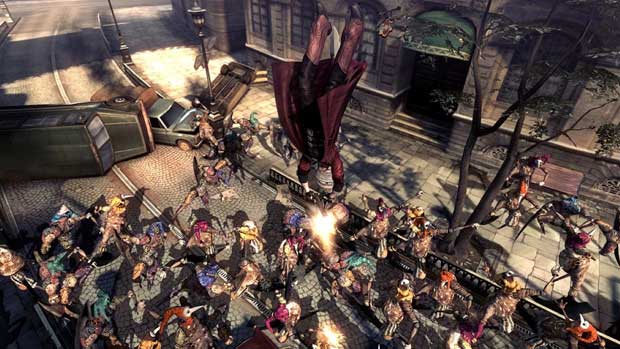 Final Thoughts?
Even though this game was available previously, PS3 and XBox 360, Capcom have given the game a next-gen face lift with new twists and tweaks that actually works well. Sure the gameplay is a little old fashioned but it works well and really expands the DMC franchise, especially with the choice of playable characters. Devil May Cry 4 Special Edition on XBox One is a thrilling experience from start to finish, especially all the wild combos!
Game Details

Primary Format – Games – Playstation 4
Game Genre – Action & Adventure
Rating – MA15+
Game Publisher – Capcom