Blu-ray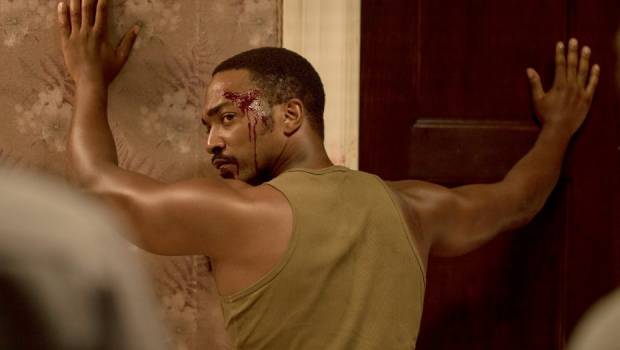 Published on March 15th, 2018 | by Natalie Salvo
Detroit Blu-ray Review
Summary: "Detroit" is a searing and timely look at one of America's darkest chapters in history.
4.4
(Where's) Karma Police?
"Detroit" depicts an ugly side of humanity. And what's more staggering is that it is based on a particularly bleak chapter in American history. This docudrama is a brutal and observational traversal of the history books, which immerses the viewer square in the depths of the thick of it. The result is like a punch to the head and the heart.
This film is directed by Kathryn Bigelow ("Zero Dark Thirty," "The Hurt Locker") who once again teams up with her recent collaborator, writer and journalist Mark Boal. The story begins with a swift presentation of some African-American history where the audience is told about how many black people left the south to reside in the industrialised northern states of the U.S. In 1967 in Detroit this resulted in one of the biggest rebellions in America's history, a period where hoodlums raged and looting was rampant.
Perhaps the most devastating ordeal to take place during this period were the events that occurred at the Algiers Motel in July. There have been some disputes about what actually took place here and Boal and Bigelow performed their own research for this film by interviewing survivors and filling in the gaps (where they couldn't discover the truth themselves.) This event was also described in a book by John Hersey called, "Algiers Motel Incident."
This film covers a lot of ground. It begins with some unrest and looting. It shows a trigger-happy, hothead cop, Krauss (a villainous Will Poulter) who is a culmination of a number of real-life policemen. He shoots an unarmed looter who is running away from him. The force are prepared to bring murder charges against Kraus but because the police are so stretched at this point, he is allowed to return to active duty.
The audience are also presented with a private security guard, Melvin Dismukes (John Boyega "The Force Awakens") who diligently works two jobs. As a guard, he finds it difficult to exert his authority over his fellow African-Americans at times for fear of reprisal. Yet at other moments he almost has to act like a mediator between his brothers and the white police force.
In "Detroit" there is also a young vocal group called The Dramatics. They sing Motown songs like The Temptations (the soundtrack to this film includes some classic soul hits like Martha and the Vandella's "Nowhere To Run.") They are about to enter the stage at a theatre for a show but the concert is cut short by the rioting taking place outside. The musicians go to the Algiers Hotel to wait out the night with devastating consequences.
A cheeky Carl (Jason Mitchell) decides to prove a point to the white cops by firing a toy starter gun. The police are already frustrated and on edge so they storm the Algiers believing they have a sniper in their midst. What they find is ten individuals including two white girls who the cops are incensed by because of the company they keep. Those assembled tell the cops that there is no gun. But the police are unsatisfied and use escalating forms of abuse- psychological and physical in order to coerce a confession from the teenagers. Three of these kids – just like those in real life – would ultimately lose their lives.
This film is a disturbing and harrowing one about the misuse of power and Bigelow uses handheld cameras to capture every drop of blood, bead of sweat and darkened bruise. The violence is brutal and staggering and the film does not hold back in exposing it. This sometimes comes at a cost to scenes that would have provided some greater character development. This film is long at 143 minutes and tackles the lead-up to the event, what transpired and the court case that followed, which saw the white cops acquitted of murder. It's a lot to pack in so some characters' motivations and back stories are dealt with in swift and perfunctory ways.
The special features are good and include interviews with the cast and crew. Survivors of the Algiers Motel event also appear here including Larry Read who sings on the song "Grow." It is interesting to watch these featurettes but you do get the sense that more could have been offered because the subject matter is so dense and complicated.
"Detroit" is not a perfect film but it tackles some timely and important subject matter. This story matters even more so today with the rise of movements like Black Lives Matter because sadly, we haven't learned from tragedies like these from history. "Detroit" is a vast and benevolent social and political commentary that will touch you in the rawest and most visceral way imaginable.
Blu-ray Details
Director – Kathryn Bigelow
Actors – John Boyega, Will Poulter, Algee Smith, Jason Mitchell, John Krasinski, Anthony Mackie
Film Genre – Drama
Label – 20th Century Fox
Running Time – 143
Aspect Ratio – 1.85:1
Region Coding – B (Blu-Ray)
TV Standard – HD
Rating – MA15+
Consumer Advice – Strong themes and violence
Year of Release – 2017
Primary Format – Movies/TV – Blu-Ray