PS4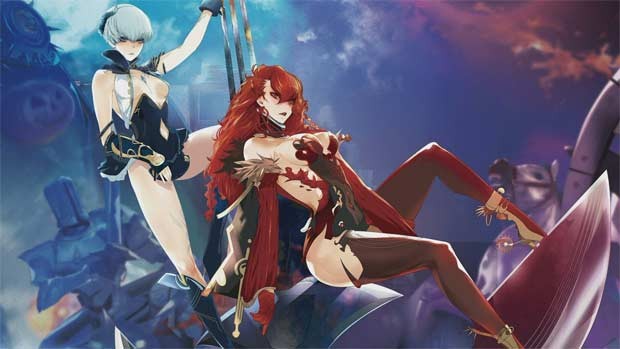 Published on July 19th, 2015 | by James Wright
Deception IV PS4 Review
Summary: Deception IV on PS4 is fun with all its entertaining traps but does get a little too repetitive and looks dated as well
Deception IV: The Nightmare Princess is basically the PlayStation 4 version of Deception IV: Blood Ties (PS3) that has received a slight next-gen makeover and is available via the PSN with a digital download of just over 2GB. At its core, Deception IV: The Nightmare Princess is basically a strategy game that has parallels to The Devil May Cry series and even Bayonetta with its over the top combat that focuses on the beautiful Laegrinna who is attempting to rescue her father who is actually the devil. Given that, you don't actually fight as you are required to pause the game and set your diabolical traps but its craziness is why it resembles those other games. Given that, nothing is more fun than enticing an enemy into a certain area and then seeing them be split in half by a huge axe thanks to your carefully laid trap.
This new instalment also introduces another mischievous and playable character and sister of Laegrinna called Velguirie who adds a few new twists to this franchise like the ability to kick. Needless to say there is a story behind this game that does contain some anime-inspired fan service but just like other titles from Tecmo Koei, it is a little convoluted at times but thankfully the gameplay is not. As this game is about traps, there's a plethora to choose from with over 150, so there's plenty of content to unlock. Needless to say some of the traps are quite amusing and some very deadly and at times sickening. The game also contains over 100 new quests plus a new Studio mode which allows you to create your own gaming scenarios plus the ability to create your own enemies. These offer a great deal of content but the stand-out of this game is Velguirie who has the ability to kick her enemies and is ideal to set enemies up for traps.
However at its core, this game focuses on strategy and although you don't fight like Devil May Cry, setting traps and carefully working on tactics is where this game shines, especially luring your enemies or victims into these diabolical traps. This is done by luring your rivals into these traps which include three main streams that include Sadistic Torment, Elaborate Death or Humiliating Demise. So as you progress through the game, your character basically levels-up in order to take on more enemies while they get stronger abilities and of course traps which is what Deception IV: The Nightmare Princess is all about.
Graphics/Audio
Graphically, Deception IV: The Nightmare Princess is very reminiscent of the previous title on the PlayStation 3 but does look much sharper on the PS4. The character designs are quite detailed and move well, especially when the combat commences. Backgrounds look okay but the title does have this previous generation atmosphere to it. For audio, sounds effect are big and clichéd and the soundtrack boasts this Japanese feel which changes with the gameplay. However seeing the toilet trap is almost worth the admission price alone because the graphics are priceless, especially the price on your victims face.
Final Thoughts?
Deception IV: The Nightmare Princess is great in small doses but unfortunately it does become a little repetitive, even with the new content and the game has this real last-gen console feel to it. Nonetheless if you enjoyed the previous games and want to try something different, there are far worse games than this!
Game Details
Title: Deception IV: The Nightmare Princess 
Developer: Tecmo Koei
Publisher: Tecmo Koei
Platform: PlayStation 4