XBox One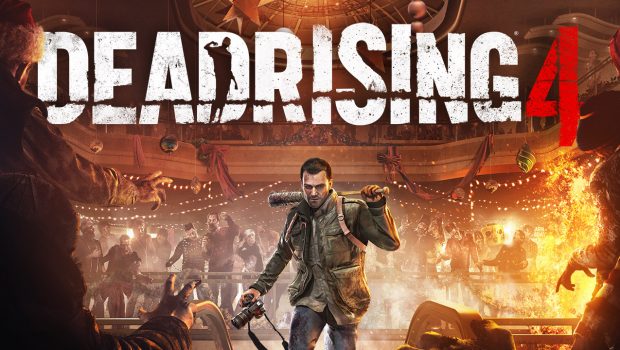 Published on December 17th, 2016 | by Lyla Saudi
Dead Rising 4 Review
Summary: A zombie outbreak has been unleashed onto the town of Willamette leaving Frank West to uncover the deadly government truths behind it.
It is the holiday season in Willamette, Colorado and a mysterious outbreak has overrun the Willamette Memorial Megaplex Mall and surrounding town. Join Frank West as you explore a vast, open world sandbox filled with a dangerous variety of zombie hordes, and a million ways to kill them, as you seek to uncover the conspiracy behind the outbreak – or die trying in Dead Rising 4 developed by Capcom and published by Microsoft.
You play as Frank West – a total smart ass of an investigative photojournalist who is great at killing zombies… and taking selfies with them. After being invited to play a game of mini-golf (yes, Frank loves mini-golf) by Vicki, a student of yours, you find yourself tricked into returning to Willamette to investigate a government base rumoured to be the location of a series of illegal human experiments.
From here you play through a fun and surprisingly well written story made up of seven cases based on uncovering the truth behind the experimentation and resulting zombie outbreak. Focused on your own selfish gains (there is a great story to be had here), and grudgingly helping survivors along the way, your path will lead you through a variety of missions, encounters with blood thirsty mercenaries, crazed human survivors, evolved super-fast zombies (the ones that make you jump out of your seat fast) and hidden weapon blue prints featuring over the top designs showcasing new and completely hilarious zombie killing options (a slushy machine that shoots flavoured icicles at your enemies? Yes please!).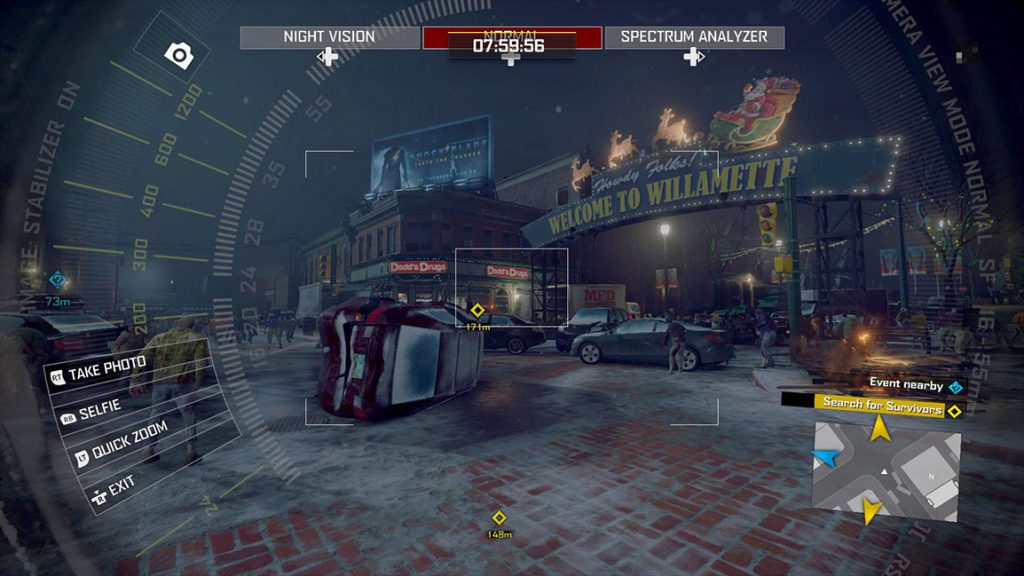 Along with your list of silly but oh-so-effective weapons you are also equipped with a special camera that be used for night vision, detecting hidden clues and well… as a camera to take pictures of the zombie carnage you create. Points are awarded based on the violence, gore, drama and humour you manage to photograph, which can be used to unlock future items and collectables. One of my favourite aspects to this game was the camera, not because you can use it for its special qualities but because you can take selfies with your zombie pals, changing your facial expressions from silly to outrage and disgust! A special mention needs to go to the vast array of outfit choices that never fail to amaze (and humour me) as you can be 'whoever you want to be' – from a firefighter to a shark mascot to a bathrobe wearing, stocking masked, tattoo covered zombie killer.
There is never a shortage of weapons just like there is never a shortage of ways to replenish your health. From tacos to beer to first aid kits, there is always something laying around to give you that much needed boost as you face all kinds of hungry vicious enemies. And with it comes a lot of levelling up to do, but this happens quickly and seamlessly, making you tough enough to deal with the tougher breeds of zombies added to this version, with their new agility adding nicely to the game difficulty. A lot was made of the addition of the Exo-suit, turning you in to a super warrior, which is clearly great fun, but I honestly enjoyed the funnier weapons more, like the propane tank and knife combo aka 'slicing beauty'.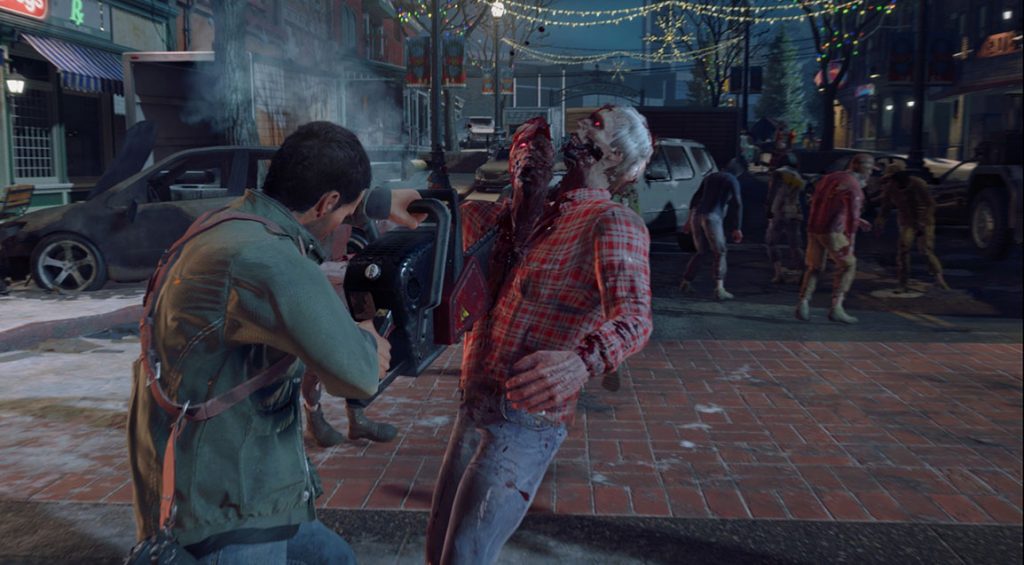 The story did become slightly predictable toward the end, with Frank losing some of the wit we love him for as he went to save the day. This was slightly disappointing as his humour, sarcasm and off handed comments which make you think 'hey, did he just really say that' were perfect earlier in the game. But this can be easily forgiven as I had so much fun and genuine laugh out loud moments leading up to this. The game took me about 20 hours plus to play through, and I am already happily returning for a replay to find even more collectables, and more ways to crush more zombies!
Graphics & Audio
The Christmas setting of the game adds fantastically to the irony and humour of the game. The Christmas soundtrack is brilliant, changing seamlessly as you switch vehicles or move between shops/rooms. Murdering zombies with an electric shopping kart while listening to 'jingle bells' is one of those bucket list items you simply have to try. The creators have done a brilliant job of integrating the theme throughout, right down to your Christmas decorations and MMA gloves combo called 'Deck the Halls'.
The cut scenes and character close-ups are packed full of detail and I especially appreciated how each zombie had its own 'style and look' to them. The game runs exceptionally smoothly on the Xbox One, with almost zero load times, which is impressive considering the size of the areas, amount, and variety of zombies (and blood) which fills your screen. There were some glitches with characters getting stuck in the middle of furniture but this was very rare and didn't take anything away from the game.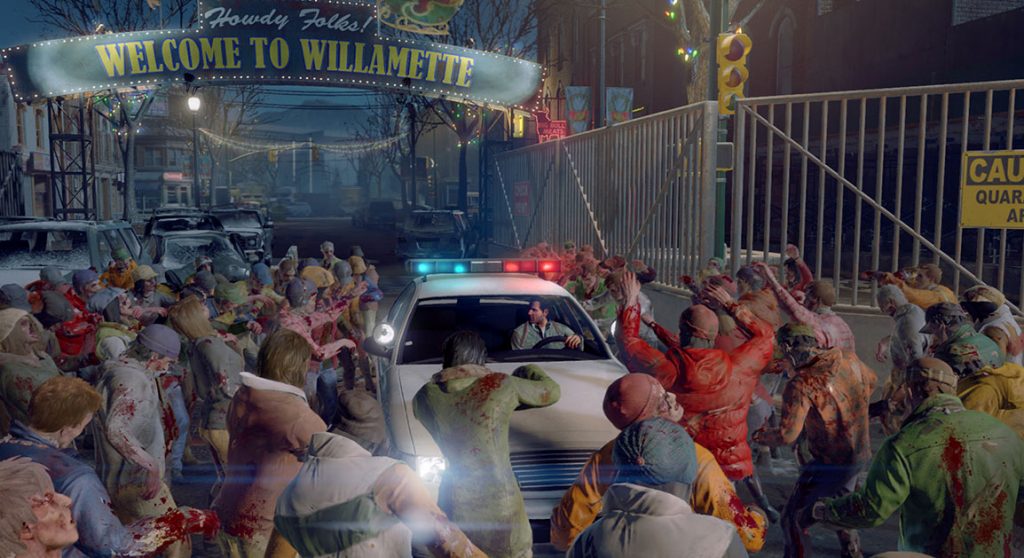 Final Thoughts?
Think Bruce Willis from Die Hard being thrown into The Walking Dead during Christmas time and voila you have Dead Rising 4. The fourth addition of this open-world action packed game is the most zombie filled yet but don't feel like you need to have played its predecessors to enjoy this one. With optional tutorials getting you through the basics you will quickly find yourself becoming distracted finding new and better ways to kill zombies before you realise that you have forgotten about the main storyline. So please excuse me, I have to return to humming Christmas tunes while I kill some more zombies!
Game Details
Developer: Capcom
Publisher: Microsoft
Genre: Action
Language: English
Platform: Xbox One/Windows 10
Ratings: Restricted 18+
Release Date: December 2016