Hardware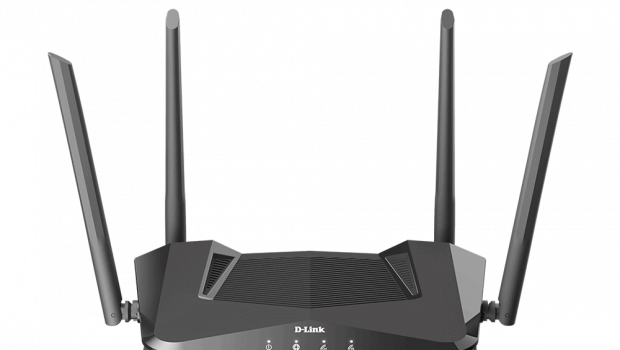 Published on July 9th, 2020 | by Scott De Lacy
D-Link: EXO AX1560 Wi-Fi 6 Router Review
The D-Link: EXO AX1560 Wi-Fi 6 Router is one of the newer wireless routers offered by D-Link and it comes fully loaded with some serious features and specs:
Wi-Fi 6 (802.11ax) technology provides faster speeds, greater capacity and less network congestion
Next-gen speeds up to 1.5 Gbps (1200 Mbps on the 5 GHz band and 300 Mbps on the 2.4 GHz band)
Dual-band Wi-Fi with up to 4 simultaneous streams makes 4K streaming, gaming or video chatting a breeze
OFDMA and MU-MIMO technology communicate more data to more devices while simultaneously reducing latency
4 Gigabit Ethernet LAN ports and 1 Gigabit Ethernet WAN port provide optional wired connectivity
Intelligent Quality of Service (QoS) prioritizes network traffic to minimize the impact of busy bandwidth
Backwards compatibility ensures support for previous Wi-Fi standards and all Wi-Fi devices
Increased battery life of connected devices with Target Wake Time (TWT) technology
Supports the latest 128-bit industry-standard Wi-Fi encryption
Voice Control for an even easier home Wi-Fi networking experience
Works with the D-Link Wi-Fi App for easy setup and enhanced parental control
This router can also be configured with a mobile device using the free D-Link Android and Google app:
This app also provides step by step setup and configuration instructions to assist in first time installation.
Cutting through the jargon
This router introduces some newer wireless technology that many will not be familiar with, and even further will not likely have any client wireless devices that will be compatible with –for now. The good news is that if you have a new Galaxy S10, iPhone 11 Pro and a few other select phones then you are all set.
Wireless 802.11ax also called Wi-Fi 6 is the technology standard in question and it really does have a complex and advanced level of 'goings on' under the hood.
In the most simplest of terms, the 802.11ax standard is able to operate at 1500Mbps (Megabits per second), total transfer between the access point and the client. It is able to do this by utilising both the 2.4Ghz frequency band and the 5Ghz frequency band simultaneously as a single combined transmission. This is further aided by some smart use in the division of the bandwidth signalling within the signal spectrum, or simply again, the standard can ignore unwanted signals, send more data at an improved rate/timings and this means that more data can be sent in each transmission with less errors, avoiding wasteful re-sending.
Referring to the Wikipedia article for 802.11ax, the table refers to some of the advanced features in further detail and in comparison to the previous 802.11ac standard – which in its own right is also a fast and less common than the older 802.11n standard.
The OFDMA and MU-MIMO are components of the 802.11ax standard which basically mean that the router will be capable of dynamically optimising advanced signalling (avoiding your annoying neighbours' Wi-Fi signals) and is able to send and receive multiple 'streams' of signal to multiple devices on your network at once. This is why the specs state that it supports multiple 4K streaming, because at 1500Mbps capable of being sent to four devices at once, it really does support it, based on the standard.
Unboxing and first impressions
This router arrived with that fresh product smell, nice heavy rich ink on a well presented box with detailed information on the back.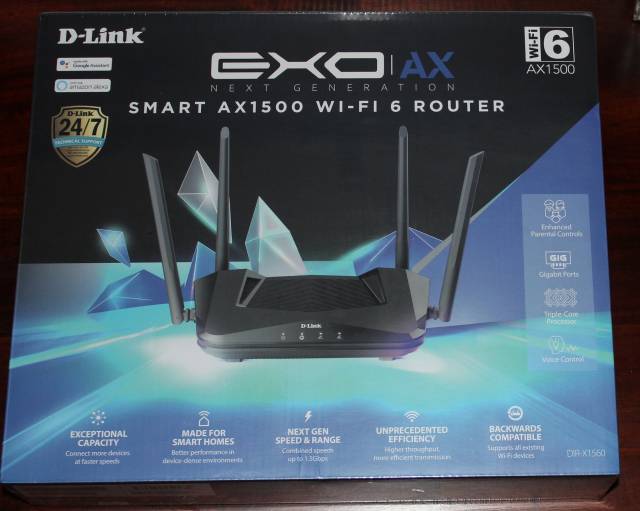 The four antennas are all connected and folded in the box, included is the power supply, a sexy and flat Ethernet cable (which typically cost more), a quick start card containing the unique Wi-Fi passwords, quick installation guide and the Google Assistant setup guide.
The router has some nice aesthetic curves and a big wide open grille on the top, bottom and bottom leading edges.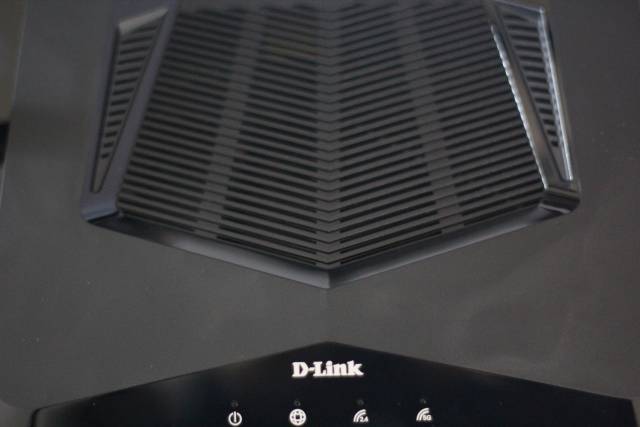 The sticker on the underside does not contain the wireless password, which for security purposes this is a good thing – it prevents anyone otherwise resetting a router and gaining access to your network wirelessly.
On the underside there are mounting holes for vertical mounting and naturally the antennas can be manipulated in all directions.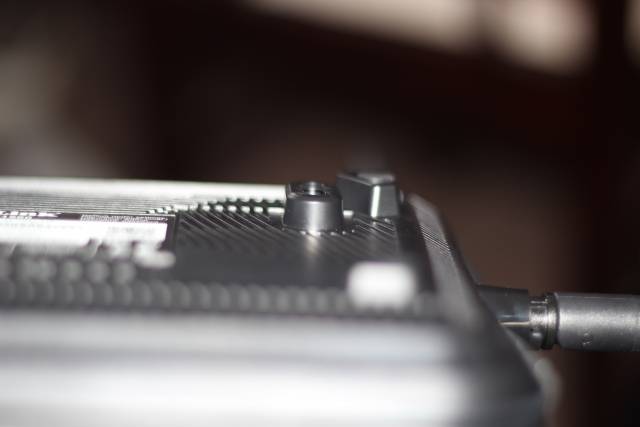 The case bezel is highly flush along the seams and there does not appear to be any easily accessible screws to take it apart, they are likely hidden underneath the rubber feet, with the seam separating the top like a lid. Sorry no disassembly on this review.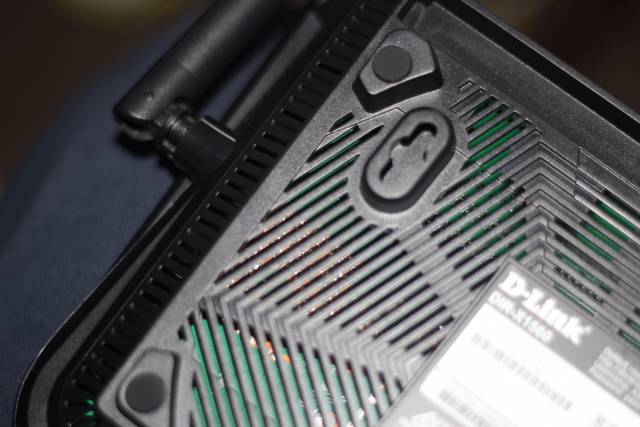 Electronically we can gleam a few details through the grilles. There is a standard electrolytic capacitor visible through the top grille towards the left, the brand name isn't visible but it does stand out as predominantly other components are surface mounted. The router appears to be an all in one board, there are no additional modules or 'tack on's' visible.
The rear ports are all colour coded with the WAN port yellow and switch ports in black, so it is easy to differentiate and locate the ports.
When powering it up, it is a bit of a shock to see four blinding-bright white LED's, this is not common, as it is considered too bright and distracting; spoiler alert, it was.
Features & Configuration
The admin web-interface is fairly well designed and for the most part easy to understand. Included in each section is a function description which can be very helpful for those who perhaps didn't spend a casual few years studying network engineering.
Configuration Wizard
Upon first connection, the configuration wizard will greet you with a 3-step process.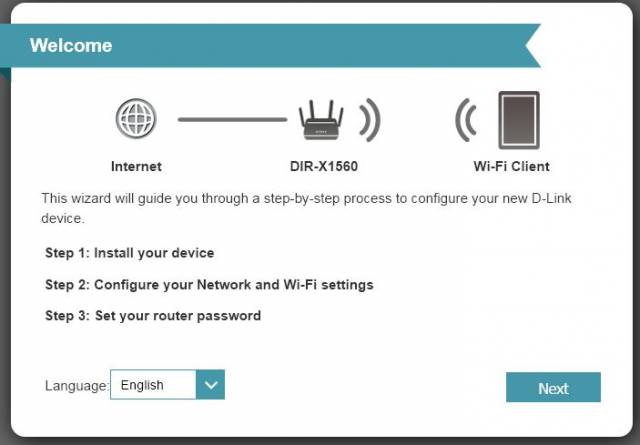 There are the usual terms and conditions that also must be agreed to.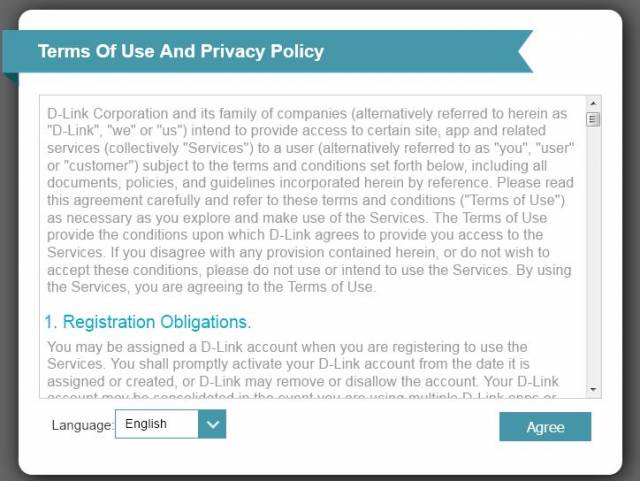 The 3-step process is very simple, there is the even a comprehensive list of pre-configured settings for many Australian NBN providers, but there is the option to manually configure if not listed. The magic trick though for those who want to configure the router with specific settings can hit the back button once and be presented with different configuration options.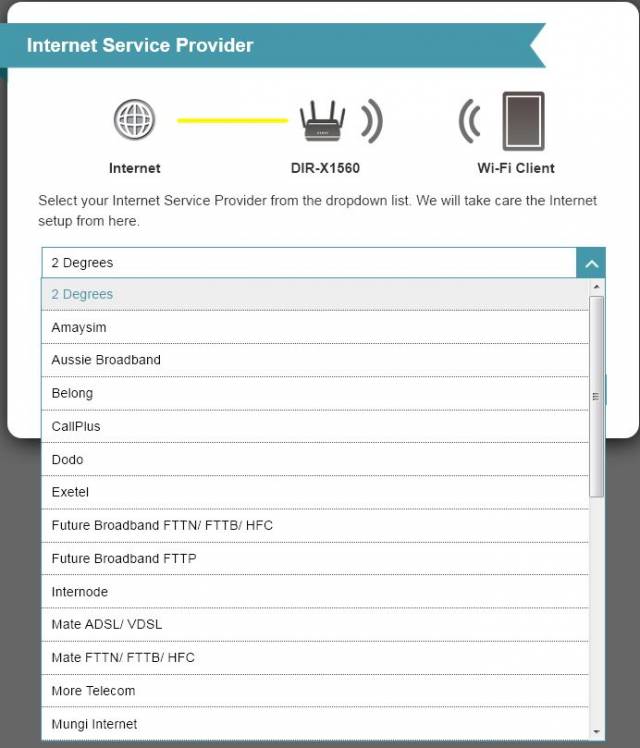 The wizard will proceed to configuring the Wi-Fi password, which will default to the 802.11ax standards and the password will apply to both 2.4Ghz and 5Ghz bands, sharing the same SSID.
The device password will also be configured separately; unfortunately the admin interface does not hide the typed characters for the passwords, so configuration should be done privately.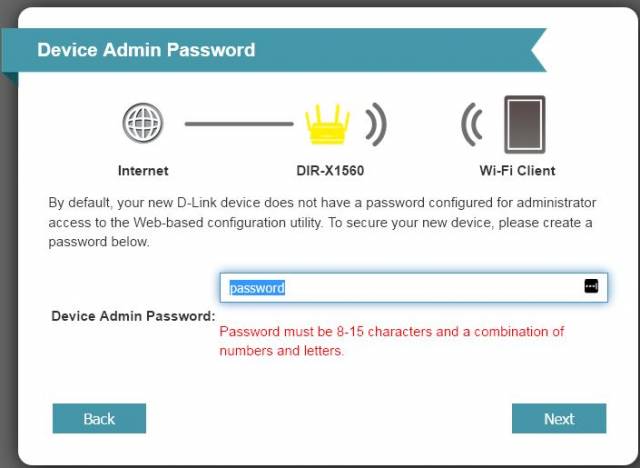 You can access firmware on the product page, downloads tab.
http://support.dlink.com.au/Download/download.aspx?product=DIR-X1560&type=Firmware
Also the automatic update functionality can be enabled.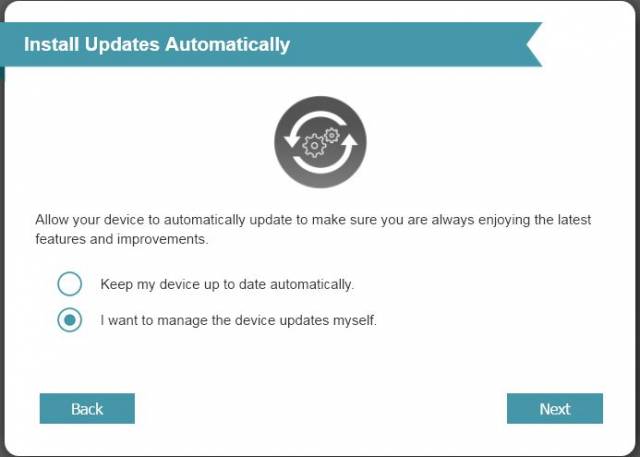 Currently there are no firmware updates available, however when they are, they can be accessed at http://support.dlink.com.au/Download/download.aspx?product=DIR-X1560&type=Firmware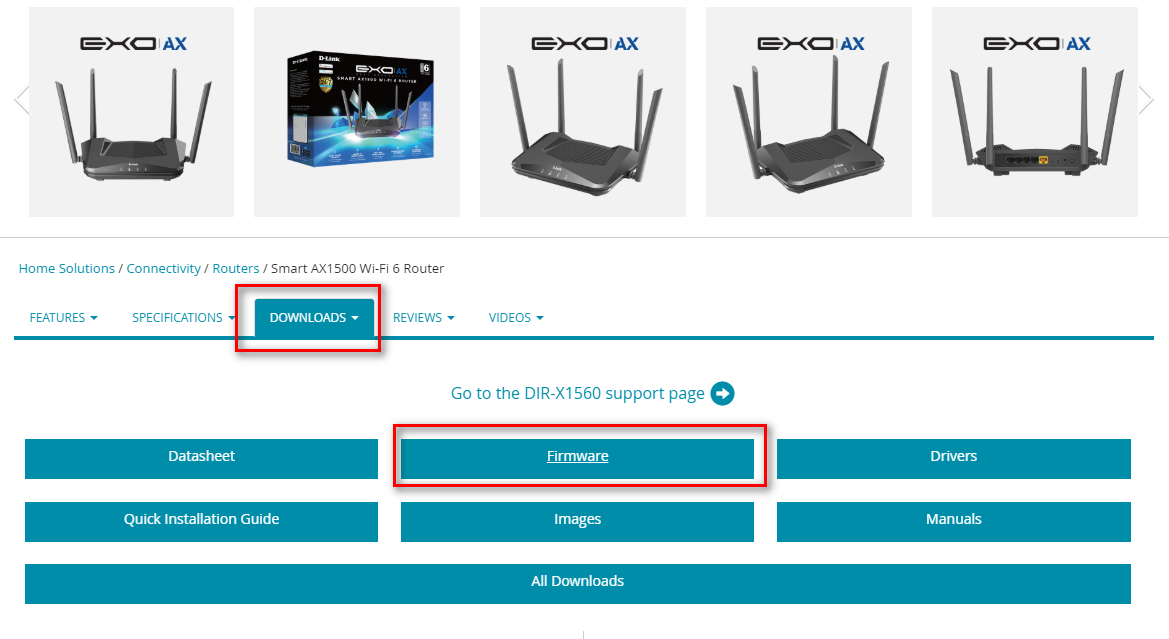 Advanced functions
This router is fairly well loaded with the expected standard features that are suitable for most people.
As mentioned, the user interface is segmented, and fairly easy to navigate. Each feature provides a description explaining its features on the top section, while directly underneath the section path is listed and a save button is on the right.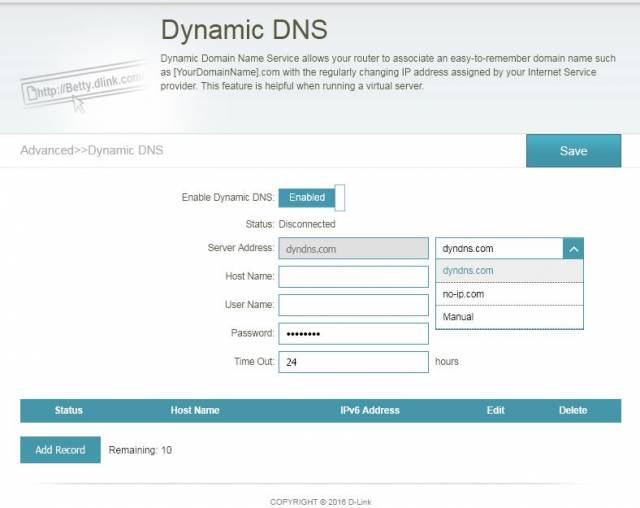 This router includes additional features of note:
Dynamic DNS services support with concurrent 10 concurrent records (picture above)
Schedule profiles, with point and click for 7 day period, 24 hours per day
Multiple user/admin accounts, total of 10
L2TP VPN host*
DHCP/NAT with custom scoping
Firewall with custom rules
Port Forwarding and Virtual servers
Webfilter for full URL and domains
SysLog services
Statistics interface for Internet, LAN and Wi-Fi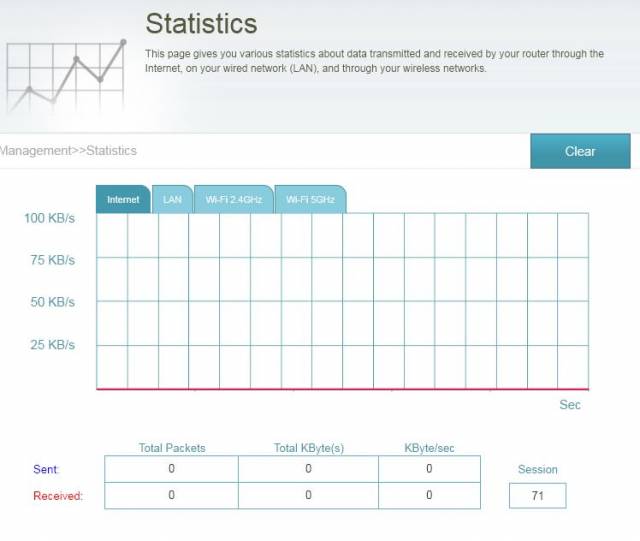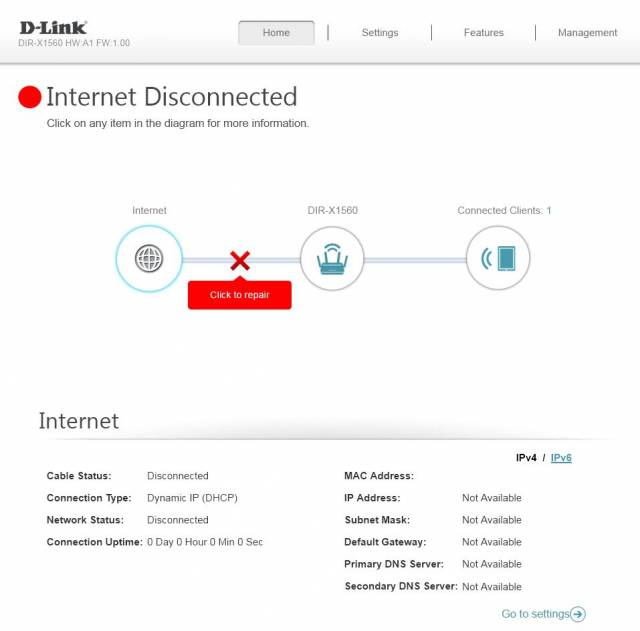 Some of these features need further examination:
The firewall
The firewall can be configured to either allow or block a total of 24 configurable rules for IPv4 and IPv6 addresses and is indeed a WAN to LAN and LAN to LAN firewall, which means that ports can be blocked between client devices within the LAN, which is a nice feature to have.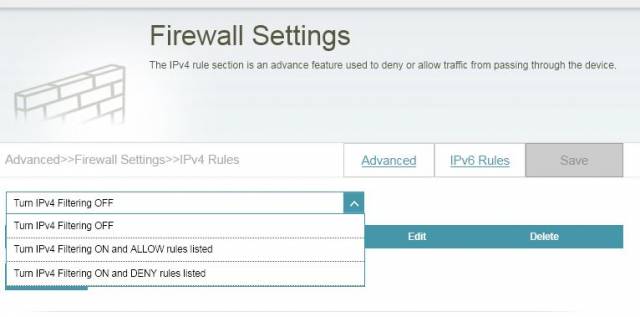 Note: You cannot configure allow and deny rules at the same time. This is fairly common among routers in this category.

Firewall rules can include an IP or IP-range and a single port or port-range. Schedules can also be applied to a rule, for example you can apply a rule to block specific ports to a client or even the entire network on certain days or times.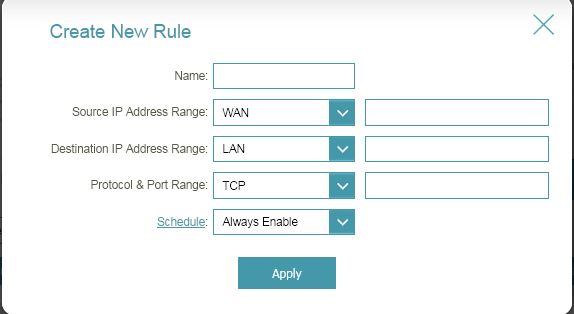 Finally, the firewall supports a single DMZ IP, but no schedule.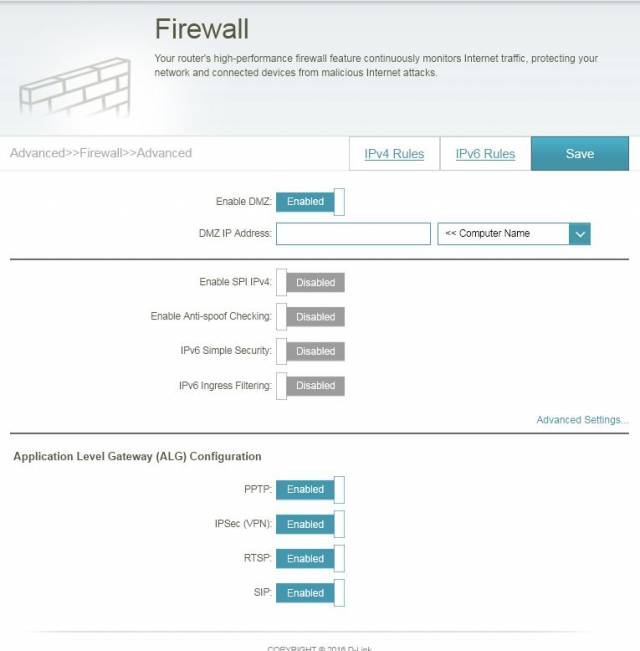 Port Forwarding and Virtual Servers
Both port forwarding and virtual servers are a little confusing in how it is displayed and implemented, in a sense they can almost be configured interchangeably, since a virtual server in this case is a port forwarding rule, which is controlled through the NAT function. Nevertheless, these are split into two separate sections in the advanced configuration.
Both the Virtual server and Port forwarding provide 24 total entries each respectively; and can be configured to forward TCP and UDP traffic from the WAN to the LAN with an optional custom schedule. The subtle difference being that only the Virtual Server allows port redirection/mapping.
This is not the best implementation and should be combined into one function to maximise the available number of rules with full port redirection; but it does the job.
Webfilter
The webfilter also works in an allow or deny mode, meaning that you can ban all website except the ones listed, or allow all websites except the ones listed. There are only 24 entries permitted in total and the settings apply to the entire LAN – that is all clients.
In terms of usability in a "ban all except for these" scenario, 24 websites is not much. However it does allow entire domains, so you could cover all gov.au websites using a single rule. Still, this is rather limited, but could be useful in some situations.
L2TP VPN host – remote management
This feature is not one to get too excited about. It allows for inbound connection from the internet to the router for the purposes of remote management & Access. It does not provide encryption or traditional VPN services and should not be confused with those features.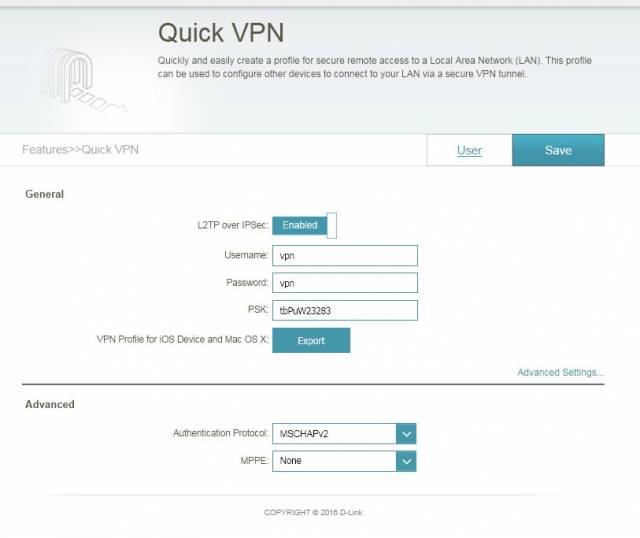 There are a total of 10 management users that can optionally be given VPN access to the router. This seems quite high for the feature, but nevertheless that is what it is. Enabling L2TP typically allows access in the firewall but depending on the settings and complexity of the network it may need to be opened up with firewall rules, however when enabling this feature, there was no automatic rule created in the firewall.
Syslog services
This router gives the ability to have the routers log files pushed to a single internal IP, so for example you could push the logs to your Windows/Mac/Linux desktop and read them with the appropriate viewer. 99.9% of the time, it simply isn't worth the effort.
It also allows the log to be emailed when 'full' or on a schedule. As to what 'full' means is unclear, but it will be the limit of the routers memory allocated for the log.
Unfortunately, these methods are eclipsed by the fact that the log can't really be viewed from the browser window; instead "check the system log" forces a file download which must be read externally. Most routers have an embedded log file viewer and this is always expected. Since most home routers configuration rarely needs to be changed or actively managed after configuration, it rarely requires the use syslog server.
This is annoying, but perhaps a firmware update can resolve this annoyance. Nevertheless it's a standard and welcomed feature.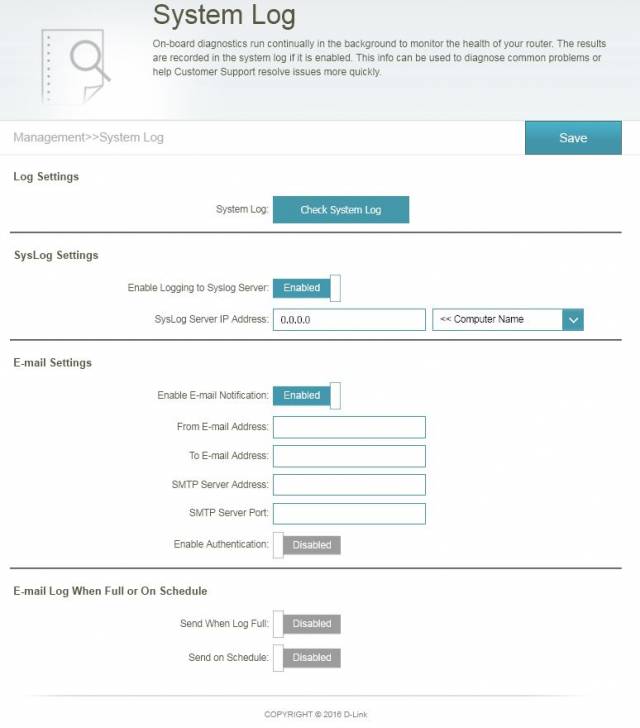 DHCP and NAT
Absolutely important is the capabilities and restrictions of the DHCP and NAT functions. This router allows the scope, which is the range of IP addresses it uses to be defined, including the lease time. This is good, because not everyone wants an IP range of 192.168.1.* as their home network.
This DHCP server allows specification of DNS relay, meaning you can run your Pi-Hole or any other local DNS/filtering server. It also allows local DNS suffix to be included, so you can change your client's DNS names from the ".something", eg "computer.local", to something more meaningful or rather something that it may actually need to be for the specific purpose application.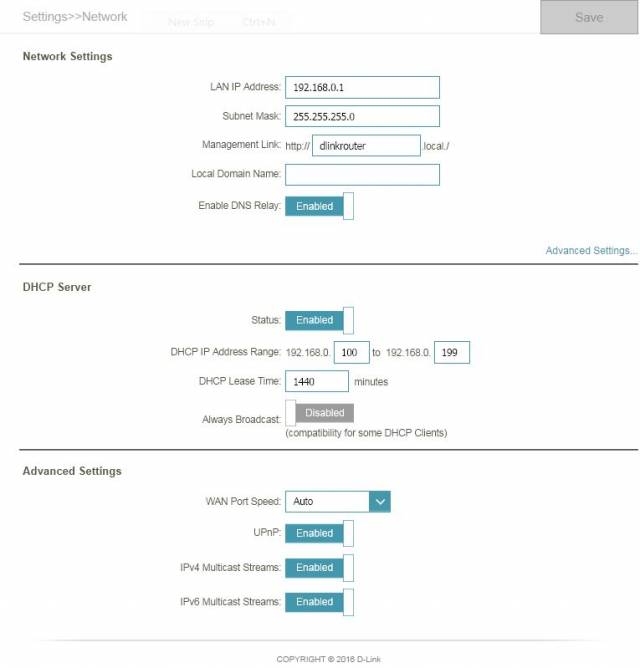 Unfortunately, there is no DHCP relay option, which would be exceptionally useful if DHCP is being run from another device on the network. Not a show stopper in that instance, the DHCP service can be disabled.
Additional screen shots and configurations
Testing and performance
On this occasion, there were no available 802.11ax clients available for testing. However this router was tested with multiple 802.11n devices in comparison with Billion 7800VDOX series router, and a Cisco cable modem with 802.11ac.
Comparing all three of these devices in the 802.11n performance across signal strength, range and throughput of internet traffic taken at the most busiest times when everyone swears at their modem – 3pm-10pm during the week; and with a congested Wi-Fi with many SSID's in the area, there were some very impressive results.
Firstly, the Billion 7800VDOX is a SOHO router with advanced wireless options, such that advanced signalling options and transmission power can be altered to receive gains where there otherwise would be none. For this test however, the default settings were used – Fair is fair.
Also the internet source was tested with cable broadband that averages from 330Mbps consistently during the peak testing times, and 550Mbps off peak and guaranteed no less than 200Mbps. At this point one should politely offer a regretful yet slightly gloating acknowledgement to those individuals on Australian NBN – but this is mentioned so that it is understood that the internet connection will meet and/or exceed the expected throughput at 802.11n.
The routers were tested one by one, connected with the cable modem bridged (except in the case of cable modem itself), and the client was connected wirelessly to the 5Ghz band. Multiple speed tests from the ISP were run during the testing time, this determines the performance speed.
The results:
| | | | |
| --- | --- | --- | --- |
| Device | Signal Strength | Average speeds | Additional comments |
| Billion 7800VDOX | 4 bars consistently | 100-130Mbps | |
| Cisco Cable Modem | 5 bars | 135-170Mbps | Improved range over billion, faster upload |
| D-Link AX1560 | 5 bars | 140-180Mbps | 180Mbps is the upper limit which was inconsistent. It is limited by the client |
This test is of course only indicative and should not be taken as a stringent/forensic test. When the Billion's advanced wireless settings are optimised, the wireless signal quality improved and speeds increased slightly. However, it is clear that the performance of D-Link came in at number one regardless. Not only this, but the computer connected to the wireless access point seemingly quicker than the Billion and/or consequently gained a DHCP lease faster than the other two routers.
Some factors that may influence the performance are the wireless transmission power, channel selection and interference from other stations. Tests were done as automatic channel selection then these settings were checked fixed channels were selected. There was no discernible significant difference with respect to the D-Link.
In addition, a test with 1080p media being wirelessly streamed to the TV from the computer and speed tests were performed. In this case there was no latency or effect on the video stream and no loss of speed from the speed test; however the ping time increased slightly.
The conclusions that can be drawn here is that the D-Link having four antennas, and a newer & faster CPU, it is likely able to implement the 802.11n standard better and provide better performance than routers designed a few years ago.
CPU and memory performance on these devices is a significant factor in the capabilities of these devices, as all data that passes through the device can only be processed as fast as the chip permits, so the age of the technology and thus its hardware performance can actually be limiting the speed and performance of your network.
Final thoughts
This router certainly does offer improved speed performance on older routers, and absolutely delivers fantastic wireless signal in real world conditions. The included features that most people would need are all included in the first edition of the firmware and more importantly they all appear to work right out of the box.
There are some annoyances such the low ~60 seconds idle time-out forcing you to log back into the router constantly, the long saving process when applying changes and the syslog server is lacking the inbuilt reader and the distinction between virtual server and port forwarding is implemented in a bit of a confusing way – from a network engineering perspective.
Predominately, 24 entries have been provided for the port forwarding, virtual server, firewall and web filtering respectively. This limit is likely to be imposed by firmware memory allocation vs an actual hardware limit and these may not meet the needs of all users. It is also worth noting that as of July 2020, there is no open-source dd-wrt or open-wrt custom firmware available for this router.
This router is currently retailing from $229-249 on average which is actually in the same or close price bracket with routers only capable of 802.11ac, such as the D-Link EXO AC1900 (review). However although faster wirelessly, this D-Link AX1560 typically will not match the capabilities or functions of those AC routers – such as USB storage/printer sharing or more advanced routing capabilities, despite also having 256MB SD RAM and 128MB flash memory.
This is a difficult call, because such features as USB ports and dedicated VPN client or servers, are becoming 'standard' in consumer routers. However the AX1560 offers WPA3 128 Bit wireless security and Wireless 6, with outstanding wireless performance.
If upgrading old equipment without any need for advanced routing functions outside the capabilities of this router, then this is a fast, well priced, easy to use and configure device with the latest technology, a wise choice. If however none of your wireless devices support Wireless 6, you require more functionality than this router offers, or your current setup performs well, then it may be worthwhile waiting for more options to hit the market.
Summary: Basic features and some firmware improvements needed, but overall a solid and fast device.