Hardware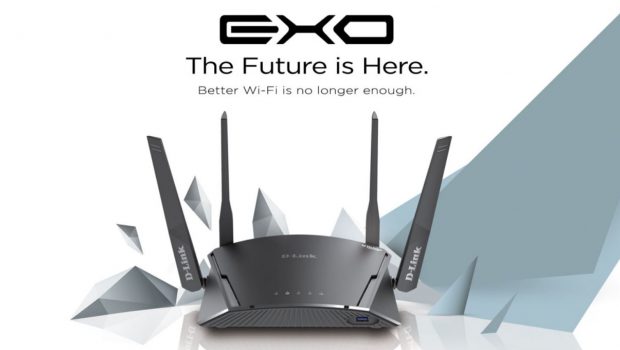 Published on October 29th, 2019 | by Tony Smith
D-Link EXO AC1900 Smart Mesh Wi-Fi Router Review
Summary: The D-Link EXO AC1900 Smart Mesh Wi-Fi Router provides excellent value for money and more importantly, impressive performance from the get go!
5
Security & Performance!
The EXO AC1900 Smart Mesh Wi-Fi Router (Model DIR-1960) from D-Link has been designed to increase the strength of your Wi-Fi in your home or office and whether you have 5 devices or 20 connected to your network, this product ensures that your networking needs are met.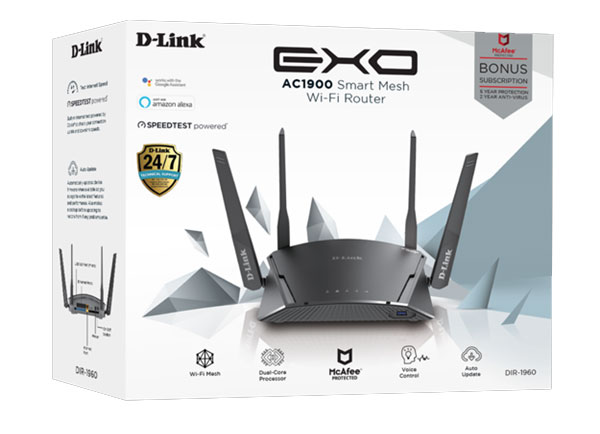 This may include gaming on your PlayStation 4, streaming Netflix, using your social media from your phone or researching your next home renovation project from your tablet, the D-Link EXO AC1900 Smart Mesh Wi-Fi won't miss a beat and will give you the best possible connection, no matter where are you located in your home or office.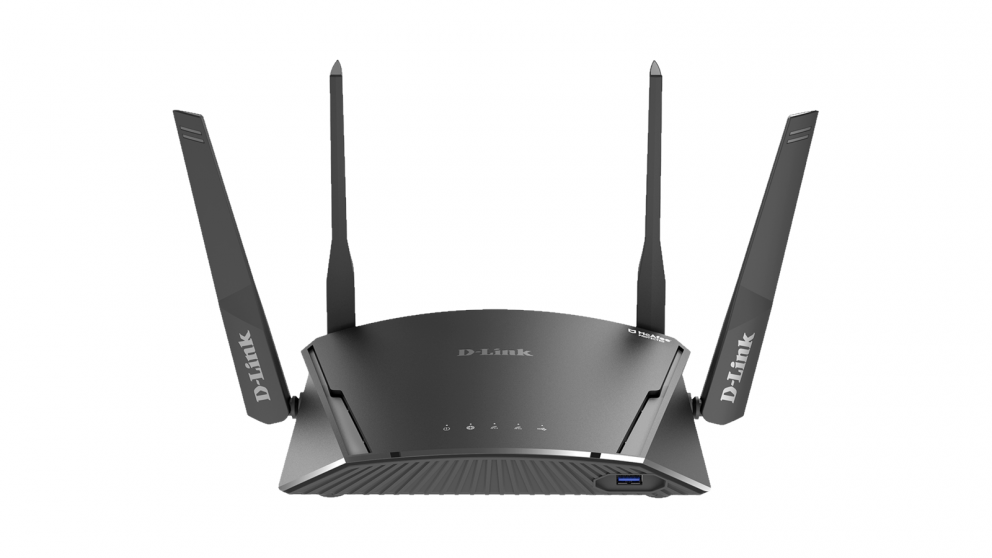 For performance, it has combined Wi-Fi speeds of up 600 Mbps (2.4GHz) + 1300 Mbps (5GHz). While these are theoretical speeds, this Wi-Fi Router ensures that no device is left behind and from our tests, the connection for all devices was quite strong, even simultaneously accessing the net through our NBN.
Key Features
Delivers wireless speeds of up to 1900Mbps (600Mbps at 2.4GHz and 1300Mbps at 5GHz) for fast, optimum connectivity across multiple devices at home
Incorporates MU-MIMO (Multi-User MIMO) technology to let different devices receive data at the same time and take out queuing for each client
Integrated McAfee protection helps keep your network safe from various threats
Built with multiple parental control options, including internet scheduling, white/blacklisting, and customised profiles, making it easy to manage your family's internet habits
Equipped with four Gigabit Ethernet ports, providing compatible computers, gaming consoles, and network storage with high-speed wired connectivity
Further, D-Link have taken security to the next level with the inclusion of McAfee Protection which is on a network level. This means that your devices have an additional layer of protection as the Wi-Fi Router is the first point of protection and will stop the malicious attack(s) before it reaches your smart devices.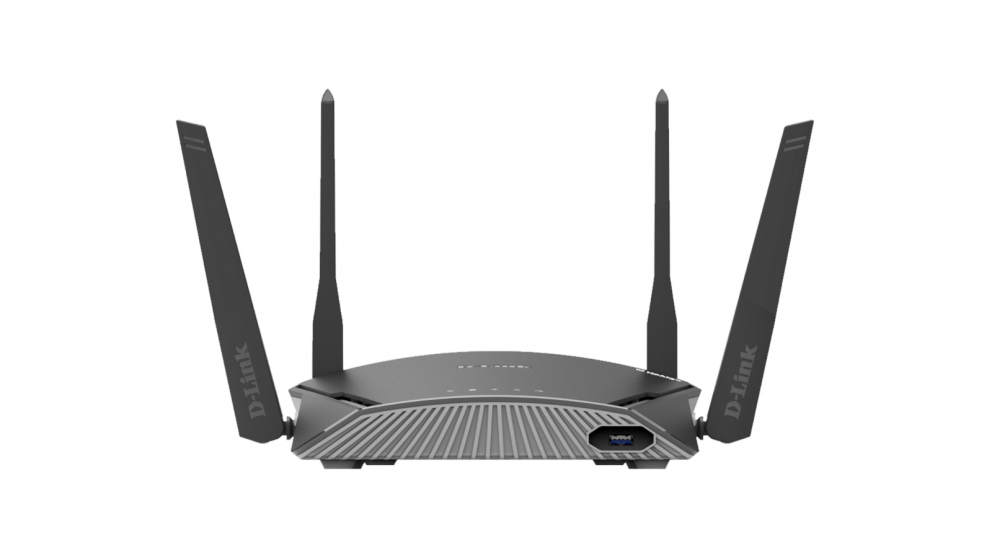 This service includes McAfee Secure Home Protection and McAfee LiveSafe with 5 years subscription for the first service and 2 years for the second, including free updates and 24×7 monitoring. Another great feature is the option of installing McAfee Secure Home Protection on other devices such as laptops and smartphones for even more protection, both at home and out and about… excellent value for money here!
| | | |
| --- | --- | --- |
| | McAfee Secure Home Protection | McAfee LiveSafe |
| Cloud-based McAfee Global Threat Intelligence Database | Y | Y |
| Device Fingerprinting | Y | |
| IoT Threat Detection | Y | |
| Vulnerability Scan | Y | |
| Home Away Mode | Y | |
| Powerful Parental Controls | Y | |
| Install McAfee anti-virus on computers and mobile devices | Y | Y |
| Anti-Phishing | Y | Y |
| McAfee WebAdvisor | | Y |
| PC Boost | | Y |
| Password manager | | Y |
| File Lock | | Y |
| Unlimited Installations | | Y |
| Included Free Subscriptions | 5 Years | 2 Years |
Parents will be pleased to know that this product comes with parental controls in order to help keep your family safe while they are connected to the internet. In terms of parental controls, the EXO probably has some of the most advanced features of a Wi-Fi Router that can be simple or highly customisable. This includes creating internet schedules for different users, the ability to block age-inappropriate content, create whitelists or blacklists and our favourite, the ability to easily allow you to pause the internet.
Furthermore, the EXO AC1900 Smart Mesh Wi-Fi Router is compatible with smart home devices such as Alexa or Google Assistant which means you can communicate to this product with voice commands through these devices. We tested the EXO with our Alexa and could control the Wi-Fi Router with commands such as;
Alexa ask D-Link Wi-Fi to reboot my router
Alexa ask D-Link how many devices are connected right now
Alexa, ask D-Link Wi-Fi to pause the internet for all kids
Alexa upgrade my router (or resume)
Ask D-Link Wi-Fi what notifications I have
(and our favourite for guests…)
Alexa ask D-Link Wi-Fi to enable my guest Wi-Fi
So what exactly is Wi-Fi Mesh? This technology helps in giving your home or office the best possible access to Wi-Fi as it contains various protocols to help strengthen your connection such as auto-healing or auto-channeling.
Sure, there are thing above and beyond our control but Wi-Fi Mesh attempts to improve Wi-Fi in these "dead zone" areas.  To further increase your network's capabilities through this Mesh technology, you can link additional DAP-1820 Wi-Fi Extenders to improve those dead zones.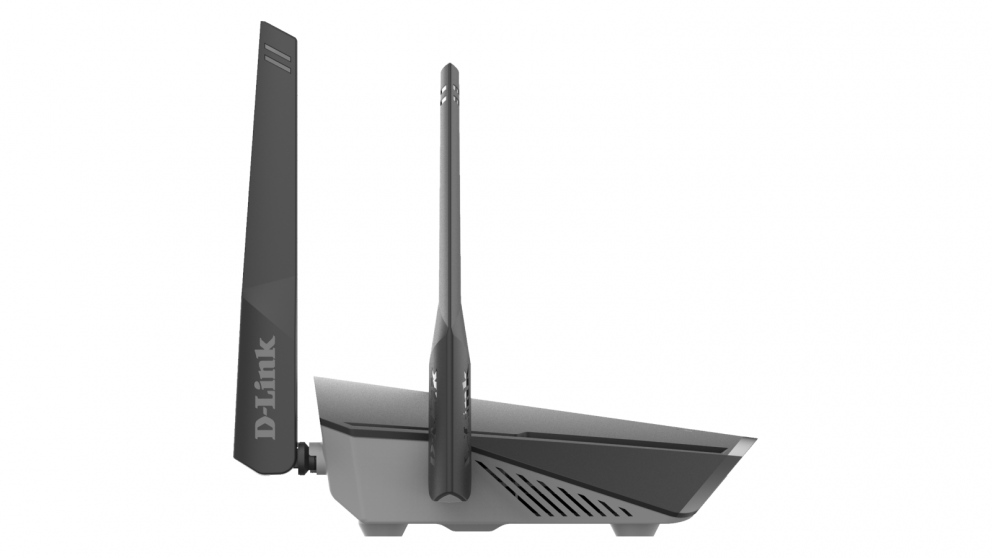 Since I've started reviewing tech, Wi-Fi routers have come a long way and I love the inclusion of "smart" technology into our devices such as automatic firmware updates and the aforementioned compatible with Alexa or Google Assistant. If you want to easily share files, you can even plug in an external hard drive to share across our network which makes the EXO such a useful Wi-Fi router!
The product even features an internet test option which basically tests your connection and is great if you're having any issues with your NBN connection. The EXO is also powered by a 880MHz dual-core processor with MU-MIMO (Multi-User MIMO) technology and this means no buffering or queuing of internet data between devices as each device has its own dedicated connection.
Setting up the EXO is a breeze and once you download the accompany app for your smartphone and simply follow the wizard. Of course, you do need to connect the EXO to your existing modem but we had no issues whatsoever and if you do get stuck, you can access D-Link's 24×7 support.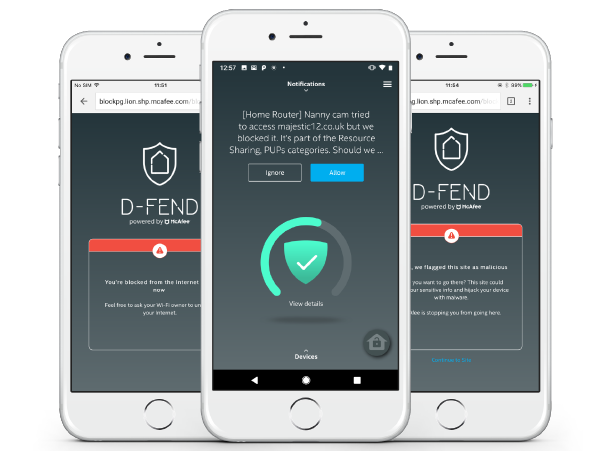 So once you have downloaded the app, you use the QR reader to scan in the EXO and then follow the wizard. This includes registering the product, naming the Wi-Fi Router and setting the password. To access the router, including McAfee settings or access the parental controls, this is done through the apps which are very user friendly.
In terms of performance and compared to our current Wi-Fi Router, there was improvement. However rather than getting down to specifics which can be influenced by a number of factors (e.g. ADSL2, NBN, Cable, distance, house layout, appliances), our testing is more narrative.
Given that, our NBN at the maximum speed is 95Mbps so we are limited to our internet connection and accessing the net, so we could never achieve the speeds of 600Mbps at 2.4GHz and 1300Mbps at 5GHz. However on the network itself (e.g. sharing files), it would be possible and files were speedily shared across devices and the network in my home.
Lastly, we noticed a 10 to 25% improvement with the Wi-Fi Mesh technology and while we have a modest 3-bedroom house, this was in the furthest corner of our garage (two brick walls). Our internet test using our existing products scored 14Mbps from the garage and with the EXO, it was 16Mpbs. Right next to the modem and the Wi-Fi Router, our existing device scored a respectable 94Mpbs and with the EXO, 95Mpbs. Other tests were more subjective.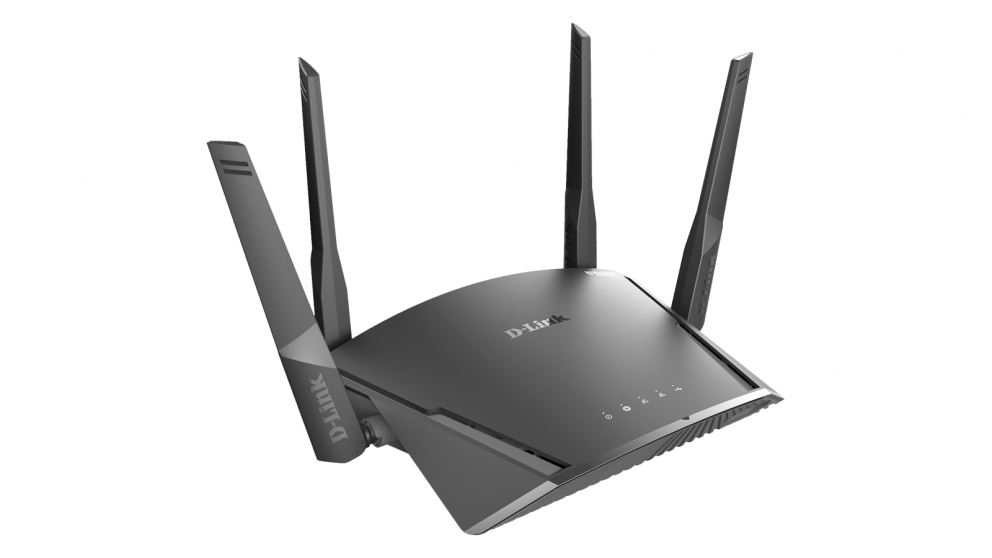 Final Thoughts?
With RRP of $279.95AUD (November 2019), the D-Link EXO AC1900 Smart Mesh Wi-Fi Router is the perfect addition to your home network if you have a myriad of devices connected and you have some "black" spots in your home or office. With the technology of the EXO, it will not only help create a stronger wireless connection but also offers 24×7 peace of mind thanks to its network level cyber protection thanks to McAfee.
Who is the D-Link EXO AC1900 Smart Mesh Wi-Fi Router for? Tech enthusiast, families and small business.
For more information, please visit https://www.dlink.com.au/home-solutions/DIR-1960-AC1900-Smart-Mesh-Wi-Fi-Router
Official D-Link Overview & Key Features

Need super-fast Wi-Fi for your wire-free, all-streaming house? With a powerful dualcore processor, the AC1900 Smart Mesh Wi-Fi Router packs in enough processing power to handle every networking task you throw at it. It's a powerful, intelligent home router with built-in McAfee protection for every device on your network. It supercharges your mesh network with D-Link's Wi-Fi Mesh technology so you can grow your mesh network by adding compatible D-Link routers and extenders. It even integrates voice assistant compatibility for Amazon Alexa and Google Assistant so you can control your network with voice commands. So stop settling for just a Wi-Fi signal – you deserve so much more.
Key Features
Handle More with a High-Power Processor
With the DIR-1960, you're not only enjoying buffer-free gaming and lightning fast surfing, you're also enjoying features such as an integrated mesh for a higher coverage network, an automatically optimizing QoS with a built-in speedtest, an automatic firmware update system that ensures the best protection and the latest features, and compatibility with voice assistants.
All this is possible with the router's 880 Mhz dualcore high-power processor, 128 MB of flash memory and 256 MB of RAM. The router is no longer just a networking device – it is a powerful, intelligent home gateway with processing power to boot.
Extend and Customize Your High-speed Wireless AC Network
D-Link's Wi-Fi Mesh is a scalable solution that allows you to easily increase the coverage of your home or office wireless AC network. Expand your Wi-Fi coverage by adding compatible D-Link access points. Mix and match suitable D-Link devices according to your budget and preferences to fit any floorplan.
Setup is effortless; configuration of multiple access points can be done in minutes as settings can be passed on to other access points once the first access point is configured.
Security for Your Network with McAfee Protection
Kick security up a notch with McAfee protection for your network. Keep your kids safe online with age-based profiles and the ability to pause the internet when you need to. All this is part of the comprehensive parental controls offered by the McAfee Secure Home Platform.
With the McAfee Secure Home Platform you can also take control of your devices and be the first to know and respond to potentially threatening activity on your network, such as devices trying to connect to malicious addresses, or unidentified devices joining your network. When you are away from home you can also deny any new devices from connecting to your network.
The McAfee Secure Home Platform works with Amazon Alexa to give you a new way to command and monitor your home network using your voice. You can scan your network, block devices, and get up to speed on your network notifications – all without lifting a finger.
Easy to Set Up and Manage
Sharing your Internet connection doesn't have to be a complicated process; just download the free D-Link Wi-Fi app for your mobile device and follow the on-screen step-by-step instructions to set up your DIR-1960. You also have the option to use a web browser to access the setup wizard and to manage your router. Support for industry-standard Wi-Fi Protected Setup (WPS) lets you create encrypted connections to new devices by pressing a button. In addition, the access control features allow you to restrict access to your network, giving you greater control over your network users.
Always Up-to-Date with the Latest Features
Tired of having to visit the website or manually going to the router's UI every so often to check for the latest firmware? The DIR-1960 will automatically check daily for updates to make sure that the device always has the latest features and the most secure firmware, and will install the update silently in the background.
For an extra peace of mind, in the event of failure during the firmware update, the router will store a backup system image in the memory before proceeding with the update.
Enhanced Quality of Service Features
The built-in Quality of Service (QoS) engine allows you to prioritize important traffic to ensure that your favorite applications are receiving optimal bandwidth. Also included as part of the QoS feature is the speedtest, which not only allows you to check the current upload and download speed of your Internet connection, but also gives you the option of automatically configuring your router to optimize your traffic according to speedtest results.