Hardware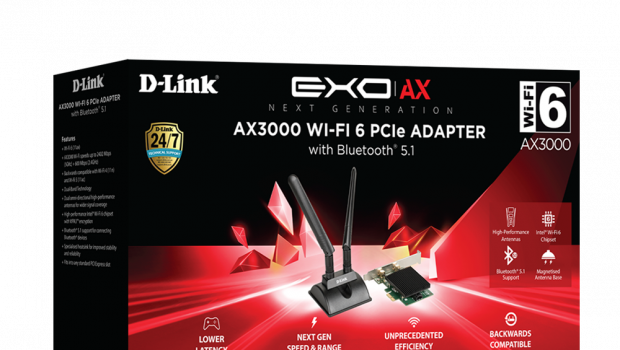 Published on January 18th, 2021 | by Scott De Lacy
D-Link AX3000 Wi-Fi 6 PCIE Review
Part of D-Link's EXO range is the AX capable AX3000 Wi-Fi 6 PCI Express network card.
This PCI Express 1x card features a fully capable Wi-Fi 6 NIC and a Bluetooth 5.1 controller all in the one device.
Features
D-Link have a great write-up of the features on the website:
There is also a really well written datasheet available direct from the D-Link website.
Marketing aside for a moment, why would you want this?
This Wi-Fi 6 PCIE card is a perfect replacement, or addition to any mainboard that does not already have Wi-Fi, provided of course there is a spare PCIE slot.
The card itself is quite slim, it does not intrude outside the boundary of a single card slot, which means that it plays nicely next to that bulky video card, RAID card or whatever else is connected to the mainboard.
The inclusion of the additional bracket is fantastic, which means it can truly be installed in any low-profile setup.
A deeper inspection reveals some further details about the design:
The PCIE board is a primarily a 'riser board'
The socket appears to be an M.2 slot
The NIC appears to be an Intel Wi-Fi AX200 SoIC – as per hardware detection
The antenna cables are connected to the AX200 board by terminated connectors, approx 1-1.5" in length
The AX200 is passively cooled with a large thermal pad, to a large dense heat-sink and with plenty of airflow above and below the AX200 card
The antenna wire between the PCIE board and the AX200 does appear to be on the thin size but these are the ones usually supplied by Intel, however D-Link have made effort to keep this as short as possible.
D-Link have supplied a much thicker, stronger cable for the antenna mount, which is far better than most alternative products out there, that often easily break.
As shown in the marketing material, the antennas can be directly mounted to the Wi-Fi card, or mounted on the magnetic base. This base is very solid and well made, the magnet is strong and will hold itself vertically or horizontally without issue. It should be noted that the base has a microfiber-soft feeling material on the base to prevent scratching the surface. This is underrated in terms of value.
Bluetooth
The Wi-Fi controller is passed directly through the PCIE bus interface, however the Bluetooth is not, instead the Bluetooth is a USB device and must be directly connected to a USB 3.0 or higher header. This of course is a factor that needs to be considered if purchasing this product for use with Bluetooth.
Supplied is a header cable that should be long enough to suit most motherboards, although it wont reach the front of most cases – if you were thinking about connecting to a suitable 5.25" front drive bay extender etc, then you will need to buy a suitable cable or extender.
Driver compatibility
Strictly speaking, D-Link state that the supported operating systems are Windows 10 64-Bit and Linux.
Being that the chip in question is the Intel AX200, it does bode well, as you can expect any device that states support for Intel AX200, to be compatible. This also happens to be a very common chipset integrated with current mainboards, so support and compatibility is pretty much a given.
As part of testing, the AX3000 Wi-Fi 6 PCIE card was installed in a Ryzen based QNAP NAS which works perfectly; however the WirelessAP Station QNAP feature sadly does not.
Performance
The D-Link AX3000 Wi-Fi 6 PCIE card was tested with a Billion Wireless N capable router and the D-Link AX1500 Wi-Fi 6 Router.
The routers were placed between two clients at equal distance apart and tested in turn.
Although not a conclusive test, the performance with the Wireless N speeds were fairly standard, but what was clear was that the signal strength remained predominately at 280-300Mbps, which was a good sign, especially considering the number of stations broadcasting in the area.
Wi-Fi 6 connection from the AX3000 to the AX1500 base station was immediately at the 1.2Gbps speed and remained fairly strong, that was until a 2nd Wi-Fi 6 capable client was sending large ping packets, at which point the connected signal strength dropped and held steady around 760-870Mbps, tending towards the lower end of the scale once a 2K ping packet was also sent from the AX3000 to the D-Link AX1500 router.
So, it would seem from a preliminary non-conclusive, real-world test, that the expected performance with two or more clients on this D-Link network would have the clients connecting at around 7-900Mbps, which of course will fluctuate with client usage, interference from other stations and all the other additional ancillary considerations.
With a file transfer from the QNAP which acted as a server, to the desktop machine as the client, a few large movie files of around 7GB were transferred. The maximum speed obtained was 38MB/s, the lowest was 1.8MB/s, with an average around 36.7MB/s.
The 2KB Ping tests also showed from AX3000 to the AX1500 router and from Wi-Fi client to client, an inconsistent latency ranging from 1.8ms to ~3-400ms, but tending towards a lower number typically under 100ms. The standard 56 Byte ping packet also had similar results, which perhaps could be more due to signal issues, vs actual capabilities of the device.
Comparatively, 1Gbps Ethernet performance would have the same file transfer at ~110-115MB/s consistently. With a Wi-Fi connection speed between two client devices respectively fluctuating between ~700Mbps – 860Mbps respectively, 38MB/s is a fairly realistic speed given that variance.
Essentially, this test represents what many consumers can expect, simply installing the network card and connecting to an access point in a real world scenario, eg, an apartment building or busy neighbourhood with many Wi-Fi routers broadcasting.
However any number of factors will reduce this performance, including more clients on the same router, or significant channel contest from other routers. More gains can often easily be obtained with some tweaking of channel settings and placement of the antennas into the most optimal area.
One thing is certain, this D-Link AX3000 Wi-Fi 6 PCIE card is capable of operating almost 3x faster than the Wireless N devices that came before it.
Final thoughts
D-Link have presented a fine addition to their EXO lineup with this AX3000 Wi-Fi 6 PCIE card.
The PCB design of the PCIE card is expertly done and well presented. Utilising the M.2 form factor and the established Intel AX200 package is also a smart move by D-Link, as this will make repairs and replacements simple, fast and affordable for D-Link, it would also be a great platform for future upgrades and new revisions based on the same PCIE board.
As mentioned, the use of Intel AX200 package means that the compatibility of the AX3000 Wi-Fi 6 PCIE is likely to be such, that any device that includes the AX200 driver natively, is likely to support AX3000 out of the box as well.
But what of the value? The RRP of this product is around $150 AUD (time of writing); with similar products based on the same Intel AX200 package are available for ~$50 AUD, is this a reasonable price for the entire package? The considerations boil down to what sets the D-Link AX3000 Wi-Fi 6 PCIE apart from other Intel AX200 offerings.
Keep in mind (optimised drivers not withstanding) that the output power and performance in general, will not vary between other offerings, as the Intel AX200 package is where those factors reside and that is a complete package. The majority of other offerings will have the same matched stock antennas that will also provide the same signal characteristics.
The D-Link AX3000 Wi-Fi 6 PCIE is one of the few available offerings that include a significant high quality, strong magnetic antenna base. This magnetic base comes into its own with the fact that the supplied cable is of a higher grade than the cabling supplied with most offerings and it is less likely to be damaged under normal use.
The value of this product is subject to the expected application, with or without the base. A discerning buyer would need to evaluate if the additional difference in cost for the base is a worthwhile expense. It is an awesome base in any case.
Tip: Use a tool for calculating transfer rates.
Summary: A fine addition to the D-Link EXO lineup. Well designed, well made, and faster performance than Wireless N.