Hardware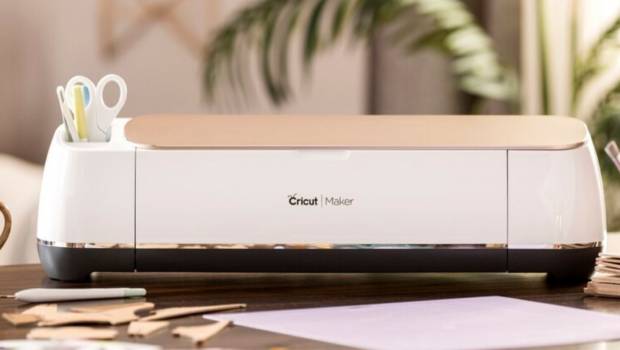 Published on December 14th, 2020 | by Lisa Bistak
Cricut Maker Review … Not just for Christmas! #Cricut
Summary: Crafting just got versatile with the Cricut Maker!
The Cricut Maker is the perfect accessory for those crafty people who want to take their crafts to a whole new level of professionalism and more importantly, this smart die-cutting machine is super easy to use. The only additional tool you need is either a smartphone, tablet or computer to assist with your creations.
While the Cricut Design Space app that is available for both Apple and Android devices is a very user friendly and an easy to use application, using the computer version (aka Cricut Design Space) gives you more control over your designs.
So what does the Cricut cut?
Well just about everything used for crafts which includes fabric, paper, leather, vinyl, iron on transfers and even balsa wood as it literally cuts out designs. To design on wood and leather, you do need to purchase the Cricut Deep Cut Blade. The Cricut Maker also comes in a very lovely champagne colour that would not look out of place in your home or office.

Features
The ultimate in professional-level cutting performance and versatility
Cuts 300+ materials, from the most delicate fabric and paper to matboard and leather
Rotary Blade for cutting virtually any fabric without backer
500+ digital sewing patterns and quilt blocks available from Simplicity®, Riley Blake™, and more (sold separately)
Compatible with Knife Blade for thicker materials up to 2.4 mm (sold separately)
Compatible with QuickSwap™ tools to quickly switch between scoring, engraving, debossing, and other decorative effects (sold separately)
Compatible with Washable Fabric Pen for marking pattern pieces (sold separately)
Adaptive Tool System™ for professional-level cutting performance and expandability
Bluetooth® wireless technology
Fast Mode for up to 2X faster cutting and writing
Design Space® software for iOS, Android™, Windows®, and Mac®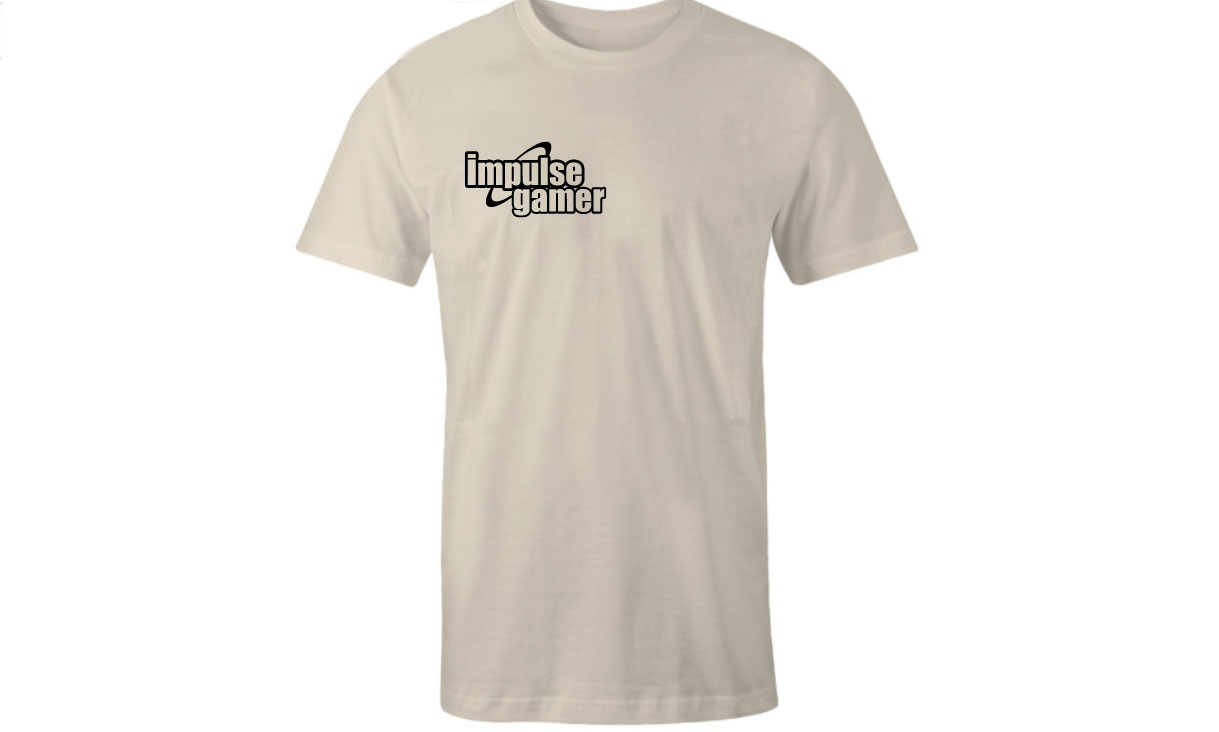 What makes the Cricut Maker so clever is its rotatable blades and for the most part, the included blade will be ample for most people to get started. This translates to home decor, t-shirts, signs, banners, jewellery, clothes, stickers and even 3D models as some of the clever products that this machine can create.
So how big can you go with your creations? The maximum cutting size is 12″ by 24″ which is 30cm by 60cm. Needless to say, it's quite a big physical canvas to work with. Also unlike normal printers, this cutting machine does take longer to "print" as it needs to cut into the material you are using.
Cricut maker machine is a must have to ensure smooth and easy projects. This machine is great cutting most fabric types and hard materials like mat board and leather. The blades makes sure that each cut is smooth and clean
– Cricut
In terms of cost, the Cricut Maker can be purchased online or stores such as Spotlight from around $570AUD (December 2020). While some may consider this cost a little steep, it is an investment in craft and one that will keep on giving. It also comes with everything you need to get your projects started.
Box Contents
Cricut maker machine
Rotary Blade + Drive Housing
Premium Fine-Point Blade + Housing
Fine point pen, black
FabricGrip Mat, 12 x 12 in (30.5 x 30.5 cm)
LightGrip Mat, 12 x 12 in (30.5 x 30.5 cm)
Welcome Book
USB Cable
Power adapter
Free trial membership to Cricut Access (for new subscribers)
50 free ready-to-make projects, including 25 sewing patterns
Materials for a practice project
Unboxing Gallery
Opening the Cricut Maker feels like you're opening some high-end product (and it is) but the company put a lot of work into this process to ensure you are not overburdened and they label everything carefully to take you through the setup process, including sample materials to help with your first projects.
.
.
Out of the box, the first thing that we noticed about the Cricut Maker was its size (57 x 18 x 15.8cm) and weight (6.8kg) which makes it quite a large craft machine.
Furthermore, it feels quite solid and professionally built with buttons and inputs all located in accessible places. Compared to the Cricut Joy which we also reviewer, the Maker is indeed THE MAKER!
As you can see from the picture below, it's quite clever in its design by adding the little touches such as a mobile phone or tablet holder (including USB charging port) and a storage cup (right top) plus a storage draw (bottom front) for your Cricut accessories.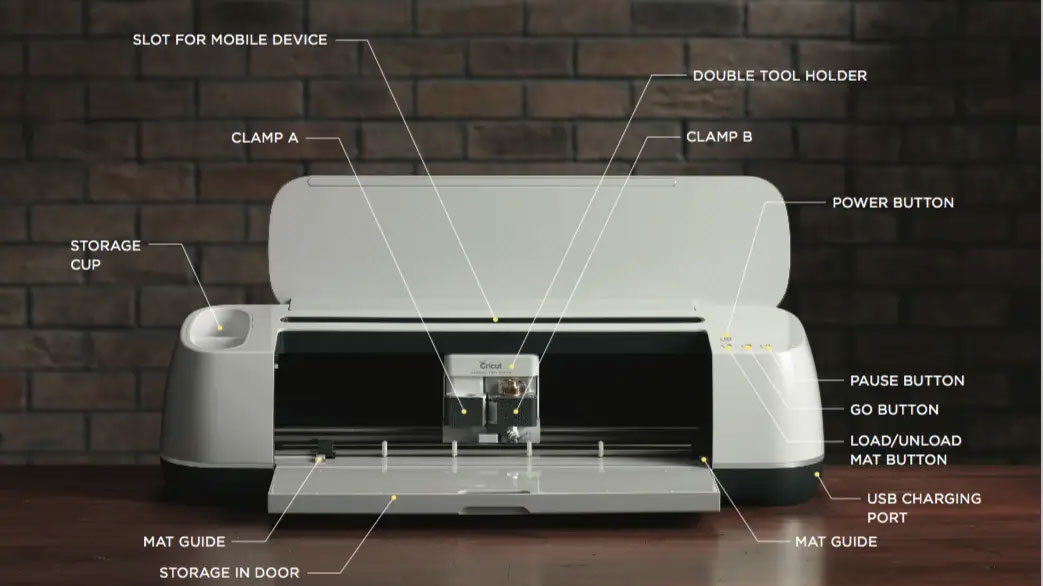 Setting up the Cricut Maker is a straight forward process and if you're using the app, you simply download the app and follow the setup wizard which uses your phones Bluetooth and the machine itself.
Alternatively, you can setup the Cricut Machine through your PC via a USB cable and then use the Cricut Design Space. The Design Space is where all the virtual magic occurs that allows you to access both paid and free designs, including fonts.
Not limited to what Cricut offer online, you can upload your own fonts and designs. If you upload your own files, they need to SVG (Scalable Vector Graphics) which are basically vector graphics that can be easily resized and are perfect for printing or in this case, cutting.
Want to create your own merch? You certainly can!
The app on either a phone or PC is like using a basic photo editor as you can add text and graphics to create your projects. I like how there is a budding and inspirational community of Cricut fans from around the world who not only offer advice but also share some of their designs. As you can see below, there is a difference between the computer version of the Design Space compared to the mobile version but it should be noted that both are fully functional design apps.
Sample Products (Created by Us)
One caveat with the Cricut Machine is the price of accessories and while they are not cheap (no hobby is). the quality is far superior than the third party materials and they are in the realm of affordability. However with that said, some of the third party accessories are just as good but caveat emptor (buyer beware). Also in order to access the Cricut Kingdom online, there is a subscription price.
Once you have "printed" out your designs, there is some manual work such as cutting out your labels or using the adhesive to help place your permanent vinyl onto the product. While it can be a little fiddly at times, it's actually quite soothing and relaxing, especially when you see the end result.
So a month later with Cricut? Yikes! We've been bitten by the Cricut Maker bug ad there is so much you can create with this machine. Whether you're looking at creating personalised Christmas mugs, ensuring that every spice you have is labelled or creating t-shirts and stickers, the possibilities are indeed endless.
Final Thoughts?
The Cricut Maker is a very popular machine and many places prior to Christmas have sold out and it's easy to understand why. Needless to say Cricut take crafts into the realm of smart technology and this machine is a chameleon of creation and will give you hours upon hours of crafting, not to mention some very professional products at the end result.