PS4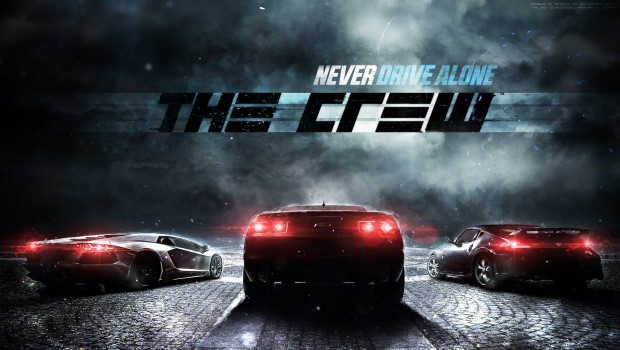 Published on December 14th, 2014 | by Admin
The Crew PS4 Review
Summary: The Crew on the PS4 is a highly ambitious game that succeeds on some levels and fails on others that results in a standard racer
The Crew
Format – PlayStation 4
Game Genre – Racing
Rating – PG
Game Developer – Ivory Tower
Game Publisher – Ubisoft
Reviewer – Tony Smith
The Crew is a very ambitious racing game for the PlayStation 4 that requires players to infiltrate an illegal racing street gang known as the 5-10s as they drive around the country from Los Angeles to Miami Florida in order to find out who was responsible for your brother's death. In the game, you play Alex Taylor who was wrongly accused of murdering his brother and now, must team up with the FBI to find the killer and there are five gang factions that may be responsible across America.
The story is clichéd as is the main character which you'd might find in one of those budget movies that tries to rip off Fast and the Furious but it does serve a purpose. With The Crew however, it's basically the ultimate road trip that gives the player a gigantic virtual world of America to race on. The developers Ivory Tower have also added a wide variety of cars from traditional muscle cars such as a Ford Mustang to super cars that will require the player tweak them as not only do you race through cities and highways but also off-road. It's quite an interesting gaming dynamic.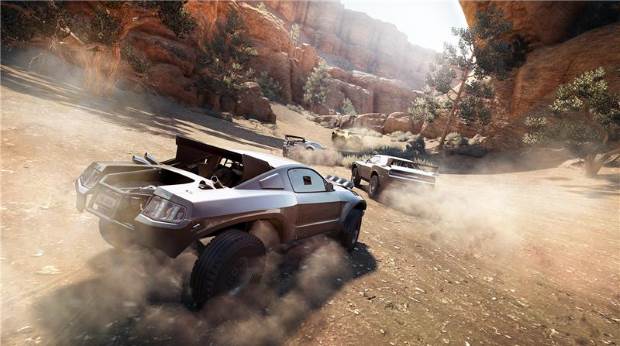 With that said, cars can also be tweaked depending on your style such as street or performance, both with their pros and cons but then you may need a car that can go off-road via dirt so it's a careful balancing act. Cars can be modified to include circuit, dirt, street, performance and raid which ensures that all facets of driving is covered. In order to access these different modifications, your character does need to be at a certain level so grinding is required. Upgrading your cars is also a fun process but does require some tweaking of parts which may affect other capabilities of your car. So as said before, it's a careful balancing act.
Although The Crew has a story which is used to fuel missions, experience and upgrades play a key component in the gameplay but given the size of this game which is crazily big, it could take literally hours to drive from point A to B. Thankfully the game does offer a fast travel mechanic which is a very useful feature, however you do need to have visited this area before. Fortunately you can take other modes of transport like trains and planes which does require you to spend your in-game currency. Real world money can also be used which I'm not a fan of… you should be able to buy the game and honestly complete it with hard work, rather than cheating or asking the purchaser for more money. No fan here!
However I must admit that driving across America in this virtual game was quite fun but when you have time constraints, it can be a laborious task indeed. As an incentive for the player, there are hidden cars located around America, including collectibles and challenges. However in order to progress in the game, you do need experience which is used as a levelling system.
Also like Assassin's Creed Unity, Ubisoft have released some patches to improve the overall gameplay quality so just be warned that you do need internet access. Speaking of internet access, you can also engage in a quick co-op mode that basically puts the call out to other players around the world to help you complete a mission. There is even PvP games that can be accessed via the lobby of the game which is actually quite fun and not as brutal as the in-game AI.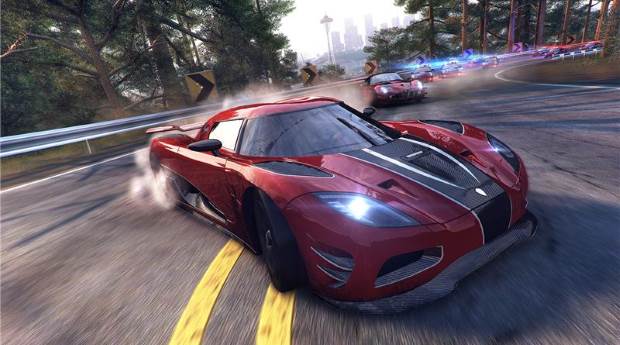 As the game is called "The Crew", missions require other players that can be real or AI and enemies can be quite brutal! The missions in the game are quite diverse from traditional races which is thoroughly entertaining to some very frustrating raid missions which requires you to basically make your opponents car inoperable by crashing into them or using the environment. Depending on the difficulty level, this can be a real challenge. However when you do succeed, it can be an exhilarating experience!
The control system of the game works well enough but compared to some other racers available, the cars do feel a little stiff and with a little bit of tweaking such as upgrades, the cars do improve but it still feels slightly out. Thankfully you can enable certain assists if things do become a little difficult with the control scheme. All in all, The Crew is a standard car game that is unfortunately missing that "X" factor.
Graphics/Audio
Graphically, The Crew is decent looking game with some great car models that can then be tweaked by the player with additional paints and decals. The gaming world looks great and the developers have replicated the US quite well that when added with realistic lighting and weather/dirt effects is not a bad looking game on the PlayStation 4, despite a few graphics glitches. The area with the crop dusting plane is stunning and is like something out of a Hollywood racing film. Voice acting is okay and Troy Baker lends the voice to the main character of Alex Taylor which works well enough. Sounds effects are good, although a little tinny at times but to get the best experience from The Crew, headphones are definitely a must.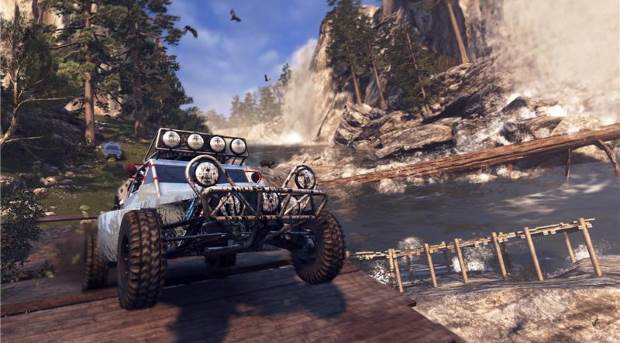 Final Thoughts?
The Crew is a very ambitious game that did suffer from day one release issues. Thankfully most have been patched but there are still a few graphical issues and gameplay nuances that can cause controller rage. Although the story is relatively forgettable, I actually did enjoy driving around American in its "free mode" and when engaged in missions, some were extremely difficult due to the control mechanics and insane difficultly of the AI. Nonetheless, it's an interesting racer that is probably a little too ambitious for most but definitely recommended for those not time poor!
Key Features
NEVER DRIVE ALONE – Jump in and out seamlessly and build your crew of four through bonding or intense rivalry. Whether your objective is to takedown a convoy or to escape the police, achieving it with friends ensures a fresh experience each time you join in.
A PLAYGROUND OF UNPRECEDENTED SCOPE AND VARIETY – The entire United States is your driving playground – all roads and everything in between. Every type of terrain imaginable is yours to master – from downtown city streets to suburbs, hillsides, cornfields, canyons, desert dunes or even race tracks.
THE EXPERIENCE GOES ON, WHEREVER YOU ARE – Continue the experience on iOS, Android tablets, and on the web. Keep track of your friends' performances and tinker with your ride before playing it live to set new records, or send your crew on jobs on-the-go to gain more XP and parts.
PREPARE FOR THE NEXT JOB – An extensive tuning system combining depth and simplicity allows you to collect cosmetic and performance parts and customize your licensed cars, according to your style and driving preferences.