Horror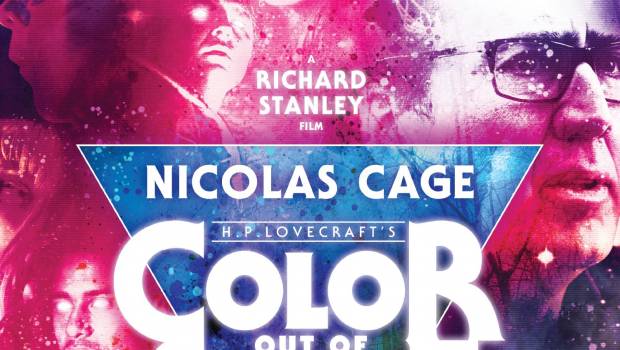 Published on May 11th, 2020 | by Tim Chuma
Color Out of Space (2019) Review
Summary: Nicholas Cage vs aliens but not how you would expect. You already know how this goes by now but how weird can it get?
4
Cage vs. the colour magenta
In this the fourth screen adaptation of H.P. Lovecraft's favourite story Nicholas Cage is the head of a household who has had a tree change to the back woods of Massachusetts and seems to be having a happy life until one night a mysterious meteorite lands in their front yard and starts spreading a contagion that poisons all it touches and causes madness.
What you want to know is if Nicholas Cage is up to his usual standard of acting. Yeah, not so sure about that after Mandy which was peak Nicholas Cage. Richard Stanley said he asked him to base his performance on his role in Vampire's Kiss
The other actors are fine but it is a bit of a con to have Tommy Chong as one of the top billed stars as he is hardly in the film. He is a very important part of the movie and it is great to see him do some more serious acting as Cheech Marin has gotten to do so for a while now.
In the original story H.P. Lovecraft wanted to show a real alien lifeform as he though those in HG Wells books were too humanoid. The colour is also a reference to one that does not exist in reality but only occurs in your brain when you see two different colours mixing at the edge of your vision.
I have to admit that I have not read any H.P. Lovecraft but he has such an influence in popular culture you should be able to pick up some of the references to his other work in the film easily.
With a film like this that so heavily on special effects, they have to be convincing and there was an air of Cronenburg to some of the creations. The previous versions of this story on screen have been more dark and brooding.
Supposedly this the first in a trilogy of HP Lovecraft movies from the same director and I recognised the place names referenced in the film from other stories.
Not really to the level of MANDY in terms of weirdness, but this will appeal to fans of the psychological horror and fantasy/science fiction movies and H.P. Lovecraft adaptations.
Movie details:
Director: Richard Stanley
Writers: Scarlett Amaris, H.P. Lovecraft (based on the short story by), Richard Stanley (screenplay)
Starring: Nicolas Cage, Joely Richardson, Madeleine Arthur, Elliot Knight, Tommy Chong
Genre: Horror / Fantasy