PS4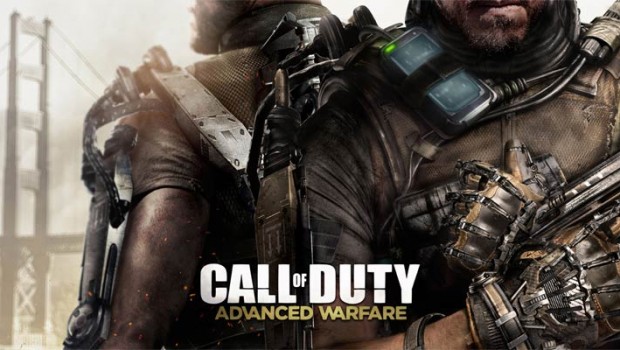 Published on November 13th, 2014 | by Admin
Call of Duty Advanced Warfare PS4 Review
Summary: Call of Duty Advanced Warfare once again proves why this series is so popular with its next-gen physics and flawless gameplay
Call of Duty: Advanced Warfare
Format – PlayStation 4Genre – First Person Shooter
Rating – MA15+
Game Developer – Sledgehammer Games
Game Publisher – Activision
Reviewer – Simon Bourke
Advanced Warfare is the latest blockbuster Call of Duty game by developers Sledgehammer Games who take the franchise to a whole new level, especially with its next-gen console versions. Set in the not so distant future, Call of Duty: Advanced Warfare is set a world where corporations hold the balance of power and one such company known as ATLAS has become a beacon of how privatisation can benefit the world.
However the CEO of the company, Jonathan Irons (Kevin Spacey) is far more nefarious than he makes out which is where the protagonist and hero of Advanced Warfare comes into play. With that said, the single-player component of Advanced Warfare is the best to date and thankfully the multiplayer aspect is equally as enjoyable.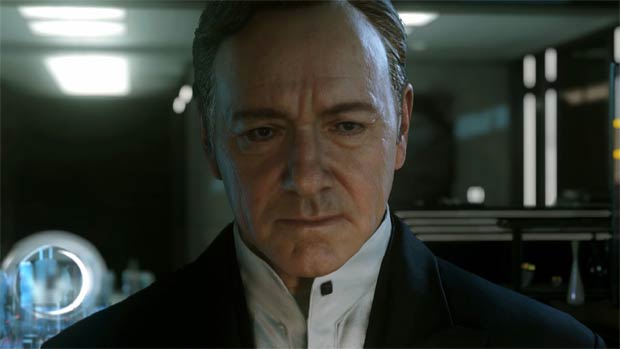 The hero of the game is Mitchell (Troy Baker), a former soldier who feels that the American military has let him down as not only did he lose his arm on the battlefield but he also lost his best friend, Will Irons who happens to the be son of the CEO of ATLAS. Needless to say, the developers really drop you into the fire in the first mission and this is where Jonathan Irons comes into the picture and offers Mitchell the opportunity to not only work for ATLAS but to receive a robotic prosthetic arm and given everything that he lost, the decision comes easy.
With an advanced technology arm and your skills as a former soldier, it doesn't take long before you become a company man, however everything is not what it seems at ATLAS. Even though this company is all about profits, you soon realise that Irons has been playing the world's governments against a terror organisation known as Hades.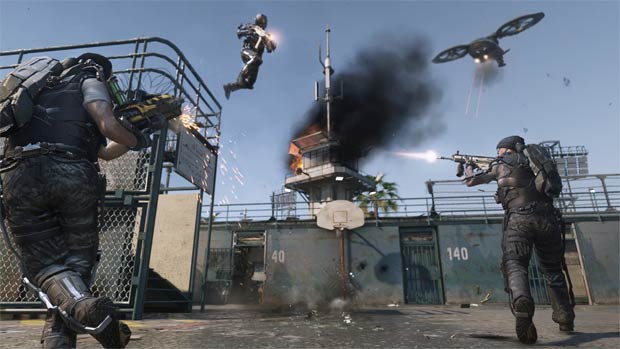 Furthermore, ATLAS has created a devastated biological weapon that targets certain DNA characteristics and with it, Irons becomes the most powerful and deadly man on the planet. Given the grave nature of this situation and that you work for Irons, you soon start to question his decisions and from here, you have another battle to fight. However what I liked about Irons who is perfectly portrayed by Kevin Spacey is that the death of his son has affected him to the core.
As a result, he has become a twisted and jaded man that with his power and technology hopes to change the world and if anyone gets in his way, damn them to hell. Needless to say, Kevin Spacey is definitely the star of Call of Duty which makes Jonathan Irons one of the best gaming villains to date. Sure, it's Kevin Spacey at his core but he's been successfully created in this game which adds to the awesome storyline of Call of Duty Advanced Warfare.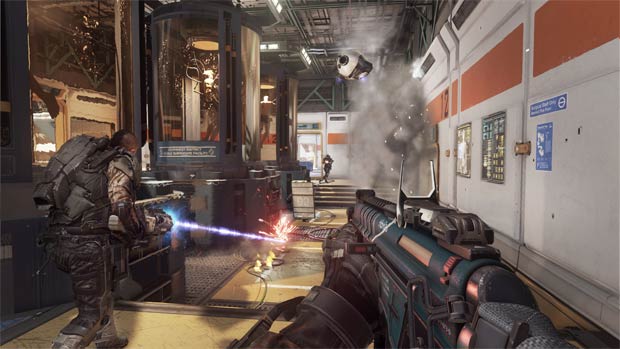 To complement the in-depth story, Advanced Warfare has a very strong gaming engine behind it that plays flawlessly on the PlayStation 4 console. The gameplay works so well with the story that you feel like an action star as you engage in the various missions that span the globe and like previous versions of Call of Duty, the gameplay has this epic nature to it as you attempt to stop the world from crumbling around you. Another interesting element of Advanced Warfare is that players have access to an exo-suit which gives the game this modern feel to it as it gives the player additional abilities such as jumping higher or running faster. Imagine the latest Call of Duty with some old school gaming mechanics from Quake or Doom… this is what it feels like and works very well.
The controls of the game are well mapped on the DualShock Controller which easily makes playing this first person shooter a very sturdy experience, especially with all the wonderful weapons and equipment at your disposal such as EMP grenades which knock out electrics. There's a great variety to the missions which does move away from those traditional Call of Duty missions, especially with the civilian backdrop. There's also plenty of vehicles drones, airplanes, tanks and even a jet pack. Overlapping with the multiplayer part of game, the title does on occasion give players supply packages which offer additional bonuses such as perks, equipment and weapons that adds to the unpredictability nature of the game. All in all, the campaign mode is a blast and is probably the best single-player experience of a Call of Duty game for quite some time due to the upgraded gaming mechanics, missions and overall storyline.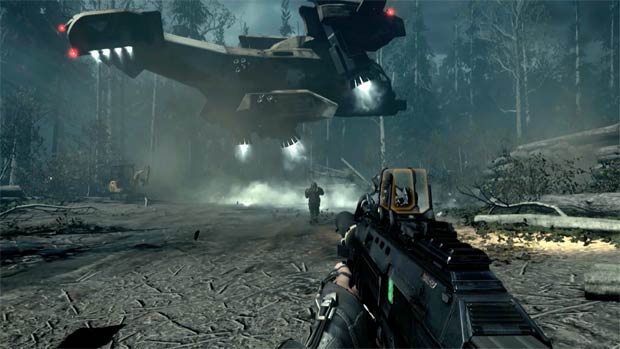 Multiplayer is equally as strong as the single-player campaign that is already quite popular with the online gamers, especially with the new gameplay options such as the boost jump or speed dash which can definitely save your gaming ass on more than one occasion. You can customise the appearance of your character which includes both genders and gives the player unprecedented tweaking to how your character will look from facial features to uniforms. You are also awarded new gear while playing such as exo-suits and helmets with some being time limited.
Weapons feel quite grounded, even with the futuristic element such as laser guns but thankfully you still have the more traditional bullet fed weaponry for purists. Weapon customisation options have also been explored more in Advanced Warfare, especially with player perks that allow you to fine tune your character. Add in a variety of multiplayer modes like the new exo survival which allows 4-players to go head to head against a horde of enemies to more traditional modes and Sledgehammer have given the player quite a bit of content.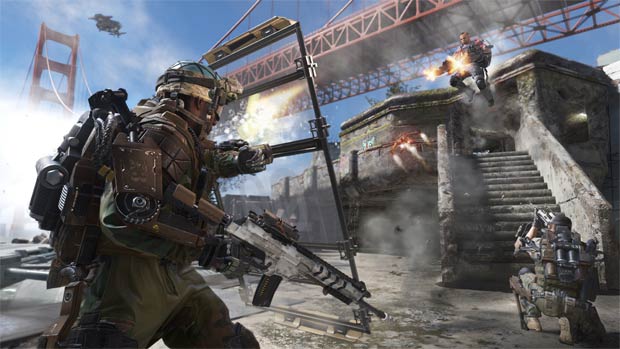 Graphics/Audio
Graphically, Call of Duty: Advanced Warfare is pure eye candy on the PlayStation 4 that makes this game one of the best first person shooters available. Backgrounds are extremely detailed and characters have this almost human-like grace to them and given that the developers have used the likeness of Kevin Spacey, it's easy to see why they've ramped up the graphics. Pre-rendered cutscenes are another highlight and at times, you could be forgiven in thinking that you're watching some Hollywood action blockbuster and the explosions are literally to die for.
To complement the graphics, Advanced Warfare features flawless voice acting and some great use of sound effects, especially via surround sound. The soundtrack also has this majestic flavour to it which once again enhances the entire Advanced Warfare experience thanks to Harry Gregson-Williams and Audiomachine. Gameplay, Graphics and Audio come together like perfect choreography on the PlayStation 4 that when matched with the gameplay creates a very compelling game.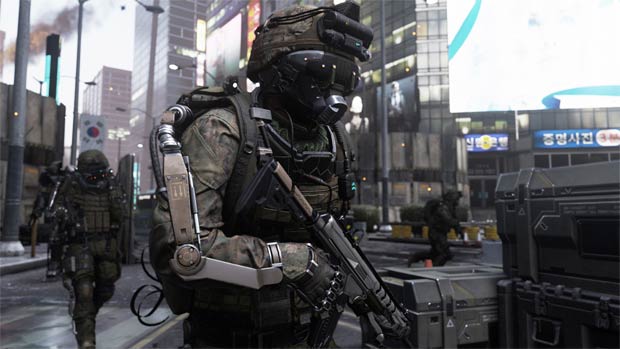 Final Thoughts?
Call of Duty Advanced Warfare once again proves why this series is so popular and more importantly, it feels like a next-gen title with exceptional graphics and almost flawless gameplay. The story is brilliant and with the inclusion of Kevin Spacey, it's like you're the star of some Hollywood blockbuster movie and this is where the game shines, in single-player. Multiplayer is fun but cannot match the epic scale of the story of Call of Duty Advanced Warfare but even so, it's going to be a game that I'll be playing for quite some time.
Recommended!
Key Features
An Advanced World – Call Of Duty: Advanced Warfare takes place in a plausible future in which technological progress and today's military practices have converged with powerful consequences. In this carefully researched and crafted vision of the future, private military corporations (PMCs) have become the dominant armed forces for countless nations outsourcing their military needs, redrawing borders and rewriting the rules of war. And Jonathan Irons, the founder and president of the world's largest PMC – Atlas Corporation – is at the center of it all.
An Advanced Soldier – Powerful exoskeletons evolve every aspect of a soldier's battle readiness, enabling combatants to deploy with an advanced lethality and eliminating the need for specialization. The introduction of this gameplay mechanic delivers enhanced player movement and verticality through boost jumps and grappling, covert cloaking abilities, and biomechanics that provide unparalleled strength, awareness, endurance, and speed. With the advent of the exoskeleton and newly advanced armor and weaponry, every soldier commands tactical freedom in any terrain unlike ever before, fundamentally changing the way gamers play call of duty across all modes.
An Advanced Arsenal – Harnessing the power of next-gen platforms, Call Of Duty: Advanced Warfare brings players into the battlegrounds of the future by boasting a new hi-tech, advanced arsenal and ability set, arming players with all-new equipment, technology, perks, and vehicles like hoverbikes and highly specialized drones. Players can also choose between standard ammunition and an all-new class of directed-energy weaponry that enables totally new gameplay dynamics. And with exoskeletons delivering a massive force multiplier and unprecedented tactical freedom, Call Of Duty: Advanced Warfare evolves every firefight.