Blu-ray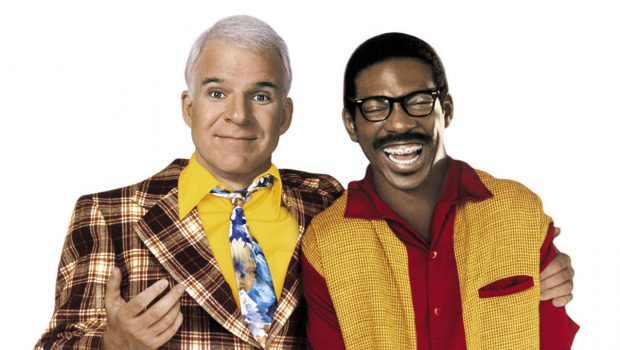 Published on July 16th, 2017 | by Natalie Salvo
Bowfinger Blu-ray Review
Summary: "Bowfinger" is a comedy featuring a wannabe Hollywood producer going to some extremes to make a film. It's ultimately one funny, silly and energetic ride.
"Bowfinger" is a film where one man's silly idea actually pays dividends. It's a comedy written by and starring Steve Martin and is about a wannabe Hollywood producer who goes to some extreme lengths to create his magnum opus. What ensues is a wild and often funny ride through the glitz, glamour and gaucheness of Hollywood movie-making.
The film is directed by Frank Oz who has previously worked with Martin on "Dirty Rotten Scoundrels." These two films have one thing in common in that Martin plays a duplicitous and conniving character in both. In "Bowfinger" however, he is the titular character, a man who aspires to be a Hollywood heavyweight except that when he finally comes across a "fabulous" script called "Chubby Rain" no less (and never mind that it was penned by his receptionist-accountant (Adam Alexi-Malle) in 12 days) he simply has to make it. But Bowfinger only has around $2000 in change saved up.
Messer Bowfinger is ultimately one determined guy. He weasels his way into a meeting with a big-wig named Jerry Renfro (Robert Downey Jr.) by gate-crashing the latter's business lunch at a posh restaurant. Renfro offers to partner on the film on the proviso that the hottest action movie star Kit Ramsey (Eddie Murphy) agrees to the project. Except that Kit refuses.
So how do you make a film without a star? If you're Bowfinger you tell people that the guy's a prima donna (this is true) who doesn't want to see cameras or meet his fellow co-stars and then you ambush the guy. You also have to recruit a bunch of enthusiastic idiots as your cast and crew. This will include one aging actress (Christine Baranski), an aspirational leading man (Kohl Sudduth) and a girl who just got off the bus from Ohio but who quickly learns how to sleep your way to the top (Heather Graham ("Austin Powers")). It also helps to enlist some illegal immigrants and to know a guy that will borrow equipment and cars for you to utilise at your disposal.
Eddie Murphy does a fine job in this film and really carries it. The Kit character was rather paranoid and neurotic to begin with but when Bowfinger's crew ambush him these thoughts are amplified. He seeks solace at celebrity cult meetings lead by Terence Stamp. Murphy also plays a character called Jiff, a nerdy schlub who is hired by Bowfinger purely because of his physical likeness to Kit. Jiff is hilarious and is worth the price of admission alone.
"Bowfinger" is an energetic and vibrant film. It's a story with quite a clever idea at its core- it's a satire about Hollywood filmmaking with some jibes extra jibes thrown in about it being so fresh it's cinema nouveau. "Bowfinger" is a film that could have been excellent but will have to settle for being good. It's quite a zany and fun little vehicle for Murphy and Martin to appear in together and to play out some cheeky shenanigans with a fellow bunch of misfits. Don't over think this one just sit back and enjoy the ride.
Blu-ray Details
Director – Frank Oz
Actors – Steve Martin, Eddie Murphy, Heather Graham, Christine Baranski, Jamie Kennedy
Film Genre – Comedy
Label – Shock
Audio – English (Dolby Digital 2.0)
Running Time – 84
Region Coding – B (Blu-Ray)
TV Standard – HD
Rating – M
Consumer Advice – Low level coarse language, sexual reference
Year of Release – 1999
Primary Format – Movies/TV – Blu-Ray