Comics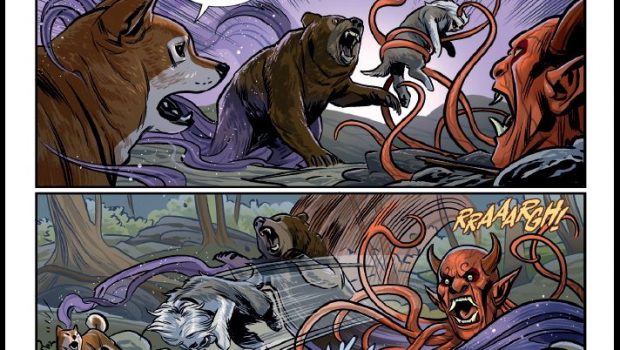 Published on July 6th, 2021 | by Tim Chuma
BEASTS OF BURDEN: OCCUPIED TERRITORY #4 (2021) REVIEW
Summary: A satifying end to this storyline, well worth going back to read the rest of them if you have not been on board so far.
After failing to get the help of the Yokai, the gang travels to the source of the curse to confront who unleashed it upon the Earth as Mullins falls further under the spell after being attacked previously. They find some of the Yokai they talked to previously fallen in battle and face off their biggest enemy yet.
There was surprisingly a lot in this episode of the story. If you have not read any of the previous episodes in this storyline it would be too hard to pick up the story so maybe wait until all the parts are released in a trade paperback.
I have since found out there are previous storylines in this series and this is just one story from the world this series is set in. People are not the main focus of the story so it shares a lot with the more recent Stray Dogs series where we are showing things from the dogs' point of view.
There is a lot more magic and mystical elements in this series so it would suit fans of fantasy stories.
Comic details:
Writer: Evan Dorkin, Sarah Dyer
Artist: Benjamin Dewey
Letterer: Nate Piekos
Colourist: Benjamin Dewey
Cover Artist: Benjamin Dewey
Genre: Action/Adventure, Horror
Publisher: Dark Horse
Publication Date: July 07, 2021